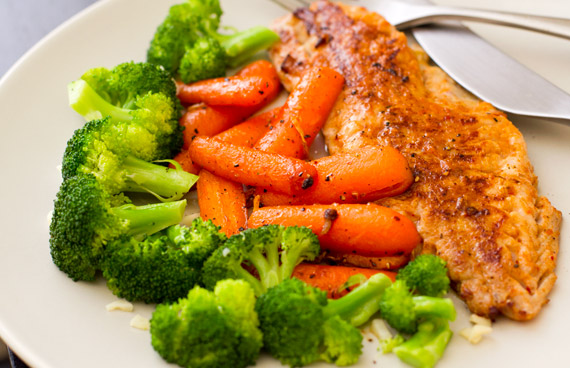 Recipe: Red Curry Snapper & Ginger Honey Carrots
You want it and you need it so I'm giving it to you – 20 minutes paleo meals! I'm starting the series with a super simple, tasty and nutritious fish dish you can prepare for one, two or for the whole family. The recipes in this series are not supposed to be super fancy or unique, it's all about efficiency and speed without compromising the taste. In this dish, the aromatic spicy fish is complimented by caramelised crunchy carrots and ginger and some simple garlic broccoli on the side.
Cook's notes: Look for red curry paste that doesn't use any added soybean or canola oil. I used Mae Ploy brand that has – reading directly from the label – dried red chili, garlic, lemongrass, salt, shallots, galangal, shrimp paste, kaffir lime peel and pepper. That's it! It's a little spicy so you can tinker with the amount to suit your tastebuds. Alternatively, you can make your own red curry paste on the weekend, I have a good recipe in my cookbook or you can find plenty online. You can replace red snapper fillets with any other fish with no skin on.
Depending on where you live, you can get pre-peeled baby carrots and pre-cut broccoli florets, which will save you prep time. You can use normal size carrots and slice them into smaller pieces. Broccoli can be replaced with bok choy, cauliflower or cabbage. Another tip is to pre-cut the vegetables the night before or in the morning while cooking breaky.
And finally, if cooking for more than two, simply increase the ingredients ratios proportionally and perhaps allocate a few extra minutes for kitchen prep.
Ingredients
2 red snapper fillets, skin off
1 tsp red curry paste
2 tbsp virgin olive oil
1/2 tsp sea salt
Drizzle of lemon or lime juice at the end
1 tsp coconut oil or macadamia nut oil
10 baby carrots
1/2 tbsp thinly sliced fresh ginger
1 tsp raw honey
1 tbsp fish sauce
1/2 tsp black pepper
1 tbsp lemon juice
2 cups broccoli
1 garlic clove
1 tsp coconut oil
1 small frying pan or a wok for carrots, 1 larger frying pan for fish, 1 small saucepan for broccoli
Instructions
00-05 mins: Rinse and pat dry the snapper fillets. Mix red curry paste with olive oil and sea salt and brush the snapper fillets on both sides. Set aside for 5 minutes to marinate.
05-10 mins: Fill up a smal saucepan with hot water and put on high heat to bring to boil. Peel and slice the carrots in halves, slice the ginger and prepare the broccoli florets and garlic.
10-20 mins: Heat 1 teaspoon of coconut oil in a small frying pan until sizzling hot. Add ginger and carrots and pan fry for 2 minutes. Add fish sauce, honey, lemon juice and pepper and cook on high heat for a further 2-3 minutes until carros and ginger are lightly caramelised and sticky. In between stirring the carrots, heat a little virgin olive oil in a larger frying pan. Add the fish fillets and cook for 3 minutes on each side. At a 15 minute mark, add broccoli to boiling water and cook for 2 minutes. Strain and add back to the saucepan with garlic and coconut oil, toss through and set aside.  Serve the fish fillets drizzled with some lemon or lime juice, cooked yet still slightly crunchy carrots and garlic broccoli.
Preparation time: 10 minutes
Cooking time: 10 minutes
Serves: 2