Healthy Chinese food might sound like an oxymoron but that only really applies to westernised take out dishes fried in rancid oils and smothered with MSG and sugar-loaded sauces. In reality, Oriental cuisine is super versatile, nourishing and allows for many modifications.
Take the deep-fried golden shrimp with sticky sweet sauce, for example. This absolute classic, loved by both kids and grown-ups, can be made in a much healthier, more paleo-friendly way and in today's post I will show you exactly how to do it.
I would note that this is still a little decadent as we are drizzling my golden coconut prawns (or shrimp if you like) with honey lemon glaze but these are still 200% better for you than the local Chinese takeaway.
These are nut-free (except for coconut which is not a tree nut but still be aware if suspecting coconut allergy) and you can modify these for AIP (use coconut milk instead of egg for dipping and omit the pepper and chilli from the crumbs).
---
Try these shrimp, avocado and tomato salad stacks
Find more tasty paleo seafood and fish recipes here
Prawn & green onion fritters with Sriracha mayo
Cook's notes
Frozen shelled prawns are perfect for this recipe, much cheaper than buying fresh prawns in their shells. If you are buying fresh prawns, get the ones that have been shelled already so you're paying for the meat and not the shell. With frozen prawns, simply defrost in warm water for 20-30 minutes, pat dry with a paper towel and you're ready to go.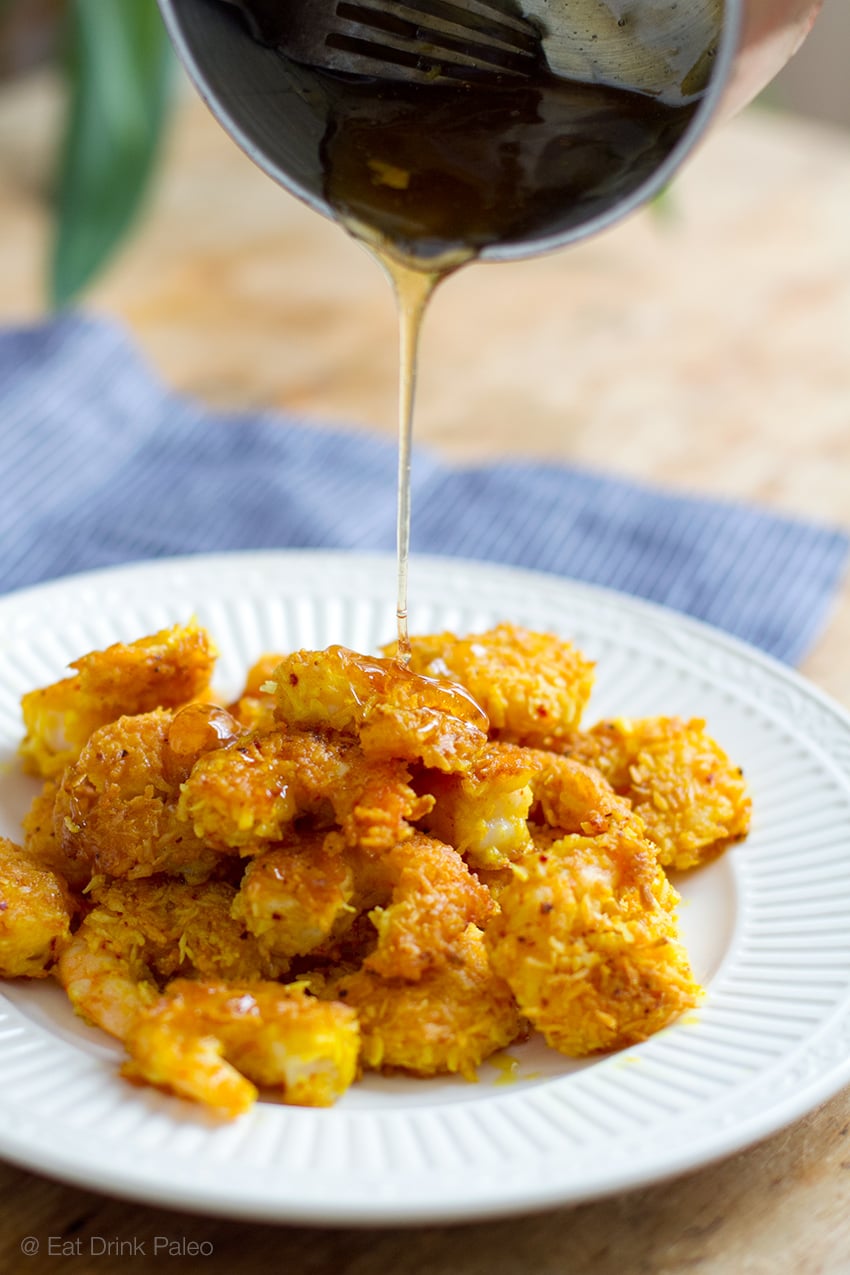 Print
---
For the glaze
Prawns
For the crumbs
---
In a little pot, mix together honey and lemon juice and set aside.
Wash and pat dry the prawns. In a small bowl, whisk together the egg and in a large plate or soup bowl, mix together the crumbs coating.
In a large skillet/frying pan, heat 2 tablespoons of coconut oil over medium-high heat. Once hot, start adding the prawns.
First add a handful of prawns to the egg mix and coat through (if making an AIP version, use a little coconut milk to dip the prawns in). Lift each prawn from the egg mix, shaking off the excess liquid, and dip in the crumbs to coat each side (hold the prawns by the tail end). You can do two prawns at a time, holding them with the fingers of each hand. Add the coated prawns to the hot pan. Continue with the rest of the prawns until they are all egged, coated and in the pan. You might need to swirl the oil around in the pan to make sure it is evenly spread. Add more oil if it gets dry.
Once all the prawns are in, you should be ready to start turning those that went in first. The prawns need to cook for only a couple of minute , or until golden brown and crispy, before you turn them over. Cook for a further 30 seconds to a minute on the other side. Remove cooked prawns to a plate.
To finish the glaze, place the pot with honey and lemon over high heat and bring to the boil. Take off the heat and whisk in a small teaspoon of arrowroot flour or starch. Place back on the heat for about 30 seconds seconds until it all comes to bubbling and starts to thicken. Remove from heat at that point. It should look like thin toffee sauce.
Finally, drizzle the glaze all over the prawns. Serve with a side of Asian greens or with cauliflower rice.
---
---
Have all of your dipping and crumbing set up ready before you begin cooking.
Don't overcrowd the pan too much, leave a little bit of space between prawns. Add a little more coconut oil if needed, you're after a thin layer that will get the prawns nice and crispy. Use kitchen tongs or chopsticks to turn the prawns over.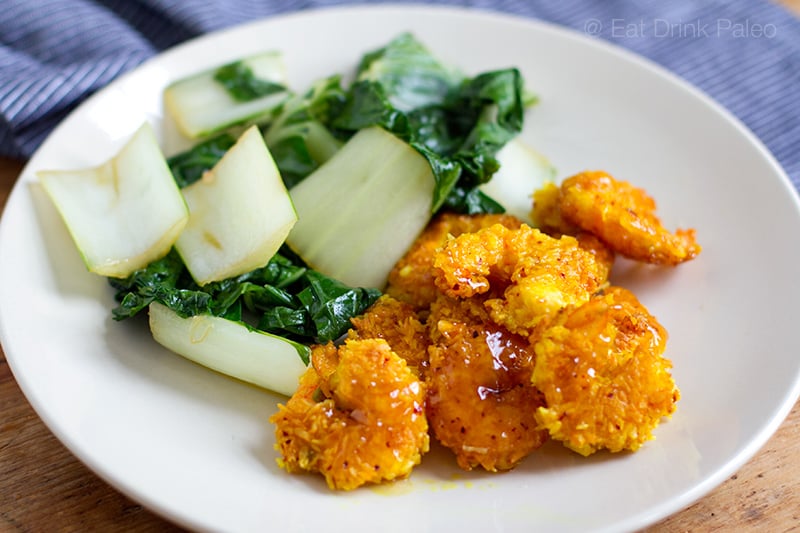 You can serve these as they are for a starter or as finger food or add some stir-fried or steamed veggies or cauliflower rice on the side.
Let me know if you have any questions or comments below. Pin for later from here.