This website may contain affiliate links and advertising so that we can provide recipes to you. Read my privacy policy.
Seafood lasagna is bursting with all your favorite seafood flavors baked together in one pan! You will love the crab, scallops, and shrimp nestled in between cheesy lasagna layers and smothered in a delicious white sauce.
If you love seafood, you will LOVE this seafood lasagna! Any time I make dinner for a seafood lover, this lasagna is a no-brainer. Seafood is often times made for special occasions, so it's fun to treat your guests to this delicious meal. Some of my other go-to seafood recipes are my lobster tail, this lemony shrimp pasta, and my favorite poke bowls.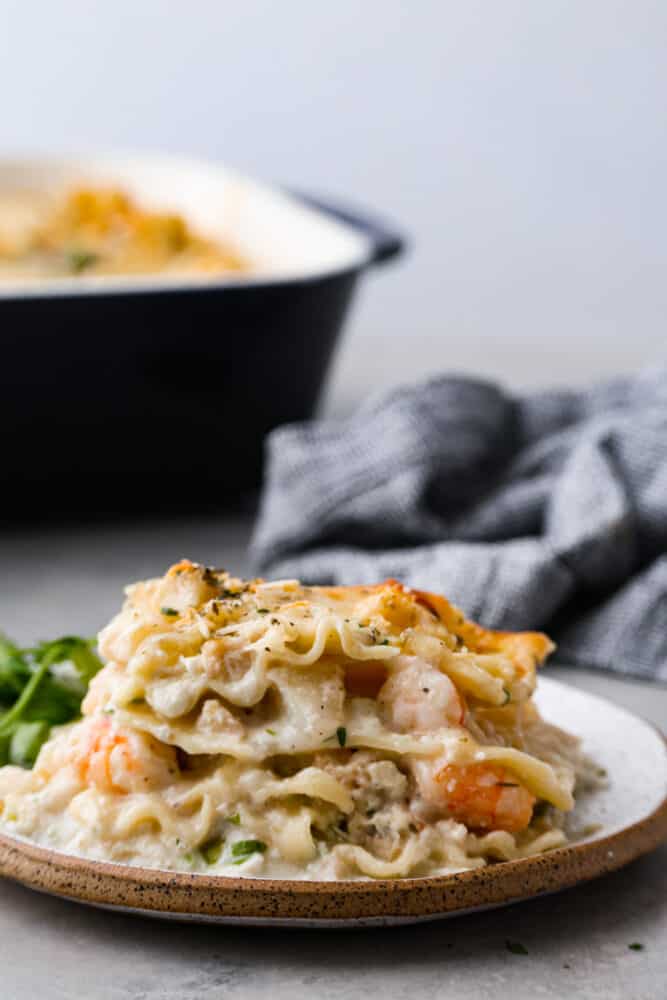 What Is Seafood Lasagna?
Seafood lasagna is a spin on the beloved traditional lasagna! Instead of a red sauce, this lasagna has a creamy white sauce that compliments the seafood deliciously. Crab, scallops, and shrimp get layered in between the sauce and noodles and it bakes to perfection. The cheese melts and the flavors burst in your mouth. It's like a seafood dream and you will love every bite!
I love cheesy lasagna dishes because it makes the whole family happy. And it's made all in one casserole dish, so dinner is made easy. Lasagna can be versatile, and I have some great recipes made with both white and red sauces. You should try my classic lasagna, this skillet version of lasagna, or these delicious Alfredo roll-ups. The rollups are a fun version of filling and rolling lasagna noodles and your family will love it!
Ingredients Needed to Make Seafood Lasagna
If you're nervous about cooking seafood, this is a great no-fail recipe that is easy to put together. I walk you through every step of the recipe, and the assembly is very easy. Once your ingredients are all prepped and ready to assemble, this lasagna comes together very quickly.
Meat, Lasagna, and Cheese
Lasagna Noodles: cooked using package directions
Crab: Imitation crab works too!
Scallops: Cooked and quartered.
Shrimp: Cooked shrimp.
Mozzarella Cheese: Shredded mozzarella cheese for layering and melts perfectly.
Parmesan Cheese: Shredded parmesan cheese adds salty cheese flavor.
Sauce
Clam Chowder: Canned clam chowder makes this recipe so easy!
Heavy Whipping Cream: Cream makes the sauce rich and creamy.
Lemon Juice: Lemon always brightens the flavors and compliments seafood.
Parmesan Cheese: Melts in the oven and makes it cheesy and delicious.
Salt: Helps balance all the flavors.
Pepper: I love to use cracked black pepper.
Ricotta Cheese Mixture
Ricotta Cheese: Ricotta cheese is the best for creamy lasagna layers.
Egg: The egg helps bind the cheese mixture together.
Garlic: Fresh minced garlic is a must!
Parsley: Fresh chopped parsley here has the best flavor.
Salt: Helps balance flavors.
Seafood Lasagna Recipe
This takes a little bit of prep work, but again, it's totally worth it. It comes together nicely and the flavors are divine. You're going to love the seafood in this lasagna! Following my step-by-step instructions on the recipe card at the end of this post.
Seafood, Lasagna, and Cheese
Cook the Noodles: Cook the lasagna noodles according to the package instructions.
Combine the Seafood: In a large bowl, mix your crab meat, prepared scallops, and shrimp then set aside.
Combine the Cheeses: In another bowl, mix the mozzarella and parmesan cheese.
Sauce
Prepare the Sauce: In a separate bowl, combine the clam chowder, heavy cream, lemon juice, parmesan cheese, salt, and pepper. Whisk together well.
Ricotta Cheese Mixture
Make Cheese Mixture: In a medium bowl add the ricotta cheese, egg, garlic, parsley, and salt. Whisk to combine.
To Assemble
Layer Lasagna, Seafood, Ricotta Mixture, and Cheeses: To assemble, pour a thin layer of sauce into the bottom of the prepared baking dish. Place a layer of cooked lasagna noodles over the sauce. Next, spread ⅓ of the ricotta mixture, ⅓ of the seafood mixture, then ½ cup of the shredded cheese mixture.
Repeat: Repeat the process another two times finishing the lasagna with the remaining sprinkled cheese on top.
Bake: Lastly, top the lasagna with the remaining shredded cheese. Cover and bake in the preheated oven for 30 minutes. Uncover the lasagna and bake it for an additional 10 minutes.
Cool and Enjoy: Remove from oven and allow to cool for about 10 minutes before serving.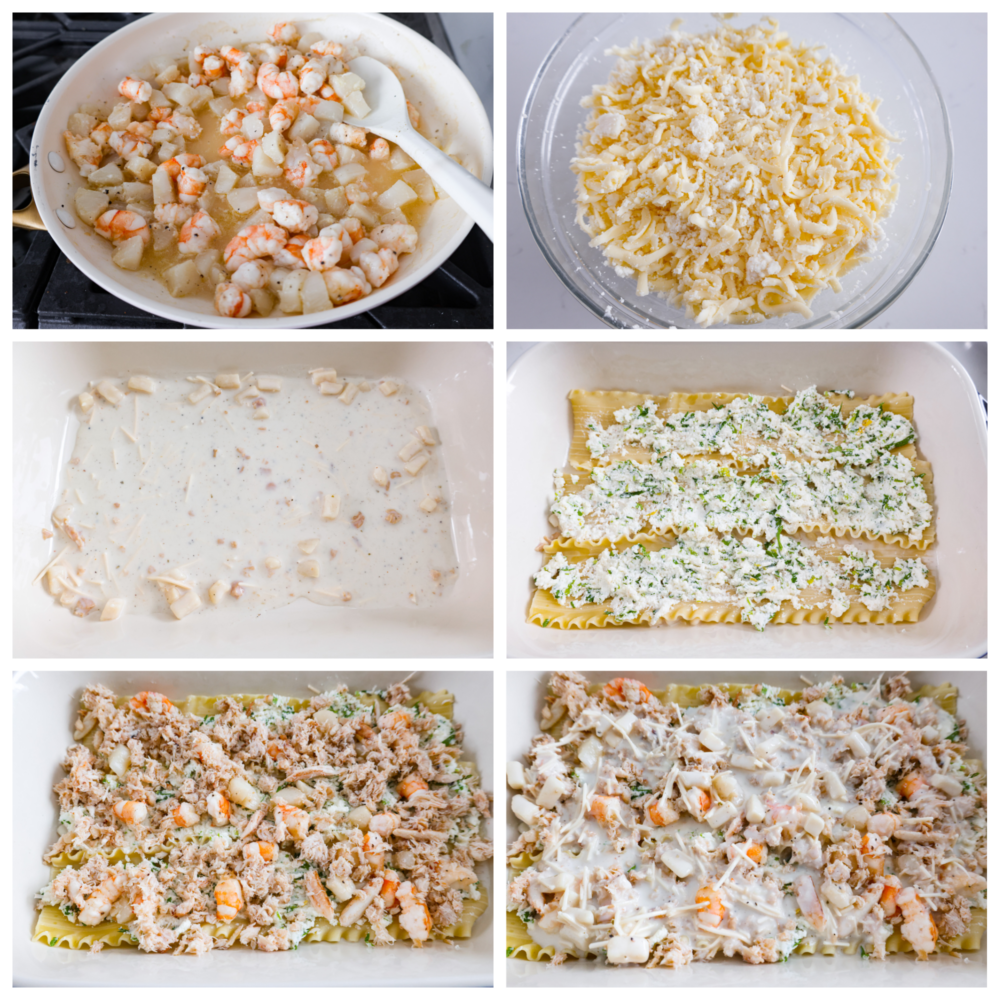 Tips and Variations
This lasagna is so delicious, but you can switch up the seafood or add veggies to make it how you want! Follow my tips and variations below before you make the seafood lasagna of your dreams!
Use Frozen Seafood: Thaw and drain any excess liquid before using.
Switch Up the Seafood: Use any combination of seafood you would like. Leave out or double any of the seafood options. Salmon would be delicious because it gives a rich buttery flavor.
Add Vegetables: Sneak in some veggies like spinach, mushrooms, or artichoke hearts.
How to Prevent Watery Lasagna: Drain excess liquid from the seafood before adding it to the recipe. This prevents the seafood lasagna from being too watery. Baking the lasagna uncovered for the last 10-15 minutes helps the excess liquid to evaporate.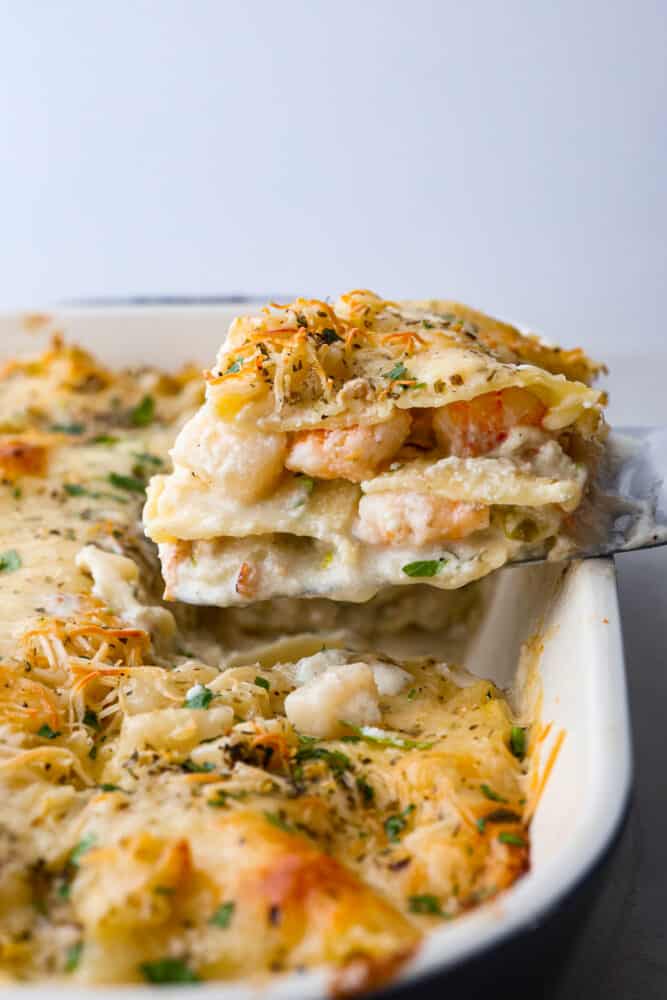 Storing and Freezing Leftovers
This lasagna is a fantastic recipe to make ahead of time! It's also great for storing leftovers. I think it's even better the next day because the flavors marry together as it sits. Here is how you can cook it and store it for later!
In the Refrigerator: Lasagna is better the next day and this is no exception. Store leftovers tightly wrapped in the fridge for up to 5 days.
In the Freezer: This recipe freezes so well. Freeze before cooking or after. Double the recipe and make one to eat and one to freeze for another day. If you freeze it after baking allow it to cool completely before freezing. Cover tightly or transfer individual portions to freezer-safe containers. Freeze for up to 3 months.
To Reheat: To reheat the baked lasagna from frozen place in the oven at 375 degrees Fahrenheit. It will take about 30-40 min to heat through. Reheat leftovers in the microwave until warmed through.
To Bake From Frozen: Bake the unbaked lasagna from frozen at 375 degrees Fahrenheit. Add on an extra 20-30 minutes.