This website may contain affiliate links and advertising so that we can provide recipes to you. Read my privacy policy.
Cajun shrimp and sausage vegetable sheet pan is so incredibly easy that it makes a perfect weeknight meal! It's bursting with amazing Cajun flavor! This is a healthy and delicious one-pan dinner full of shrimp, sausage, and veggies.
You can't beat dinner on the table in 20 minutes! I am all about quick and easy dinners so that I can enjoy my evening with my family. A few of my go-to fast and easy dinners include this stromboli and these easy meatballs. I even have a skillet recipe for sausage and shrimp that I know you will love too!
Cajun Shrimp and Sausage Vegetable Sheet Pan
This sheet pan dinner is a no-brainer because it's ready in 20 minutes! This Cajun shrimp and sausage vegetable sheet pan is the ultimate dinner recipe that makes everyone happy! There's just something about the zesty Cajun spices that excite the palate. It's an easy one-pan recipe loaded with shrimp, sausage, and tender colorful vegetables.
Sheet pan dinners are my favorite because you cook everything on the same pan, and it makes clean-up a breeze. I have some go-to sheet pan recipes I'd love for you to try next. This cashew chicken is always a hit, along with this parmesan garlic chicken, and these cheddar pork chops! Put these on your dinner menu right away!
Ingredients Needed
These ingredients are simple and help this sheet pan recipe to come together so quickly. I always have Cajun seasoning on hand, so all that's left is the sausage, shrimp, and veggies! So easy to pick up from the grocery store. You can check out the recipe card at the bottom of the post for all of the exact ingredient measurements.
Large Shrimp: Peeled and deveined ahead of time. I love to leave the tails on, but they can be removed.
Pork or Chicken Sausage: Slicing the sausage on the diagonal makes it so pretty!
Zucchini: Small to medium zucchini is perfect for this recipe.
Yellow Squash: I love the combination of zucchini and yellow squash.
Asparagus: Vibrant green asparagus cut into thirds.
Red Bell Pepper: Use any bell pepper you would like! You will love the added crunchy texture.
Olive Oil: To coat the ingredients because it helps the seasoning stick.
Cajun Seasoning: The star of the show! Use store-bought or my homemade recipe.
Salt and Pepper: To taste if needed. Cajun seasoning can be salty, so taste it before adding more salt.
Let's Make Cajun Shrimp and Sausage Vegetable Sheet Pan
This recipe is one of my favorites and I love how easy it is! Throw all of your fresh veggies into a bowl with shrimp and sausage then toss in Cajun seasoning. That's all the prep you need and the oven does the rest! You have an amazing meal that is ready in just about 20 minutes. You're going to love it!
Preheat the Oven: Preheat oven to 400 degrees Fahrenheit.
To a Bowl, Add the Shrimp, Sausage, and Vegetables: Add the shrimp, sausage, zucchini, yellow squash, asparagus, and bell pepper in a large bowl.
Toss With Olive Oil and Cajun Seasoning: Add olive oil and Cajun seasoning and toss until coated evenly.
Place Onto the Sheet Pan: Spread the shrimp, sausage, and veggies evenly onto a sheet pan.
Bake: Bake in the preheated oven for 15-20 minutes or until shrimp is pink and vegetables are tender.
Season and Enjoy: Season with salt and pepper if needed and enjoy!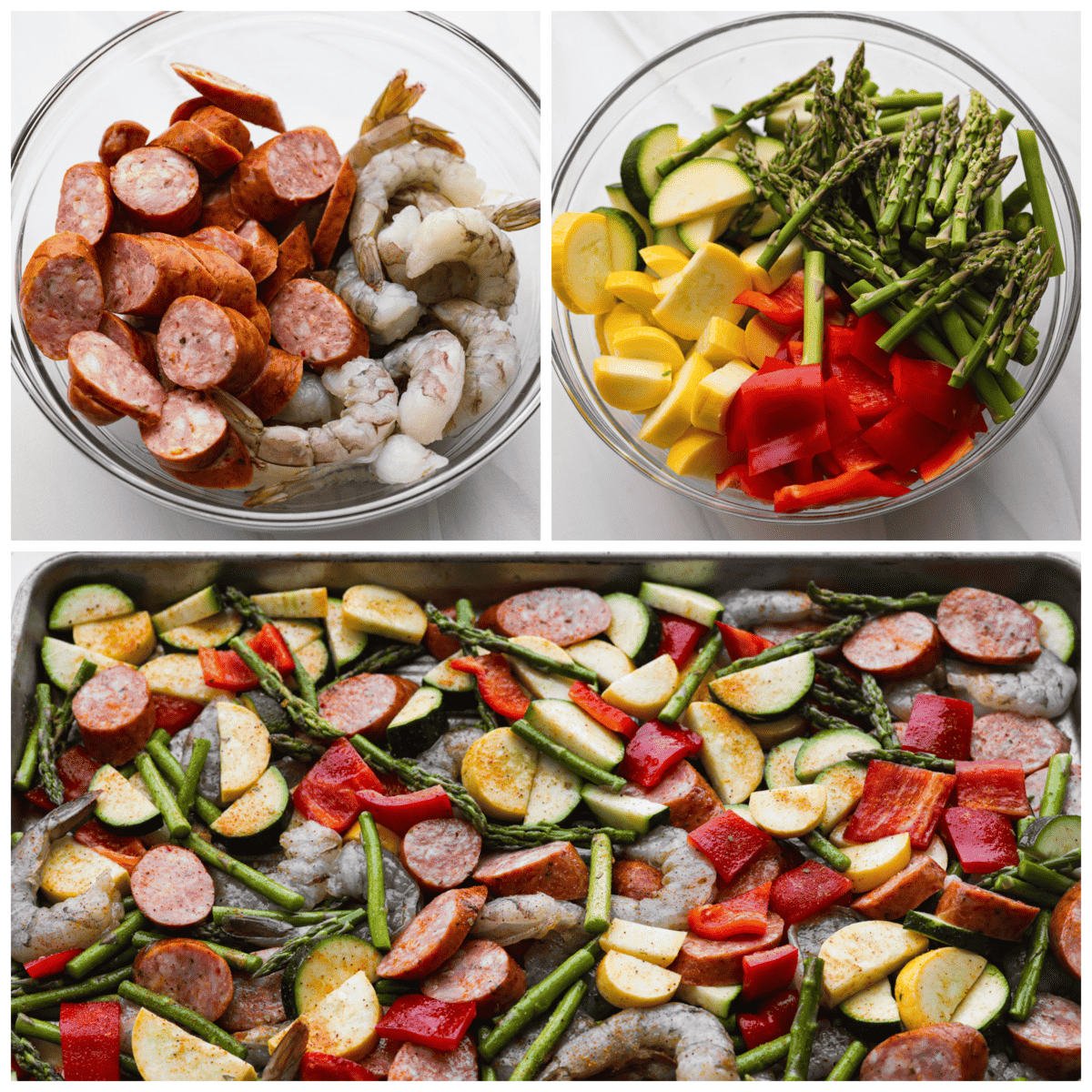 ---
Make This Recipe in an Air Fryer
Would you rather not heat up your kitchen and make this in the air fryer? Go for it! Follow the recipe then cook this Cajun shrimp and sausage vegetable recipe in the air fryer. Cook at 380 degrees Fahrenheit for about 12 minutes, flipping the chicken halfway through. This is a great alternative!
Storing Leftovers
Storing leftovers is simple to do! Store it with brown rice or quinoa because it makes it the perfect lunch. I always serve this sheet pan meal with rice or quinoa because it makes this a complete meal to eat throughout the week. You will love these leftovers!
In the Refrigerator: After your chicken and potatoes have cooled, place them in an airtight container and store them in your fridge. They will last for 2-3 days.
To Reheat: Preheat the oven to 350 degrees Fahrenheit. Place the chicken and veggies in a 9×12 baking dish and add 2 tablespoons of water to the dish. Cover it with foil and cook for 10-15 minutes or until the internal temperature reaches 165 degrees Fahrenheit.