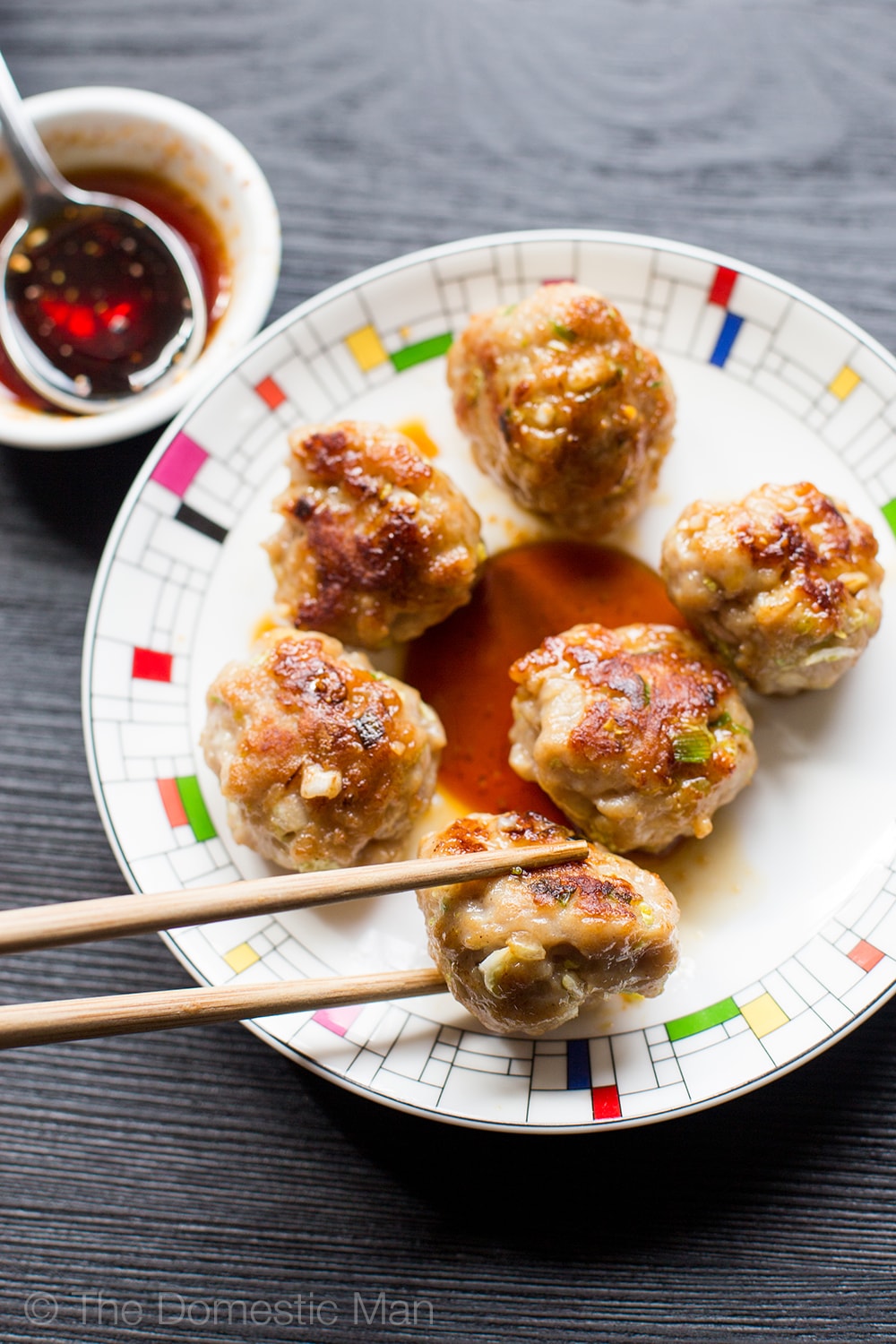 Today we have a guest recipe from Russ Crandall, also known as The Domestic Man. Russ has just launched his new cookbook Paleo Takeout (see my review of the book after the recipe) and this recipe for gyoza bites is from the Japanese section of the book. I personally love gyoza dumplings and I was happy to find a paleo friendly version in this cookbook and to have Russ share the recipe with you guys.

For those of you who don't know what gyoza are. Gyoza are Japanese dumplings based on the Chinese dumplings jiaozi, which are characterised by their crimped edges. They are most often steamed and pan-fried at the same time, resulting in a dish that is soft on one side and crispy on the other. I appreciate that replicating the thin wrapper dough of traditional gyoza is too much of a challenge for the weeknight home cook, so Russ developed this Gyoza Bites instead, which can be made quickly and tastes just as great. That's good enough adaptation for me!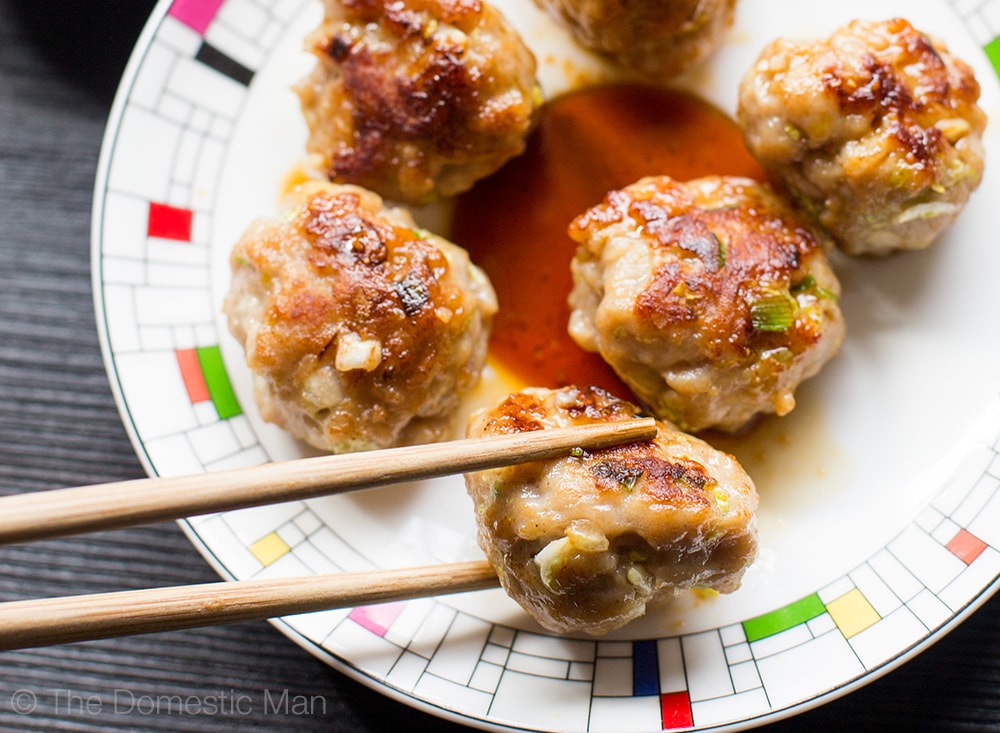 Print
---
Description
These tasty meatballs are the perfect adaptation of everyone's favourite Japanese gyoza dumplings. Makes 4 servings as an appetizer or you can use as two servings and complete the meal with a large Asian slaw or steamed vegetables.
---
DIPPING SAUCE:
SURIMI (MEAT PASTE):
---
Combine the dipping sauce ingredients in a small bowl and set aside.
Combine the surimi ingredients in a food processor and pulse until tacky and well mixed. Transfer to a mixing bowl and mix together with the cabbage and green onion using your hands. Form into 20 to 25 small balls using wet hands.
Heat 1 tablespoon of the coconut oil in a skillet over medium-high heat until shimmering, about 1 minute. Add half of the balls and pan-fry until cooked through, rotating often, about 5 minutes. Transfer to a plate. Add the remaining 1 tablespoon of oil and the remaining balls and pan-fry until cooked through, then serve with the dipping sauce.
---
Notes
Togarashi powder is that red pepper spice you see in many Japanese eateries, usually sprinkled on a ramen soup. You can buy it from Asian stores and online or you can make a substitute by combining half portion of cayenne pepper, quarter portion of paprika, and quarter potion of lemon pepper. For example, to make 1 tablespoon of togarashi powder, use 1/2 tablespoon of cayenne, a little less than 1 teaspoon paprika, and a little less than 1 teaspoon lemon pepper.
Mirin is a wine made from sweet rice, unlike sake which is also a rice wine, mirin is much sweeter and goes well with salty tamari or coconut aminos sauce. I use mirin occasionally in Asian cooking and you can get a bottle from Asian sections of you local supermarket, Asian grocers and online. It's a good buy as you can use it in dressings and stir-fries.
Tamari sauce is a gluten free naturally brewed soy sauce that can be bought in most health food stores and in many supermarkets. Coconut aminos can be used instead.
About the Paleo Takeout cookbook
I own Russ' first cookbook The Ancestral Table, which I really like, so I was pretty excited when he released his new cookbook Paleo Takeout – Restaurant Favorites Without The Junk. The reason I love Russ' cooking is because he and his family have a very similar food philosophy. He is a big advocate of the paleo diet but with a more relaxed approach inspired by the Perfect Health Diet framework developed by Paul Jaminet, Ph.d and Shou-Ching Jaminet, Ph.D.
This approach includes more starchy foods, such as white rice, white potatoes and their starchy powders, and some dairy. You might have seen a hash tag #teamwhiterice on social media. We don't see things white rice as a staple but rather as a carrier for more nutrient dense foods. The reason white rice is ok (unlike brown rice) is because most of the anti-nutrients usually found in the brown rice grain are removed during the milling and polishing process, so what you're left with is a simple source of starch and glucose. It's a fairly benign, although high, source of carbohydrates which is totally ok to consume in moderation.
Now that we got #teamwhiterice stuff out of the way, here is what you need to know about the book. With over 200 recipes (most with gorgeous pictures taken by the author), the cookbook focuses on popular restaurant and take out dishes from Asian, European and Latin American cuisines. Most of these are paleo friendly adaptations of the classics but with Russ' own twists and personal touches.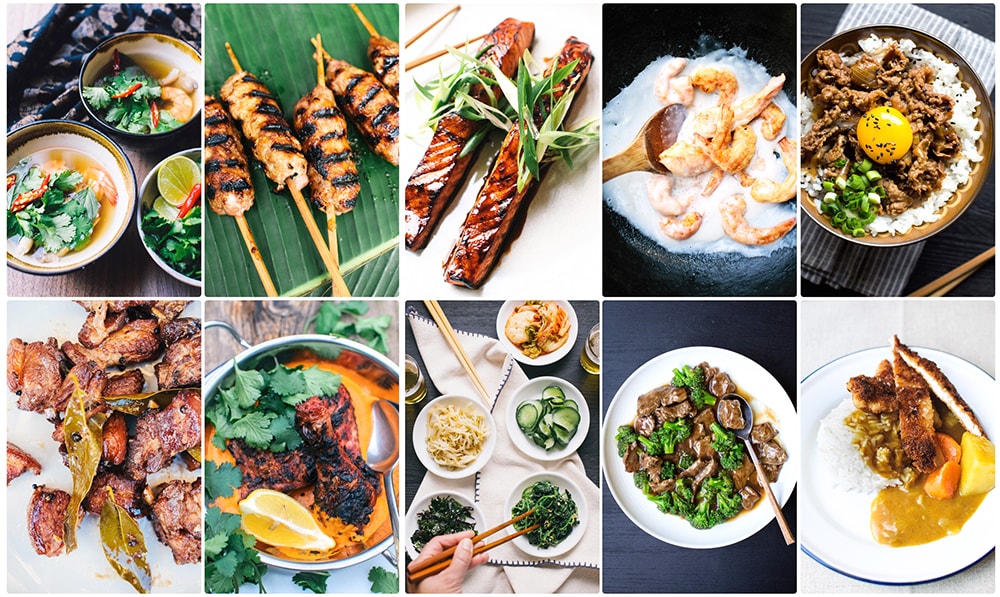 There are so many delicious looking recipes in here, from mouth-watering Asian dishes such as Hot and Sour Soup, Honey Sesame Chicken,  Okonomiyaki, Tempura, Bulgogi, and Pad Thai, to more subtly flavoured European and American classics of pizza, wings and burgers. Russ also provides a glossary for less common ingredients as well as handy substitutes, and a guide to AIP modifications. There is a short but comprehensive guide to paleo and PHD way of eating for those who are new to it, as well as his handy kitchen and cooking tips. I've bookmarked at least 10 recipes to cook in the near future.
Paleo Takeout is now available in the US and Canada, and I hope that we will also soon be able to get it in other countries. In the meantime, check out more about the book here and enjoy Russ' gyoza bites!