This website may contain affiliate links and advertising so that we can provide recipes to you. Read my privacy policy.
It's ooey and gooey, full of cheese and decadent rich lobster, this truly is an Incredible Lobster Mac and Cheese. Perfect for a special night or occasion, it's a macaroni and cheese that's sure to impress.
Lobster is a rich full flavored seafood. Indulgent and flavorful your going to to want to cook lobster more often. You have to try this one, it's The Best Lobster, or try it grilled. It's so good!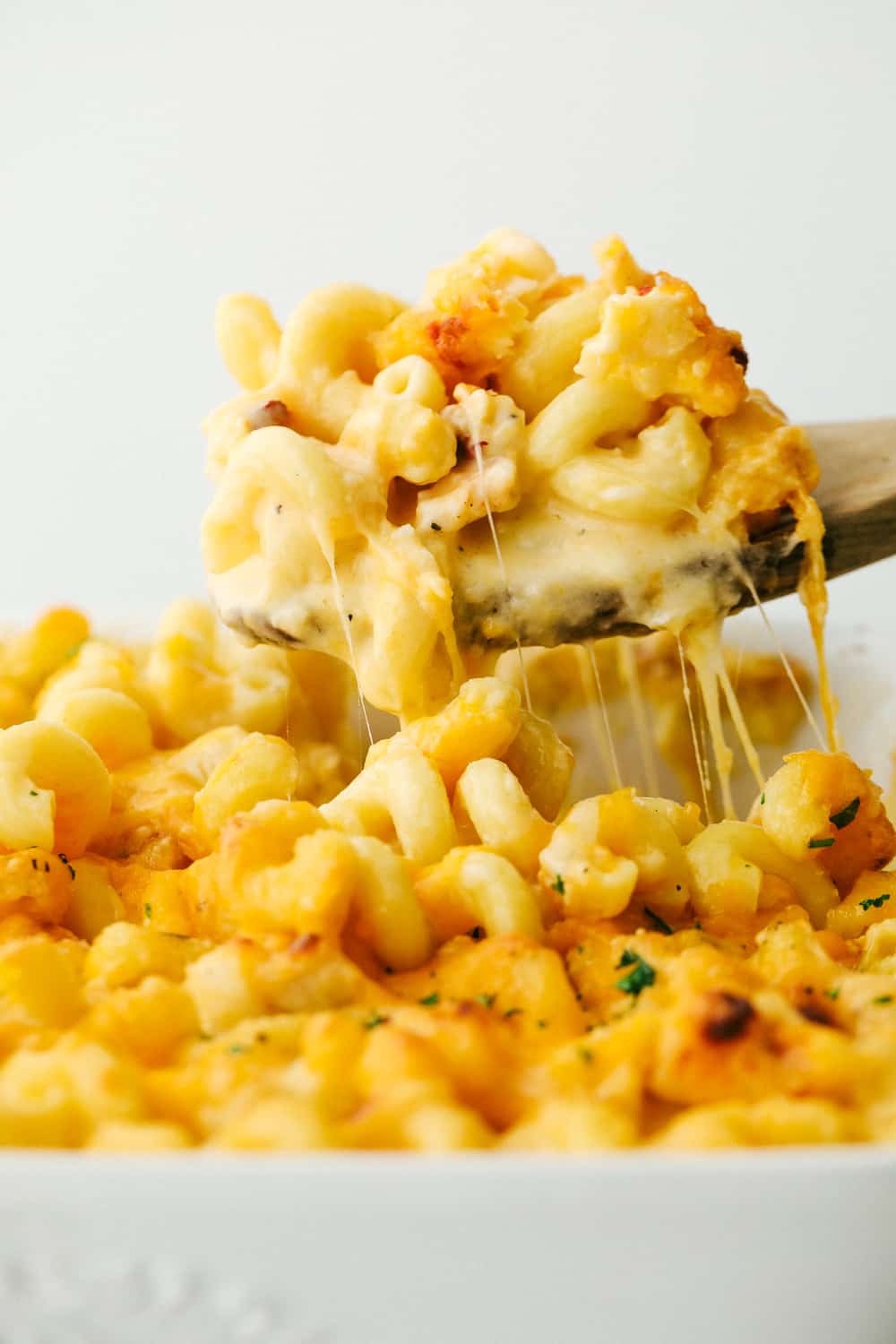 Seafood Mac and Cheese
This is not the macaroni and cheese you grew up with. This lobster mac and cheese is an elegant, grown up version that takes mac and cheese to a whole new level. This seafood mac and cheese is ooey, gooey, cheesy and full of rich melt in your mouth lobster. It's so insanely delicious. This changes everything when it comes to comfort food. It's creamy and savory. Your whole family is going to love this. Make for a special occasion and watch it get devoured.
Adding lobster to your mac and cheese makes it fancy and almost extravagant, but still a classic cheesy flavor. Add a side of broccoli or brussel sprouts and homemade rolls and you have dinner that's restaurant worthy. Top it off with a slice of cheesecake and you'll truly have a gourmet meal.
Ingredients for Lobster Mac and Cheese
These ingredients can all be found at your local grocery store, but you may need to hunt for good lobster. Read down below for tips on buying lobster. Cooking and using lobster is much easier than you can imagine!
Lobster Tails: 5-6 tails cooked and chopped.
Cheddar Cheese: Freshly shredded and divided.
Gruyere Cheese: Freshly shredded
Parmesan Cheese: Grated
Butter: 1 whole stick.
Flour: All purpose works best here.
Whole Milk: For creaminess, do not use skim or 1% milk.
Salt: Don't skip the salt, it helps the flavor shine through.
Garlic Powder: Adds a nice little bit of flavor.
Mustard Powder and Nutmeg: These are both optional, but highly recommended. Especially the mustard powder!
Pepper to Taste: Freshly ground will deliver the best bit of a kick.
Elbow Macaroni: Can also use cavatappi pasta, cooked according to directions.
Parsley: This optional but adds flavor and a nice pop of color.
Making Incredible Lobster Mac and Cheese
This grown up version of seafood mac and cheese is easy, it takes a bit of time, but it's totally worth it!  This is so good you are going to want to make it all the time, even if it does take a bit of extra time.
Cook:  Cook the lobster according to your preference. I prefer to broil my lobster
Prep: Heat oven to 400 degrees with the rack in the middle of the oven.
Sauce: In a large saucepan over medium heat melt the butter. Add the flour to the melted butter and stir until thickened, about 3 minutes
Whisk: Slowly whisk in milk a little at a time. The slower you add the milk the thicker the sauce will be.
Stir: Add in 3 cups of the cheddar cheese, gruyere cheese, and ½ cup of parmesan cheese into the sauce. Reserve 1 ½ cups cheddar and ½ cup parmesan for the top.
Spices: Add in the salt, pepper, garlic powder, mustard powder and nutmeg to the sauce, stir until combined.
Mix: Stir together the cooked macaroni noodles, lobster and the sauce and transfer to a 9×13 baking, that has been prepped with cooking spray if needed.
Top: Sprinkle with remaining cheese and bake in the oven until golden and bubbling. 20-25 minutes
Garnish: Top with flat leaf parsley if desired.
What to Look for When Buying Lobster Tails
There are two types of lobster tails that are most commonly sold. Warm water and Cold water Lobster tails. For the best flavor and texture you'll want to look for Cold Water Lobster tails. Yes they are more expensive but they are going to be so worth it. Warm water tails more commonly turn to mush after cooking them.  They can also have an ammonia spell to them, not very pleasant for any meal. So how can you know you're getting a good lobster tail.
Look at the packaging. It will often say if it's cold water or warm water.
Ask the store if it isn't clear where they're from.
If there are more than one brand of lobsters, pick the most expensive, it'll probably be cold water lobster tails.
Avoid buying tails that have any discoloration in the meat. Look for black spots or yellowing on the flesh. Take a close look at the meat and if there is any sign of yellowing, dull or discolored meat don't buy it..
Ask or check the labels to see if it's been soaked in sodium tripoyphosphate. If so avoid buying those tails.
Tails should not have any grayish. If they are gray at all, it may mean the lobster was dead before processing, and it will not be a good quality tail.
Tails should be frozen, and thawed just before cooking. Don't buy thawed lobster tails. You want to cook right away once thawed.
Look for lobster tails ranging from 5 oz to 12oz. These are smaller tails, and are the prime size for getting a good amount of meat and a quality taste and texture.
I know it's more expensive but if you can, pay more for the cold water tails, it'll be worth it and you won't have to worry about your lobster mac and cheese being ruined by bad lobster.
The best time of year to buy lobsters is during the winter when prices tend to be lower.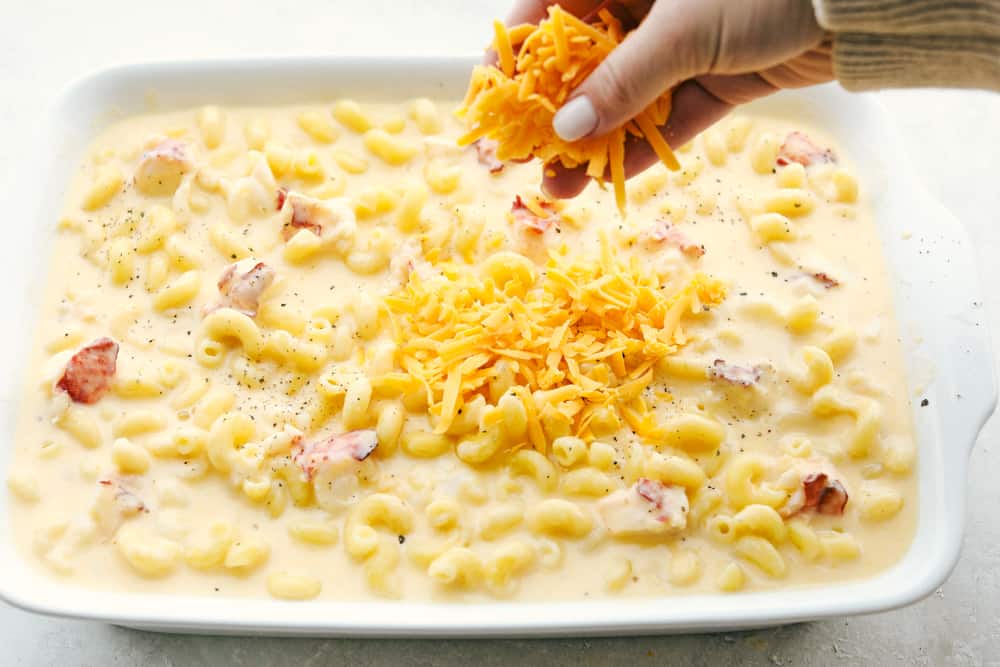 Different Ways of Cooking Lobster Tails
There are several different variations when cooking lobster tails. I love how simple each of them are and how they all taste just about the same. It is all about preference and what is easiest for you in your kitchen. Lobster tails are cooked quickly and easily. In less than 10 minutes these lobster tails will be done and ready to chop!
Broiled: This is my go-to way of cooking lobster. It is quick and easy and simple broiled on high heat and up close to top of the over. This makes a tender lobster tail ever time.
Baked: Very similar to broiling except under average heat and extra time when cooking.
Poached: This is more of a simmer in a layer of butter. It is also known as butter poaching.
Boiled: For the easiest and simplest way of cooking lobster boiling it is the way to go. Boil water in a large pot and the lobster tails soak in and boil for minutes. Sometimes the lobster is not quite as tasty though and doesn't have that rich buttery herb flavor attached to it compared to other ways of cooking.
Grilled: If you love to grill, this is for you! Simply add the lobster tails to your grill and let the heat cook the tails evenly and quickly.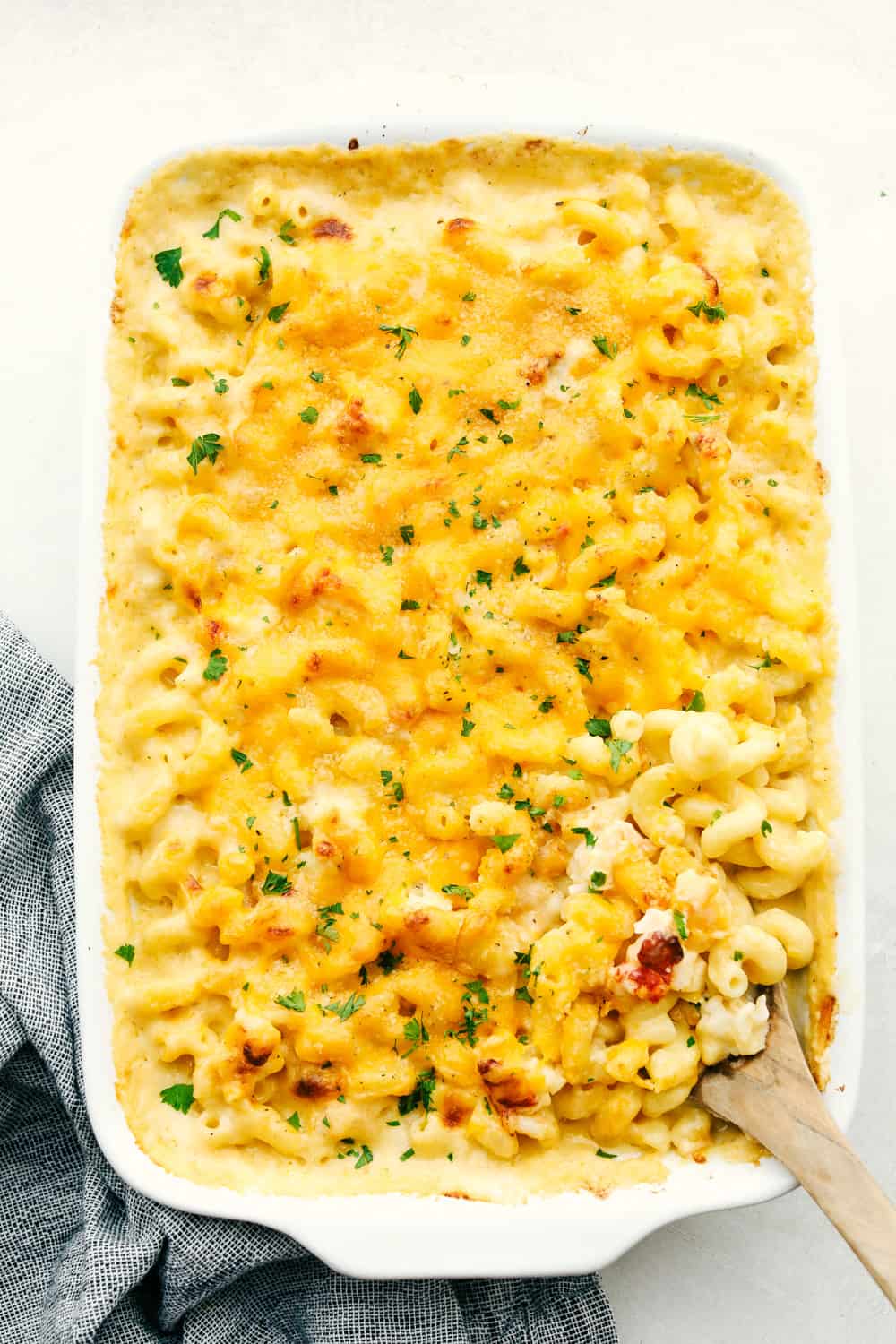 Tips and Variations for Homemade Mac and Cheese
This lobster mac and cheese is very simple and straightforward. But you can change it up as you like.
Spices: If you want a bit of a kick add cayenne, or chili powder. Or you can just serve it with hot sauce on the side. Also try Italian seasoning, cajun or smoked paprika for different flavors.
Noodles: Truly in short noodle will work with lobster mac and cheese. Try corkscrew, campanelle, conchiglie, fusilli, or a spin on elbow called piperigate.
Topping:  If you are the type that likes breadcrumb topping, mix two tablespoon of melted butter, ½ cup of bread crumbs, and ¼ cup of parmesan cheese. Sprinkle on top before baking.
Cheese: Don't use pre shredded cheese, it's usually coated with flour making it harder to melt and incorporate. Experiment with different cheeses if you like. White cheddar, smoked gouda, mozzarella, monterey jack, and fontina are all good choices.
Milk: Whole milk will create the creamiest texture. You can go down to 2% but I wouldn't go any lower in fat percentage in your milk.
Storage: Keep your leftovers in a tightly sealed container in the fridge for 3-4 days. Reheat in the microwave or in the oven.
More Seafood Recipes that are Incredibly Good!
Seafood is delicate, flavorful and versatile. Most people have strong opinions about seafood and if they like it or don't. And what kind they like. These recipes are game changers when it comes to seafood. They will become your favorites. They will convince the skeptics that seafood in not only good for you to eat, but it's truly divine. Put these winners in your seafood rotations and enjoy!