This website may contain affiliate links and advertising so that we can provide recipes to you. Read my privacy policy.
You won't find a better dip out there than this crack chicken dip! It's cheesy and packed with chicken, and bacon and seasoned to perfection. It will be the best appetizer dip that you've ever had!
If you have a love for dip like I do, then there are a few other dips that you MUST TRY for your next get-together! This 5-minute dip, this loaded ranch dip, or this loaded Texas trash dip are all amazing!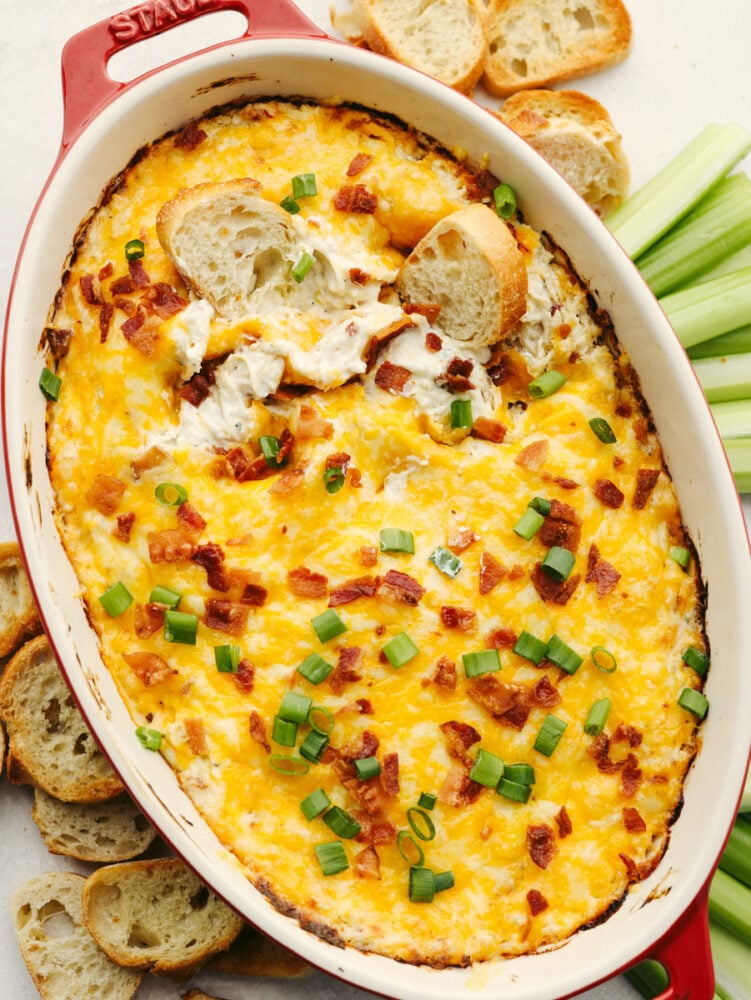 What is Crack Chicken Dip?
If you are looking for the most addicting and delicious dip out there, then this crack chicken dip is for you. This recipe will have you hooked and trying to think of every single thing possible to dip in this! It's that good. Crack chicken dip is shredded chicken, cream cheese, ranch seasoning mix, and some cheese and bacon. Mix it all together, and it will be love at first bite!
This dip is served warm and is perfect for game-day, family parties, and basically anywhere where people enjoy food. In fact, you will be looking to host a party just so that you can serve this dip! Don't wait! This dip only takes about 35 minutes (including baking time) from start to finish. It will take you less time to see it gobbled up from your table than it does to make it. But then again, isn't that the case of anything delicious? Make this French baguette or this crostini to go with it!
What's IN Crack Chicken Dip?
Once you read through this crack chicken dip recipe, you will see how simple and easy it is. In fact, you probably already have most of these ingredients at your house right now! See the recipe card at the bottom of the post for exact measurements.
Chicken: Cook and shred the chicken before making this dip. Make it easy on youreslef and grab a rotissarie chicken from the store! It only takes a few minutes to shred and then you've saved yourself some time! Plus, it's delicious!
Cream Cheese: Soften this to room temperature and it will mix better and create smooth base with no lumps.
Sour Cream: This adds to the creamy base of the dip and brings in a great flavor!
Dry Ranch Dressing: You can use a packet from the store or even try whipping up some of this homemade ranch seasoning mix!
Onion Powder: This gives a subtle onion flavoring but it is subtle and mixes in so well.
Bacon: Cook the bacon and chop it up into smaller pieces to mix it into the dip.
Colby Jack Cheese: You will divide the cheese up so that you use some in the dip and then some on top!
Green Onion: Use this as a garnish on top!
Let's Make Some Dip!
This warm crack chicken dip comes out of the oven all warm and bubbly. It tastes so good and is the perfect dip for bread or crackers! It will fly off of the table so fast you will need to hurry and grab some for yourself before it's gone!
Preheat oven and prep pan: Preheat oven to 400ºF. Spray a 2-qt baking dish with non-stick cooking spray and set aside. 
Mix ingredients: In a large bowl, combine the cooked shredded chicken, cream cheese, sour cream, bacon, ranch seasoning, and 1 cup shredded cheese. 
Top with cheese and bake: Transfer mixture to the prepared dish. Top with the remaining ½ cup shredded cheese. Bake uncovered for 25 to 30 minutes, until hot and bubbly.
Garnish: Top with diced green onions and more chopped bacon if you would like! 
Serve: Serve with crackers, chips, celery, or bread.
Can I Cook Crack Chicken Dip in a Crockpot?
Yes! Cooking crack chicken dip in a slow cooker is a great way to save some time and prepare it beforehand. Mix all of your ingredients, top it with the additional cheese and cook it in your crockpot on low for 2 hours. Garnish with the green onions and any extra bacon just before you serve it!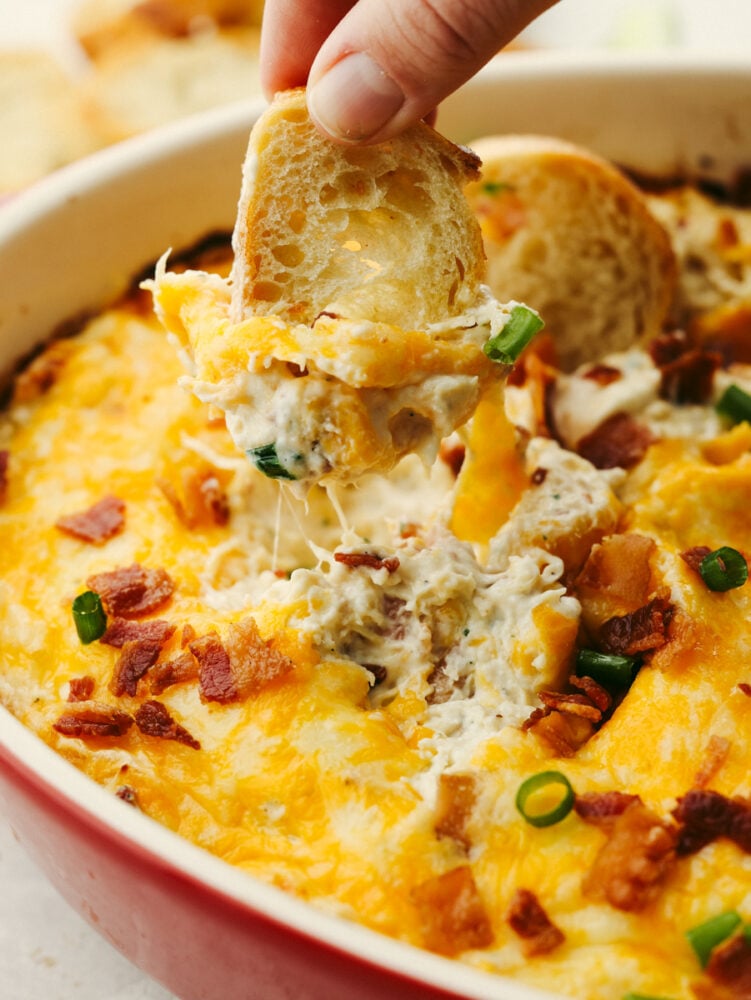 How to Store Leftovers
If you are lucky enough to have leftovers from this dip (which I doubt you will, it's so good!) then I have some suggestions on how you should store it and reheat it later!
In the Refrigerator: Once your dip has cooled then place it in a sealed airtight container. It will last for about 3-4 days.
To Reheat: If you want to warm this dip back up then place it in the slow cooker for about 30 minutes on low or until heated through. Or, you can cook it in your oven at 350 degrees for 15 minutes.