This website may contain affiliate links and advertising so that we can provide recipes to you. Read my privacy policy.
Crockpot huli huli chicken is a dinner you can set and forget, then come back to and enjoy in all of its tropical goodness! Each bite of fork-tender chicken is flavored with the best sauce made of ginger, garlic, ketchup, brown sugar, and pineapple juice. It's the perfect mix of sweet, tangy, and savory!
The Crock Pot is still one of my most used tools in the kitchen. I love that I can add in all of my ingredients, then let it do its thing while I go run errands. Coming home to a hearty, slow-cooked meal is truly the best! A few of my favorite recipes to try next: slow cooker beef tips, cashew chicken, and Swedish meatballs!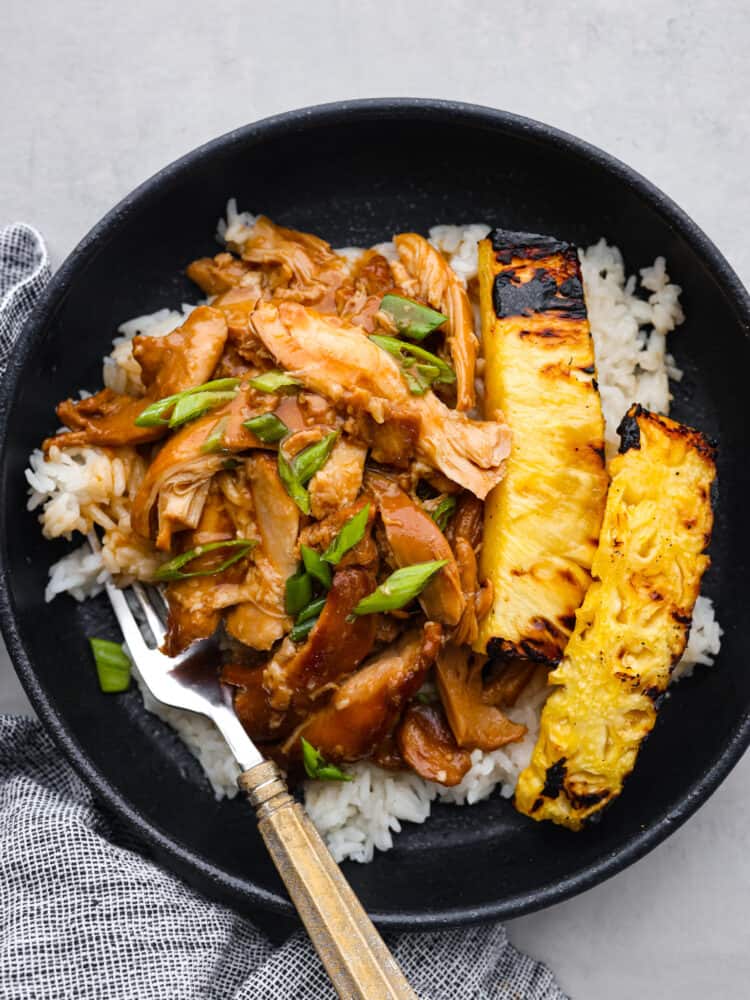 Huli Huli Chicken Crock Pot
Huli huli chicken is one of the most popular recipes on the blog, and for good reason! If you've never tried it before, it's a sweet and savory chicken dish from Hawaii. The name "huli huli" means the chicken is turned on a rotisserie over and over while it's cooking, so you get this caramelized glaze that's just unreal. It's a favorite among BBQ lovers and anyone who enjoys some Hawaiian grub. Trust me, once you take a bite, you'll be hooked! It's too flavorful and tender to resist.
But today's recipe is for all of you busy moms out there. By using a slow cooker, you can still get that perfectly juicy and tender texture, but the cooking process is completely hands-off. Simply add your chicken to the crockpot, whisk up a simple sauce to coat it in, and then let it cook while you go about your day! You'll come home to the perfect hearty meal packed with savory, pineapple-y goodness in each bite. Here is everything you need to make it:
Huli Huli Chicken Ingredients
This awesome Hawaiian dish uses so many tasty ingredients like pineapple juice, soy sauce, ginger, and garlic to make the chicken taste insanely good. Each ingredient plays a special role in making the marinade that gives Huli Huli chicken its signature mouthwatering flavor. You'll love it! Note: all measurements can be found below in the recipe card.
Unsweetened Pineapple Juice: This tropical liquid gold adds a tangy and subtly sweet flavor to the Huli Huli chicken marinade.
Soy Sauce: Adds depth and richness to the sauce, giving the chicken that savory and slightly salty goodness that will wow your taste buds.
Brown Sugar: For a touch of sweetness.
Ketchup: This classic condiment brings the tomatoey goodness and a touch of acidity to the sauce.
Fresh Ginger Root (Grated): Ginger adds a zesty and slightly spicy kick to the dish.
Minced Garlic: Let's be real, no savory dish is complete without some fresh garlic. It's a flavor powerhouse!
Boneless, Skinless Chicken Thighs: The star of the show! The marinade works its magic, infusing the chicken with its sweet, tangy, and savory flavor. Each bite is so tender and juicy! You can also use boneless skinless chicken breasts if you prefer.
Cornstarch: Cornstarch is the thickening agent that helps create a luscious, glossy sauce for your crockpot huli huli chicken. Don't skip adding it in!
How to Make Huli Huli Chicken in a Slow Cooker
Ready to make the best crock pot Hawaiian chicken? Let's get started! It's so simple, you'll want to whip it up all the time.
Prepare Sauce: In a medium bowl, whisk together your pineapple juice, soy sauce, brown sugar, ketchup, ginger, and garlic.
Add Chicken and Sauce to Crock Pot, Cook: Place your chicken thighs into a crock pot. Pour your sauce mixture over the top of them. Then cook on low for 5-7 hours.
Whisk in Cornstarch: Remove the chicken from the crock pot and then whisk in your cornstarch to thicken the sauce.
Shred or Serve Whole: At this point you can either enjoy your chicken in the whole thigh pieces with the sauce, or shred the chicken and add the shredded chicken back to the crock pot and stir it into the sauce. Shredding the chicken makes it an ideal sandwich filler, or topping on rice!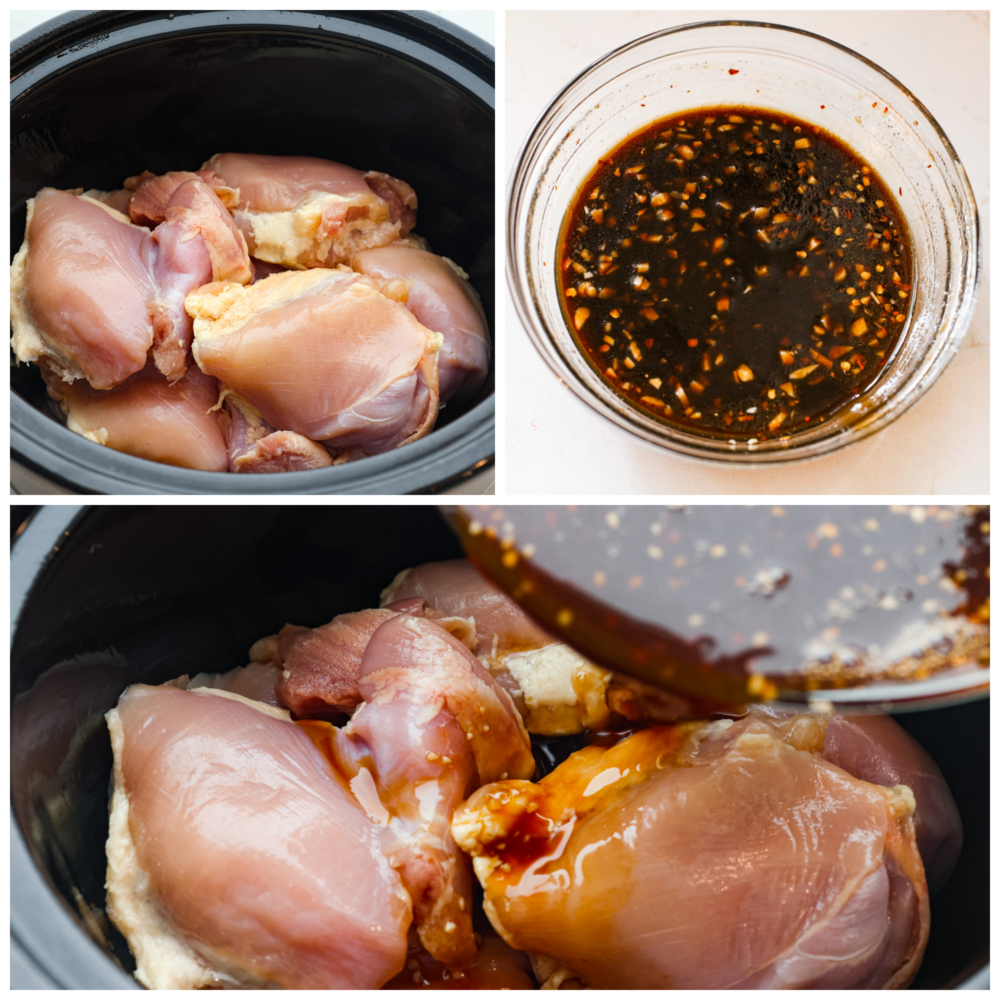 Tips and Variations
Ready to create some mouthwatering huli huli chicken with the convenience of a crock pot? These easy tips and tricks will have you cooking up tender, flavor-packed chicken with that signature Huli Huli taste right in your own kitchen.
Cook on High Heat: If you're short on time, you can also cook your crockpot huli huli chicken on high for 3-4 hours. Keep in mind that the higher temperatures may make your chicken a little less soft and tender.
More Mix-Ins: For a tropical twist, consider adding chunks of fresh pineapple or bell peppers to the crock pot along with the chicken. The sweetness of the pineapple and the vibrant colors of the peppers will enhance both the taste and presentation of the dish.
Serve With: Serve your crockpot huli huli chicken with steamed rice and garnish with sliced green onions or sesame seeds for an extra touch of flavor and visual appeal. Some other great contenders are green salad, grilled pineapple, macaroni salad, or even some spam musubi!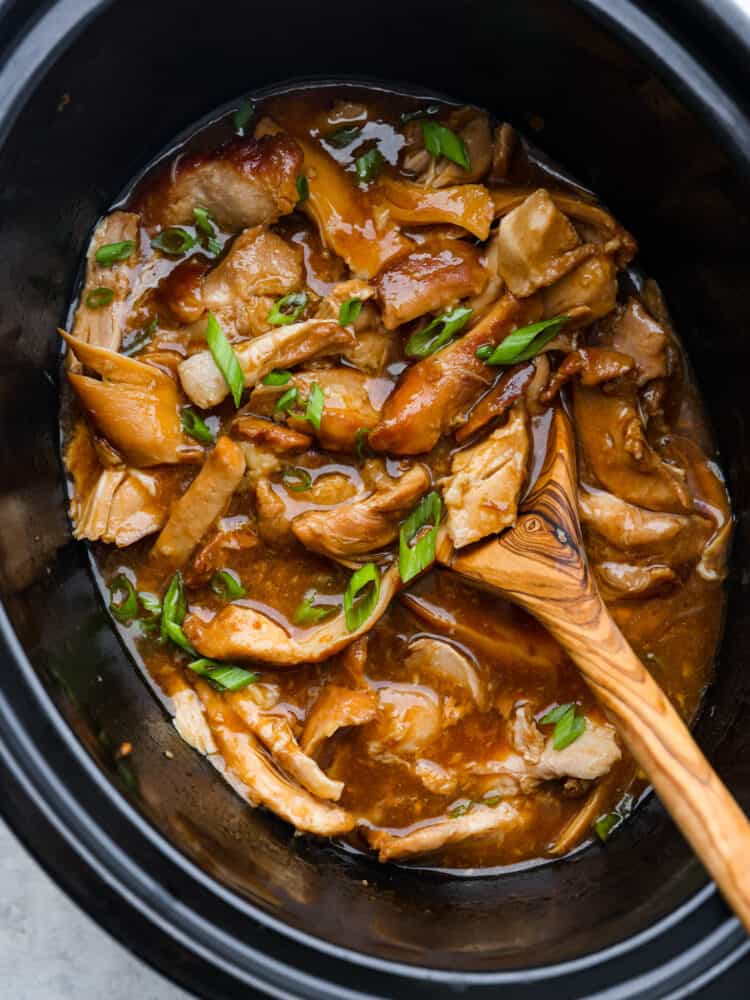 Storing Leftovers
Allow your chicken to cool completely, then transfer it to an airtight container. As long as you keep it in the fridge, it should stay good for about 4 days.
To Reheat: Pop your chicken in the microwave or warm over the stove. You can add a splash of water or chicken broth to keep it from drying out.