This website may contain affiliate links and advertising so that we can provide recipes to you. Read my privacy policy.
Sticky Honey Garlic Butter Shrimp are coated in the most amazing sticky honey garlic butter soy sauce. This is a quick 20 minute meal that you will make again and again!
You can't go wrong with shrimp recipes that are quick and easy to make! Creamy Garlic Shrimp Alfredo Pasta, Lemon Garlic Shrimp Scampi Recipe or Cajun Garlic Shrimp and Grits are a few of our favorite family meals.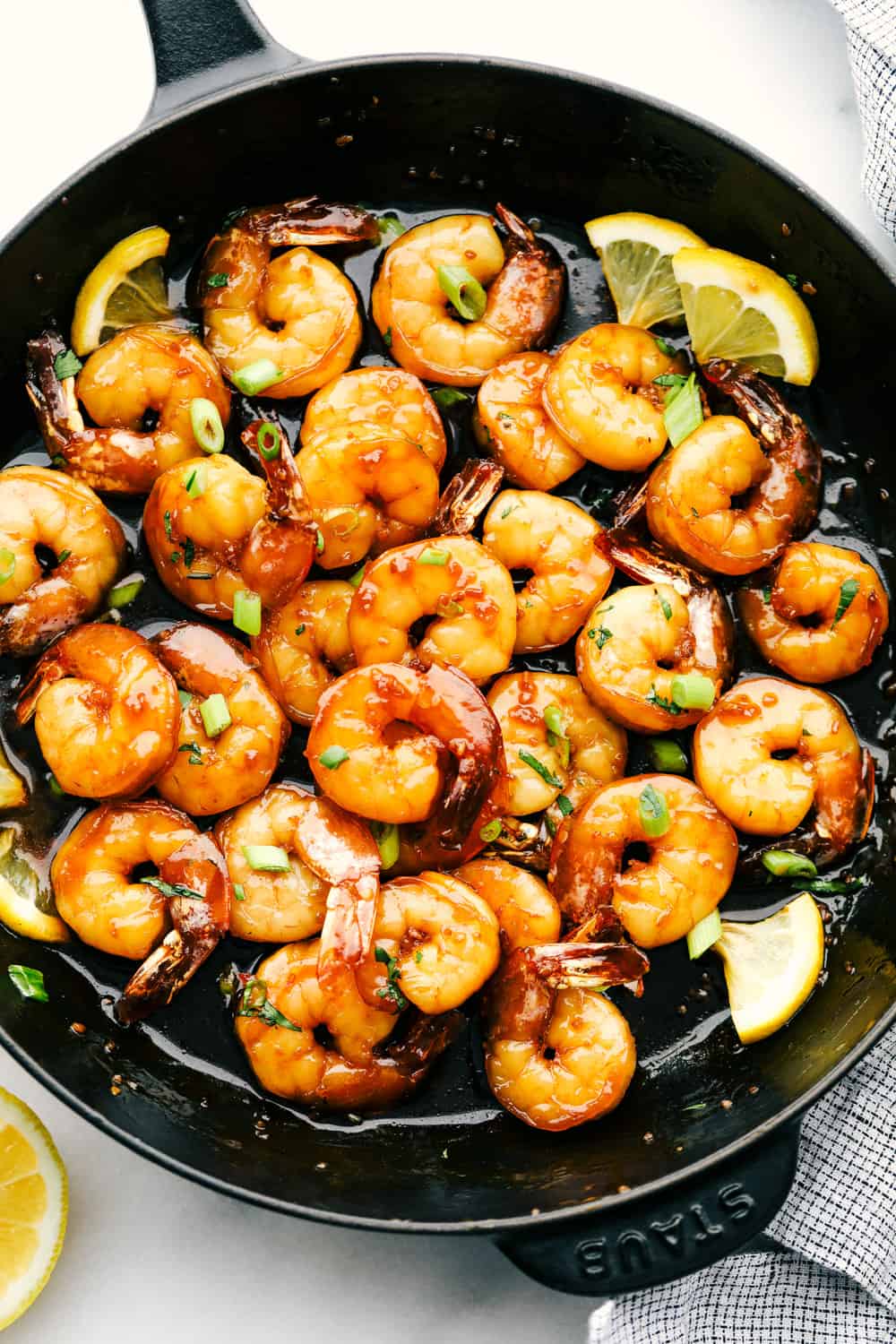 Sticky Honey Garlic Butter Shrimp
Since the New Year has started I made a goal to make dinner at home more. The holidays were crazy and it is so nice to settle down a bit. I love cooking at home and eating together at night is just so much better. We started our week off with this amazing Honey Garlic Butter Shrimp. I am not even the biggest fan of shrimp… the hubby is… and this is one of the best meals that I have ever had!! Add some fried rice or white rice and this is a complete meal your family will love!
Honey, garlic, soy sauce, and butter. Seriously my favorite flavors in one. I use them in so many recipes because it is just so dang good!! It is easy to make and the flavor is incredible. It coats the shrimp perfectly and creates such a flavorful and sticky sauce! But my favorite part is that this meal was ready in under 30 minutes. You can have amazing meals for your family at night that require little effort but are restaurant quality. You are going to love the sticky sauce on this shrimp and this will be a meal that you want to make again and again!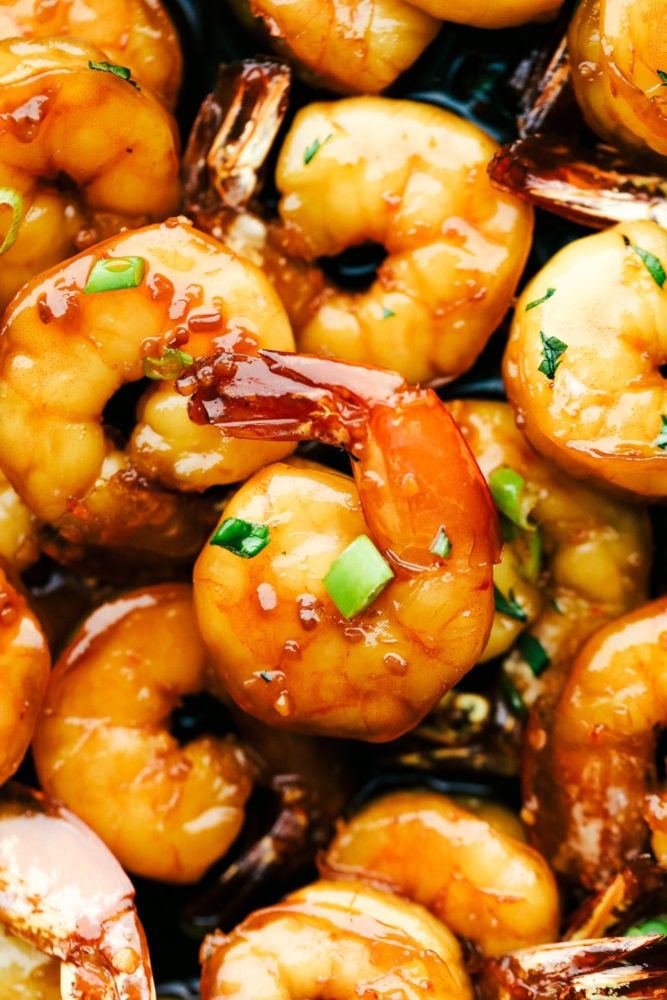 Honey Garlic Butter Shrimp Ingredients:
Honey: Makes everything sticky but it makes it a little sweeter too!
Soy Sauce: One of my favorite sauces to add to shrimp. It has a sweet and salty flavor that cooks well in shrimp.
Garlic: You can never have enough garlic. This hint of garlic will balance out the flavors.
Lemon: A squeeze of lemon is just what is needed to have a fresh, zest flavor.
Shrimp: Large is best and ready to cook.
Butter: Will be melted as you are cooking the shrimp in the skillet.
Green Onions: Used for color and garnishing the shrimp.
How do you make Honey Garlic Butter Shrimp?
Marinate the shrimp: In a small bowl whisk honey, soy sauce, garlic and lemon. Add half of the sauce to the shrimp and let marinate for 30 minutes.
Melt the butter: In a medium sized skillet add the butter. Add the shrimp and discard marinade. Season with salt and pepper.
Cook shrimp: Turn the heat to medium high. Cook until the shrimp turns pink about 2 minutes each side.
Add the sauce with the shrimp: Add the reserved marinade and pour over shrimp. Cook until the sauce starts to thicken and coats the shrimp. Garnish with green onions.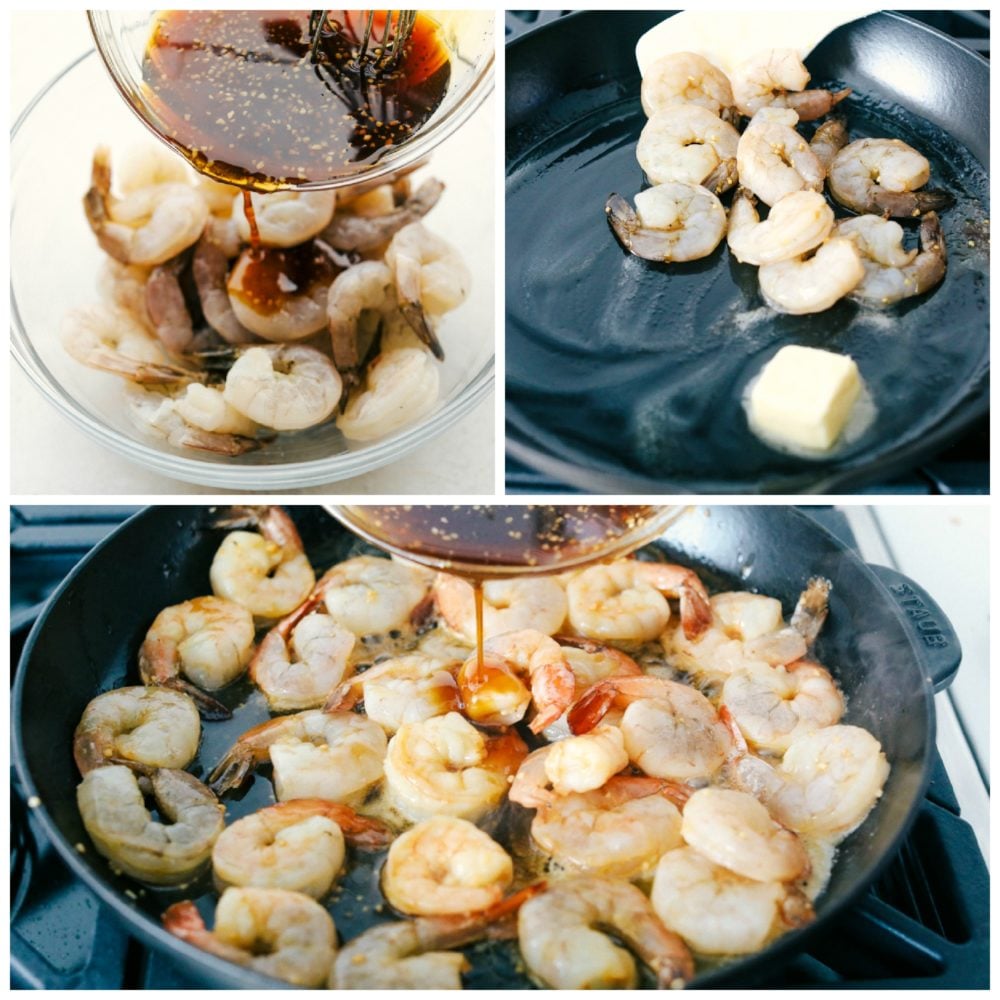 What is the best shrimp to use?
There most common types of shrimp found in markets are pink or white shrimp, both are great to use in this recipe. Make sure to select a jumbo-sized shrimp, look for 16 to 20 count (or pieces) per pound. This will ensure that the shrimp does not overcook quickly when sauteed.
Jumbo size also gives a nice two-bite piece for a heartier entree. Feel free to remove the tails to make it easier to eat. Frozen shrimp can also be used, run them under cool water until the ice melts, or defrost them the night before and drain well.
How long do you cook the shrimp?
When the shrimp are no longer pink in color and is taking on more of an opaque white color, is when I would consider them done. You do want to keep an eye on how white they do get and assure they do not overcook.
Keeping an eye on size reduction in the shrimp as well is a great way to watch how "done" your shrimp are getting. I like to leave the tails on the shrimp when cooking them. It does add extra flavor; however, if you prefer to peel the whole shrimp or purchase them that way, that is fine too.
Can you overcook shrimp?
The exterior of the shrimp should be pink with red tails and the flesh is slightly opaque and a little "white" in color. If it is too bright white in color, then the shrimp may be overcooked.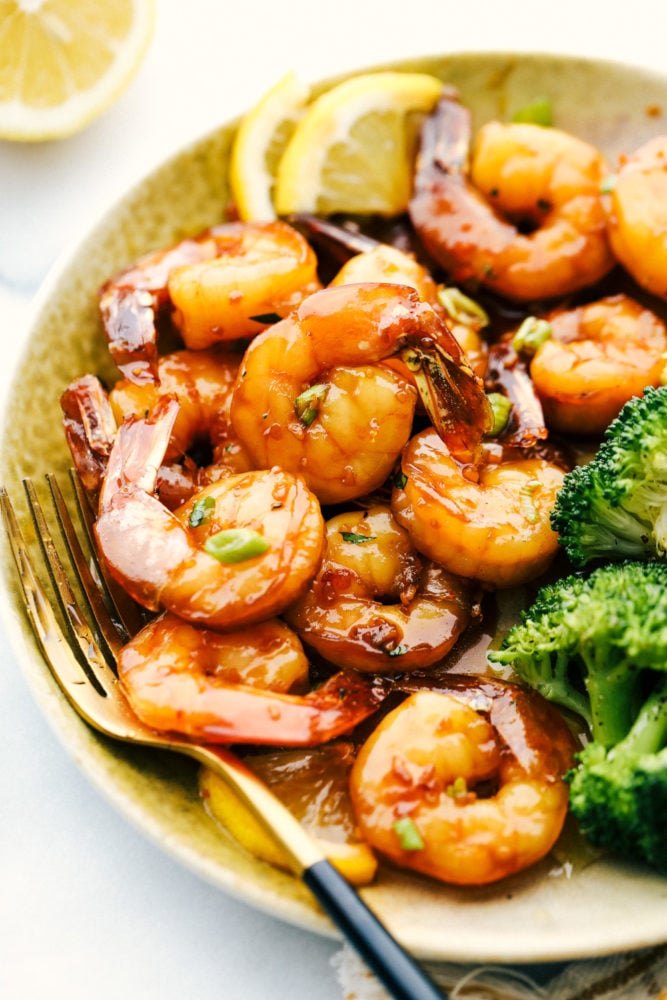 Looking for more Shrimp recipes?! Here are some!