This website may contain affiliate links and advertising so that we can provide recipes to you. Read my privacy policy.
Pan Seared Scallops with Lemon Caper Sauce is an elegant yet easy dish that is perfect for special occasions or any day of the week. The caramelized scallops and the delicious sauce is made all in one pan!
The tastiest pan-seared scallops that have a beautiful caramelized crust. It's drizzled with a lemon caper sauce that makes each bite even more irresistible. Garlic Butter Herb Scallops or Honey Garlic Butter Scallops are other amazing scallop recipes to try!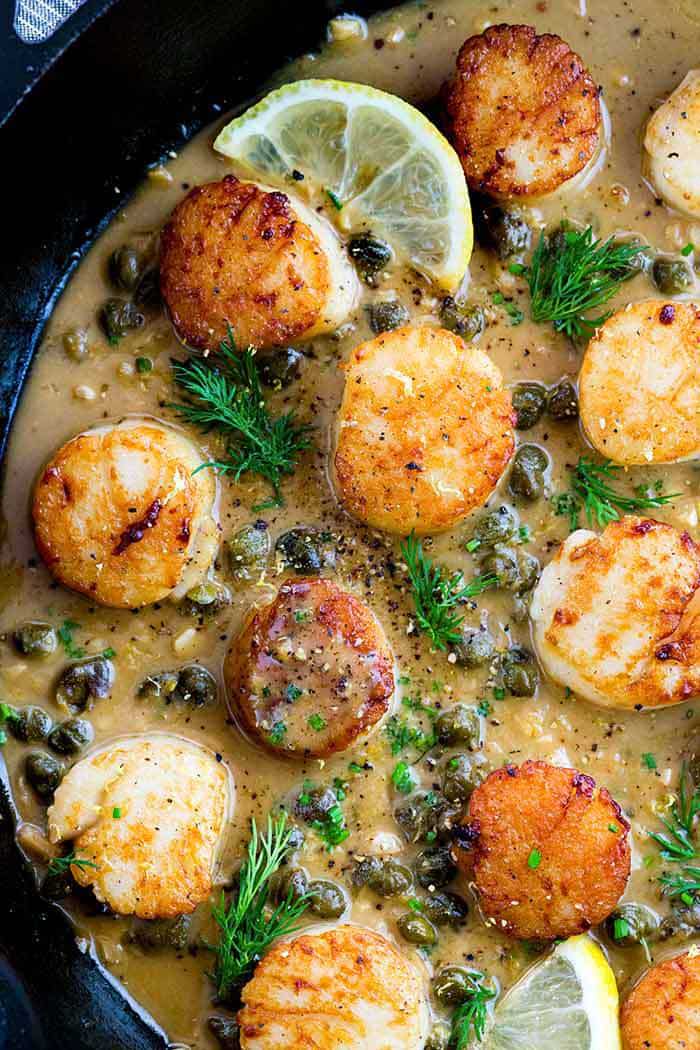 Pan Seared Scallops with Lemon Caper Sauce
Hi there! I'm Jessica Gavin, a Certified Culinary Scientist and cookbook author. I love to teach the science behind better cooking with my readers on JessicaGavin.com.
I'm so thrilled to now be a part of the contributor team here on The Recipe Critic, thanks Alyssa! This delicious recipe is a hit with my family when we're craving an upscale meal made right at home.
Scallops may seem like an intimidating and fancy dish that's reserved only for restaurants. I'm here to share my easy method for creating a beautiful crust every time right at home. There are three key steps to a achieve a golden exterior and tender texture.
After a few tasty test runs, you will nail the pan-searing technique, impressing your hungry eaters with your gourmet skills.
How Do You Make Scallops with Lemon Caper Sauce?
The first step is allowing the scallops to sit in a saltwater solution for about 10 minutes before cooking. The benefits of a brine are it delicately seasons the seafood, helps it retain moisture, and prevents the scallops from getting too tough as it's cooking. If you've got a few extra minutes, it's worthwhile to do.
The second step is to dry the surface of the scallops as thoroughly as possible. This process allows immediate searing and color development while preventing steaming in the pan. I just dry them in between paper towel until there is no residual moisture and they become slightly sticky when touched.
The third step is to choose the right pan and use very high heat when cooking. My go-to is a large cast iron skillet, I use it for spicy garlic shrimp and even skillet cornbread. Stainless steel will also work to get a caramel-colored surface too. The pan needs to be super hot so browning begins immediately as scallops can turn rubbery fairly quickly if overcooked. Once those scallops hit the pan, do not move them until you are ready to flip! I also use a little bit of butter to baste the scallops at the end of cooking to promote even more browning and flavor.
To complement the buttery scallops, a luscious and bright lemon caper sauce is made right in the pan that the scallops were seared. There is a lot of wonderful flavors retained in the pan, and you want to incorporate it in the sauce. Aromatic garlic, white wine, chicken broth, lemon juice and capers are reduced until a thickened sauce is achieved. A little bit of Dijon mustard is whisked in for a hint of pungency, creating a delicate savory citrus sauce to compliment to the crusted scallops.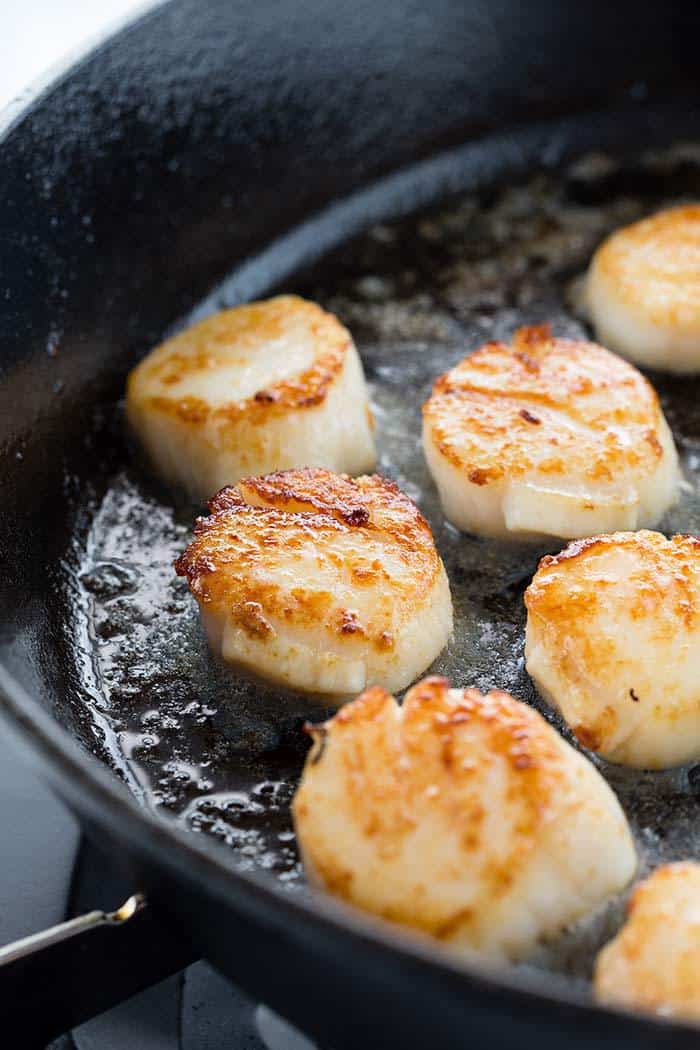 What is a Scallop?
Scallop is a common name that is primarily applied to any one of numerous species of saltwater clams or marine bivalve mollusks in the taxonomic family Pectinidae, the scallops.
What do Scallops Taste Like?
They are often described as similar to crab or lobster, but more firm. Their flavor tends to be sweet and delicate, but it's the texture that really makes them interesting and enticing. When cooked correctly, they are soft and chewy but not rubbery or tough.
Are Sea Scallops Good for You?
Scallops are 80 percent protein. They are also a good source of magnesium and potassium.
How Do I Make Seared Scallops?
Add olive oil to a skillet and turn to medium-high heat. Salt and pepper the scallops and add to the heated pan. Sear the scallops 3-3 ½ minutes or until the sides are golden brown.
Can You Cook Frozen Scallops?
You will want to thaw scallops, if frozen. You can thaw them several hours or overnight in the refrigerator. Do not thaw scallops at room temperature. Rinse scallops and pat them dry with paper towels before cooking.
What Do You Eat with Scallops?
Many green vegetables, such as asparagus, green beans, and broccoli, accompany scallops nicely. You can also serve scallops on a bed of fresh spinach, kale, or with cooked collard greens. I recommend adding angel hair pasta or sautéed zucchini noodles to toss in the lemon caper sauce for a more filling entree.
What White Wine cooks well with Scallops?
For cooking, you will want a wine with a high acidity known in wine parlance as "crisp." Sauvignon Blanc, Pinot Grigio, Pinot Gris, Pinot Blanc, Sémillon, and dry sparkling wines are especially good.
Can I Leave out the White Wine?
Yes! This is just an option for those who lit the flavor and tasting of a white wine.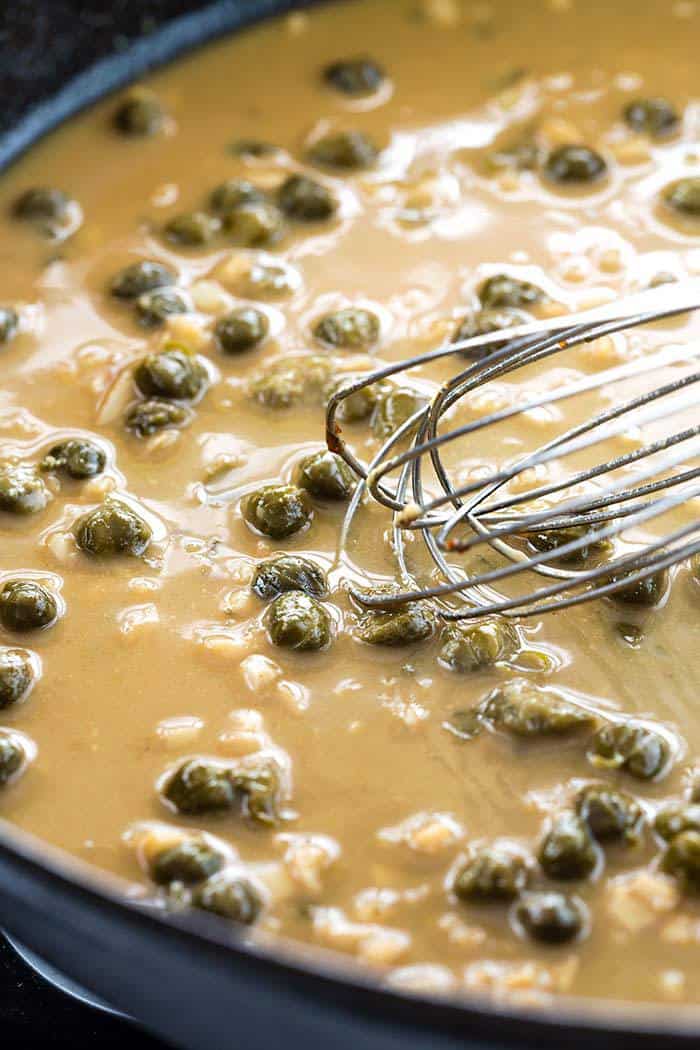 Looking for More Seafood Recipes? Try these!