In today's post, I am sharing a Nicoise salad recipe with a twist. Made with sweet potatoes instead of white spuds and canned sardines instead of tuna, this French salad is boosted with extra nutrients for healthy heart and brain. Served with sun-dried tomato dressing that has a lot of flavour and attitude, which might help those not loving sardines to actually enjoy them a little in this salad. This recipe is gluten-free, paleo, Whole30 friendly and super nutritious. 
---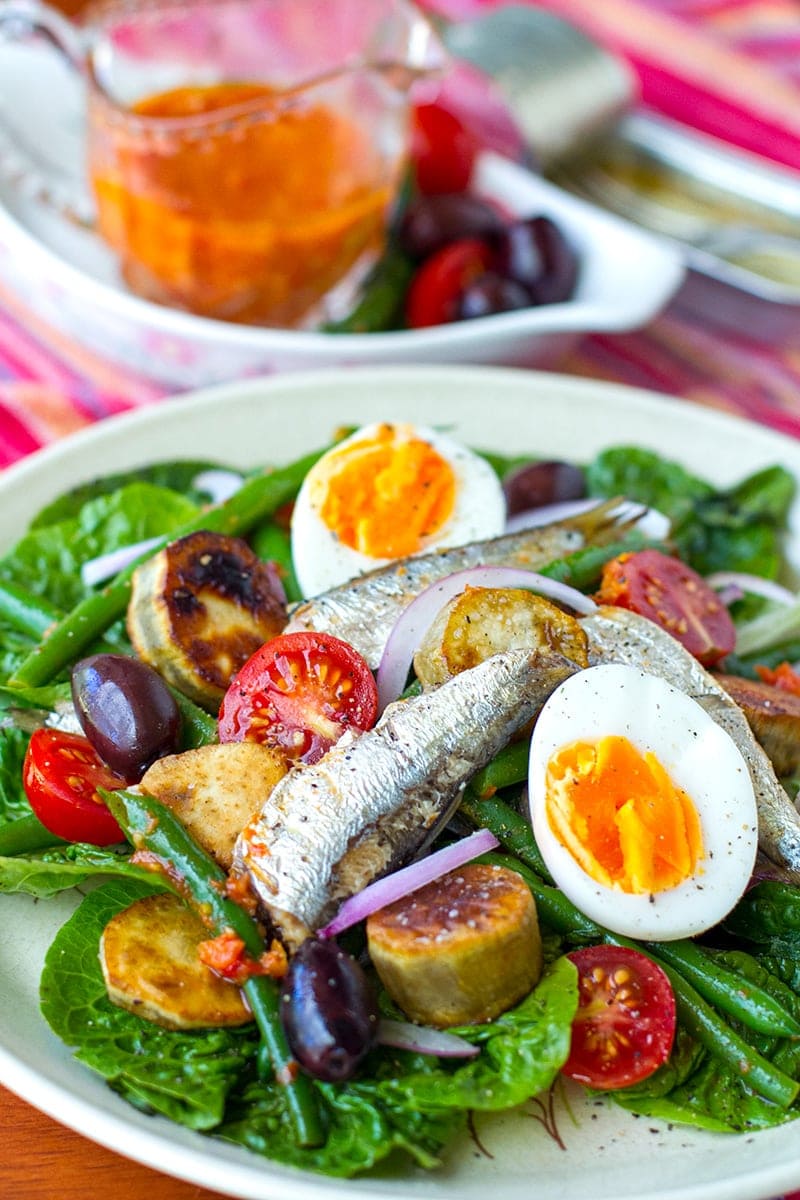 I recently wrote a post about why you should start eating more sardines (hint: superfood!) and adding them to a crispy salad with a tasty dressing is an easy way to incorporate this impressive into your diet. I always think about which salads traditionally feature fish or seafood and if I can swap the protein out with sardines. Nicoise salad was the first that came to mind!
What is Nicoise salad?
Salad Niçoise is a French dish from the beautiful city of Nice in the south of the country. The most classic recipe features tomatoes, hard-boiled eggs, Niçoise olives (similar to Kalamata, I guess) and anchovies or tuna, dressed with olive oil. These will often be piled on top of lettuce. There are many variations and cooked potatoes and greens beans are often included.
Most of the time, either freshly cooked or canned tuna is used but many fancy versions will serve Nicoise salad with crispy skin salmon or pan-seared tuna tataki. You might also find ingredients like shallots, red peppers, asparagus and so on. In my Salad A Day cookbook, I have a version with hot smoked salmon and pickled onions (pic below).
For my Nicoise salad creation, I pan-fried some sweet potatoes (which can also be boiled or roasted) and used sardines canned in olive oil. I steamed some fin green beans and used regular Kalamata olives, cherry tomatoes and some red onion for a kick.
Sun-dried tomato dressing
One of the standout elements in this salad is the sun-dried tomato dressing. As a rule of thumb, when using sardines in a recipe, you might want to disguise their strong flavour with something equally bold. Acidic, sweet, sour ingredients usually do the trick. Things like citrus juice, capers, sun-dried tomatoes, pickled anything works really well.
In this case, I blended a few sun-dried tomatoes with olive oil, garlic, lemon juice, mustard and a little chili, which give this dressing a bit of va-va-voom. I recommend making a larger batch as you will want to use it again and again. 
It goes well as a condiment with grilled or baked fish, chicken or meat and can be used over any grilled or roast veggies to give them freshness and zing. 
MORE RECIPES USING SARDINES
Print
---
Sun-Dried Tomato Dressing (makes a cup )
---
Preheat oven to 200°C (395°F). Toss diced sweet potato in oil and a few pinches of sea salt. Spread on an oven tray (I put them on parchment baking paper) and roast for 20 minutes.
Bring a saucepan of water to the boil. Add the egg and the beans. Cook the beans for 2-3 minutes, remove and rinse. Cook the egg for another 5 minutes, then rinse under cold water.
Arrange salad leaves on a plate and top with roasted sweet potato, beans, halved egg, olives, red onion and cherry tomatoes. Drizzle with 2 tablespoons of salad dressing and top with sardines.
Make the dressing. Place all ingredients in a blender or a food processor. Process until pureed and well combined. Alternatively, finely dice garlic and sun-dried tomatoes and whisk the other ingredients in a bowl. Store in a clean, air-tight glass jar in the fridge for up to 10 days.
---
Notes
If you really can't do sardines, canned tuna, salmon or another type of fish can be used. For a vegetarian version, add chickpeas or lentils.
Calorie breakdown below is based on 2 tablespoons of salad dressing and 95 g of drained sardines from a can (in olive oil).
For a lower-carb version, omit or the sweet potatoes with more green beans or asparagus.
Nutrition
Serving Size:

Bowl of salad with 2 tablespoons salad dressing

Calories:

677

Sugar:

12.2 g

Sodium:

1800.6 mg

Fat:

47.5 g

Saturated Fat:

7.6 g

Carbohydrates:

33.4 g

Fiber:

8.5 g

Protein:

34.3 g

Cholesterol:

316.6 mg
SAVE THIS FRENCH SALAD TO PINTEREST