This website may contain affiliate links and advertising so that we can provide recipes to you. Read my privacy policy.
Cajun Popcorn Shrimp are large shrimp that are lightly breaded in panko with a kick of cajun and a sweet Italian seasoning and then fried in a vegetable oil until they are golden brown on the outside and tender, juicy shrimp on the inside. Take your shrimp to the next level!
Cajun seasoning is a pop of color and flavor! If you love cajun and shrimp combination try this Cajun Garlic Shrimp and Grits, Cajun Shrimp and Sausage Veggies Skewers or Blackened Cajun Shrimp Tacos with Avocado Salsa.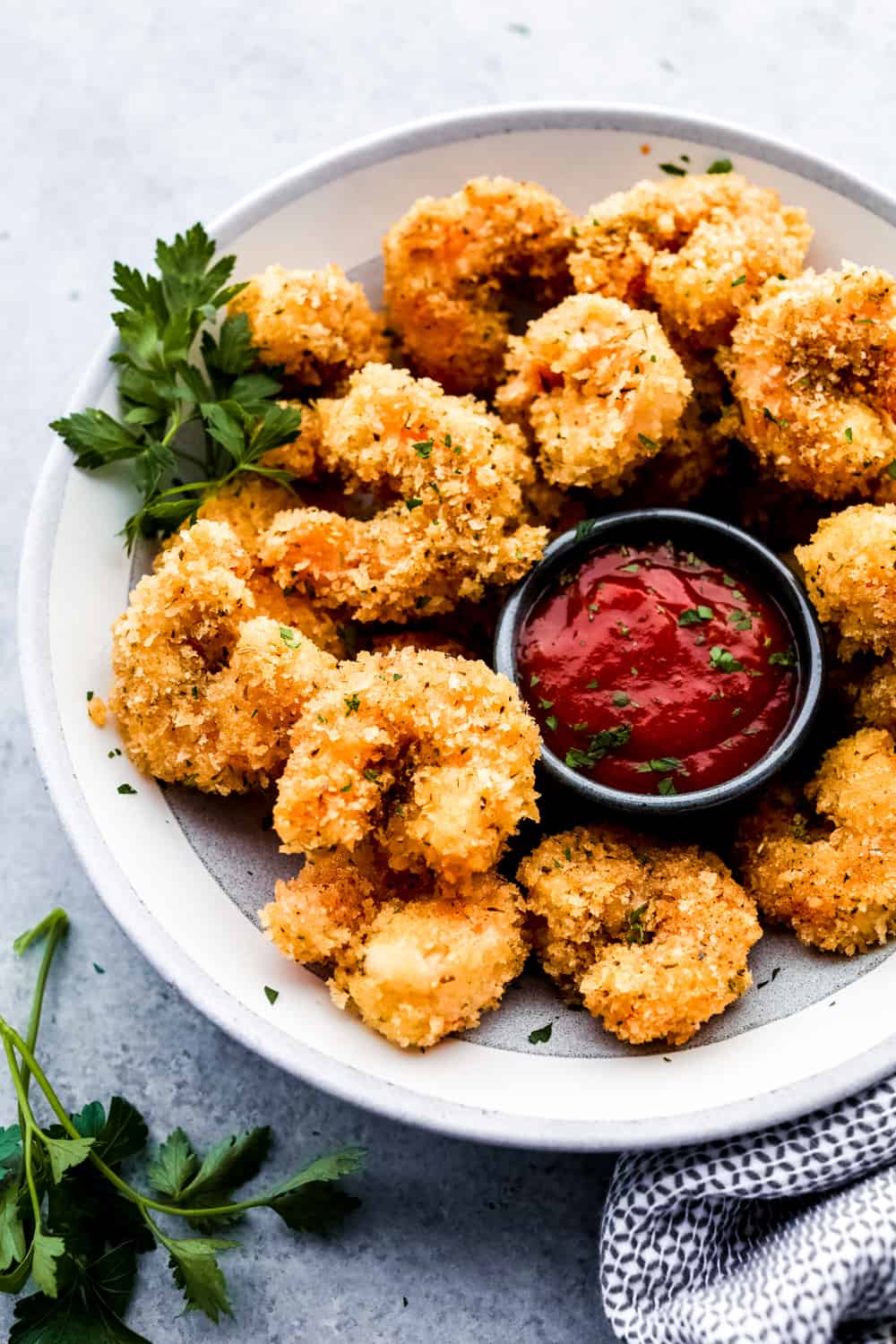 Cajun Popcorn Shrimp
This cajun popcorn shrimp is just what you need to make a fun night meal with family.
There is so much flavor and pop that these shrimp won't last long!
Lightly bread the shrimp with an Italian seasoning and a kick from the cajun seasoning then fry in a skillet.
It is light and tasty with every shrimp!
They are simple to make with quick and easy instructions.
The ingredient list is all the things you have right in your pantry and refrigerator!
Cajun and shrimp are the perfect combination to have and make these popcorn shrimp POP with flavor!
What you need to make Cajun Popcorn Shrimp
Vegetable oil: this is used for frying the shrimp.
Shrimp: peeled and deveined and tales removed
Flour: the binding of the egg and seasonings over the shrimp.
Salt and Pepper: to taste
Eggs: keeps the shrimp tender and helps hold the seasonings on to the shrimp when being fried.
Milk: gives it a creamy base and adds a little bit of flavor.
Panko, Cajun seasoning, Italian seasoning: mix together for the crispy outside part of the shrimp. 
How to make Cajun Popcorn Shrimp
In a large saucepan add vegetable oil to about ½ inch. Heat to 350 degrees.
In a small bowl whisk together the flour, salt and pepper. In another small bowl whisk together the eggs and milk. In another small bowl add the Panko, cajun seasoning and Italian seasoning.
Start by coating the shrimp in the flour mixture. Next dredge in the egg mixture and lastly coat in the Panko seasoning.
Carefully add the shrimp to the hot oil until they are golden brown for about 3-4 minutes. Remove with a metal slotted spoon and transfer to a plate lined with a paper towel.
Tips for making Cajun Popcorn Shrimp
Make sure your oil is near 350 degrees F but not over 400 degrees F before adding in the shrimp. The temperature will slightly drop once the shrimp hit the oil.
To keep things clean and mess free fingers, it is easiest to use one hand for the dry ingredients and one had for the wet.
Dip the shrimp by holding the tail end and shake off any excess as you are dipping.
If you have Old Bay Seasoning you can substitute it for the cajun seasoning.
For a spicer shrimp add chili powder or red pepper flakes to your flour mixture.
I prefer the larger shrimp even though popcorn shrimp is usually small. Substitute the large shrimp with smaller shrimp if that is what you prefer. Adjust your frying time according to the size of shrimp that you will be using.
Raw shrimp is a must! They are gray in color and you can purchase them peeled and deveined in the freezer section by the seafood.
It is best to prepare and bread all your shrimp while the oil is warming up. Shrimp do not take that long to cook and is best to be prepared ahead of time before starting.
Baking cajun popcorn shrimp work well too. Simply coat each of the shrimp and place them on a sprayed baking sheet. Bake at 425 degrees F for about 12 to 15 minutes or until they are golden brown.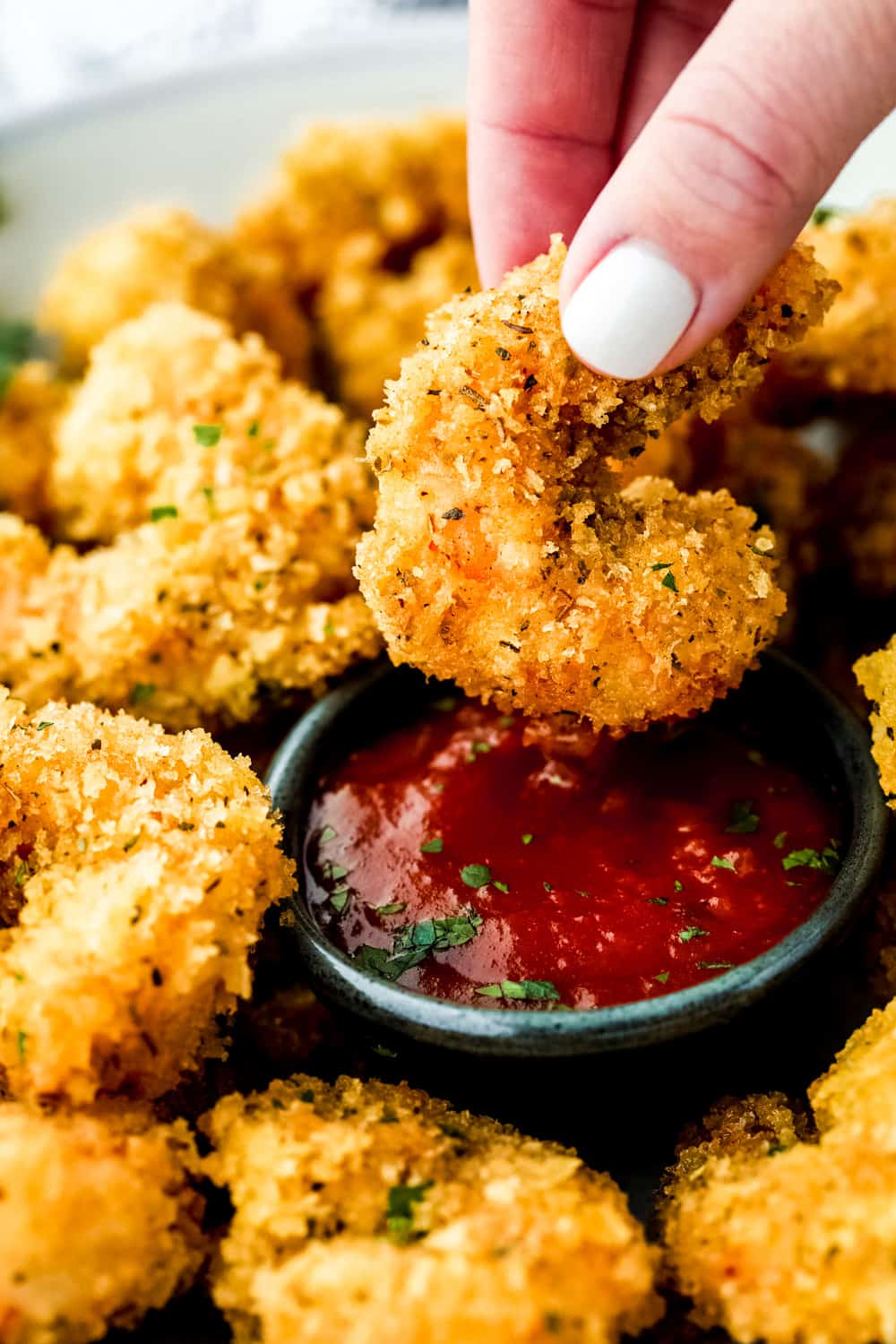 Storing Cajun Popcorn Shrimp
Storing cajun popcorn shrimp: these are perfect to keep in the refrigerator for 4 to 5 days long. Let cool after baking the cajun popcorn shrimp, then store in an airtight container for best results.
Can you freeze cajun popcorn shrimp? Yes! These popcorn shrimp are great to freeze. Cook your shrimp according to the instructions, let completely cool then place on a baking sheet not touching each other. Place in the freeze and freeze for about 1 hour. Once they are frozen and hard place them in a ziplock bag or airtight container. This will help keep them from sticking together.
Warming Up: When ready to reheat simple place on a sprayed, baking sheet and bake in the oven at 350 degrees F for about 15 minutes or until they are warmed through.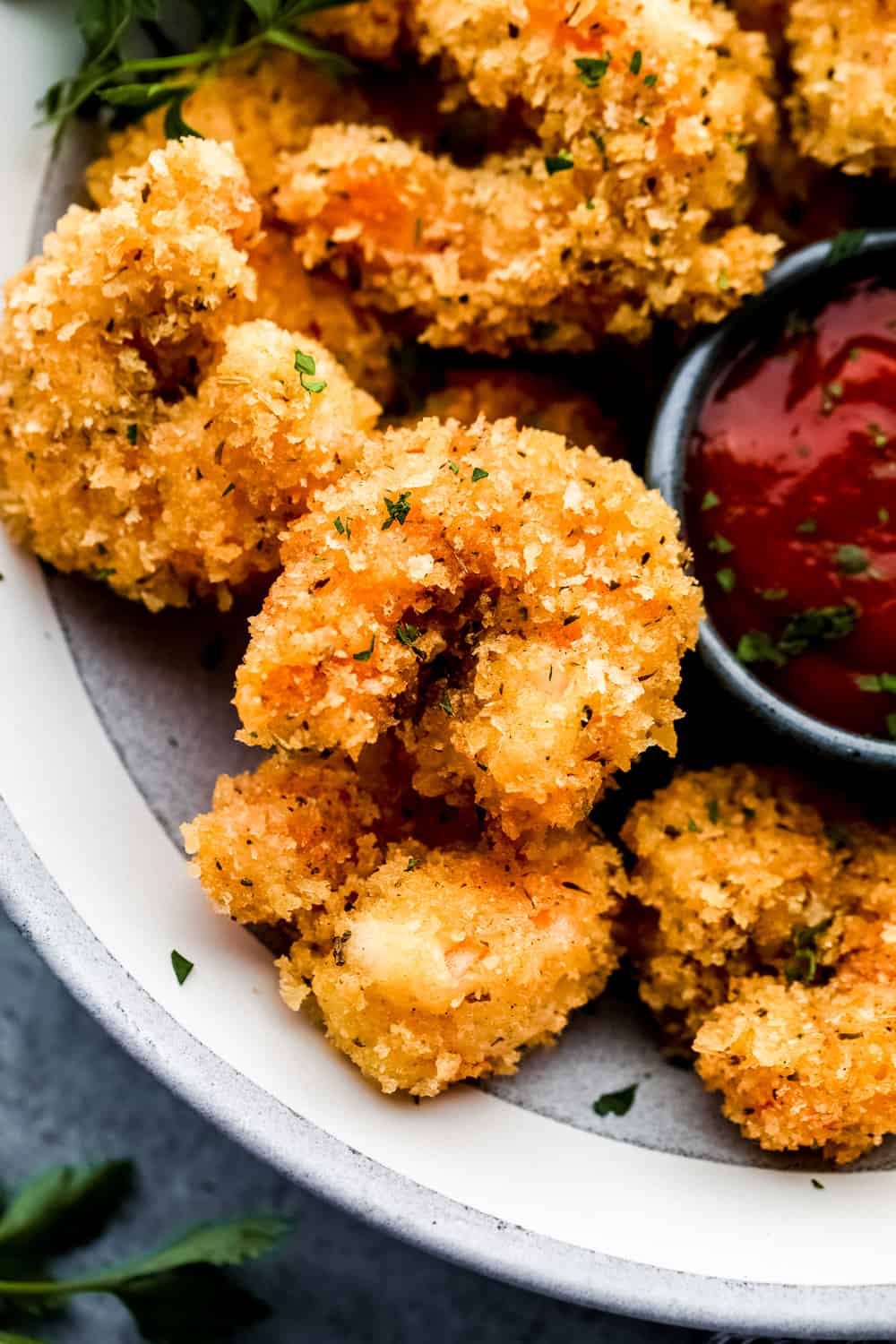 More Tasty Shrimp Recipes to Enjoy