This website may contain affiliate links and advertising so that we can provide recipes to you. Read my privacy policy.
Seafood lovers! Here is the EASIEST way to make crispy, breaded shrimp in the air fryer! Making air fryer frozen shrimp takes less than 10 minutes and turns out perfectly every time. The hardest part is choosing what dipping sauce to serve it with!
This air fryer frozen shrimp is SO easy to make, and tastes absolutely incredible! I'm sure you've seen all of the hype about air fryers by now, but they're truly worth the investment. They make cooking so easy! If you love shrimp as much as I do, you'll have to try air fryer coconut shrimp and this juicy 10-minute shrimp next!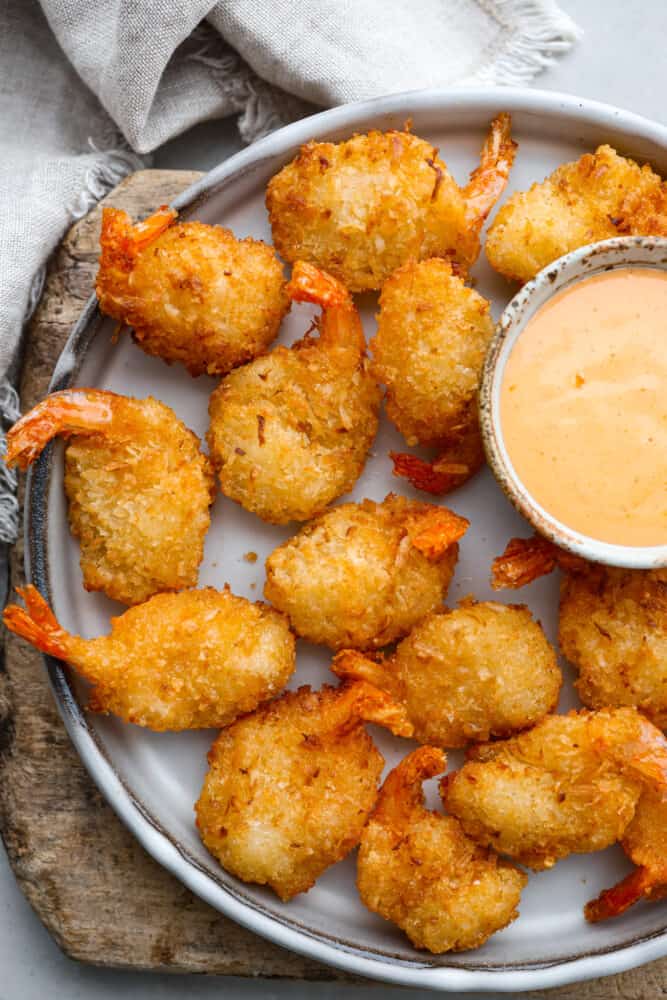 Frozen Breaded Shrimp in the Air Fryer
Cooking frozen breaded shrimp in an air fryer is so easy, it's practically foolproof! All you need to do is preheat the air fryer, pop the shrimp in the basket, and let it do its magic. There's no need to defrost the shrimp or add any oil, which makes it a hassle-free cooking experience. (Perfect for busy weeknights!) Plus, the air fryer cooks the shrimp evenly, ensuring that each piece comes out crispy and golden brown. It's a no-brainer when you're craving shrimp but want it in a snap. I know, I know, it seems too good to be true! Trust me though, this air fryer frozen shrimp is SO delicious, and definitely a recipe to keep in your back pocket.
And the best part? The taste! The shrimp comes out perfectly seasoned and crunchy, just like you'd get at a restaurant. The breading stays crispy, and the shrimp itself is juicy and tender. (The power of air fryers!) You can dip the shrimp in cocktail sauce, tartar sauce, or your favorite sauce to add even more flavor. It's hard to believe that something so easy to make can taste so good. So next time you're looking for a quick and tasty meal, reach for frozen breaded shrimp and your trusty air fryer. It doesn't disappoint! For more quick and easy air fryer recipes, check out this list here!
Everything You'll Need to Make It
Let's keep this ingredient list short and sweet. Feel free to add in any extra seasonings! I like to add a squeeze of lemon, but honestly frozen breaded shrimp is delicious as-is!
Breaded Frozen Shrimp: (Shrimp Butterfly) Pick up your favorite kind from the grocery store! I used 16 ounces worth.
Non-Stick Cooking Spray: To help keep your frozen shrimp from sticking to the bottom of your air fryer basket. It also helps to keep the shrimp crispy! You can use a little bit of cooking oil, butter, or shortening instead if you wish.
Squeeze of Lemon: (Optional) This is my favorite finishing touch! It adds a hint of zest that tastes amazing with the breaded shrimp.
Making Frozen Breaded Shrimp in the Air Fryer
This shrimp recipe is foolproof. Anyone can make it! Simply toss your frozen shrimp into the basket and then let your air fryer work its magic. It's as easy as that, truly! Because this delicious, crispy shrimp is so easy to whip up, you're going to want to make it all the time. It's the perfect solution for when you're craving some restaurant-quality seafood but don't want to spend hours slaving away in the kitchen. Let's get started!
Preheat Air Fryer: Preheat the air fryer to 400 degrees Fahrenheit.
Add Shrimp to Basket: Add the frozen shrimp to the air fryer tray or basket in a single layer. Then spray with non-stick cooking spray if you want it crispy.
Cook: Close the basket and then air fry for 8 minutes flipping the shrimp halfway through at the 4-minute mark.
Enjoy: Serve with a squeeze of lemon and dipping sauce on the side!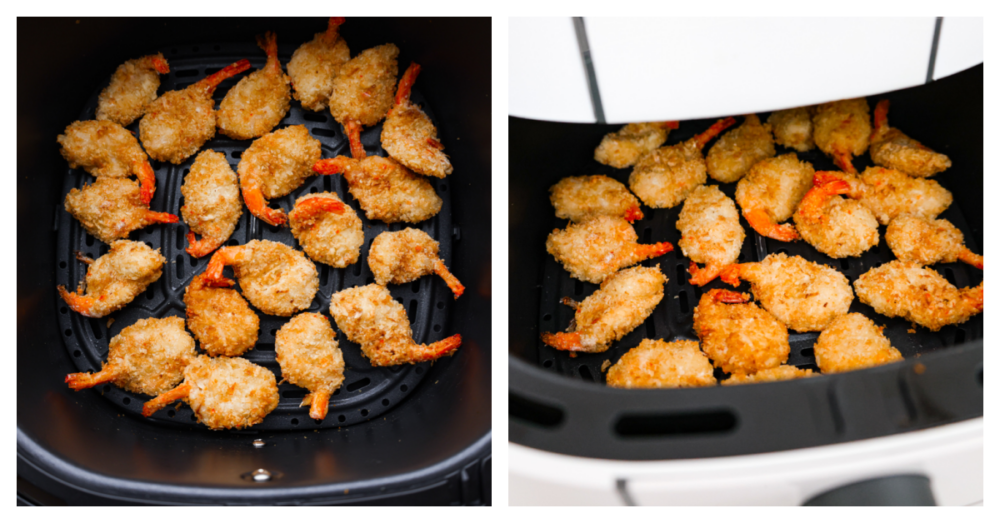 Tips for Making Frozen Shrimp in the Air Fryer
Here are extra tips to keep in mind as you cook your air fryer frozen breaded shrimp. This is one of my new favorite shrimp recipes. It honestly tastes like it came from a restaurant!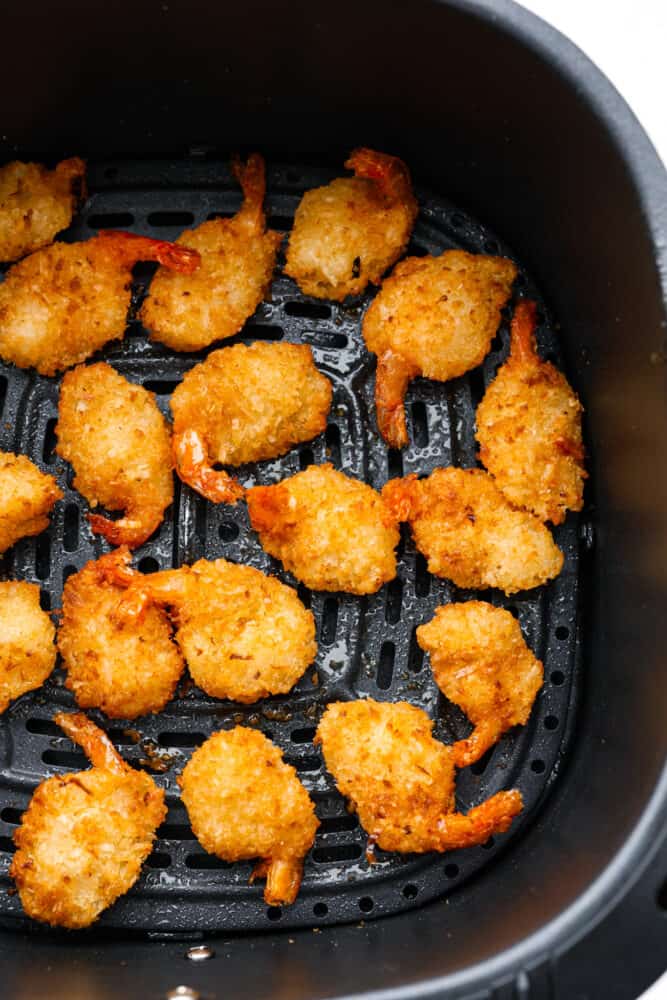 Storing / Reheating
As long as your shrimp is stored properly, it should stay good for a few days after you've made it!
In the Refrigerator: Store cooked shrimp in an airtight container for up to 3 days.
Reheating: To reheat your shrimp, I recommend using your air fryer so it keeps it nice and crisp. A few minutes at 375 degrees F should do the trick!