Made from frozen, this healthy paleo and vegan creamed spinach is made without dairy and makes for a perfect side dish or a plant-based main with some rice or quinoa. With a touch of curry and coconut, this spinach recipe has an Indian twist that you will love. It's also Whole30 and gluten-free.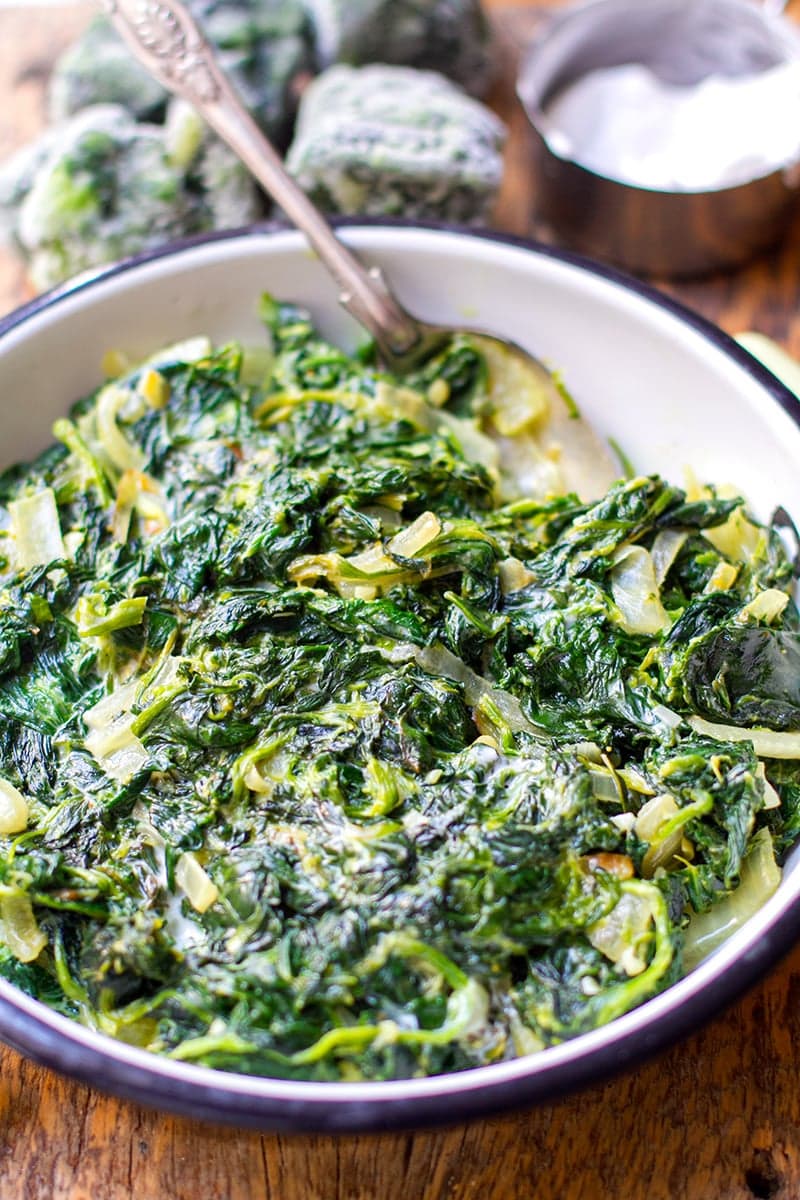 Creamed spinach is something you would often find in a side dish section of many restaurant menus. Enveloped in luxuriously rich cream, this dish is a sure winner when it comes to pairing protein and vegetables. It's also a staple at a Christmas and Thanksgiving table!
However, if you don't do dairy or you simply want a lighter, healthier creamed spinach version, it's not as easy to find. Good thing you can make your own dairy-free creamed spinach at home and this recipe with an Indian twist will become a favourite. I promise!
Creamed Spinach Nutrition
One of the reasons I love this dish so much is because spinach is so damn nutritious! This powerhouse leafy green is very high in vitamins A, K, C and folic acid, as well as iron and magnesium.
I am also using onions and garlic in this dish which are great sources of prebiotics (a.k.a fuel for your good gut bacteria); and coconut cream contains beneficial lauric acid, a medium-chain fatty acid that's easily absorbed and used by the body for energy. Plus, the fat in the coconut oil will help your body to absorb all those vitamins in the spinach.
This recipe is dairy-free and low-carb and is suitable to paleo, vegan, Whole30 and gluten-free diets. For AIP, omit the curry powder and instead add a little turmeric and nutmeg powders.
Check out the full nutritional breakdown for this dish below the recipe.
Fresh Spinach vs Frozen Spinach
In this recipe, I am using frozen spinach which has been defrosted, so it's a fantastic dish to make on the budget. Frozen spinach is equally nutritious but if you want to use fresh spinach in this recipe, you will need to equal the amount in fresh leaves.
On average, baby spinach comes in 200 g / 7-8 oz bags, so you will need about 400 g or two bags of baby spinach to make a large batch of creamed spinach enough for say 4 people. It might seem like a lot of spinach but it will wilt down during cooking and reduce in size dramatically. Of course, you can make a smaller batch if you like.
If you're using English spinach, I think two bunches should suffice. Make sure to clean the leaves thoroughly and remove the harder stems (you can use those in a soup, stock or smoothies).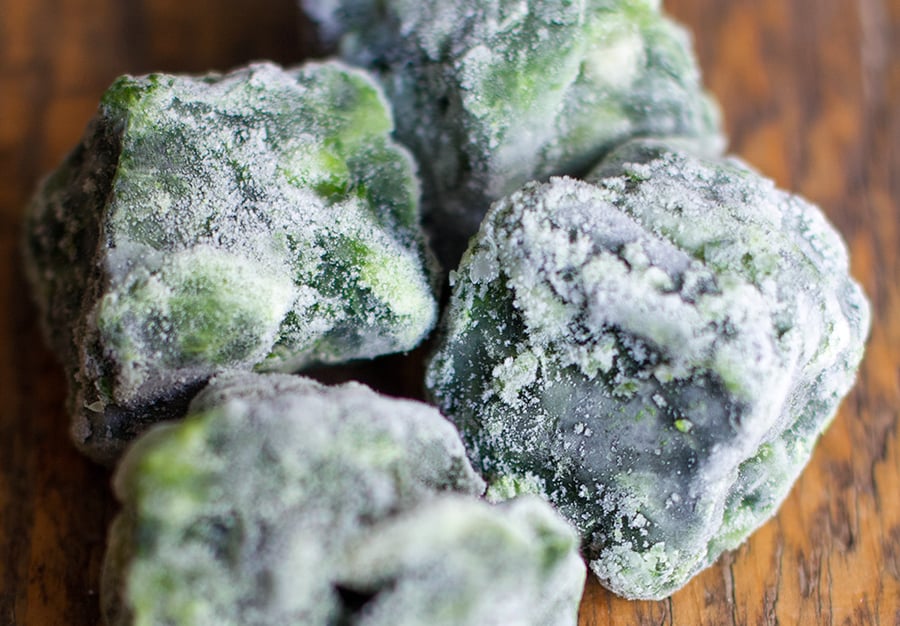 How To Make Paleo & Vegan Creamed Spinach
I wanted to create creamy, rich spinach but without using regular dairy cream. The coconut cream was the obvious choice and when I started thinking about the flavour, I decided to spice the spinach with some mild curry powder, which gave this dish a lovely Indian twist.
Coconut Cream Tip
Place a standard 400 ml can of full-fat coconut milk in the fridge for at least one to two hours or longer if possible. The cream will separate from the watery liquid and gather at the top of the can. Open the can (standing up the same way as it was in the fridge) and scoop out the thickened cream from the top. Reserve the rest of the liquid for a smoothie.
You can defrost frozen spinach overnight in the fridge or place it in a bowl with hot water for 30 minutes to an hour. Once defrosted, squeeze the spinach with your hands to discard excess liquid.
The recipe is super simple! You saute the onions and garlic, add the spinach and spices, let it all wilt down and then stir in the coconut cream and lemon juice. That's it! Besides the spinach preparation, it's really really fast.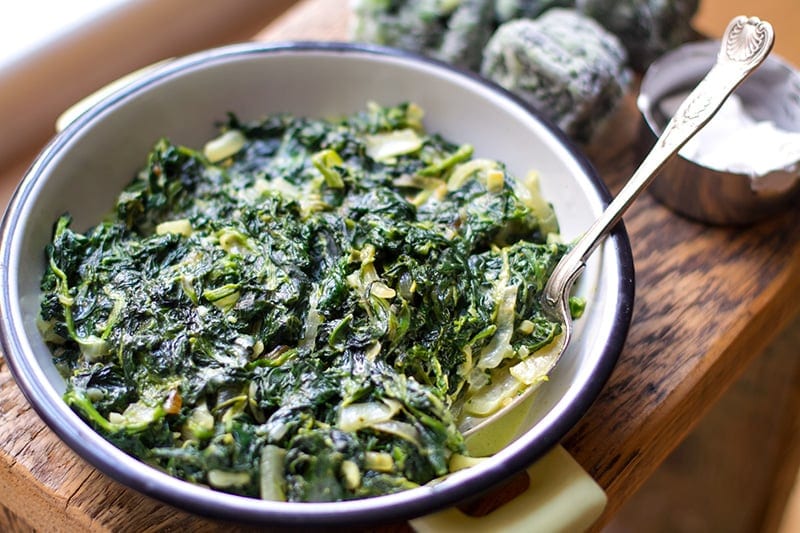 What To Serve With Creamed Spinach?
Depending on your diet, this healthy creamed spinach can be served as a side or as a main. It goes well with grilled meat, chicken or fish or can be served alongside quinoa, rice or other plant-based mains. 
As it has an Indian twist, this dish will pair well with rice biryani dishes, tandoori grilled protein or any curry dishes. It's also really good with eggs in the morning.
---
More Healthy Spinach Recipes
Spinach, Mushroom & Tomato Fry Up
Cleansing Spinach & Leek Soup
Chicken Tikka Masala With Spinach & Cranberries
Moroccan Chicken Stew With Spinach & Sun-Dried Tomatoes
20+ Paleo Spinach Recipes To Boost Your Nutrition
Spinach & Sweet Potato Bombs
Print
---
Description
This paleo and vegan creamed spinach is made from frozen with the additional of sweet onions, curry and coconut cream and has an Indian twist to it. It's great as a side dish or as the main served with some rice or quinoa.
---
---
Defrost spinach during the day, or place frozen spinach balls or blocks in a bowl with hot water for about half an hour to an hour. Strain and squeeze some of the excess liquid out with your hands. Spinach doesn't need to be dry; it can still have some liquid in it, which will add moisture to the sauce. Roughly slice handfuls of spinach in half.
Heat a large frying pan over medium-high heat. Add coconut oil and bring the heat down to medium. Add the onion and salt and sauté for about 8 minutes, stirring a few times, until softened and golden.
Add spinach, garlic and curry powder and stir through with the onion for about a minute. Use the spatula to break down the clumps of spinach. Then add coconut cream and lemon juice and stir through for another minute until hot and well incorporated. As spinach is already pre-cooked, you only need a couple of minutes to combine and heat everything together. Taste for salt and season with a little extra if needed.
Serve with steak, chicken or fish.
---
Notes
If using fresh spinach, you will need somewhere between 300-400 g / 12 oz. (or two bags) of baby spinach or two bunches of English spinach.
Nutrition
Serving Size:

1/3 cup

Calories:

158

Sugar:

2.8 g

Sodium:

674.3 mg

Fat:

6 g

Saturated Fat:

0.8 g

Carbohydrates:

9.3 g

Fiber:

4.2 g

Protein:

5.1 g

Cholesterol:

0 mg