Learn how to make this easy and quick sauerkraut with step-by-step photos and instructions. Great for keeping your gut health in tip-top shape, sauerkraut can be added as a healthy condiment to any meal.
---

Why Make Your Own Sauerkraut
Gut health is one of the most talked-about topics amongst nutrition and wellness experts and enthusiasts. Many studies are now showing that healthy, well-balanced gut flora is one of the key factors in achieving good digestion, and health in general.
As well as avoiding stress and toxins that cause an imbalance of good and bad bacteria in our gut in the first place, it's important to include a variety of fermented foods and probiotics in your diet. Read about the top 10 foods for a healthy gut here.
Freshly fermented cabbage, also known as sauerkraut, is a wonderful and simple way to add some friendly bacteria to your gut. It's not always easy to find fresh sauerkraut in stores (or it's super expensive) and people often buy the pasteurised kind you find in the non-refrigerated sections of the supermarket.
However, that's not the sauerkraut you want as all that lively bacteria are destroyed during the pasteurisation process. What you want is fresh sauerkraut in which the bacteria are alive and thriving and which you would keep refrigerated.
---
How To Make Sauerkraut
Below, I show how to make sauerkraut in your own kitchen. For a small batch of fermented kraut, all you need is a head of cabbage, salt and a jar! You can use white or red cabbage for this recipe.
Watch my Facebook video demo on how to make sauerkraut here (replay of my Facebook live session). 
Step 1  – Preparing The Cabbage
I used a small head of cabbage (about 800-900 grams / 1.8 lb ) for what I would call a small batch of sauerkraut. Remove the outer leaves that might be dirty and cut the cabbage into quarters. Remove the core and shred the cabbage into thin strips. You can use a food processor for this. 
Transfer the cabbage to a large plastic container or a bowl and sprinkle with about 18 grams of salt (2.25-2.5% of the cabbage weight or about 3 1/2 teaspoons).
If your cabbage is about 1 kg / 2 lb, then you're looking at 22-25 grams of salt, or 4-5 teaspoons. Toss through and leave for about 5 minutes for the cabbage to start releasing its juices (the salt draws them out).
In the meantime, wash a medium glass jar (about 500-750 ml or 1 litre if using a larger head of cabbage) and its lid with soapy water, rinse with hot water and let it dry on a towel. There is no need to sterilise it any further than that.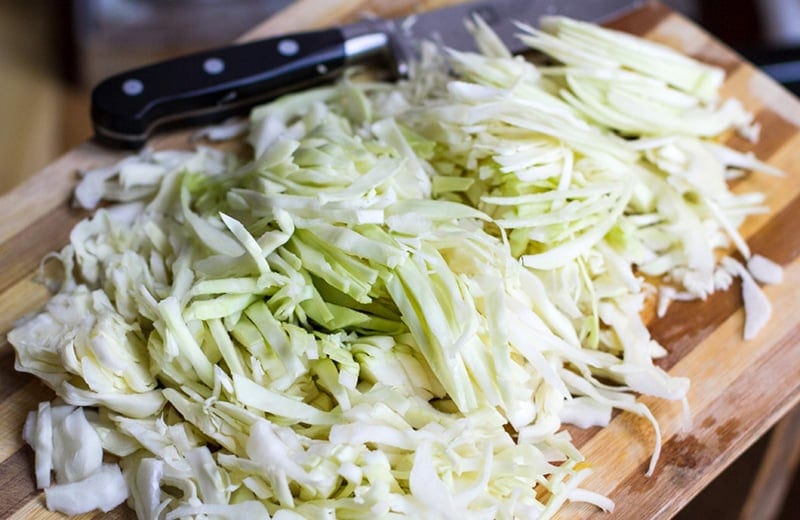 ---
Step 2 – Squeezing The Cabbage To Produce Brine
Add about a third cup of filtered water and toss through the cabbage. Start squeezing and mixing the cabbage with your hands. Squeeze hard to get as much juice out of the cabbage as possible and after a few minutes, it will become lightly bruised and softened, with a decent amount of salty brine.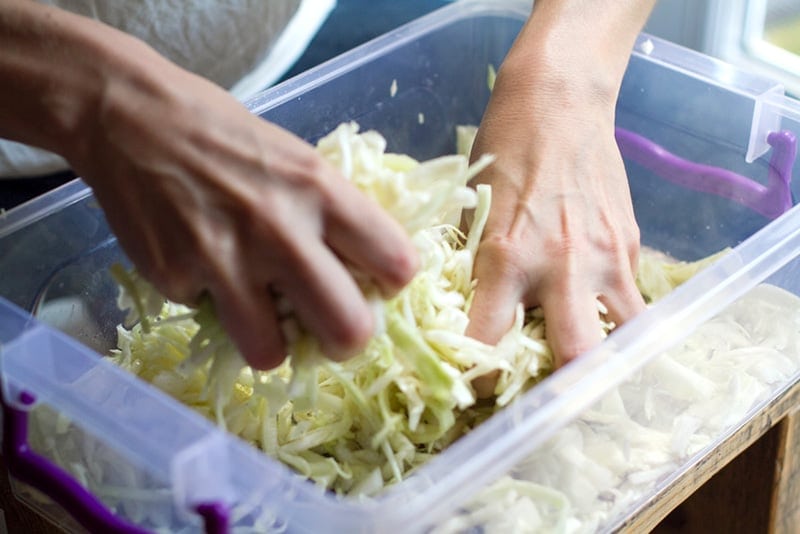 ---
Step 3 – Stuffing The Cabbage Into A Clean Jar
Start packing the jar we prepared earlier with the cabbage. Press the cabbage down with your fingers and then also with a spoon or a wooden stick. As you get closer to the top, use your fingers to really compact the cabbage in the jar, allowing the brine to float to the top.
The idea is to eliminate as many air bubbles inside the jar as possible. You want to leave about a centimetre of space at the top for the liquid.
Finally, pour in the remaining brine/juice to cover the cabbage completely as that will protect it from oxygen and external bacteria.
If you have leftover cabbage, you can pan fry it with some onions for a yummy side dish.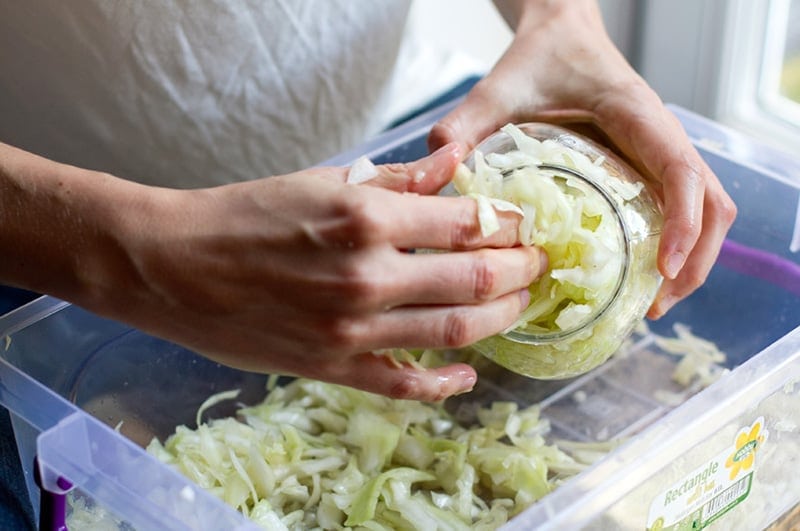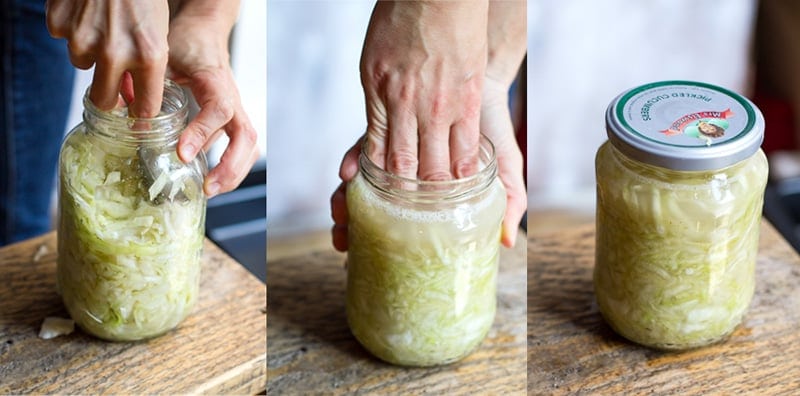 Step 4 – Sauerkraut Fermentation Stages
Cover the jar with a lid and set it aside somewhere warm, say near a stove. The fermentation process can take anywhere from 5 days to 1 month a week, depending on how warm or cold the air in the room is.
I recommend that you ferment the sauerkraut for at least 7 days and that's how I like it as it's tangy but not too sour while still retaining its crunch. The longer you leave the jar out of the fridge, the sourer and softer the cabbage will become.
Now, there are a couple of things you need to do while the cabbage is fermenting. After about 24 hours, the pressure in the jar will build up as the bubbles will form during the fermentation. It's important to gently open the lid and let some of that air/pressure out and also to check that the cabbage is still covered with liquid.
Press it down with your fingers to let the juices float back to the top or add a little more water and a sprinkle of salt. I recommend the following frequency for releasing the air pressure and checking the liquid is covering the cabbage:
24 hours later – 1st release
36 hours later – 2nd release (12 hours after the first release)
48 hours later – 3rd release (12 hours after the second release)
72 hours later – just check the liquid, the pressure should no longer be building up (24 hours after the third release)
After 7 days of fermenting move the jar to the fridge and start enjoying it daily. The sauerkraut will keep fermenting in the fridge but at a MUCH slower rate, it will keep for at least 1 month…although you shouldn't have any left by then.
This is a very basic sauerkraut recipe that you can apply to other vegetables. You can add grated carrot or other crunchy vegetables to the cabbage, some garlic, coriander seeds, dill, mustard seeds and other spices to make different variations of this sauerkraut.
I like to add a little sauerkraut to my eggs in the morning or as a side with our dinner or lunch meal but I usually only have it once a day. You can drizzle it with a little olive oil and add some spring onion to freshen it up.
More Homemade Condiments
10 Dairy-Free Yoghurts To Make At Home
Yoghurt Ranch Dressing With Garlic & Herbs
Homemade Paleo Mayonnaise
15+ Sugar-Free Salad Dressings
Basil Cashew Pesto 
Print
---
Description
Learn how to make sauerkraut with this detailed, step-by-step tutorial. This quick recipe requires only a handful of ingredients and a clean jar with a tight lid.
---
---
Cut the cabbage into quarters, remove the core and shred with a knife or a food processor.
Add to a container and sprinkle with salt, toss through and set aside for 5 mins.
Wash the glass jar and its lid in soapy water, rinse and dry.
Add water to the cabbage and start mixing and squeezing everything with your hands for a few minutes to bruise the vegetable and release the juices.
Pack the cabbage tightly into the clean jar. Use a spoon or a wooden stick to push down the cabbage so it's very compacted and the brine floats tot he top. Fill up to the top, leaving about 1-2cm space at the top. Press down again so that the cabbage is covered by the juice, pour in the rest of the brine. Cover tightly with the lid and set aside in a warm spot, like near the stove.
Leave the jar out at this room temperature for at least 7 days. For the first few days, open the lid every 12-16 hours to let some of the pressure out and to make sure cabbage is submerged under the liquid. Add a little extra water if needed.
Taste after 7 days and it should be fermented enough to start consuming. Ferment longer for more sour and softer kraut. After that, keep the jar in the fridge for a few weeks.
---
Notes
Please see step-by-step photos above for reference.
Nutrition
Serving Size:

1/3 cup

Calories:

16

Sugar:

1.4 g

Sodium:

249.3 mg

Fat:

0.1 g

Saturated Fat:

0 g

Carbohydrates:

3.7 g

Fiber:

1.9 g

Protein:

1.2 g

Cholesterol:

0 mg
---
Do you ferment at home? What are your favourite foods and combinations? Share this post with your friends and family and get them into fermenting!