Learn how to make bone broth and take advantage of all its health benefits. This nutritious broth is made with roasted beef bones and vegetables and the recipe comes with step-by-step pictures.
---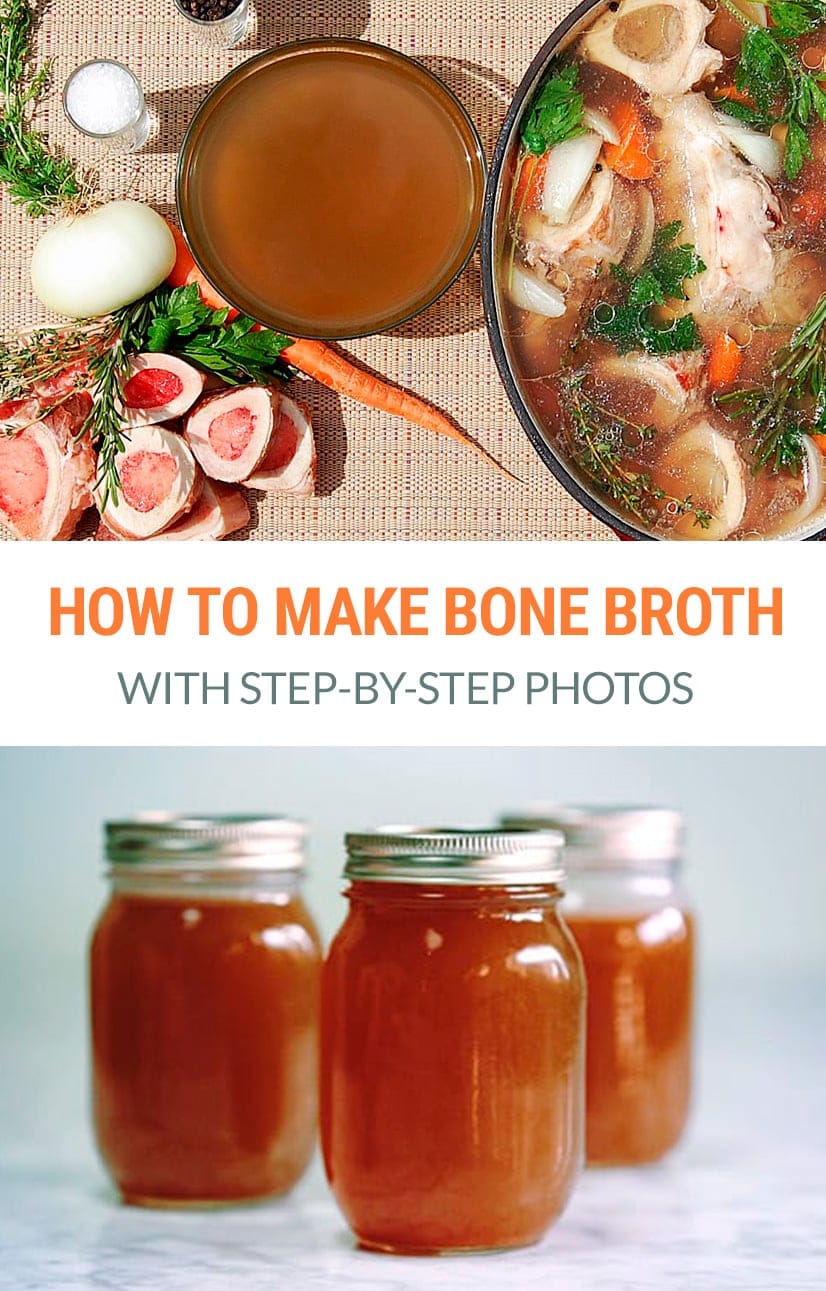 Bone broth is hitting the market with force these days and for a very good reason. It's been an essential part of a paleo/primal/real food type diet but is now becoming popular  – and may I say a little hip – addition to many food menus around the world. In today's post, I am sharing a recipe for a tasty, savoury and rich beefy bone broth you can make at home.
Bone broth nutrition
Bone broth is gluten-free, keto, paleo-friendly, and very good for you. It's super simple to make but it takes time.
Simmering the bones for 12-24 hours allows the release of many healing compounds: collagen (in a more digestible form called gelatine), glutamine, glycine, proline, and minerals. These nutrients are what makes bone broth so unique.
It's one of the best foods for a healthy gut, helps prevent leaky gut syndrome, improve your joint health, boost your immune system, get a better night's sleep and even reduce cellulite and make your hair shiny and strong.  If you want to learn more, I recommend this ultimate guide to everything bone broth.
So yes, bone broth is something I recommend to make into a weekly staple and to consume a few times per week if you can. I love sipping on a cup of broth and find it nourishing and satisfying on a cold day or when I need something comforting. It's a great alternative to your mid-morning or afternoon snack and can be enjoyed first in the morning or as a dinner starter. Here are 15 other ways you can use bone broth.
Buying ready-made bone broth
Although I love making my own broth, I don't always have the time. In this case, I usually buy ready-made bone broth. If you don't have the time to cook bone broth on a regular basis, you can definitely take advantage of the ready-available brands hitting the market.
For those of you in the United States, make sure to check out the Kettle & Fire brand – they use organic ingredients and grass-fed beef, and their bone broth has a fantastic flavour. They're also non-frozen and shelf-stable, so you can store a few cartons in your pantry. You can buy their bone broth online AND if you use the promo code cravecollective, you'll get 15% off your first order.
In Australia, I like The Stock Merchant brand – they make free-range chicken and grass-fed beef bone broths. My UK readers might like to check out Borough Broth Co., who also have fabulous chicken and beef bone broth that you can order online. My butcher often stocks bone broth, so it's worth checking your local shops and health food stores.
How to make beef bone broth at home
Make sure to use organic ingredients and grass-fed beef bones. Just ask your local butcher and they should be able to give you what you need. This recipe is perfect for making in batches and stores well in the refrigerator for easy use. See step-by-step photos below.
If you get tired of drinking beef bone broth, try making a chicken version. I love turning the bone broth into an egg drop soup. Here is how to make chicken bone broth in the Instant Pot (in just 3 hours!).
Print
---
Description
Easy recipe for how to make homemade bone broth with step-by-step photos and instructions. Bone broth is paleo and keto-friendly, nutritious and full of collagen and gelatin.
---
---
Preheat the oven to 200 C / 400 F.
Place bones in a single layer on a sheet or roasting pan. Drizzle over with olive oil or coconut oil. Roast for 30 minutes, then flip each bone over and roast for an additional 30 minutes. This browns the bones and gives the stock its lovely colour and flavour. Chop the vegetables while the bones are roasted.
Add the roasted bones, vegetables, vinegar, bay leaf, peppercorns and garlic (if using) in a large soup pot. Cover completely with water (about 2-2.5 litres) and bring to a high simmer.
Once you have a high simmer, reduce the heat to low and let the broth simmer for 12-24 hours. If using a slow cooker, set it to LOW after you've brought the broth to high simmer first, and cook for the same time.
Throughout simmering, add more water as needed to keep all the ingredients submerged.
Once the broth has reached a dark, rich brown colour, remove from heat. Discard the bones, vegetables and bay leaf and strain through a cheesecloth. Cool the pot to room temperature.
Once at room temperature pour into jars and let cool in the refrigerator for at least 1 hour.
When you are ready to serve, skim the condensed fat off the top of the broth and heat to the desired temperature.
---
Notes
Instant Pot: Set to Manual, High Pressure for 3-4 hours. Use natural pressure release before opening the lid.