This tasty Sausage and Lentil Soup also has roasted red pepper, and I love how spicy Italian Sausage adds flavor to this easy-to-make soup! And this recipe uses a lot of sausage and not many lentils, so you might be surprised to hear it has only 10 net carbs per serving!
PIN Sausage and Lentil Soup to try it later!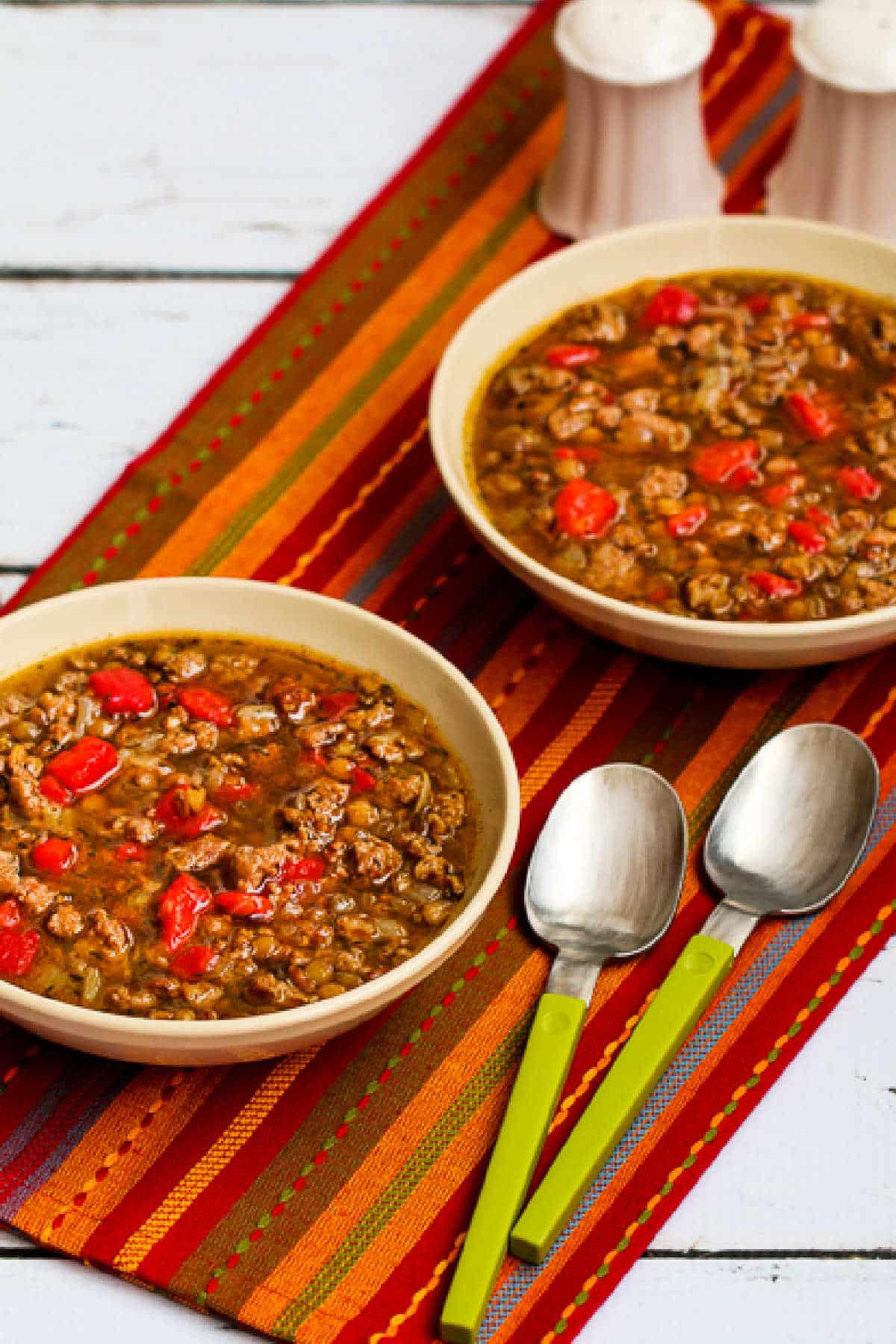 It's definitely starting to feel like soup season in most of the northern hemisphere! And when it's a cold day and I don't want to go to the store, I'm happy to have some of this Sausage and Lentil Soup in the freezer!
Recently I did update this recipe slightly, using a whole package (19.5 oz.) of Italian sausage so now there's more sausage compared to the amount of lentils, making it a more carb-conscious recipe.
Lentils are high in fiber too, so with only one cup of lentils in six servings this soup would be a good choice for some low-carb eaters, although it's probably still too high in carbs for people who are eating strictly Keto. Check the nutritional information and see what you think.
And more sausage and lots of roasted red pepper with lentils sounds good to me.  I love all the flavors in this soup, hope you enjoy!
What ingredients do you need for this recipe?
What kind of red pepper can you use?
I use roasted red pepper from a jar, which made this soup quick and easy to get on the table! You can also use diced fresh red bell peppers, and add them a bit earlier in the cooking time.
Can you use red lentils for this Sausage and Lentil Soup?
I love red lentils (affiliate link) in soup and if you wanted to use them in this recipe they would cook a bit more quickly than the brown ones.
Can you freeze this soup?
I love stockpiling soup in the freezer during the winter months, and this Sausage and Lentil Soup is great to freeze in individual containers and pull out some for a quick meal.
More Tasty Soup with Lentils:
There's a great collection of Slow Cooker and Instant Pot Lentil Soup Recipes on my Slow Cooker or Pressure Cooker site!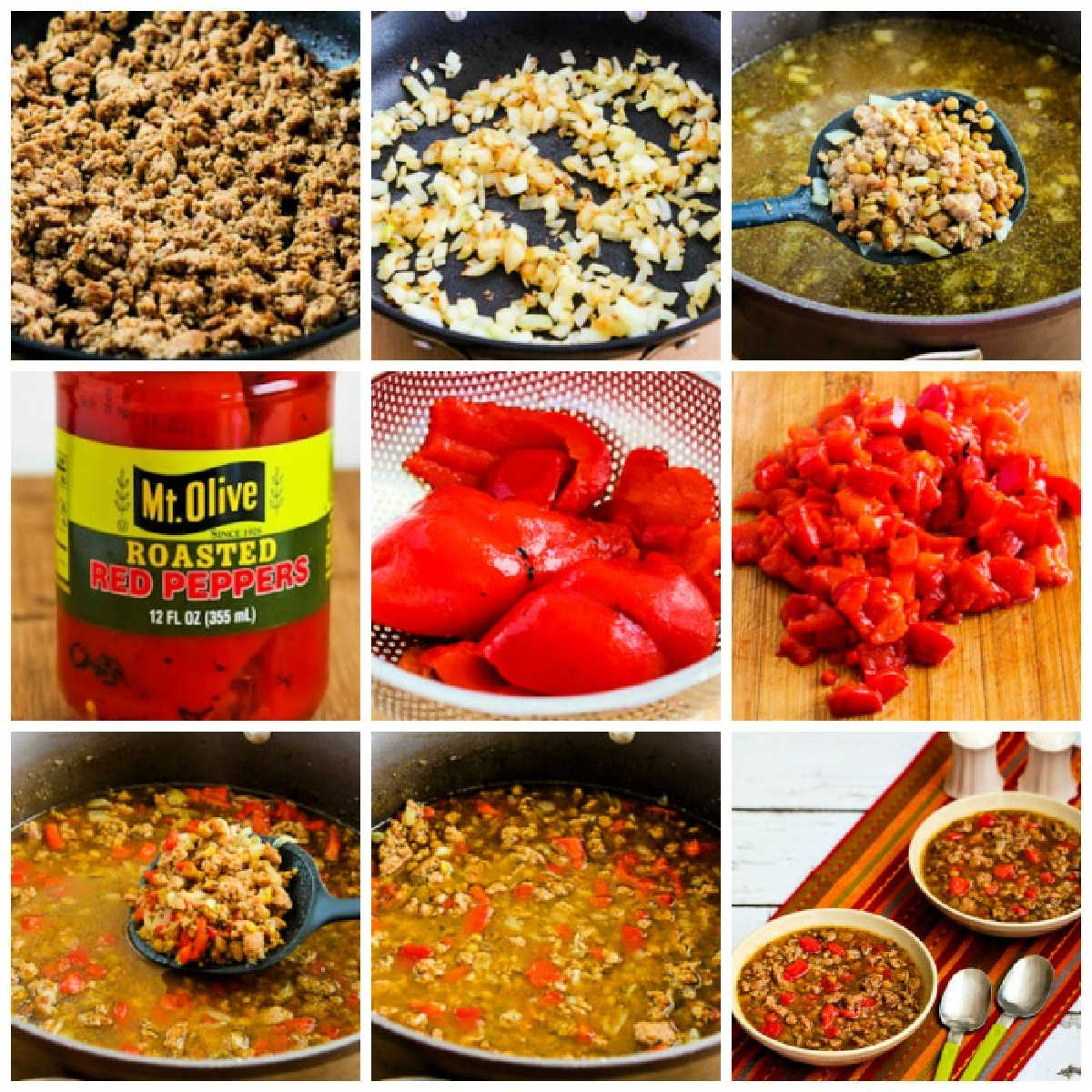 How to make Sausage and Lentil Soup:
(Scroll down for complete printable recipe with nutritional information.)
Brown the sausage well and put it in the soup pot. I used to use turkey Italian sausage for this soup, but now I can't find that very often and pork sausage will also be delicious. Use either sweet or hot Italian sausage, whichever you prefer.
Brown the onions and add to the soup pot with the chicken stock or broth, lentils, ground fennel, dried thyme, and dried sage.  
Drain the roasted red peppers. Let the soup simmer until the lentils are tender, about 45 minutes.
When the lentils are tender, chop the red peppers and add to the soup.
Then let soup simmer about 45 minutes more, or until lentils are as soft as you prefer and flavors are well blended.
Season with salt and fresh-ground black pepper and serve hot.
More Tasty Lentil Soup or Stew from Kalyn
Weekend Food Prep:
This recipe has been added to a category called Weekend Food Prep  to help you find recipes you can prep or cook on the weekend and eat during the week!
Ingredients
1 package (19.5 oz.) Italian Sausage (see notes)
2 tsp. olive oil (or more, depending on your pan)
1 onion, diced into small pieces
1 cup brown lentils
6 cups chicken broth (see notes)
2 tsp. ground fennel (do not leave out)
1 tsp. dried thyme
1 tsp. rubbed sage (dried)
1 12 oz. jar roasted red peppers
Instructions
Heat olive oil in heavy frying pan, add Italian sausage and brown well, breaking sausage into pieces as it cooks. (I like to use an old-fashioned Potato Masher (affiliate link) to break the meat apart.)
Add sausage to soup pot.
In same pan, adding more oil if needed, brown onions until softened and barely starting to brown.
Add onions to soup pot.
Rinse out pan with 1 cup chicken broth, then add to soup pot along with rest of broth, lentils, ground fennel, thyme, and sage.
Cook at lowest possible simmer for about 45 minutes, until lentils are softened, but still holding their shape.
Drain the roasted red peppers while the soup simmers, then chop into pieces about 1/2 inch square.
Add red pepper to soup and cook about 45 minutes more (adding a little more broth or water if needed), until some lentils are starting to fall apart and all flavors are well blended.
Season with salt and fresh ground black pepper and serve hot.
Notes
If you only find Italian Sausage in a one pound package, that will be fine. Use turkey or pork Italian sausage. whichever you prefer. Use sweet or hot Italian sausage.
Homemade chicken stock would be great for this recipe, but if you don't have that just use 3 cans chicken broth plus a little water.
Recipe created by Kalyn.
Nutrition Information:
Yield:
6

Serving Size:
1

Amount Per Serving:
Calories: 147Total Fat: 7gSaturated Fat: 2gTrans Fat: 0gUnsaturated Fat: 5gCholesterol: 12mgSodium: 1019mgCarbohydrates: 14gFiber: 4gSugar: 5gProtein: 8g
Nutrition information is automatically calculated by the Recipe Plug-In I am using. I am not a nutritionist and cannot guarantee 100% accuracy, since many variables affect those calculations.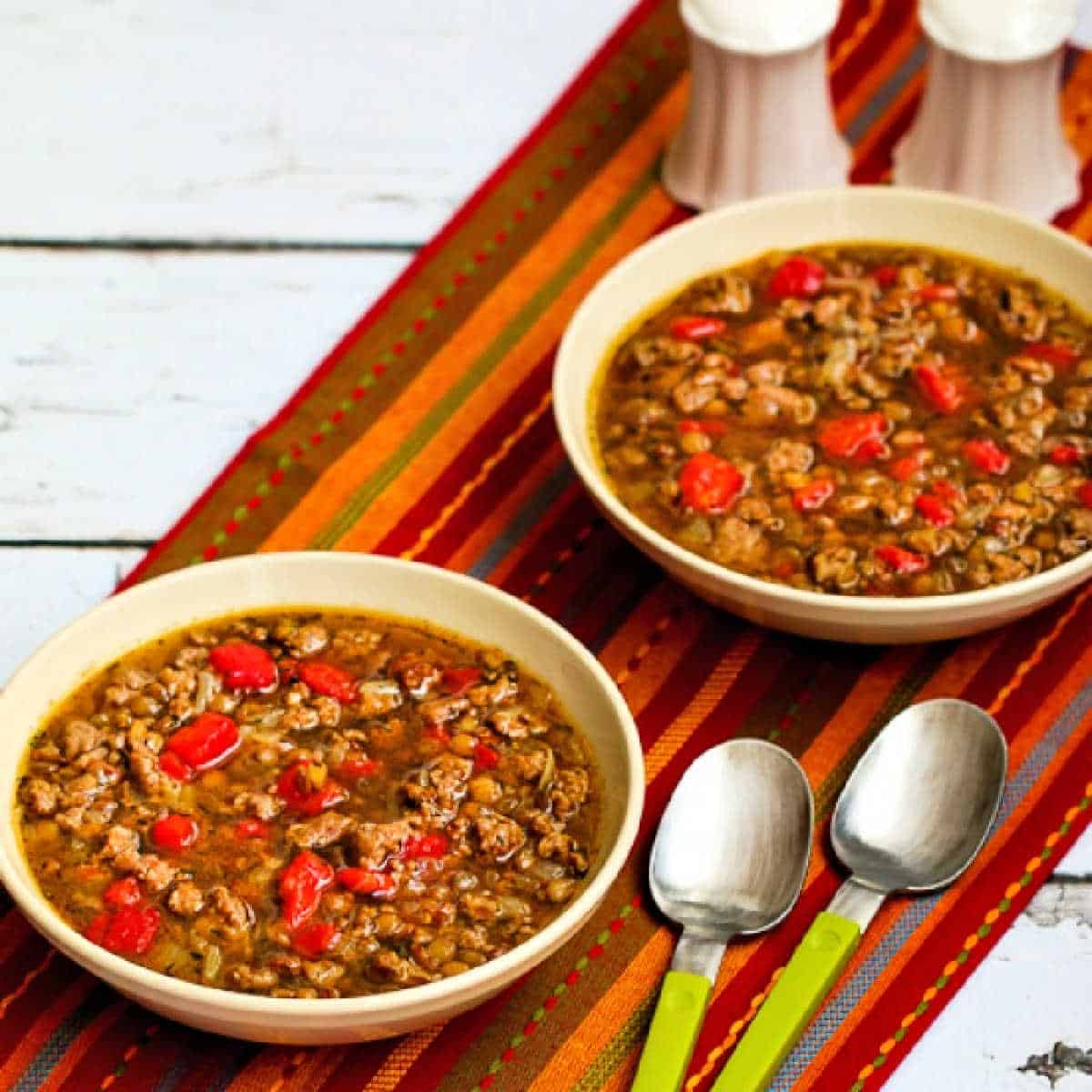 Low-Carb Diet / Low-Glycemic Diet / South Beach Diet Suggestions:
This Sausage and Lentil Soup soup has a lot of sausage and red peppers and only a small amount of lentils, so it should work for a lot of moderately low-carb eaters. Check nutritional information to see if the net carbs are low enough for you. With turkey Italian Sausage, this would be acceptable for any phase of the original South Beach Diet.
Find More Recipes Like This One:
Use Soup Recipes to find more recipes like this one. Use the Diet Type Index to find recipes suitable for a specific eating plan. You might also like to follow Kalyn's Kitchen on Pinterest, on Facebook, on Instagram, on TikTok, or on YouTube to see all the good recipes I'm sharing there.
Historical Notes for This Recipe:
This delicious lentil soup was first posted in 2007 and I've enjoyed it so many times since then.  Photos were updated January 2015, and the recipe was last updated with more information and a lower-carb version in 2022.
We are a participant in the Amazon Services LLC Associates Program, an affiliate advertising program designed to provide a means for us to earn fees by linking to Amazon.com and affiliated sites. As an Amazon Associate, I earn from qualifying purchases.