In today's recipe, I want to share my healthy and delicious turkey sausage patties made with sweet potato, onions and lovely seasonings. Whether you need a quick and easy breakfast option or you want some make-ahead lunch box foods, this homemade breakfast sausage is perfect. It's Paleo, gluten-free, egg-free, nut-free, Whole30 and AIP-friendly. 
---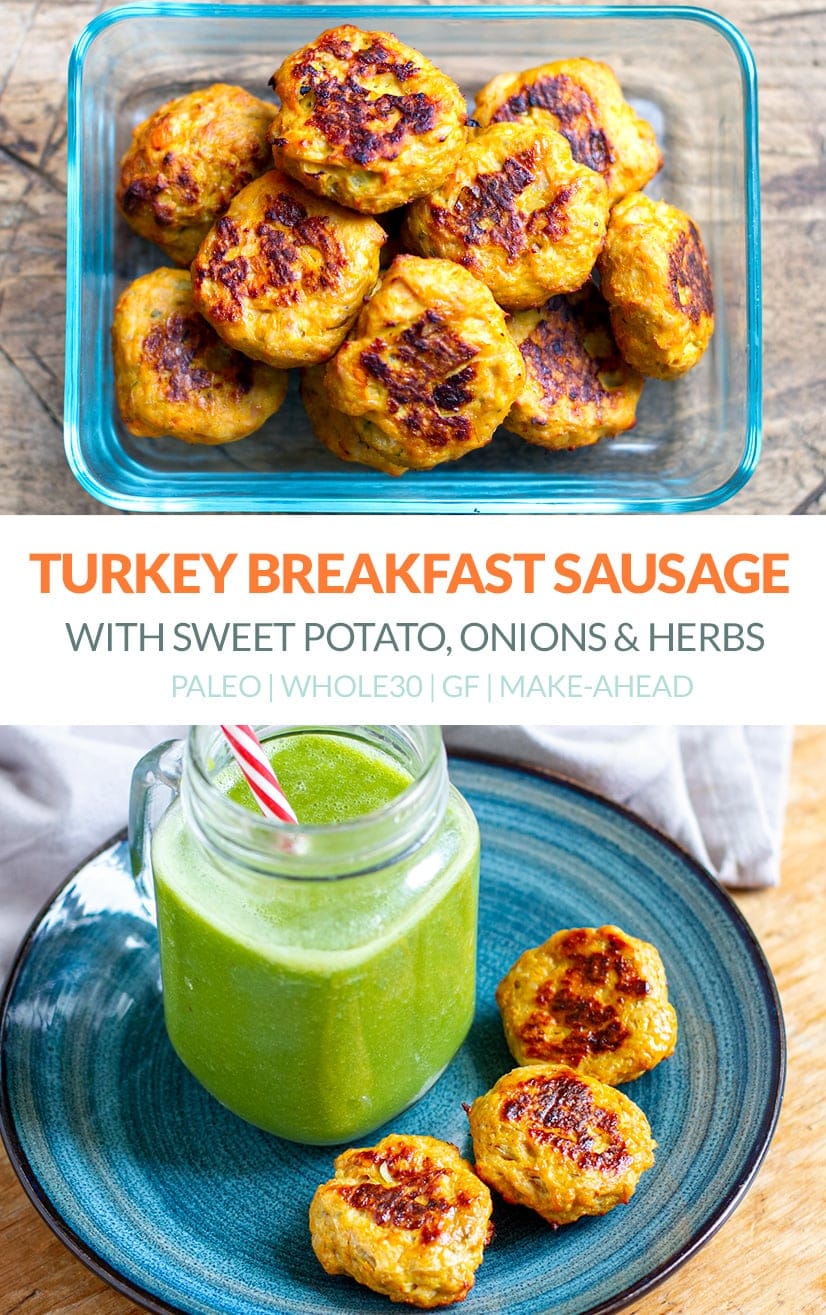 Just in case you're thinking of hot dogs and chipolatas, I want to clarify that this turkey sausage recipe is not it. I am talking about homemade breakfast sausage patties, which are popular in the United States and Canada. In Australia and the UK, breakfast sausage is typically a regular, pork, link-type sausage but in the US, they are often made into well-seasoned ground meat patties.
Breakfast sausage is also known as traditional American 'farmer' or 'country' breakfast as it was originated as a way for farmers to use up leftover meat and trimmings (usually, pork), which were ground, seasoned and made into an inexpensive, high-protein meal. These days, sausage patties are made from a variety of ground meat and added fillings like fruit, herbs, spices, vegetables and even sweeteners like maple syrup (although that is often poured on top of the cooked sausage).
Anyways, I like making breakfast sausages because they are perfect for make-ahead meals and meal prep and I can create a balanced pattie with protein, fats and some healthy carbs that can be my grab-n-go fuel in the morning. I am sharing my easy turkey sausage recipe, which you could also make with ground chicken, pork or other meat.
Turkey Sausage Nutrition
Typical breakfast sausage recipes will use mostly ground meat but I wanted to turn the patties into more balanced and nutritious morsels, so I decided to add cooked sweet potato and onions, both of which add extra vitamins and antioxidants. Sweet potato is an excellent starch source but you can use less of it if you're watching your carbs and add some grated zucchini, for example.
I find the making your own homemade breakfast sausage is a bit healthier as you know exactly what goes in it and you can avoid additives and preservative. The patties are high in protein and moderate in fat, have lots of vitamins and minerals and a decent amount of dietary fibre from the veggies used. Find the full nutritional breakdown below the recipe.
You can enjoy 2-3 patties as a breakfast meal (I often have these as a side with a green juice or smoothie) or for lunch. They make a great snack, too! 
PS. This is an egg-free recipe and I find that the mixture holds well together anyway. There are no added nut meals or nut flours, so these are fantastic for kids lunch boxes.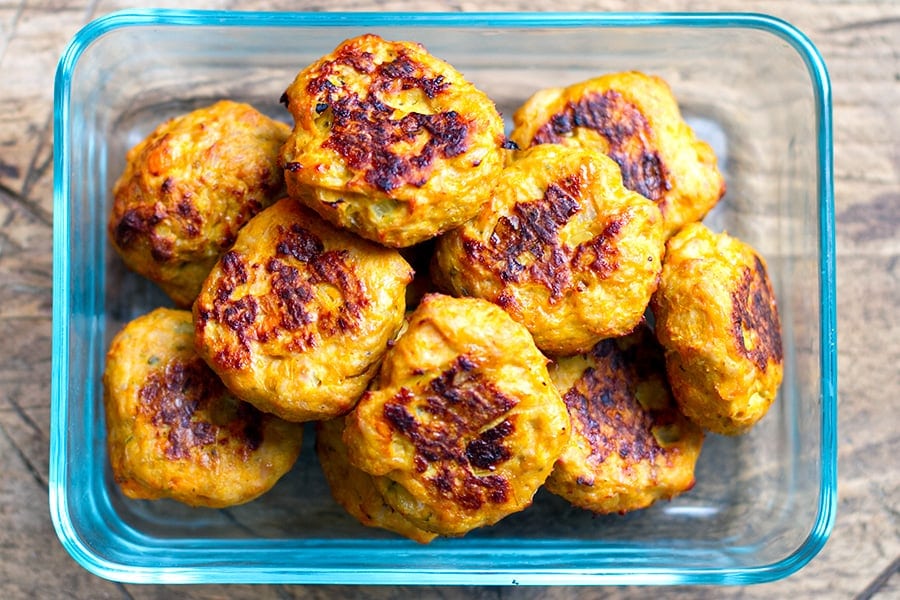 How to make turkey sausage
The sausage mixture is prepared using pre-cooked, mashed sweet potatoes (this can be done ahead of time), ground turkey mince and onions. You can use a variety of ingredients for breakfast sausage seasoning.  Sage and thyme are commonly used; add herbs, garlic and onions powders, lots of peppers, good sea salt (of course), or create your own twist with more exotic herbs and spices. Fruit such as diced apple or pear and even some dried fruit are often added for sweetness, which pairs well with savoury meat. In our case, the sweet potato does the job.
Everything is mixed together and shaped into small patties. Use clean, wet hands to roll the patties. The mixture will get quite sticky in your hands after 3-4 patties, so rinse them underwater and continue.
HOW TO COOK BREAKFAST SAUSAGE
Most sausage recipes use frying or grilling to cook the patties. I do like frying them as you get a nice, crispy finish but for this recipe, I tried baking the sausage patties in the oven and I was very happy with the result. It was less messy, less oily and just less work for me in general. 
If you don't have an oven or don't feel like using it, feel free to pan-fry the patties over medium-high heat for 4-5 minutes each side. 
To cook the sausage patties in the oven, you will need a flat baking tray and some parchment/baking paper. The reason the tray needs to be flat is that we want even, hot air circulating around each pattie and using deeper oven trays with taller sides will result in less crispy patties. They will cook fine though. 
CAN I FREEZE THIS TURKEY SAUSAGE?
Yes, definitely! Breakfast sausage is great make-ahead food and you should definitely add it to your weekly meal prep. There are two ways to freeze this turkey sausage. Make the patties and once shaped, place them on a tray or a plate (on top of some parchment paper) and place in the freezer for 1-2 hours. Once firm and solid, transfer them to a Ziploc bag or store in a container between some sheets of paper. Defrost overnight and cook as per instructions. Alternatively, you can freeze the cooked patties and defrost and reheat as needed. They will keep for up to 3 months in the freezer.
MORE Turkey & BREAKFAST SAUSAGE RECIPES
Print
---
Description
These delicious and healthy homemade turkey sasauge patties are great for breakfast, lunch or as a snack. These are egg-ree, nut-free, paleo, AIP and Whole30-friendly.
---
---
Precook the sweet potato. Boil a kettl with hot water. Add cubed sweet potatot to a pot with boiling hot water and ½ teaspoon of salt. Cook over medium heat for 10-12 minutes, until soft when inserting a knife. Once cooked, strain and set aside to cool. This step can be made ahead of time.
Preheat the oven to 200 C / 400 F.
Make the sausage patties. Mash enough sweet potato to tightly pack 1 cup or so (you don't need to be super precise here). Add that and all other ingredients  (but the flour) to a bowl, and mix together using your hands. Combine until the mixture comes together well. Add the tapioca flour or cassave flour and mix through; this will thicken the batter slightly more.
Line a flat roasting tray with a sheet of baking paper and brush it lightly with some olive oil or coconut oil. Wet your hands and roll the mixture into small patties. Place them evenly on the tray. Keep rinsing your hands in between batches to prevent the mixture from getting sticky. You should yield 12 patties.
Bake the sausage patties. Place the tray in the oven, middle shelf. Set the timer to 25-30 minutes. There is no need to turn the patties over. They will get more browned on the bottom and golden on the top. Remove and cool off before transferring to a container (if refrigerating for later). Otherwise, enjoy as they are or serve as a side with other foods or a smoothie/juice.
---
Notes
Cassava flour or tapioca flour can be replaced with arrowroot. If using coconut flour, add half the amount. Other gluten-free flours like buckwheat or quinoa flours could also be used in the same amount.
Ground chicken, pork or other meat can be used instead of turkey.
Nutrition
Serving Size:

3 patties

Calories:

292

Sugar:

5.9 g

Sodium:

677.7 mg

Fat:

11.7 g

Saturated Fat:

2.9 g

Carbohydrates:

21.6 g

Fiber:

2.9 g

Protein:

26.2 g

Cholesterol:

86.3 mg