This website may contain affiliate links and advertising so that we can provide recipes to you. Read my privacy policy.
Delicious homemade three cheese alfredo gets tossed with pasta, broccoli and chicken. It is quick and easy and out of this world good! It will become an instant favorite!
Also try chicken broccoli garlic alfredo shells if you love Italian chicken broccoli alfredo like my family does.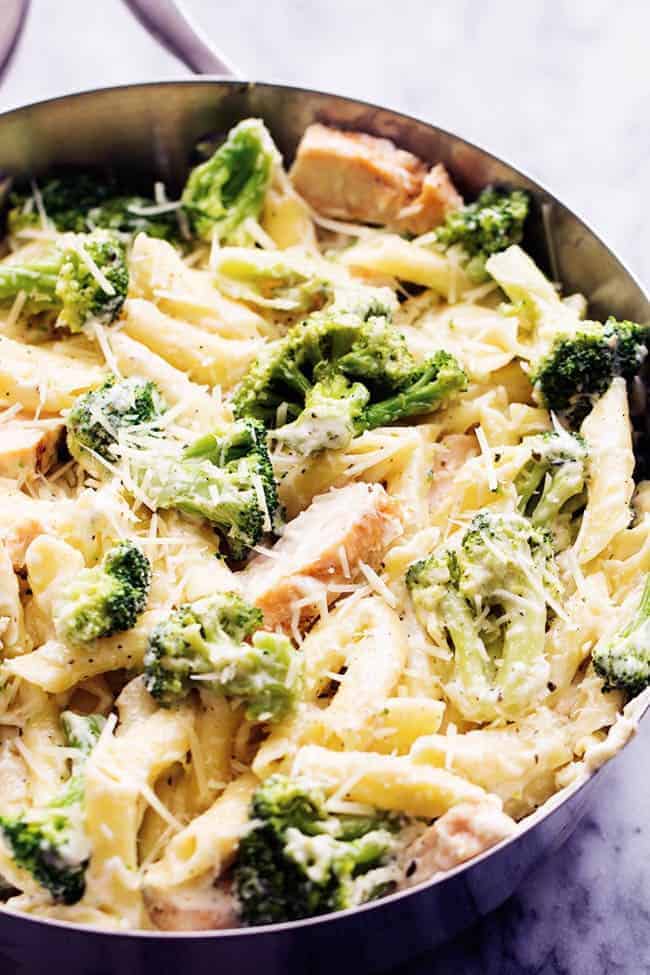 Three Cheese Chicken Broccoli Alfredo
With the kids home all day, it's hard trying to keep them busy with activities while still getting my work done.  It can get even more tricky to then cook for the family each night. I totally get that. Life is so busy!  So, isn't it awesome when you find a delicious meal that is on the dinner table within 30 minutes? This is one of those meals, and you need to make it tonight. Trust me.  I can always tell how my husband really feels about what I cook by when he asks for it again.  If he wants me to cook it again quickly, then I know he liked it! If he doesn't request it, then I know it wasn't that great.  Let me just tell you, he asks for this chicken broccoli alfredo every week!
Because I cook so much and our family loves anything alfredo, I have been able to perfect the sauce. I am telling you. This is restaurant quality sauce that is full of flavor and you can make it right at home.  I could eat the sauce with a straw.  Seriously, it's that good!  The alfredo sauce is literally the best part of this meal. It is hard to find a good alfredo sauce in the jar (yuck!), but this alfredo sauce has been perfected and you won't ever want to make it any other way!
Chicken Broccoli Ingredients:
So how could I make this alfredo sauce even better? Is that even possible?? Yes it was. Add more cheese. Oh my goodness. The cheese in the sauce. I wish I could have had a video of adding the pasta to this three cheese alfredo. It was so melty and gooey and just coated the pasta, chicken, and broccoli so well. I couldn't wait to eat it!
Penne pasta noodles: Or pasta of choice
Chicken: Cooked and diced
Broccoli: Steamed
Three Cheese Alfredo Sauce:
Butter: Either salted or unsalted work for this alfredo recipe. Just adjust accordingly the amount of salt you add in.
Heavy whipping cream: You can also use whipping cream, but I find Heavy whipping cream gives a richer and creamier flavor.
Cream cheese: Adds a thick consistency to the sauce. You will love how smooth the sauce gets.
Garlic minced: I love garlic!!
Garlic powder: Even more rich garlic flavoring, yes!
Italian seasoning: Or make your own combination with basil, oregano, rosemary and thyme.
Salt and pepper: To taste! Here is where you would put a little less salt if you use salted butter.
Parmesan cheese: Fresh grated works best. Store bought can sometimes be a tinge grainy but is still delicious.
Mozzarella cheese: This mild tasting cheese will melt very easily into your sauce.
Optional- Shredded parmesan cheese: Use for garnish.
How to Make Three Cheese Alfredo:
I can guarantee this will be one of the best meals that you make. And if you love alfredo like we do then you will make it again and again!
Cook pasta: Cook according to package directions, then drain.
Make the three-cheese alfredo sauce: While the pasta is cooking, in a large skillet add butter, heavy whipping cream, and cream cheese. Cook over medium heat and whisk until melted. Add the grated parmesan cheese.
Season: Add the minced garlic, garlic powder, italian seasoning, salt and pepper. Continue to whisk until smooth.
Cheese it up! Slowly mix in the grated parmesan cheese, then bring to a simmer and continue to cook for about 3-5 minutes or until it starts to thicken.
Even more cheese! Stir in the mozzarella until melted.
Add the pasta to the skillet:  Combine cooked pasta with sauce and toss to coat. Finally, add in your cooked chicken and broccoli. Toss to coat and serve immediately. Garnish with shredded parmesan cheese if desired.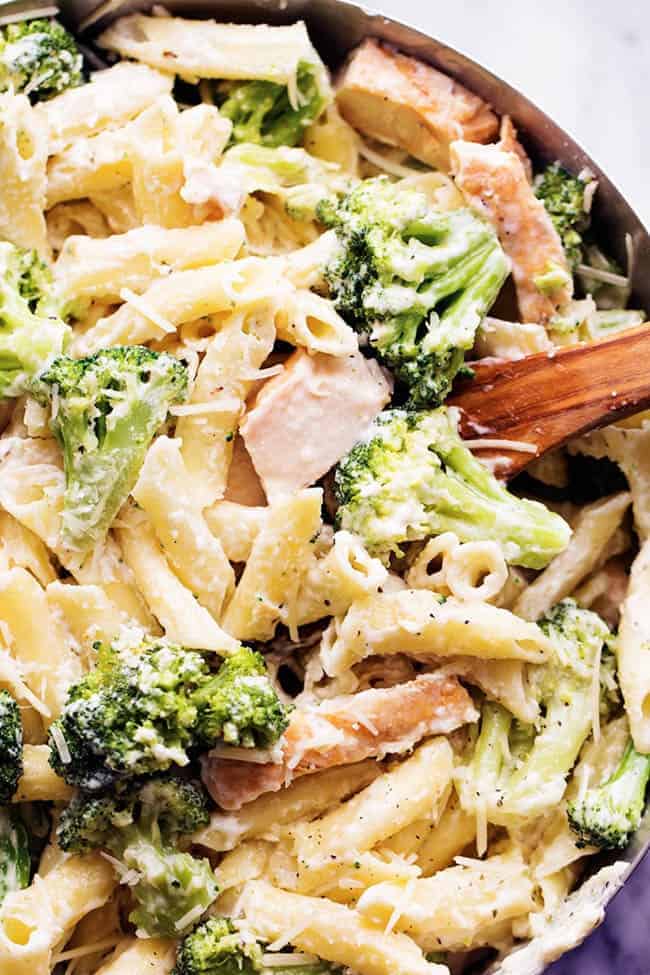 Variations for Making Three Cheese Alfredo:
Alfredo: Use my original alfredo recipe!  Restaurant quality and rich flavor.  You will not be disappointed!  Or if you are in a rush use a jar and add Italian seasoning (sometimes store bought can be very bland!)
Broccoli: When I am short on time, I buy frozen broccoli and steam it in the microwave
Protein:  I often buy pre-cooked chicken from the store to really make this a quick meal!  Another way my girls love this is with shrimp!  Diced ham even makes a great addition to this dish!
Add ins: Chopped bacon or california blend frozen veggies.
Out of heavy cream?  You can make alfredo sauce with half-and-half or milk instead of heavy cream. If you do use half-and-half or milk, you will have to use more butter.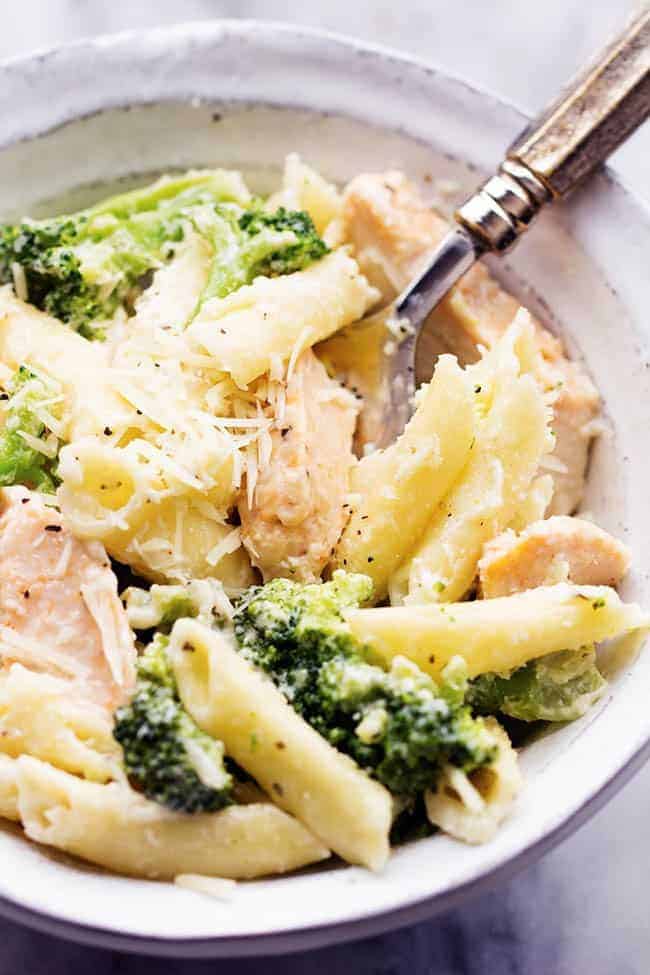 Storing Chicken Broccoli Alfredo:
I like to half the recipe and freeze the other half in a casserole dish. Then when I am ready to make it I can just top it with extra cheese and bake it.
Cover in an airtight container or heavy-duty freezer bags then place in freezer or refrigerator.  It will last in your refrigerator 4-5 days or in the freezer for up to a month.  If cooking from frozen, thaw the alfredo sauce by placing in the refrigerator overnight before reheating on the stovetop or microwave.
Refrigerate within two hours of cooking.
Troubleshooting: If you sauce is breaking when you reheat it, don't panic.  Simply add a little bit of water or cream and mix well. Your sauce will smooth right back out!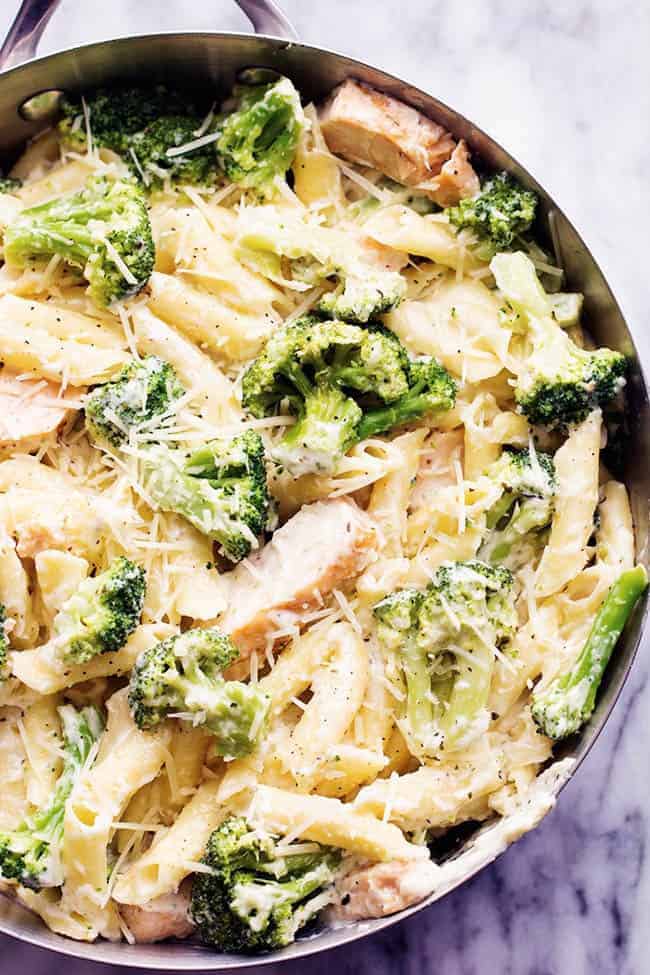 More 5 star Alfredo Recipes: