This website may contain affiliate links and advertising so that we can provide recipes to you. Read my privacy policy.
Chicken Tikka Masala is an easy, sweet and spicy sauce that is thick, rich and creamy with an intense color of orange and red blend that has several spices blended together with creamy yogurt covering cubes of chicken breasts leaving you with an intense flavor all served over rice. Let the slow cooker do all the work!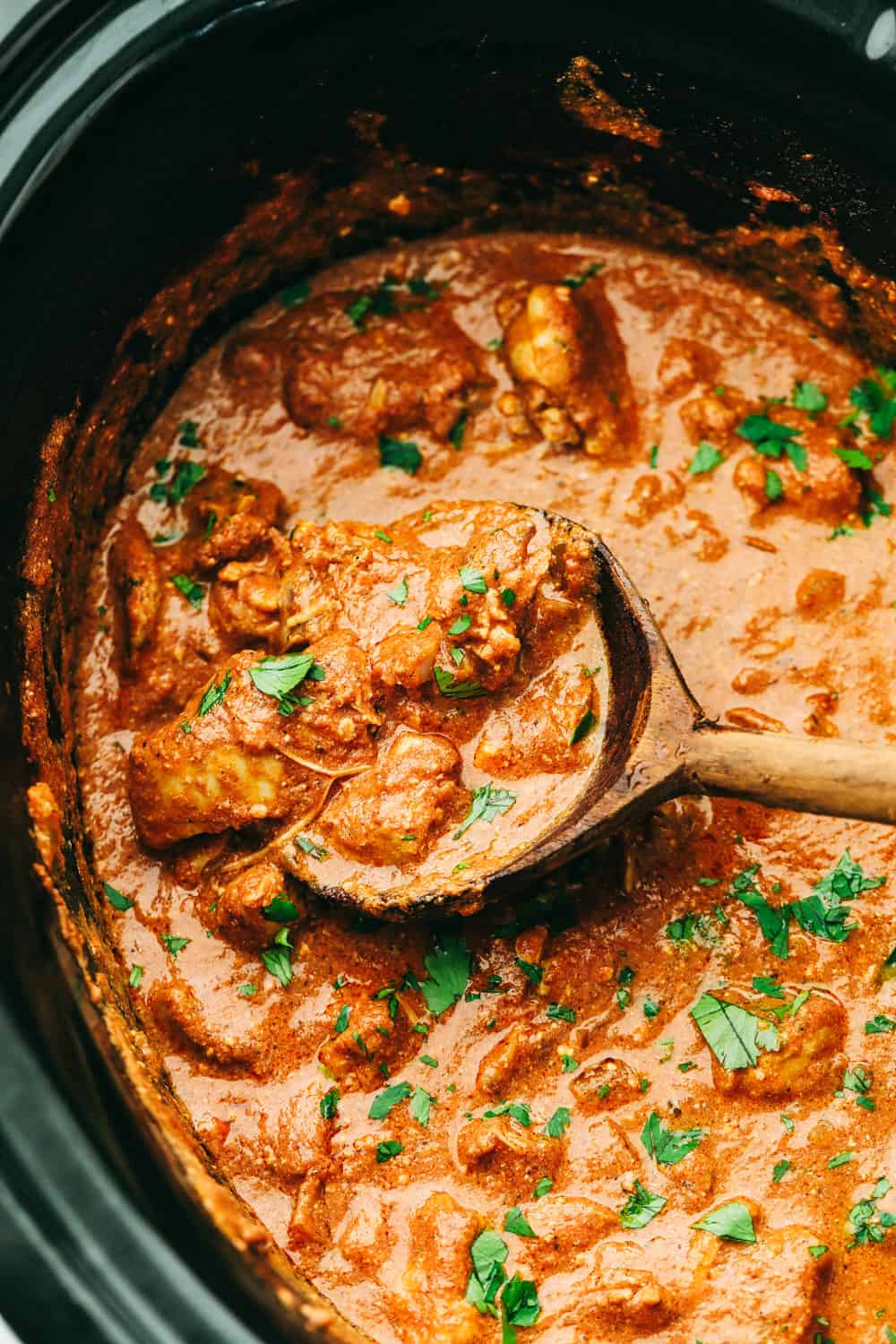 Slow Cooker Chicken Tikka Masala
The hubby and I went to an amazing Indian restaurant last year. It was my first time having Indian Food and I was a little hesitant to try it. I ordered the chicken tikka masala and I was blown away! I absolutely loved it. The spices were incredible. I was so glad to try something new and love it!
I couldn't wait to try it in my slow cooker. And I was hoping that my family would love it as well! It turned out absolutely amazing and I love that it has a secret ingredient of greek yogurt inside. The spices and flavor maintained throughout the cooking process. My first bite was incredible. The chicken just melted in my mouth and the flavor was perfect just like I remembered. I can't believe I have not made this until now! My family gobbled it up as well. I call this dinner a win and I can't wait to make it again!
What is Chicken Tikka Masala:
Chicken tikka masala is an Indian food and known to be one of the best and most popular for good reason! This recipe consists of chicken pieces cut up into cubes and marinated in an spiced curry sauce. It is usually creamy and has a distinct orange and red coloring in the sauce. It is usually served over rice with a flatbread on the side.
Chicken Tikka Masala Ingredients:
Don't let this ingredient list scare you away! This is a simple one pot meal that is perfect for a slow cooker. Seriously! The slow cooker is going to do it all for you. Simply add in all the ingredients together in a certain order and you will be AMAZED once you serve it!
Boneless Skinless chicken Breasts: The chicken does not need to be cooked prior to adding in the slow cooker, it is that simple!
Onion: Even if you are not an onion fan like myself, this is actually a small and subtle hint of flavor in this chicken tikka masala recipe.

 

Garlic: Always a favorite in my book!
Ginger: Fresh and grated. Using a grater with the smallest grated holes is best.
Tomato Puree: This is the base and does turn the sauce to a orange/red color. 
Plain Greek Yogurt: I am a huge fan on using yogurt when possible. It is rich, thick and creamy with an extra flavor.
Olive Oil:

 

Adds flavor as well as a richness to this creamy sauce. 

Garam Masala: This is a special seasoning with a blend of seasons within it. This seasoning will add warmth and sweetness to the sauce.
Cumin: This spice is perfect for using in a curry mixture.
Paprika: Adding a little bit of spice to this is a fun touch!
Salt and Pepper: Just a pinch.
Cinnamon: A secret ingredient that adds so much flavor and sweetness!
Cayenne Pepper: A little extra heat added to the sauce.
Bay Leaves:

 

This is strictly for flavoring and soaking in throughout the slow cooker process. Before serving, you will remove the bay leaves. 

Heavy Cream: Thick, flavorful cream that adds
Cornstarch: Finely coats the chicken
Cilantro: Chopped and used for a garnish.
How to Make Chicken Tikka Masala Recipe:
This chicken tikka masala is so simple to make and is effortless in so many ways. Simply mix together the tikka masala sauce, then add in chicken. It is basic and no extra prepping or cooking. Within hours you will be smelling a delicious dinner that will be hands down one of the BEST you make!
Mix together sauce: In your slow cooker combine onion, garlic, ginger, tomato puree, greek yogurt, olive oil, garam masala, cumin, paprika, salt, cinnamon, black pepper, and cayenne pepper.
Add in chicken and cook: Add in the chicken pieces and toss to coat in the sauce. Add in the bay leaves. Cook on low for 6 hours and high for 4 hours.
Mix and cook a little longer: During the last 20 minutes of cooking, whisk together cornstarch and heavy cream. Add in to the sauce and continue to cook for another 20 minutes.
Serve: Serve over rice.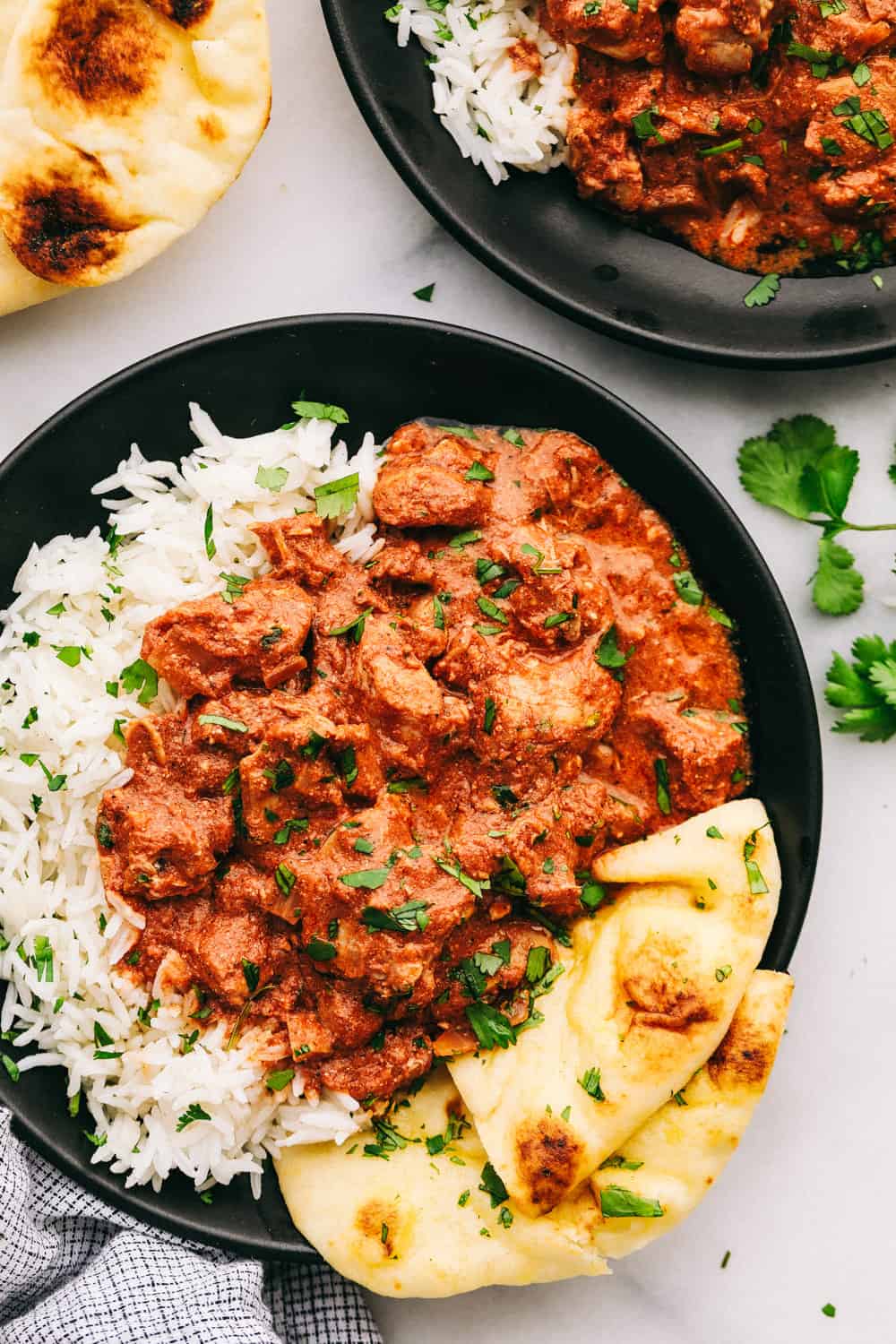 What to Serve with Chicken Tikka Masala:
The perfect combination for this chicken tikka masala recipe is rice and a piece of naan bread. Naan bread with garlic butter is a simple flatbread that is easy to dip and thick enough to scoop. The blend from the buttery garlic naan bread and chicken tikka masala is out of this world AMAZING! You won't be able to stop with this complete meal combination!