This website may contain affiliate links and advertising so that we can provide recipes to you. Read my privacy policy.
Baked Sweet and Sour Chicken is 1000x better than any takeout! It's crispy on the outside, tender juicy on the inside and exploding with flavor. There is a reason why this is our favorite recipe on the blog!
This meal is going to blow your family away! We love to complete this meal with this dishes like Homemade Egg Rolls, Cream Cheese Wontons or Easy Fried Rice.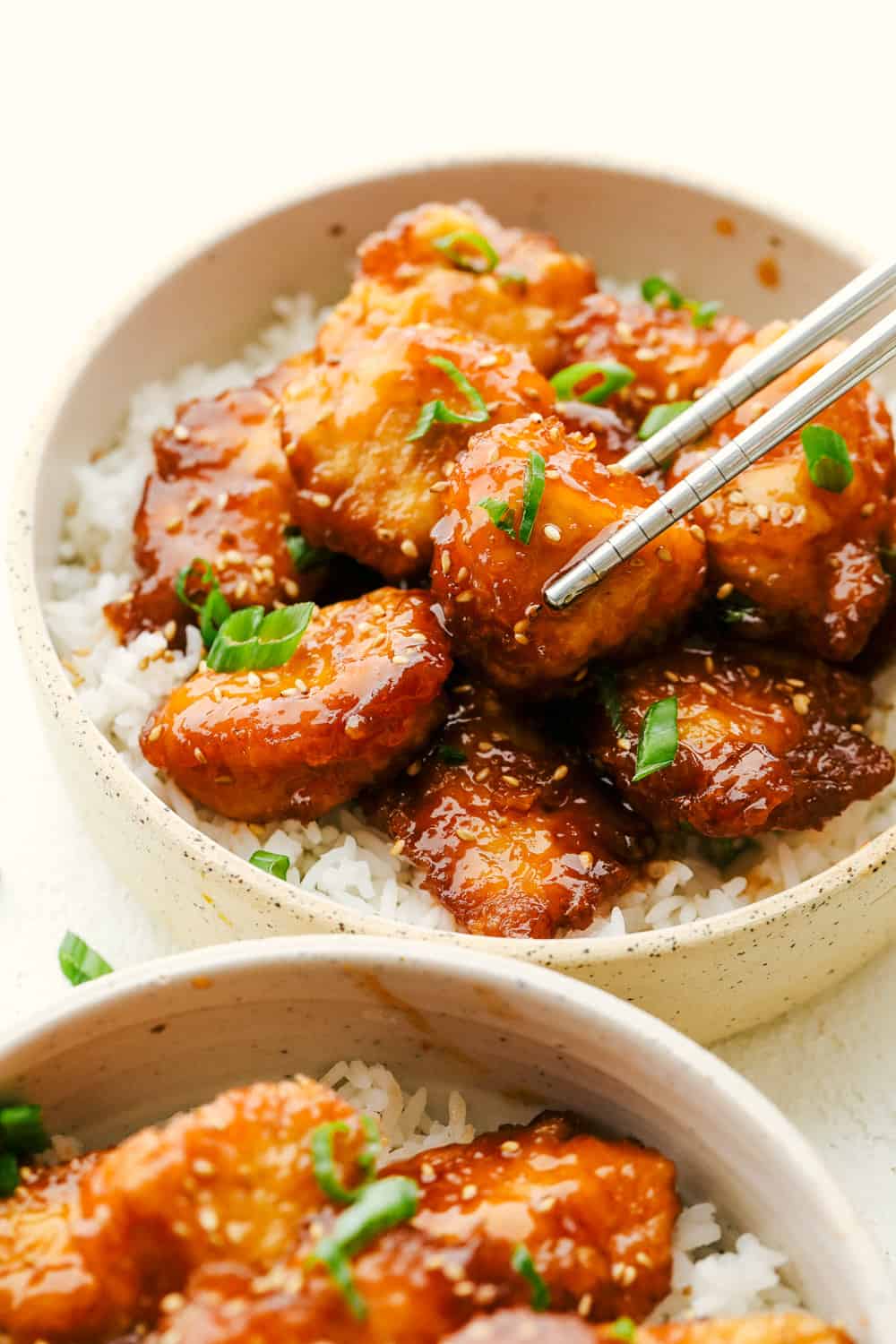 Sweet and Sour Chicken
I am going to keep this as short and simple as possible…you NEED to make this Sweet and Sour Chicken recipe. This recipe is number one for a reason, it's absolutely incredible. We have yet to find any takeout restaurant beat this recipe.
The secret to the breading is the cornstarch, it makes such a huge difference and the flavor of the sauce is unbeatable. It will thicken as it cooks, coating the chicken perfectly. It's also easy enough that you just might have to add this to your menu every week, it's just that good! Easy take out at home!
Chinese Sweet and Sour Chicken Ingredients
Amazing restaurant quality sweet and sour chicken that you can make from home!
Chicken Breasts: Use boneless, skinless chicken breasts for easy prep.
Salt and Pepper: To taste
Cornstarch:Creates a superb crunch
Eggs: Well beaten to help the coating stick.
Canola Oil: Just enough to give the chicken a quick fry for crispness.
Sugar: It wouldn't be sweet without the sugar
Ketchup: Classic ingredient in the sauce
White Vinegar and Apple Cider Vinegar: I like the combination of both.
Soy Sauce: Sweet and sour wouldn't have that classic flavor without the soy sauce
Garlic Salt: Adds the perfect punch of flavor.
How to Make Sweet and Sour Chicken
Prep: Preheat oven to 325 degrees. Cut your chicken breasts into bite sized pieces and season with salt and pepper.
Dip: In separate bowls, place the cornstarch and slightly beaten eggs. Dip the chicken FIRST in the cornstarch and then coat in the egg mixture.
Flash Fry: Heat canola oil in a large skillet over medium high heat and cook chicken until brown but not fully cooked throughout. Place the chicken in a 9×13 inch dish.
Sauce: In a medium sized mixing cowl, combine sugar, ketchup, apple cider vinegar, white vinegar, soy sauce and garlic salt.
Bake: Pour over the chicken and bake for an hour. Stir every 15 minutes to coat them in the sauce.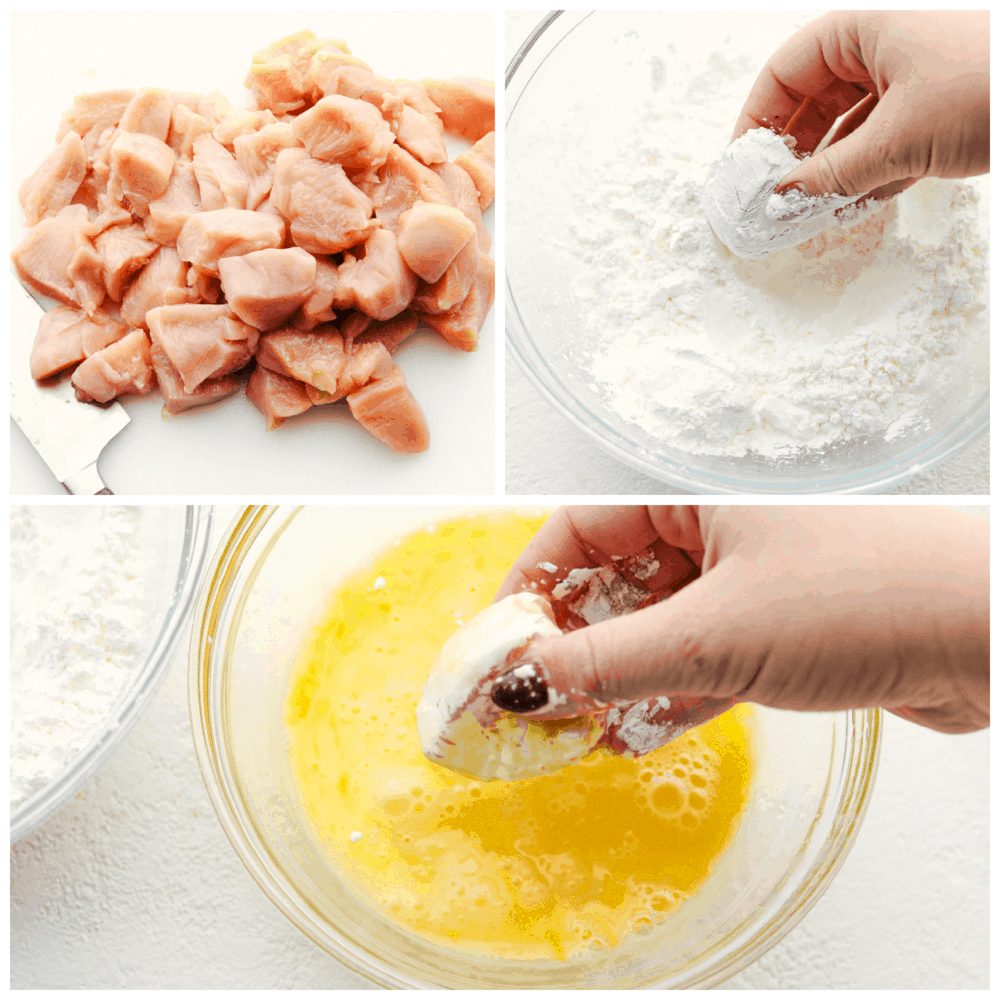 Trust Me on these Tips
Method to the Madness: Make sure you first coat your chicken in the cornstarch and then the egg. This method makes the perfect breading for the chicken.
Fast: Do not cook the chicken all the way through before baking. You just want to get the chicken lightly brown on the outside, and then it bakes to perfection.
Low and Slow: Baking the chicken at a low temperature will not over cook the chicken. This helps to cook the chicken all the way through and thicken up the sauce.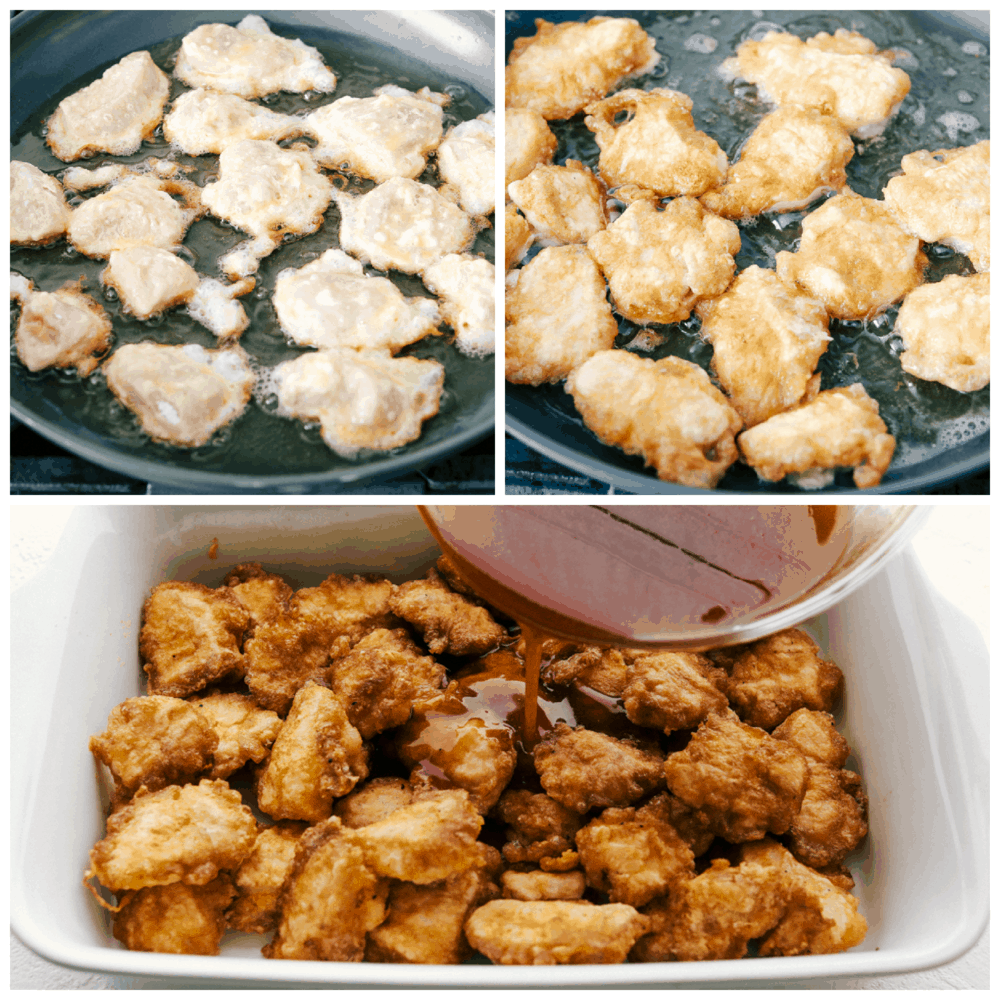 Easy Sweet and Sour Chicken Tips
Vinegar: You can use all Apple Cider Vinegar, but I wouldn't use all White Vinegar, the flavor and zing will be different.
Substitute: If you want a lighter vinegar flavor try Rice Vinegar, it's still tangy but a little milder.
Chicken: Cut the Chicken into even bite sized pieces so it'll cook evenly. Using thighs might result in uneven cooking as light and dark meat cook differently.
Pork: This recipe would also work perfectly with pork.
Saucey:  If you like your dish saucey, double the sauce recipe and place half on the chicken and another half on the stove in a pot at a simmer for 8-10 min till thickened.
Veggies: Feel free to add vegetables or even pineapple to the dish before baking.
Storing Leftovers
Fridge: Place leftovers in an airtight container in the fridge for up to 3-4 days.
Freezer: This can be frozen too. Just place in a freezer safe container or bag and freeze for up to 3 months.
Reheat: Sweet and Sour Chicken is best reheated on the stove. Reheating it in the microwave can make the chicken rubbery and overcooked. Place leftovers in pan on the stove top and heat on medium heat, stirring often, till heated through.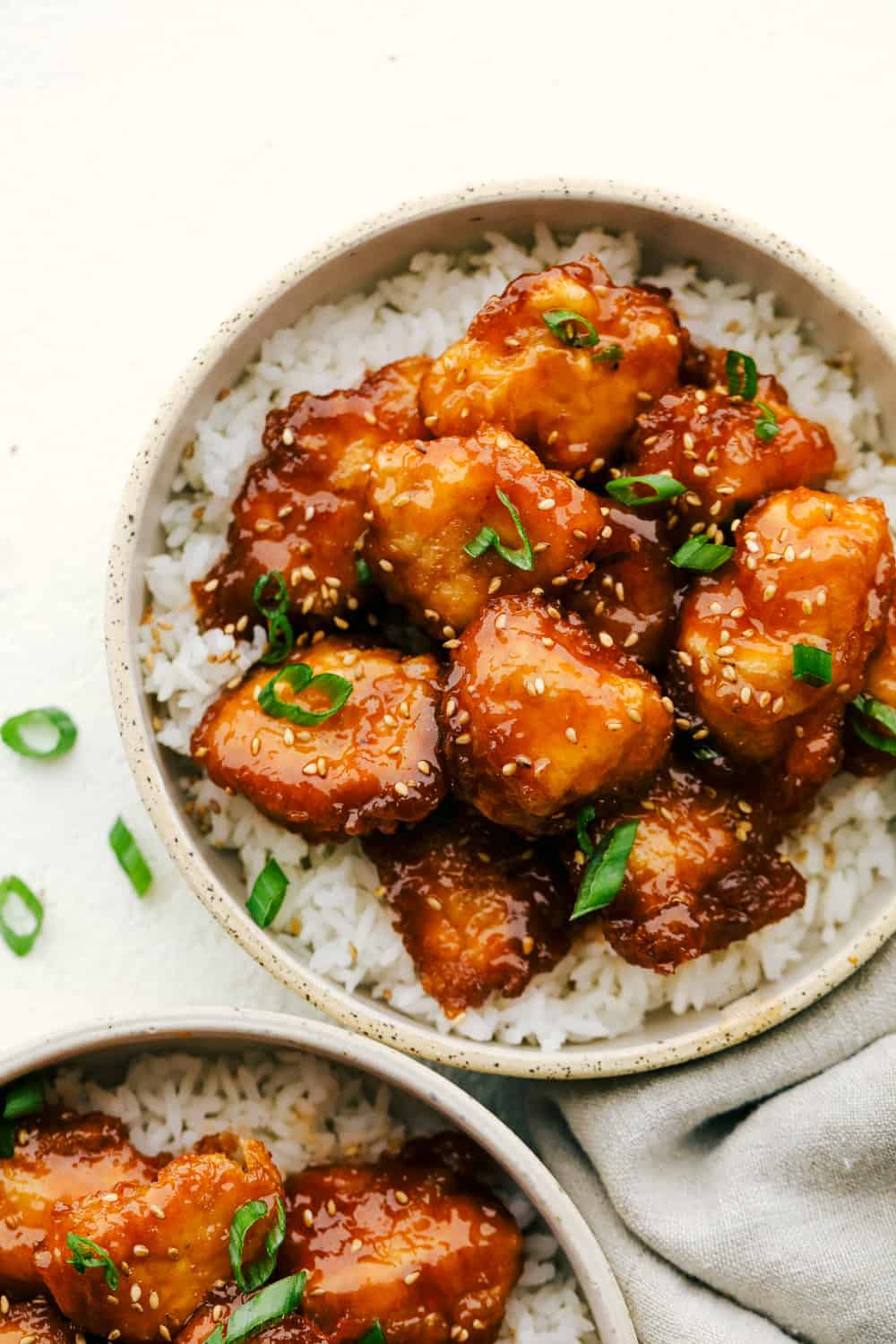 More Amazingly Delicious Baked Chicken Dishes
Save