This website may contain affiliate links and advertising so that we can provide recipes to you. Read my privacy policy.
Crispy and Juicy Air Fryer Chicken Thighs are the perfect thing to make tonight! Perfectly seasoned, these are the most scrumptious chicken thighs EVER!
Chicken thighs are moist, and juicy and a wonderful choice for dinner. Try them in this Slow Cooker Honey Garlic Chicken, Buttery Garlic Herb Chicken with Zucchini and the Best Bourbon Chicken for the best dinners.
The Best Air Fryer Chicken Thighs
These delectable pieces of chicken are going to rock your world! They're fast, they're delicious and because they're cooked in the air fryer a tad bit healthier than if you had pan fried them. Using the air fryer eliminates the extra fat you need to add to a dish to get that crispy outside and perfect inside. I love that I can have fabulous meal on the table in no time, even if I didn't plan ahead. Pairing it with some rice, and veggies and I have a scrumptious satisfying meal in no time!
Keeping the bone in and the skin on increases the moisture and the flavor of these thighs. The skin will get nice and crispy and full of flavor while the inside is perfectly moist and juicy. Cooking poultry in the air fryer has become an absolute favorite around here. It's so delectable every time. I love how it's never dry or over done. And it's quick and easy. I can seriously have perfectly cooked chicken for any meal faster than any other way without the added fats or liquid. These thighs are just so amazingly delicious.
Ingredients for Perfect Chicken Thighs
This is a pretty straightforward recipe, with no special seasonings or sauces. All of these ingredients can be found in your pantry or at your local grocery store. Another reason it's so fast. But it tastes so amazing! The air fryer melds the flavors together for perfectly tasting chicken!
Chicken Thighs: Bone in and skin on.
Paprika: For flavor and color.
Italian Seasoning: Perfect combo of spices, think oregano, basil, marjoram, thyme, garlic, etc.
Brown Sugar: Adds a touch of sweetness
Salt and Pepper: To taste
Olive Oil: To keep it all together.
Making Juicy Air Fryer Chicken Every Time!
Super simple, super delicious! Perfect for those weekdays that super busy and super crazy. Instead of ordering out you can have a homemade healthy meal in no time. This is so easy your family can help you! Kids love to mix up the spices. Have them use a large spoon to toss the chicken. The more my kids help in the kitchen, the more they tend to eat!
Dry: Pat the chicken thighs with a paper towel to dry. Add them to a medium sized bowl.
Mix: In a small bowl combine paprika, Italian seasoning, brown sugar, salt and pepper. Add the olive oil to the bowl of chicken and sprinkle with the seasonings.
Toss: Toss the chicken gently till fully coated.
Cook: Place the chicken thighs skin side down in the basket of the air fryer. Cook at 380 degrees for 10 min. Flip after 10 min and continue to cook for 7-8 more minutes until no longer pink and the internal temperature is 165 degrees.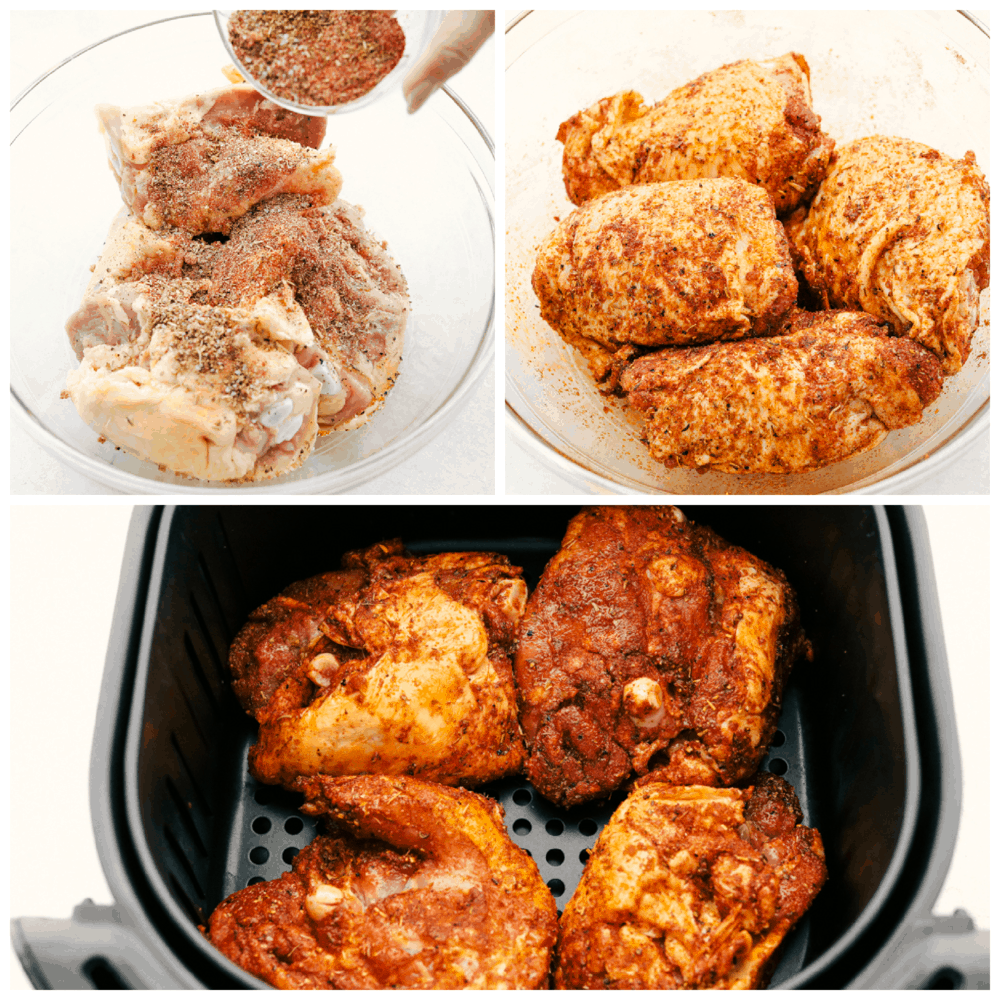 Chicken Thighs vs Chicken Breasts
Both breasts and thighs are an incredible source of lean protein, which is ideal in any diet. When it comes to direct comparison between chicken breasts and chicken thighs there are some clear differences. Chicken breasts will win the category of being the most healthy. It has fewer calories and fat per the same amount. However the thighs will win hands down in flavor and juiciness. That extra bit of fat on the thigh creates that incredible flavor and helps the meat stay tender and moist. Breasts have a higher chance of becoming dry and flavorless if over cooked. To combat that we often add more fats and seasonings to the breasts. With the thighs you don't have to add the extra fat, or seasonings.
Tips for Crispy Chicken Thighs
Using an air fryer, makes this super simple. This recipe is the perfect but you can vary it as you desire. It's so versatile and easy to customize. There are a few tips I have discovered in cooking this recipe that will help it turn out gorgeous!
Seasoning: Because the air fryer uses circulating air to cook the chicken, you don't want your spices to go flying off the chicken. That why we use a tiny bit of oil to help the spices adhere to the chicken. Only use enough to have the seasoning stick.
Over Crowd: Since the air is circulating you don't want to over crowd your air fryer and overlap the chicken too much. It will prevent the air from being able to circulate around all the chicken and it won't get done evenly. You may have to cook it in batches. Keep the other batches warm by covering them with foil.
Know your Air Fryer: Every air fryer is a little different. Make sure you read your instruction manual and follow their suggestions for cooking. My suggestions are just that, suggestions. Adapt the time and temperature as necessary for your particular make and model.
Make sure it's done: No matter what you temp or how long you cook it at, make sure the internal temperature reaches 165 degrees. Use an instant read thermometer in the thickest part of the thigh to check.
Vary the Seasoning: Vary the seasoning for your tastes and purposes.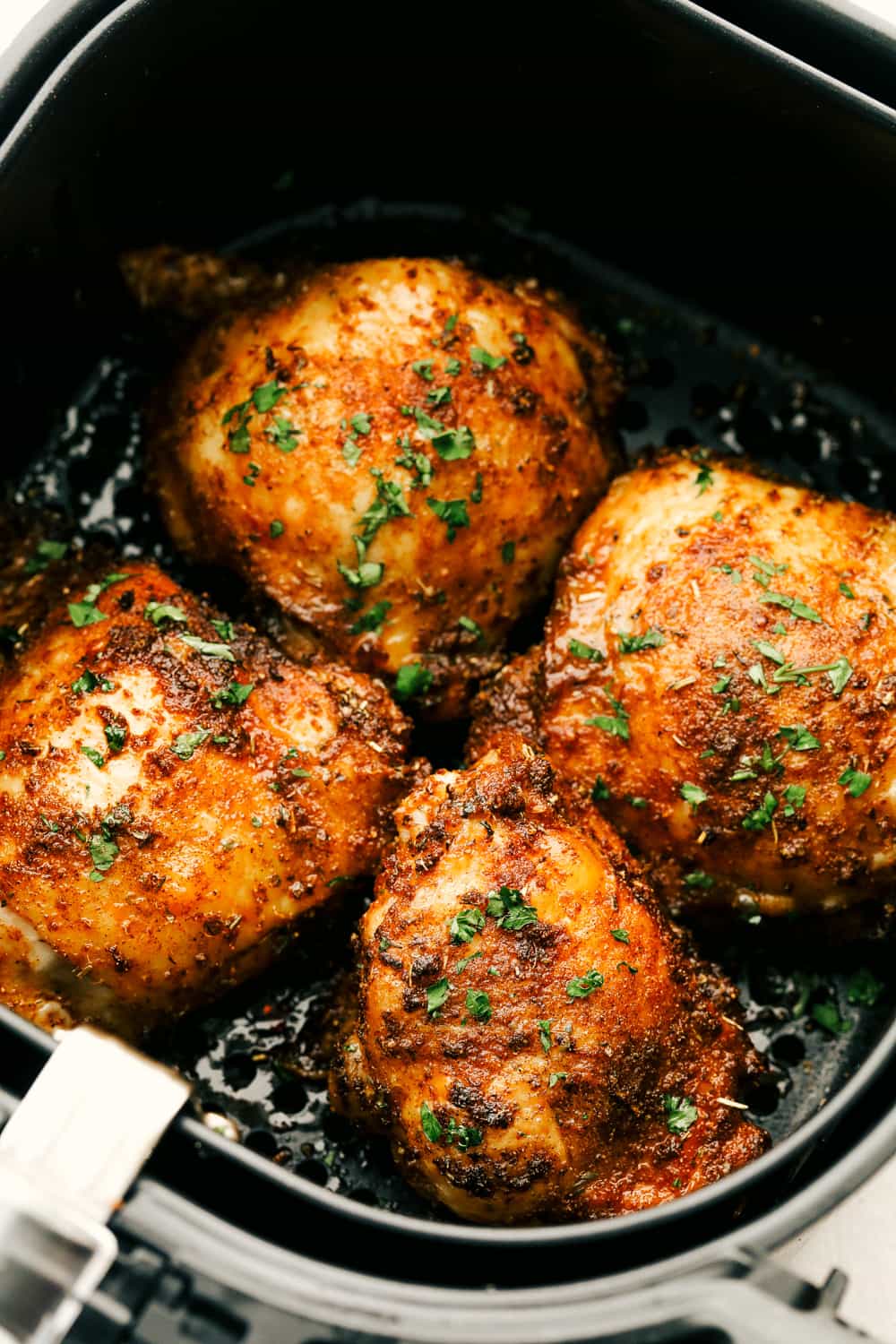 Don't Have an Air Fryer? You Can Make These in the Oven!  
No worries if you don't have an air fryer, you can still make incredible chicken thighs in the oven. They will take a little longer but with this trick they'll still come out crispy and juicy.
Chicken Seasoning: Prepare the chicken as directed in the recipe complete with adding the oil and spices.
Prepare: Preheat oven to 400 degrees. Line a cookie sheet with aluminum foil. Place a baking rack on top.
Baking Time and Temperature: Take for 35-40 min or until internal temperature registers 165 degrees.
How to Use These Chicken Thighs
The best part about chicken is that it's so versatile and cooking it like this means you can use it so many different ways. Change up the spices to fit your recipe and get creative.
Cajun: Add cajun spices to the chicken and add to sausage and rice for a quick take on jambalaya.
Mexican: Trade out the spices for cumin, chili powder and smoked paprika. Serve in tacos, burrito bowls, or chimichangas with a side of Mexican rice.
Italian: Use a bit more Italian seasoning and serve over pasta with marinara, Alfredo, or pesto.
BBQ: Change out the spices for a BBQ rub and during the last few minutes of baking brush on some Homemade BBQ sauce. Eat with corn on the cob, and potato salad.
Mediterranean: Season with your favorite mediterranean spices and serve in homemade gyros with tzatziki sauce.
Asian: Make it an asian flare by serving with your favorite asian sauce with veggies and easy fried rice.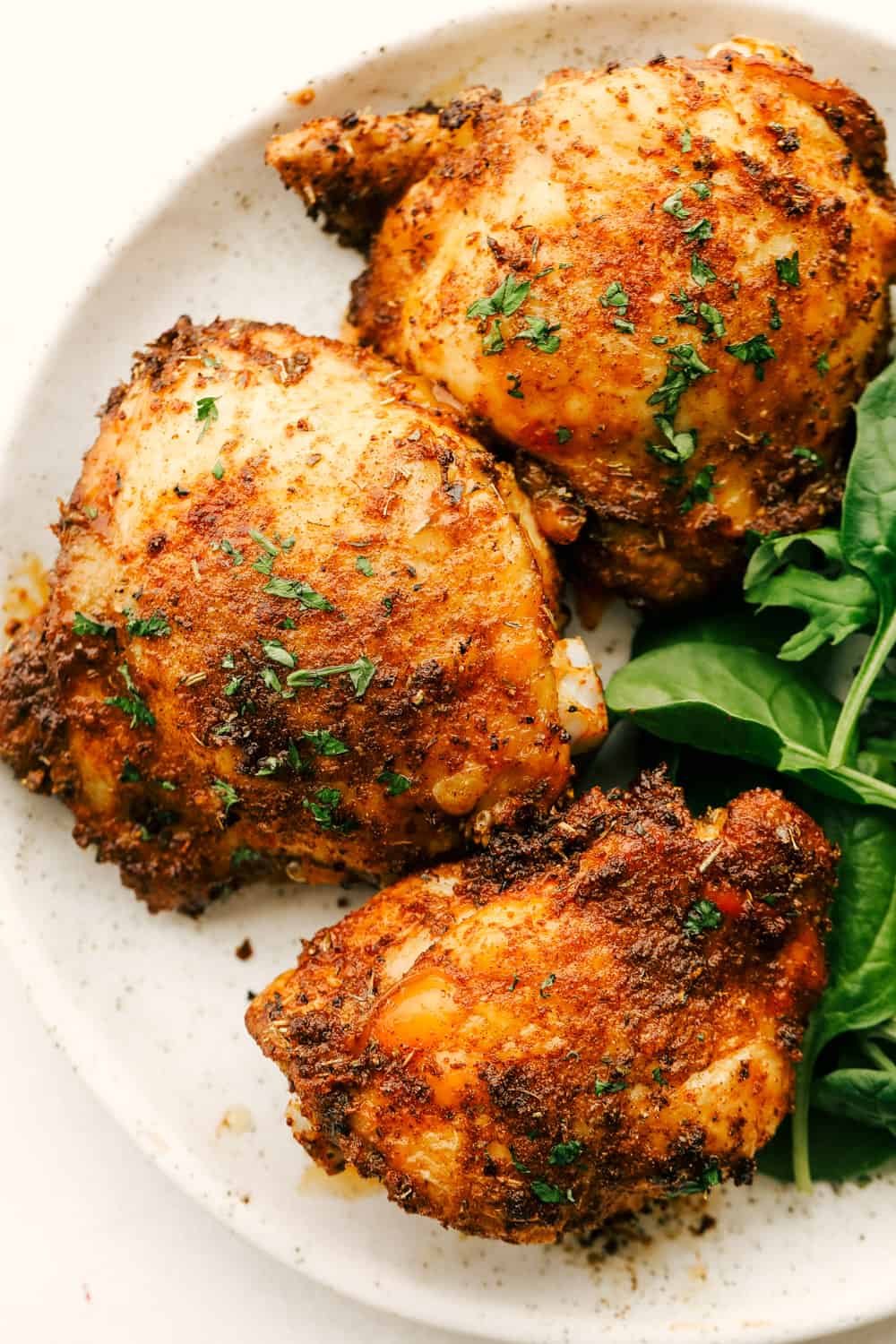 More Chicken Thigh Recipes to Try
I seriously love the super tender deliciousness you get with chicken thighs. They are so juicy. Having that little bit of dark meat on the thigh, just helps it so much. Try these recipes that bring out the best of chicken thighs.