Unexpectedly delightful little pops of sweet vinegar-soaked strawberries on grilled sourdough with goat cheese, thyme, and honey!
This is a brand new recipe that's part of our Spring 2023 SOS Series – in other words, EASY recipes! View our full collection of SOS recipes here.
---
In This Post:
---
---
Lindsay's Notes
Okay, hear me out.
Pickled strawberries are my love of the moment. It's the end of May, the weather feels like summer, school and activity programs are wrapping up, and my interest in making a proper dinner is at an all-time low.
Enter: these delightful little pops of sweet vinegar-soaked strawberries, smushed gently onto grilled sourdough smeared with goat cheese, and finished with thyme and honey, eaten on the deck at 4:30pm, and keeping us full and happy long enough to lounge around outside and enjoy the summer evening for a couple more hours. THESE ARE SO GOOD.
I debated including this recipe in the SOS Series – we usually do dinner recipes in this series, and this one initially looks and feels more like an appetizer or a snack.
But over the last year and a half as I've made these, I find that they often start as a pre-dinner snack… and just eventually turn into dinner. Lol. I can't count the number of times I've thrown a jar of these strawberries together in the afternoon, assembled some toasts for a summery outside snack at that magical (challenging) 4pm hour, and then watched as everyone devoured enough bread, cheese, and strawberries to be happy for the rest of the evening. Works for me.
They are simple, unexpected, and honestly just plain fun. It's the perfect way to sneak a little bit of delight into the week!
---
Pickled Strawberries Video
Print
Description
Unexpectedly delightful little pops of sweet vinegar-soaked strawberries on grilled sourdough with goat cheese, thyme, and honey!
---
For the Pickled Strawberries: 
For Toasts:
---
Pickled Strawberries: Place the strawberries in a jar. Add the vinegar, sugar, peppercorns, and salt. Fill to the top with water. Secure the lid and shake gently to combine.
Wait Time: Place in the refrigerator for 2 hours, or up to 2 days. (I prefer these within the first 12-24 hours so they don't get too mushy.)
For Serving: Fry or grill the bread. I fry a few slices at a time in olive oil on my griddle until nice and golden and crispy. Smear the goat cheese on the toast and top with a few strawberries. Smash them gently with a fork. Sprinkle with bits of thyme, a drizzle of honey, and a hit of salt. Mwah!
Prep Time:

10 minutes

Category:

Appetizer

Method:

Marinate

Cuisine:

American
Keywords: pickled strawberries, strawberry recipe, strawberry crostini
Recipe Card powered by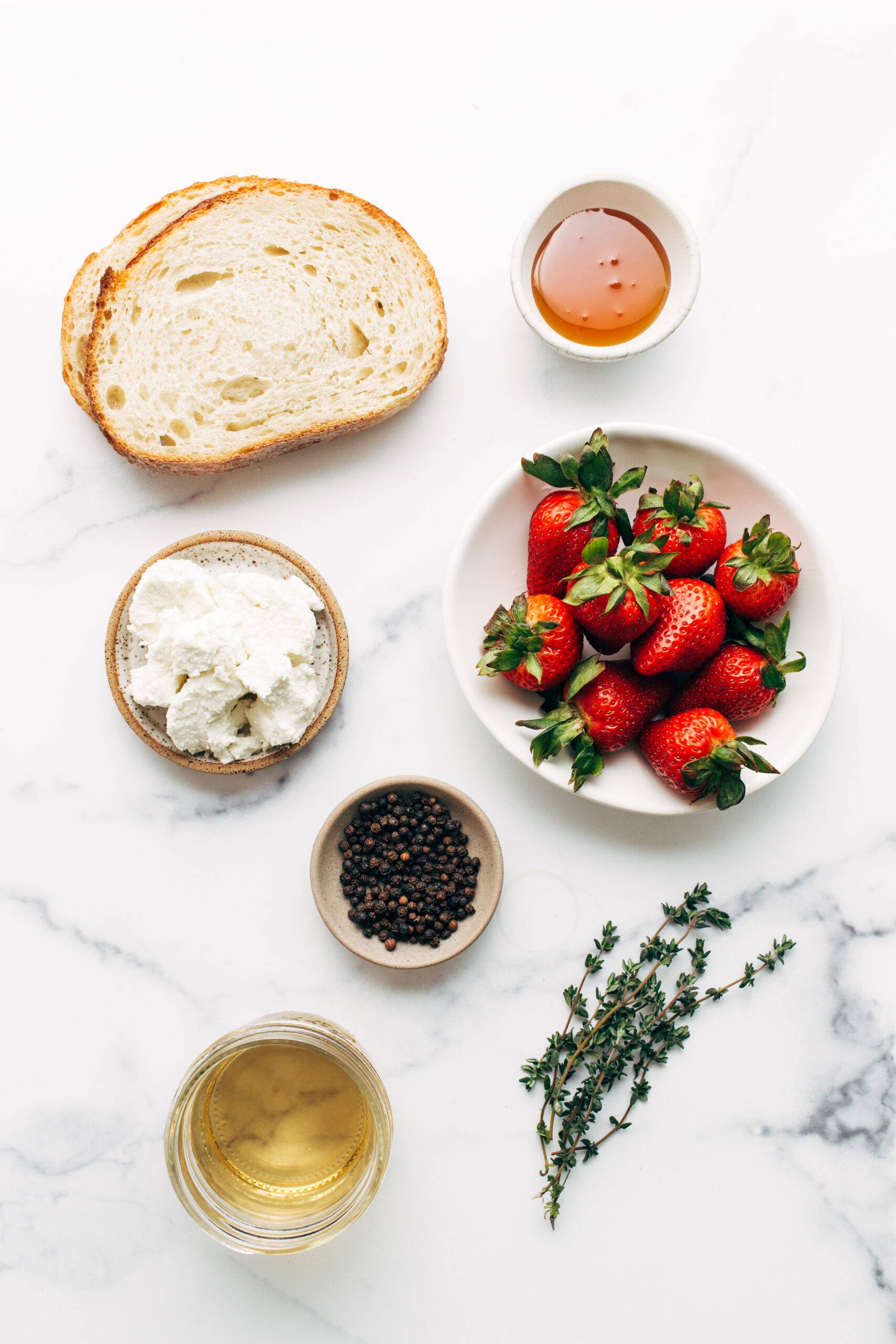 ---
Frequently Asked Questions
Do I Have To Use White Balsamic Vinegar?
I think you could achieve a similar end result with a different vinegar (apple cider vinegar or champagne vinegar, for example), but I love the white balsamic because it's naturally sweet and mild. I go out of my way to buy a bottle or two each summer and then just keep it stocked specifically for this recipe!
Do You Eat The Peppercorns?
I do like the peppercorns! They get softened a bit and I think they add the perfect bite of peppery crunch on the toasts, which is why you see them in the picture. That's how I eat them!
However, I know that's not for everyone and you can definitely leave them off your final toast creation if you prefer it without anything too peppery.
Could I Use Something Else Besides Goat Cheese?
Cream cheese or ricotta cheese are both great!
Do Your Kids Like This?
They LOVE it. We actually started them on it with a yogurt version – just smeared some whole milk Greek yogurt on the toast with the strawberries and they were so into it.
How Do You Make This Gluten-Free or Dairy-Free?
Use a gluten-free bread, or a dairy-free creamy element. We love Kite Hill cream cheese!
How Else Can You Use These Pickled Strawberries?
There are so many ways to use these – they are awesome just eaten plain, in a yogurt bowl with granola, or on a salad!
---
More Summer Snackies