Vegetarian Shepherd's Pie ♡ saucy mushrooms, carrots, and peas topped with creamy mashed potatoes. Real food meets comfort food!
Vegetarian Shepherd's Pie! ♡ Ay yay yaaaay. This is good.
Shepherd's Pie season is upon us and this super cozy vegetarian version is running around on the loose in our house. And did you hear me when I said veg only? Honestly, we don't even need the meat – I promise these vegetables are the yummy kind.
Like, really yummy.
Like, sautéed with garlic and onion, sauced up with a sizzle of red wine, coated in a quick gravy, and baked under a layer of creamy mashed potatoes good. Want. Want. Want.
This is not a lentil shepherd's pie, but if you want to add lentils for a little more protein punch, you do you.
Prefer To Watch Instead Of Read?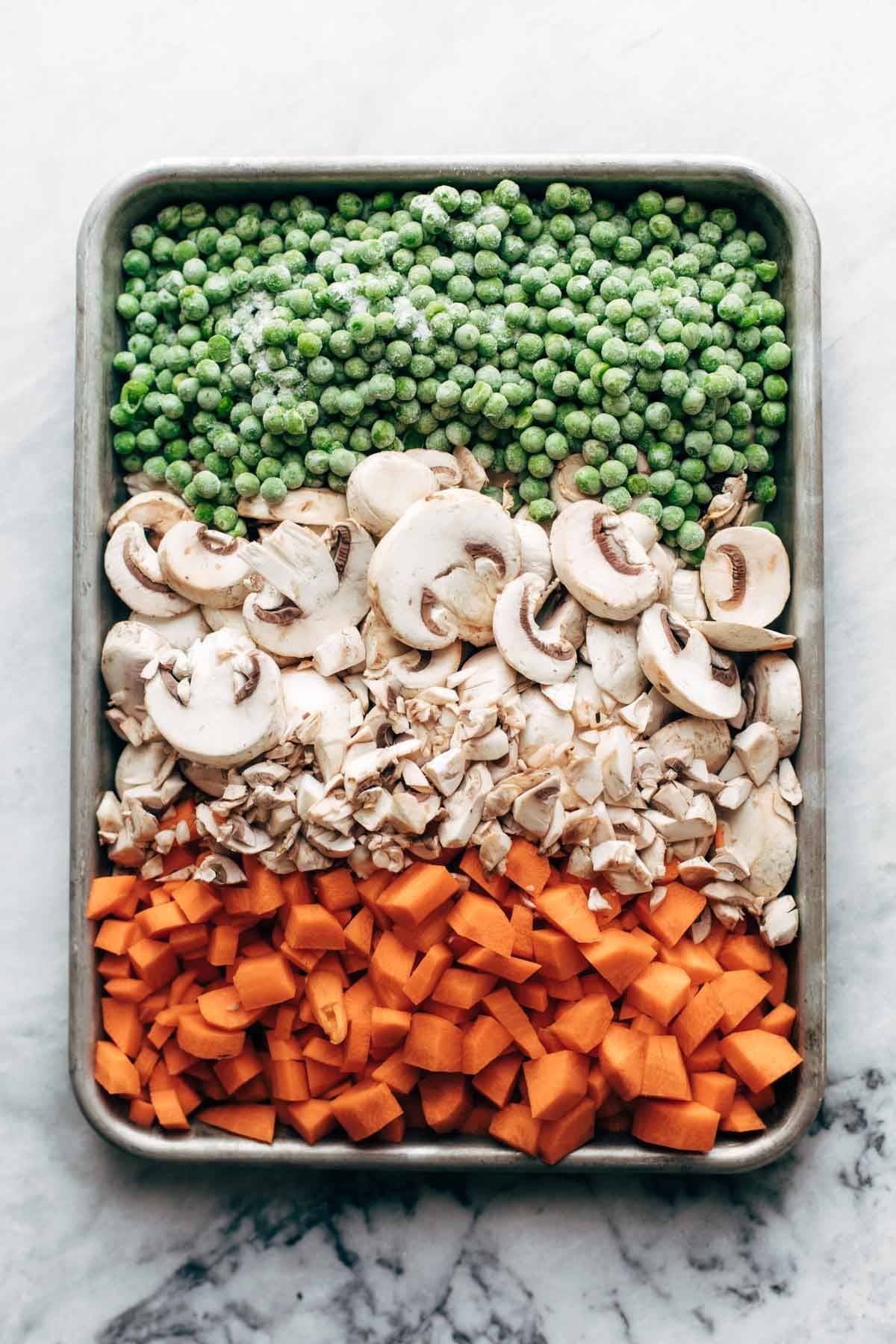 Let's Talk Mashed Potatoes
I decided to put Greek yogurt in my potatoes to gain a protein punch while still being creamy-tangy (gah, so good).
That being said, if you want this to be a completely vegan shepherd's pie, just use olive oil instead of butter and maybe a splash of non-dairy milk in your potatoes and you will be golden. And if you're gluten-free? I have a hack for you involving mashed potatoes – check the FAQs.
Can you smell it though? That red wine, garlic, olive oil, rosemary aromatherapy?
If you're really looking ahead, I'll also say that Shepherd's Pie is a perfect after-Thanksgiving recipe, because guess what you have a lot of in your fridge after Thanksgiving? Leftover mashed potatoes. This is an amazing way to use up some of those holiday potato leftovers.
Important to note that this vegetarian shepherd's pie is a total comfort food meets real food situation, so it's going to require pajamas or sweats. A big fluffy sweater would be okay, too. Blanket, slippers, and candle are all optional. But a big appetite will be necessary. I know you can deliver.
Vegetarian Shepherd's Pie: Frequently Asked Questions
Can I make this gluten-free?
Yes! Skip the flour and stir in about 3/4 cup mashed potatoes to the veggies and liquid to make a "gravy." Easy. Tasty.
Can I make this vegan?
Sure! Use olive oil in place of butter and non-dairy milk in place of the yogurt.
Can I add meat to this?
The mushrooms give this a really nice umami and meaty flavor, but if you'd prefer, add browned ground meat to the gravy mixture. Yummy!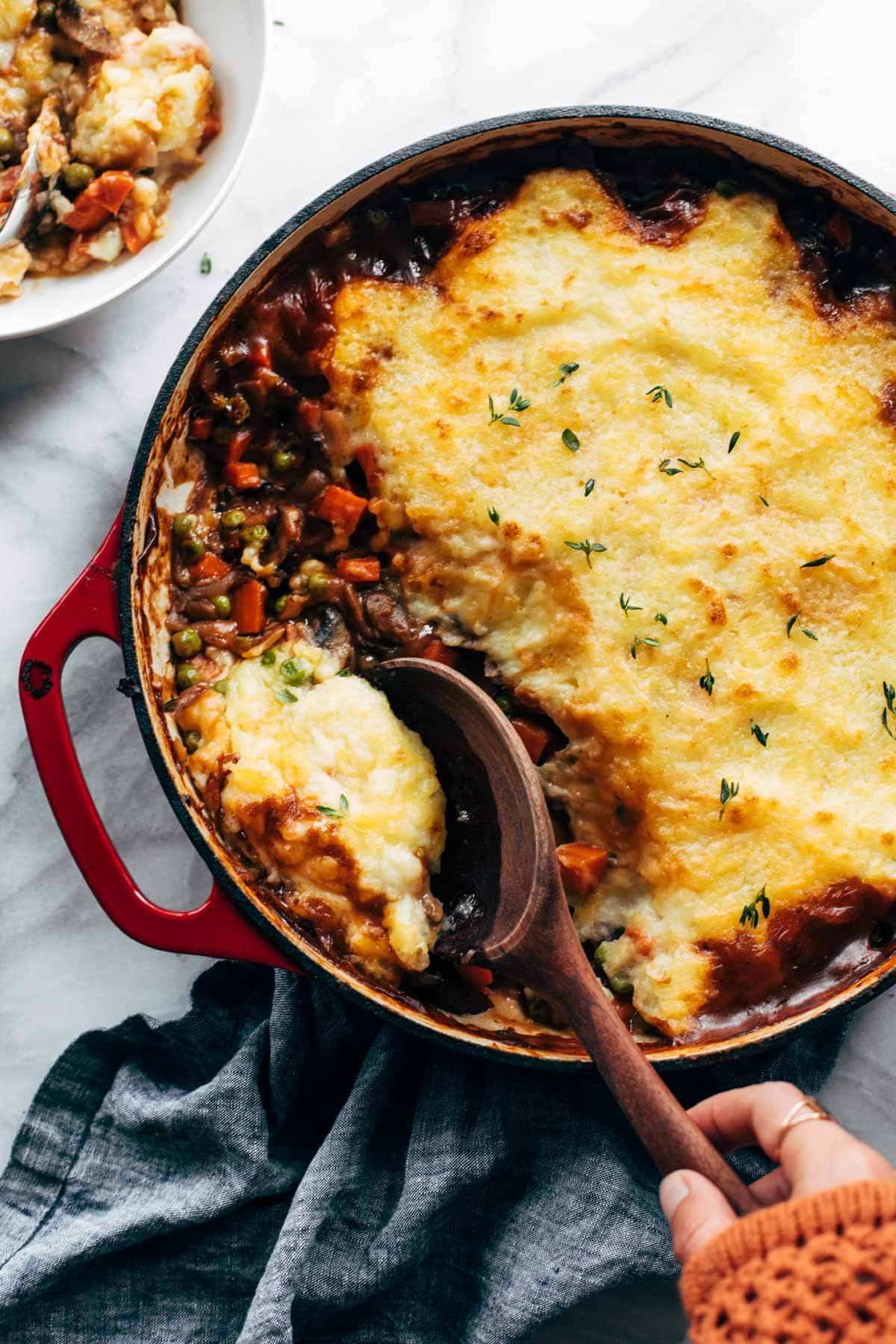 When you pull this out of the oven and the sauce is bubbling up around the sides under the lightly-golden-brown potatoes and your whole house smells like a log cabin in the northwoods?
This will not be a sad moment for you.
Print
Description
Vegetarian Shepherd's Pie ♡ saucy mushrooms, carrots, and peas topped with creamy mashed potatoes. Real food meets comfort food!
---
Vegetarian Shepherd's Pie Filling:
Mashed Potatoes:
---
Notes
Pro Texture Tip: I chopped up half of my mushrooms so there would be a better texture variety in the filling. If you don't want to use red wine, just sub a little more liquid. No problem.
Prep Time:

20 minutes

Cook Time:

35 minutes

Category:

Dinner

Method:

Bake

Cuisine:

British-Inspired
Keywords: shepherd's pie, vegetarian shepherd's pie, vegetarian recipe, vegetarian comfort food, easy shepherd's pie recipe
Recipe Card powered by
More Vegetarian Comfort Food Recipes
---
One More Thing!
This recipe is part of our coziest comfort food recipes page. Check it out!