Learn how to make this amazing, finger-licking good crack cauliflower bites using my paleo-friendly, gluten-free recipe. Serve with a spicy red sauce for an excellent appetizer or a side dish. 
---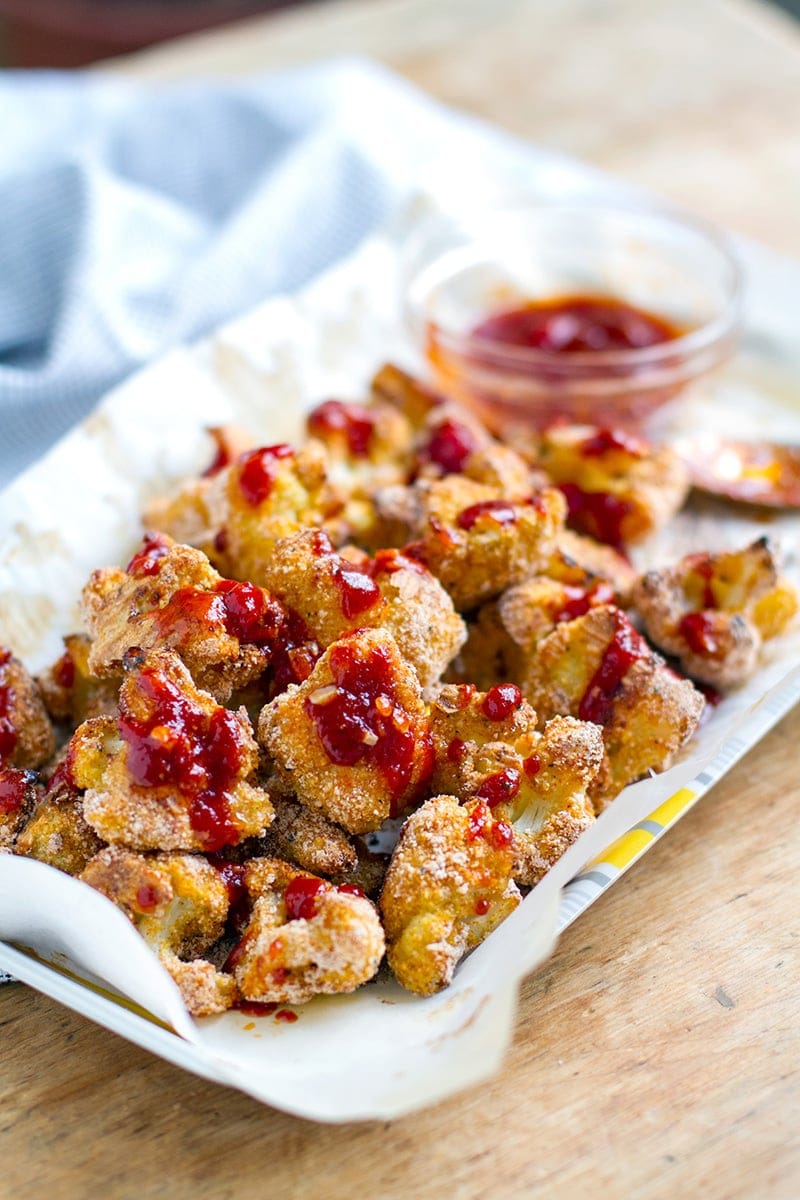 I first came across this crack cauliflower recipe on Delish website. As you can imagine, the name intrigued me enough to click on the link, and sure enough, it looked like you could get hooked on the cauliflower made in this way. But, with panko breadcrumbs, white flour, brown sugar and BBQ sauce in the ingredients, I've decided that I should make a healthier version of this dish. Enter my paleo crack cauliflower!
I apologize if you think the name is offensive or insensitive but I believe we need to approach life with a bit of humour (even the difficult topics) and why not with food!?!? 
I often bake cauliflower with other veggies and I have a super yummy recipe for roasted cauliflower bites in the Eat Drink Paleo Cookbook, BUT, I have to admit that this recipe is definitely taking roasted cauliflower to the next level. I used a whole head of cauliflower AND I ate all of it…by myself. I couldn't stop. So, yes, I can legitimately call this 'crack cauliflower'.
This is a finger food great dish to serve at group gatherings (Super Bowl, cocktail party, picnics) or to have it as a side dish with some protein. I prepared it with a sweet and spicy red sauce but it would be equally delicious with a simple aioli dip (a.k.a garlic and mayonnaise). You can serve it warm or cold, and I enjoyed both.
CAULIFLOWER BITES VARIATIONS
Egg-free version: Coat cauliflower florets in olive oil or avocado oil and then coat (lightly) in the crumb mixture.
Nut-free version: Replace almond meal/ground almonds with more tapioca flour and coconut flour, or even something like buckwheat or quinoa flour, if you include those in your cooking.
Serve with aioli: If you want to serve these cauliflower bites with aioli, simply combine a few tablespoons of mayonnaise with a grated clove of garlic, a little lemon juice and black pepper.
HOW TO MAKE MY CRACK CAULIFLOWER
The magic comes from the spiced coating, which you can mix in a large bowl. If you want, you can make a larger batch and store it in a Ziploc bag in the pantry to use up next time. I always find I have some leftover coating.
The egg is kind of necessary for the coating to stick BUT for an egg-free recipe, you could mix some arrowroot or tapioca flour and almond milk in a bowl and use it as a thin batter to dip the cauliflower in (kind of like tempura vegetables). This way, the coating will also be able to stick to the cauliflower.
I find that roasting the cauliflower is fuss-free and a little healthier but you could also try to shallow fry the pieces in a pan in some oil. Too much work for me! 
Finally, prepare the dipping sauce as per the recipe or mix together a little mayonnaise, hot sauce and garlic for a delicious aioli dip.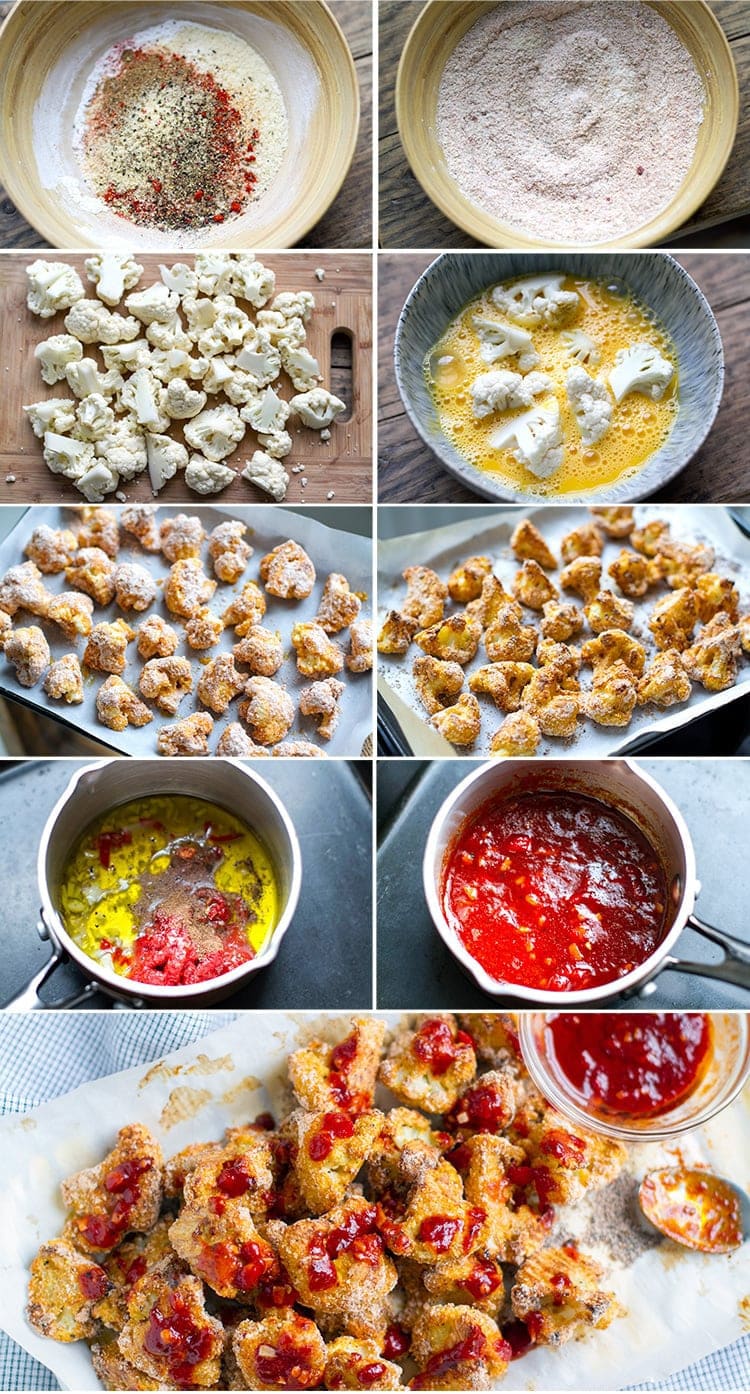 MORE HEALTHY CAULIFLOWER RECIPES
Cauliflower Egg Fried 'Rice'
Cauliflower & Beetroot 'Couscous'
Moroccan-Style Cauliflower Salad
Low-Carb Cauliflower Hash Browns
All cauliflower recipes here.
Print
---
Description
Covered in spiced coating and roasted to crispy perfection, these crack cauliflower bites are tasty and nutritious. Serve with a fiery dipping sauce or a simple mayonnaise or aioli.
---
For the coating
For the sweet and spicy red sauce
---
Preheat the oven to 220 C / 430 F.
Prepare the cauliflower and whisk the eggs in a bowl. Set aside. See pictures below.
Combine the coating ingredients in a medium bowl. Mix well.
Place a piece of non-stick parchment paper over a flat baking tray. You can also grease the tray with some coconut oil and use it without the parchment paper.
Dip each cauliflower floret in the egg mixture, shake of the excess egg and then coat all over with the crumb mixture. I use one hand for dipping in the egg and the other hand for crumb coating. That way your hands won't get too sticky with the egg and coating mixture. Shake off the coating slightly and place the finished florets evenly on the tray.
Place the tray in the oven, middle shelf, and turn the heat down to 200 C / 400 F. Bake for 10 minutes, remove the tray and turn the florets over. Bake for 10-12 more minutes and they should be done.
While the cauliflower bites are baking, prepare the red sauce. Combine all ingredients in a small pot and heat over medium-high heat. Once it comes to a boil, turn the heat down and stir for a minute, allowing the flavours to cook off together. Remove from heat and set aside.
Transfer the cauliflower bites to a platter and drizzle with some of the sauce; or, serve the sauce on the side for dipping.
---
Notes
If you want to serve these cauliflower bites with aioli, simply combine a few tablespoons of mayonnaise with a grated clove of garlic, a little lemon juice and black pepper.
Nutrition
Serving Size:

5 florets

Calories:

211

Sugar:

5.9 g

Sodium:

859.1 mg

Fat:

8 g

Saturated Fat:

1.7 g

Carbohydrates:

29 g

Fiber:

6.2 g

Protein:

9.7 g

Cholesterol:

74.4 mg