In this recipe, pumpkin's sweeter cousin – kabocha squash – is perfectly roasted with aromatic thyme and garlic, and finished with nutritious crunchy pumpkin seeds. It's an easy and healthy side dish that pairs with pretty much anything. Learn how to make it and what's good about it below. Make sure to comment and rate make this dish or leave a question.
---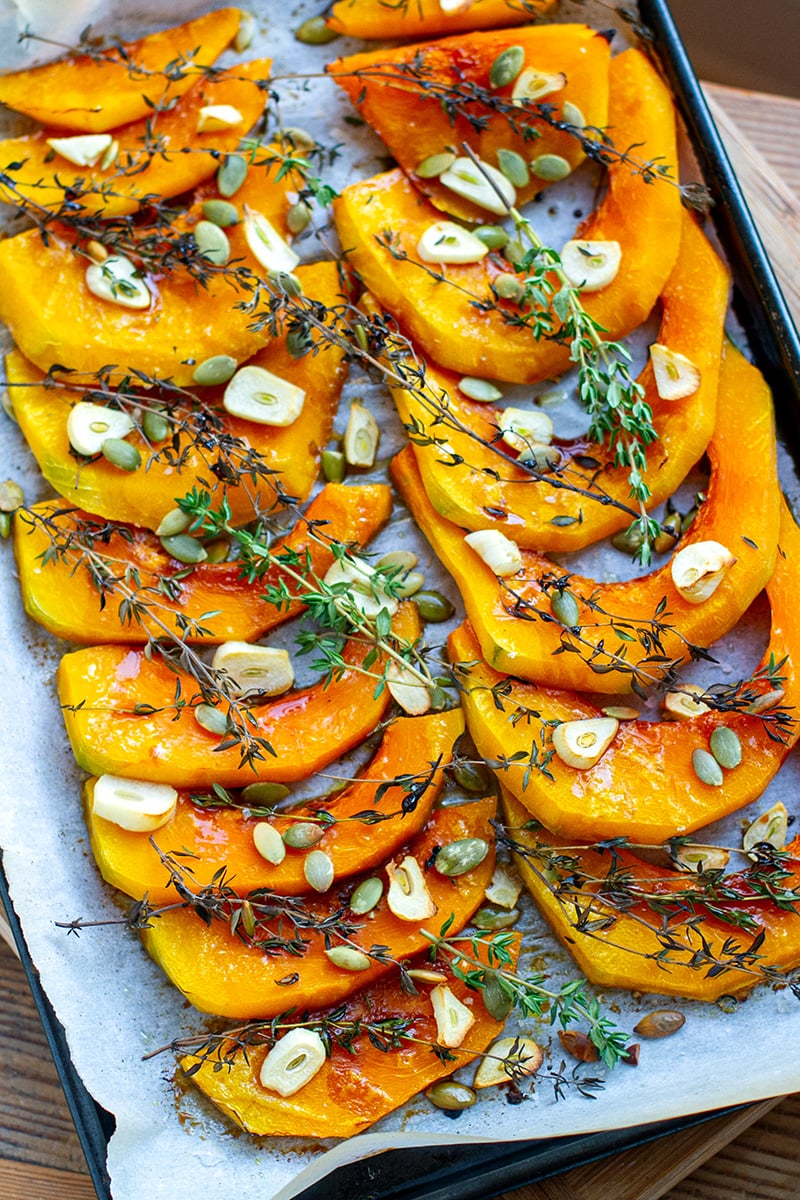 WHAT IS KABOCHA SQUASH?
Kabocha squash is my favourite type of winter squashes or pumpkin. It's also known as  Japanese pumpkin and is widely available in most countries, especially in autumn and winter. It has a green and blue-ish skin and starchy, sweet orange flesh similar to sweet potato mixed with pumpkin. It's sweeter and starchier than say a butternut pumpkin and is delicious roasted or blended into a soup.
Check out my full guide to winter squash and pumpkin types here.
Kabocha Squash Nutrition
Like other varieties of pumpkin, kabocha squash is very nutritious. It's a healthy source of carbohydrates and fibre and even some protein. Even though it's quite sweet, kabocha squash has little natural sugar and is mostly starch.
It's a rich source of vitamin A and antioxidants (beta-carotene) which help to protect your body from free radicals, maintain healthy skin and regulates the immune system. Roasting the squash with some olive oil helps your body to absorb this fat-soluble vitamin. 
It also comes with a hefty amount of vitamin C, which we need to absorb iron (also present in this veg!), grow and repair tissues, produce collagen and more. Magnesium is another featured nutrient and it supports nerve and muscle function and plays a role in calcium balance in the body. 
So, pat yourself on the back for having some kabocha squash or another pumpkin for tonight's dinner! This dish is gluten-free, paleo, Whole30, vegan, vegetarian and nut-free. 
HOW TO CUT KABOCHA SQUASH
I recommend to cut the squash in half and remove the seeds first. Once in halves, it is easy to place the squash flat on a cutting board so you can hold it securely to peel the skin. Regular peeler is not usually strong enough for the job, so simply slice away the peel with a sharp knife. 
For roasting, you can either cut the squash into thick wedges or slices or dice it into large cubes. If you're making a soup, you would just dice it. 
HOW TO COOK KABOCHA SQUASH
I love roasting kabocha squash with hardy herbs like rosemary, sage, or thyme in this case, and lots of garlic. It's such an easy dish and can be served as a sharing vegetable side at a Thanksgiving or Christmas dinner, or as a nutritious carbohydrate component of your healthy dinner meal. I often make a batch of this roasted squash to use up in salads and to have with some eggs for breakfast.
Depending on how thick the skin is, you can roast the squash pieces with the peel on. I like to remove the peel and slice the squash into half-moon slices, but you can easily cut it up into cubes as well, like in this cranberry pecan roasted butternut squash recipe.
Kabocha squash usually takes 20-30 minutes to get nice and soft. You can cook it for longer for a more caramelised finish. I usually heat the oven to 200 C/400 F. Simply drizzle the squash with a little olive oil and sprinkle with your favourite herbs and spices.
It's important to note that garlic slices should be added in the second half of roasting as it cooks much quicker and can easily burn. Herbs like rosemary and thyme can be added at the start and if you don't have the fresh stuff, simply sprinkle a teaspoon or two of dried herbs over the top. Sometimes I splash a little balsamic vinegar or pomegranate molasses over the top.
MORE ROASTED VEGETABLE RECIPES
Print
---
Description
This Kabocha squash is roasted with thyme sprigs and garlic until soft and caramelised. You can serve this pumpkin dish as a side with your favourite protein, quinoa or salad. This recipe is gluten-free, vegan, paleo, Whole30 friendly.
---
---
Preheat the oven to 200 C / 395 F.
Line a flat baking tray with parchment paper and arrange the squash slices. Drizzle with olive oil and sprinkle evenly with sea salt. Top with thyme and place in the oven, middle shelf, for 15 minutes.
After 15 minutes, remove the tray from the oven and sprinkle garlic and pumpkin seeds over the top. Drizzle with a tablespoon or two of balsamic vinegar, if using, and pop back in the oven for 8-10 minutes. Serve hot or cold.
---
Nutrition
Serving Size:

3-4 slices

Calories:

167

Sugar:

0.1 g

Sodium:

471.2 mg

Fat:

10.2 g

Saturated Fat:

1.5 g

Carbohydrates:

20.1 g

Fiber:

3 g

Protein:

2.6 g

Cholesterol:

0 mg
Keywords: Pumpkin, Winter Squash
Save THIS KABOCHA SQUASH RECIPE TO PINTEREST