This website may contain affiliate links and advertising so that we can provide recipes to you. Read my privacy policy.
Chili Lime Chicken Wings are BAKED chicken wings that are simple to make and loaded with flavor thanks to a mixture of chili sauce and fresh lime juice and zest. The skin is so crispy on these you won't believe they aren't fried!
These chili lime chicken wings come together with minimal ingredients, and follow the instructions will give you the CRISPIEST BAKED chicken wings you have ever had! These baked wings are the perfect appetizer, snack or finger food. Made with a chili sauce that gives a subtle heat, balanced with a bit of sweetness thanks to adding honey, and a burst of fresh citrus from using fresh lime juice and zest, these wings are FULL of flavor. Set these out at your next party and watch as they disappear! Serve alongside some Easy Chipotle Honey Meatballs, Queso Verde Corn Dip, and some Ranch Guacamole for a flavorful spread!
Chili Lime Chicken Wings
Hey y'all! Serene from House of Yumm back with you today and I am here to share these chili lime chicken wings! I am a huge fan of chicken wings! I love how they can be a meal or an appetizer. A party food, game day food, or I can serve them with some cilantro lime cauliflower rice and consider it dinner. I got the idea for this recipe after making the chili lime salmon recipe I shared with y'all last month. The flavor combo of chili and lime is one of my favorites! So adding it to some baked chicken wings just seemed like the next logical step.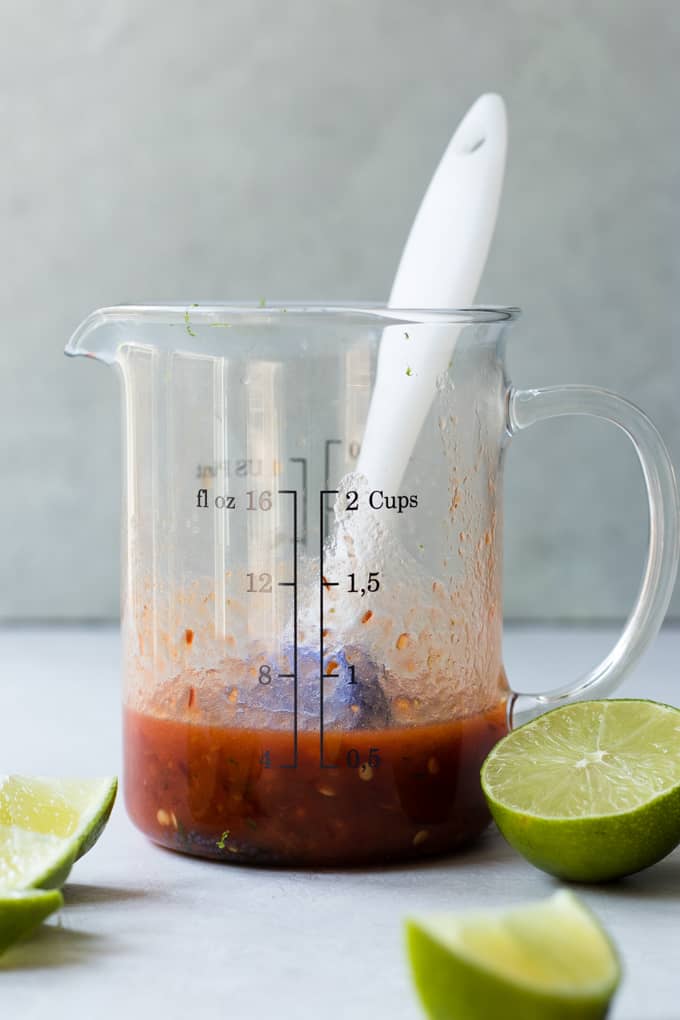 How to make Chili Lime Chicken Wings:
These baked chicken wings are crispy and loaded with flavor, but they are so simple to make!
Prepare the chicken by patting the chicken wings dry with paper towels. The drier the better. Then sprinkle with a mixture of baking powder, salt and pepper.

 

Cover a baking sheet with foil and place a wire rack on top. This helps air circulate under the wings while baking. Ensuring crispy skin all around.
IF you want to take things a step further you could stop at this point, cover the wings with some plastic wrap, store in the refrigerator overnight and bake the wings the next day. This ensures that there is NO excess moisture on the wings.

 

Bake the wings at a high temperature of 450. Bake for 20 minutes. Flip the wings and bake for another 15 minutes.

 

While the wings are baking prepare the sauce: chili garlic sauce, lime zest, lime juice, honey, and melted butter. If the butter won't mix well, simple heat the mixture briefly in a microwave or in a pot on the stovetop. Just enough to get the butter to melt completely and mix in.

 

After the wings have baked for the first 35 minutes, remove from the oven, brush with the chili lime sauce.

 

Bake the wings again for another 15 minutes. Remove the wings from the oven, allow to cool several minutes prior to serving.

 
How to make crispy oven baked wings:
There's a few things we're doing with this recipe to ensure we're getting the crispiest wings possible from the oven. 
Drying the chicken wings completely. Patting them dry with paper towels before adding the dry ingredients helps the skin bake nice and crisp.
Use baking powder.

 This helps dry out the skin even more, helping to make it thin and crispy as it bakes. 

Bake at a high heat.

 This gets the chicken cooking immediately, and it helps to get the crispy skin, and the browning that makes these wings look amazing! 

Use a wire rack on top of a baking sheet, this helps the air circulate all around the chicken as it bakes, and the grease drips down below.
How long to bake chicken wings:
Wings and drumettes can bake in the oven at 450 degrees in about 50 minutes. IF you prefer a bit less crispy skin and less browning you can take them out at 45 minutes. The chicken will be fully cooked.
I like to bake my chicken wings on two levels in my oven. I start baking on a lower rack, and after I add the sauce to the wings I move them to a top rack next to the heating element. This helps the sauce and the wings brown just a bit more before I take them out. You could also broil the wings for 5 minutes to get that same desired browning effect.
More Recipes you may enjoy: