This website may contain affiliate links and advertising so that we can provide recipes to you. Read my privacy policy.
This Asian chicken salad is packed with crispy greens, crunchy chicken, toasted almonds, and chow mein noodles. It's tossed with a light and delicious creamy vinaigrette and will be your new go-to salad!
Fruit salad, pasta salad, you name it, and I have a delicious one for you! A good salad is necessary to complete every meal! They don't even have to use greens! Try this antipasto salad, this creamy grape salad, or this broccoli apple salad.
Asian Chicken Salad
I could eat this salad every single day for the rest of my life and never get sick of it. That is just how much I love it! Asian chicken salads are my absolute favorite, but this one really is the absolute best. And this particular recipe is a copycat to Applebee's. The thing that I love most about oriental salads are the bright colors and textures within the salad. They look so beautiful with the purples and bright greens blend so well together. Plus, the added almonds and chow mien noodles give it a delicious crunch.
The chicken is one of the best parts of the salad, with the crispy coating on the outside. It was cooked so moist and tender on the inside. Then, just when you think that this salad can't get any more perfect, then you add in the salad dressing. It glazes the salad and chicken with a sweet and tangy Asian flavor. You can always buy some dressing at the store, but it is worth the few extra minutes to whisk this delicious dressing up. My mouth is watering just looking at the pictures again. It was fantastic!
What is in Asian Chicken Salad?
The great thing about this recipe, including the dressing, is that the ingredients are super simple. Because you can make the dressing on your own at home, it will be fewer calories than ordering it at the restaurant! See the recipe card at the bottom of the post for exact measurements.
Asian Dressing
Honey: This acts as a natural sweetener to the salad.
Rice Wine Vinegar: This breaks down the honey making it easy to mix in without it being thick and sticky.
Mayonnaise: This acts as the base of the dressing.
Dijon Mustard: The mustard gives it a slight tang without overtaking the flavor.
Sesame Oil: My favorite one to use is this sesame oil.
Salad
Chicken breasts* (boneless): If you want each family member to have their own chicken breast then cook four instead of two. You can cut it up and then place the whole breast sliced over the top of each plate of salad.
Oil: This will be used for frying the chicken.
Egg and Milk: This will be used to dip the chicken in for the crispy coating to stick to.
Flour and Cornflakes: This is what this chicken will be dipped in after the eggs. Once it's dipped, then you fry it in the oil and that's how you get that delicious and cripsy outside edge on your chicken.
Greens: Romaine lettuce, red cabbage, and Napa cabbage.  
Mix-Ins: Shredded carrots, roasted almonds, and chow mein noodles
Salt and Pepper: These will be used on top and you can add as much or little as you would like!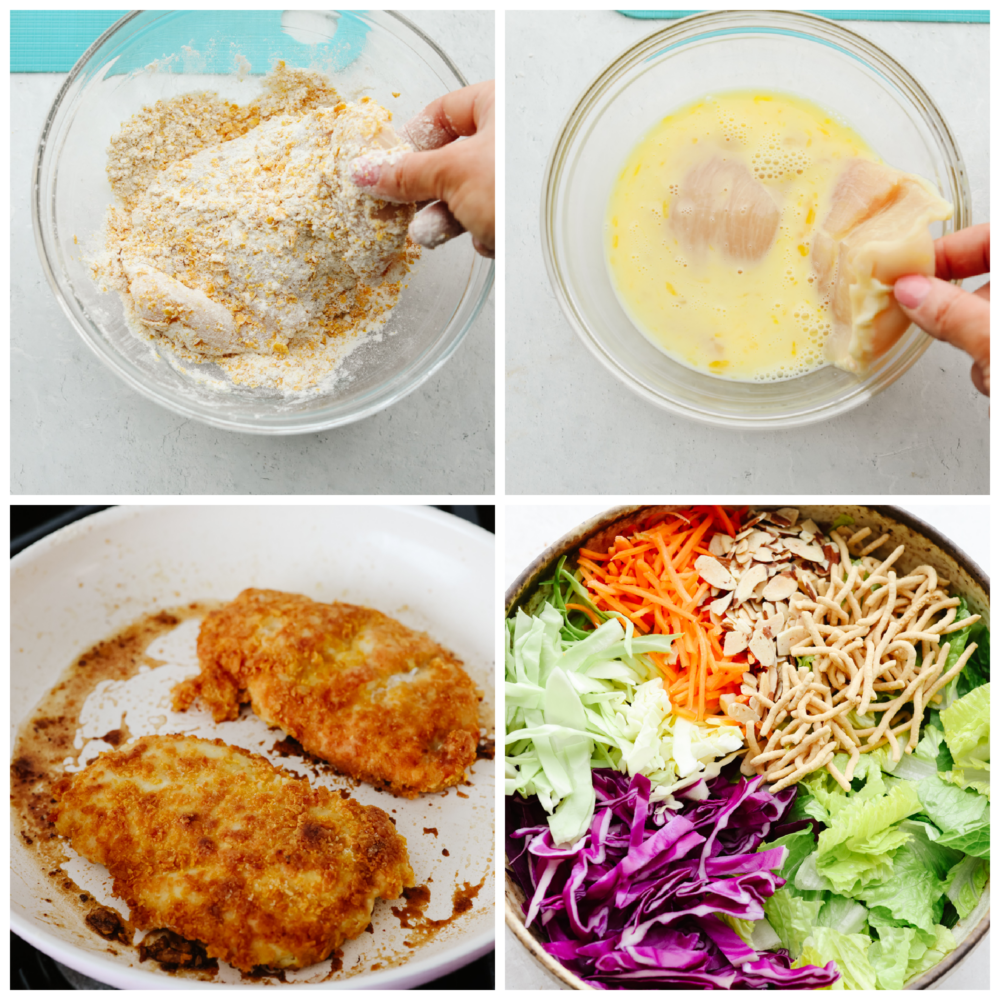 Easy to Make Asian Chicken Salad Recipe
This Asian chicken salad is a simple recipe and doesn't take long to make. The homemade Asian dressing is to die for and the crispy chicken on top will be sure to fill you right up!
Mix the Dressing and Chill in Fridge: In a small mixing bowl whisk together honey, rice wine vinegar, mayonnaise, dijon mustard, and sesame oil. Set in the fridge until ready to use.
Coat and Cook Chicken: In a medium skillet heat oil on medium heat. Then, prepare the chicken by pounding to about ½ inch thick. This helps them to cook faster and more even. In a shallow dish whisk egg and milk together. In another shallow disk combine crushed corn flakes and flour. Then, dredge the chicken in the egg/milk mixture and then coat well in the cornflakes. Place the coated chicken in the hot oil and then cook on each side until chicken is no longer pink.
Prepare Salad: While the chicken is cooking, prepare the salad by chopping the romaine, and cabbages. In a large bowl, toss with shredded carrots, chow mien noodles, and roasted almonds. Then, cut the chicken into bite sized chunks forming a a pile in the middle and then serve with dressing.
Easy Tips
This salad is absolutely delicious and the dressing is SOO GOOD. You will want to make it for every salad that you can! I've come up with a few tips that will help you make sure that your salad turns out perfectly!
Double the Dressing: I like to double the dressing recipe. You never know how much people like to add to their salad and it's always good to have some extra. Plus, it can stay good in your fridge for up to 2 weeks so then you can make other salads to use it on if you have extra!
Mix-in Ideas: Don't be afraid to change up or add to any of the things that you are putting into the salad! To switch things up I like to add manadrin oranges, craisins or even some other kinds of greens like baby spinach.
Protein: I love adding a lot of protein to a salad. It takes it from the side dish to the main dish and then my life is easier! Make a few more chicken breasts while you are at it. If you have extra, you can always reheat them and eat leftovers the next day!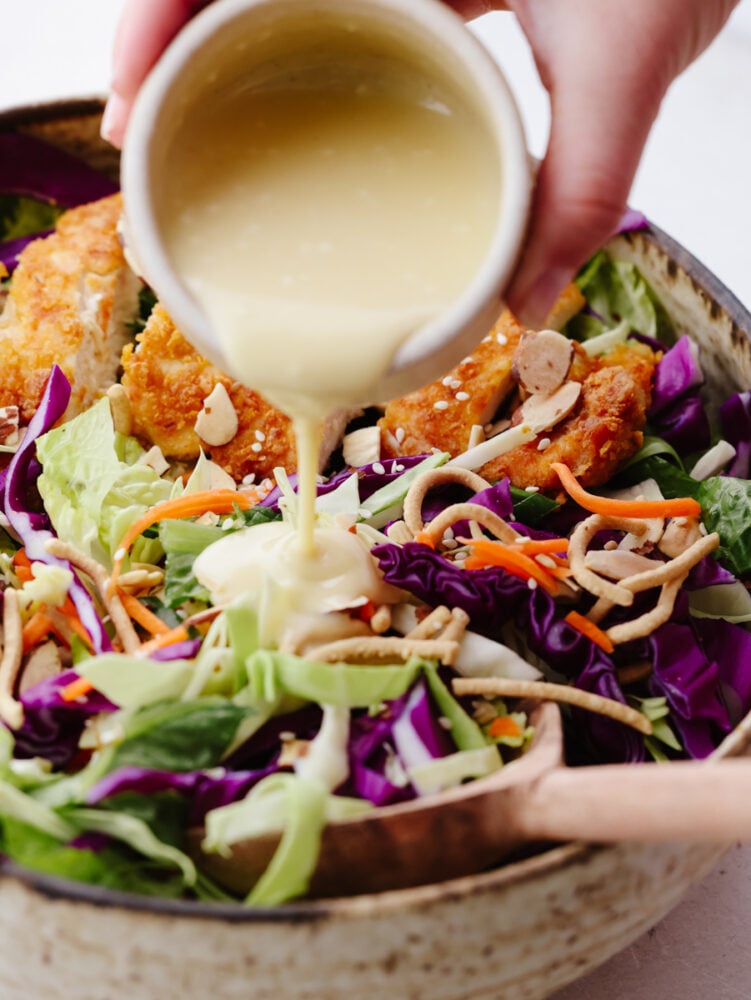 How to Store Leftovers
Leftover Asian chicken salad is perfect for lunch the next day! Just make sure that you only add the dressing to each serving and not the whole bowl at once. Then, the greens don't get soggy.
In the Refrigerator: Store your dressing, greens and chicken in seperate, air tight containers. The greens will last 1-2 days and the vinaigrette dressing will last up to 2 weeks.
Reheating the Chicken: To get your chicken nice and crispy again, cook it in your air fryer at 375 degrees for 4-5 minutes (flipping it during the middle). It will come out perfectly crisp and make your salad taste fresh again!