This website may contain affiliate links and advertising so that we can provide recipes to you. Read my privacy policy.
Baked buttery herb chicken and potatoes are absolutely delicious! Moist and juicy chicken combined with perfectly tender potatoes will make this a meal that you will make over and over!
When I can cook almost an entire meal all at one time, you can count me in! This herb chicken and potatoes are so simple but it looks gorgeous and tastes amazing! If you want to finish off this recipe with some more vegetables, try this Asparagus, Broccoli, and these amazing Carrots!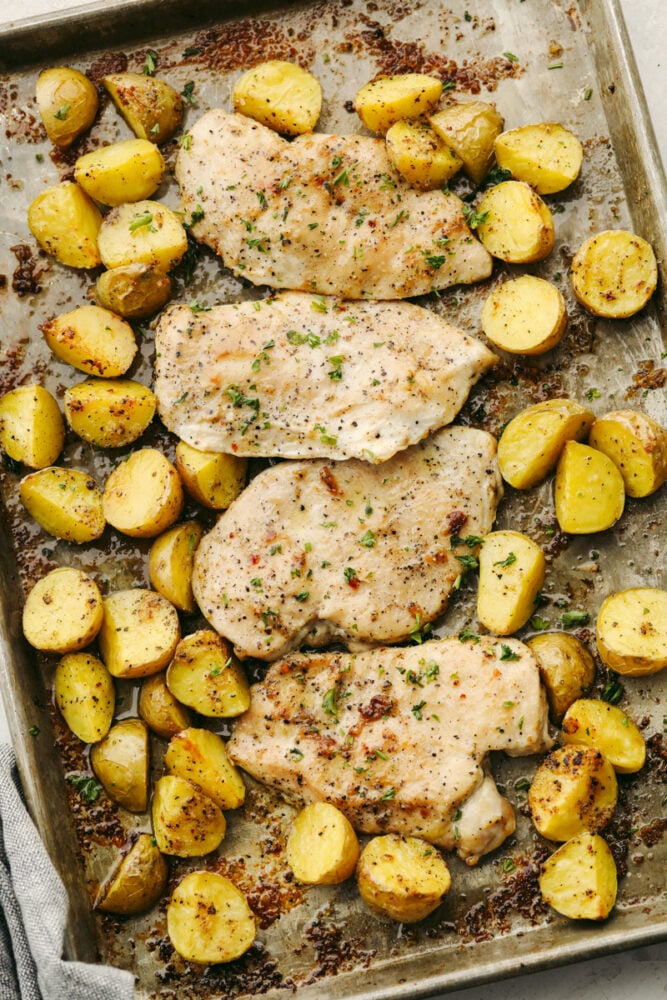 Sheetpan Chicken and Potatoes
My fall season begins and ends with a crazy schedule! I am always running around getting my kids to all of their activities. This means that I am always on the lookout for a good recipe that is quick, easy, and delicious! Anything that I can cook in under 30 minutes is a win and this herb chicken and potatoes tastes absolutely incredible. It is one of my favorite go-to meals for busy weeknights! Add in a quick salad and or vegetables and you have yourself a delicious meal that will fill you right up and get you on your way!
This meal is one of my very favorites! In fact, with just a few ingredients that are cooked together, you've got a main dish and a side dish all in one. You can't beat that! Because you bake the chicken, it is incredibly moist and juicy. The flavor of this herb chicken and those seasoned potatoes is so amazing and full of earthy flavors. I love this recipe so much and I think that your kids will love it too! I bet that once you try it, you will make this dish over and over again!
What You Need to Make Chicken and Potatoes
You probably already have everything that you need to make these amazing herb chicken and potatoes! In fact, this recipe only uses a few ingredients so go ahead and get baking that chicken! See the recipe card below for the exact ingredient measurements.
Chicken breasts: I use boneless, skinless chicken so that I can pound it out to an even thickness.
Potatoes: You can use baby red or gold potatoes in this recipe! Make sure that when you cut them, that they end up as about the same size so that then they will all cook evenly.
Salt and pepper: I like to use this to add additional flavoring to the chicken!
Dried Italian dressing: 1 packet will be enough for this chicken.
Butter: This is the ingredient that, when you melt the butter and put it on the chicken, will make the chicken moist and tender!
Garlic: I cannot get enough of this flavor!
Fresh herbs: To garnish this chicken, I like to use thyme, rosemary, or parsley. They will give it that amazing, earthy flavor!
Let's Bake Some Chicken!
Herb chicken and potatoes are a dish that everyone will love! It is so tender and delicious, you won't be able to resist cooking this all the time!
Grease and preheat: Preheat oven to 375 degrees and grease a rimmed baking sheet.
Season chicken: Place chicken and potatoes on baking sheet and season with salt and pepper to taste.
Whisk and drizzle: Whisk together butter, Italian seasoning, and garlic. Brush or drizzle over chicken and potatoes.
Bake and serve: Bake for 20-25 minutes or until chicken is cooked through and the potatoes are tender. Sprinkle fresh herbs over the top and serve immediately.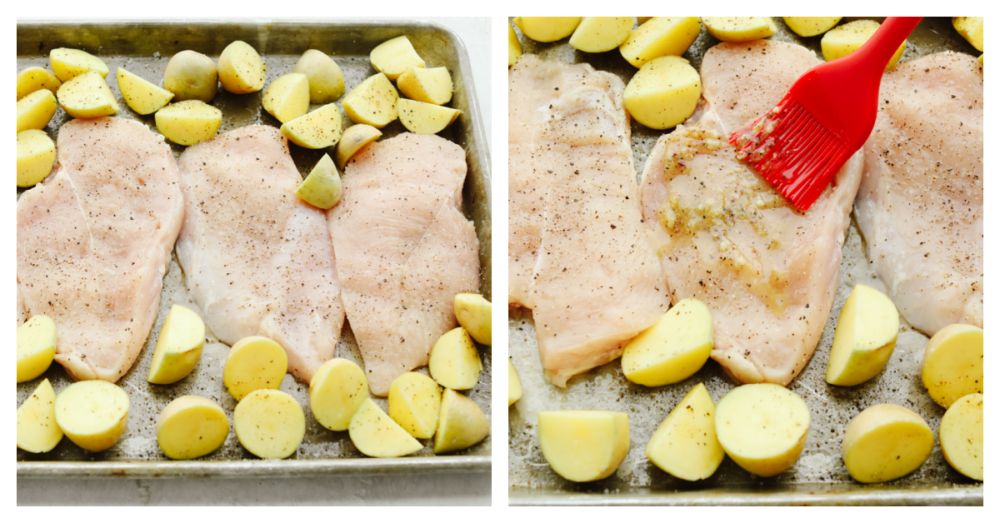 Tips for Baking Chicken
Baked chicken is the best way to get that tender and juicy texture! One of the biggest problems that I hear people have when cooking chicken is that it comes out dry. Here are a few tips to make sure that doesn't happen to you! Once you understand how to bake it, then you won't be able to stop! When it's cooked right, chicken is the absolute best!
Check the temperature: To make sure that your chicken isn't pink and undercooked (or dry and overcooked!) then you NEED a meat thermometer! This completely takes any guesswork out and then you will know exactly when it's done! Chicken is fully cooked when it reaches 165 degrees farenheit.
Cook it in fat: This herb chicken and potatoes calls for you to cook this recipe in butter. When you cook chicken in fat, it allows the chicken to withstand high heat without burning! This keeps in all of the yummy moisture, making the meat so tender!
Meat is best if you LET IT REST: Don't skip this step! People think that it's just wasted time but I promise you that it's not! In fact, it's probably the most important step to getting a moist and juicy chicken. Once you are done baking the chicken and take it out of the oven then leave it alone! Let it rest in the pan for about 5-10 minutes. That means no touching or cutting into it! This is absolutely important because it is the time when the chicken is locking all of that moisture inside! Cutting into it too soon will let that escape and make for some dry chicken.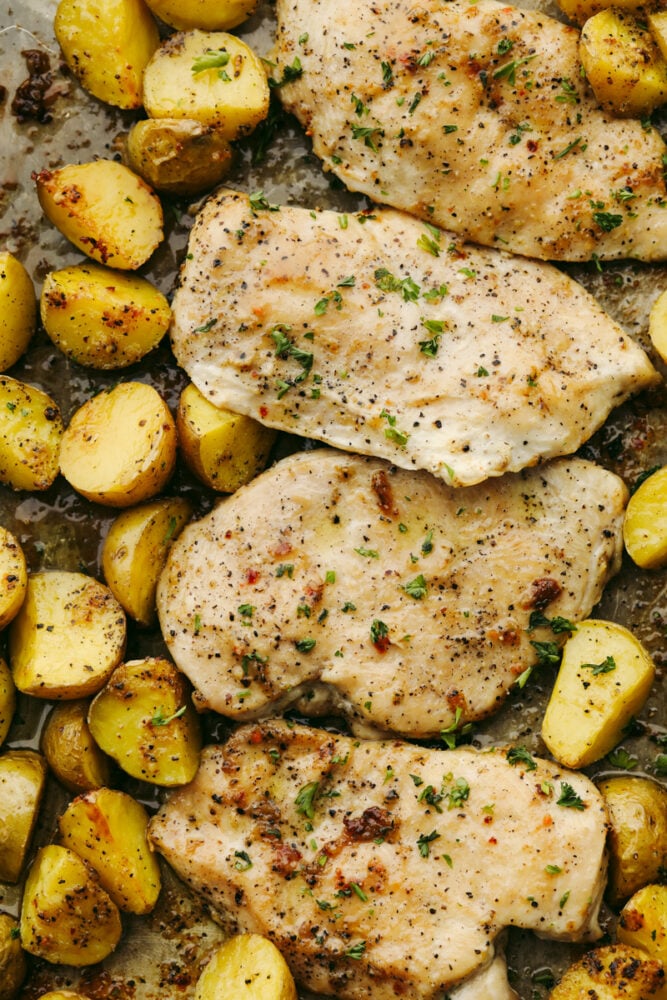 How to Store Leftovers
This recipe makes for some fantastic leftovers! After eating it the first night then you can have the same thing for lunch tomorrow or even chop up this chicken and add it into a salad! It's so delicious and flavorful that you definitely don't want it to go to waste!
Refrigerator: After your herb chicken and potatoes have cooled, place them in an airtight container. Then, place them in your fridge. They will last for 2-3 days in your refrigerator.
Reheating: You can either eat the chicken cold, sliced and in a salad. Or you can reheat it and use it over some rice, with some vegetables or on its own! Take the chicken and potatoes out and place them on your counter. Preheat your oven to 350 degrees and then put your chicken in a baking dish. Add in a few tablespoons of chicken broth or water to the bottom of the dish. Cover it with foil and cook for 10-15 minutes or until the internal temperature reaches 165 degrees farenheit.