This website may contain affiliate links and advertising so that we can provide recipes to you. Read my privacy policy.
Only 8 cans needed to make the MOST delicious chicken taco soup. It is just what you need to make a simple weeknight meal that the whole family will love!
Taco soup is full of flavor and a tried and true favorite! Make this in a variety of ways with my crockpot taco soup, easy cheesy taco soup or skinny taco soup.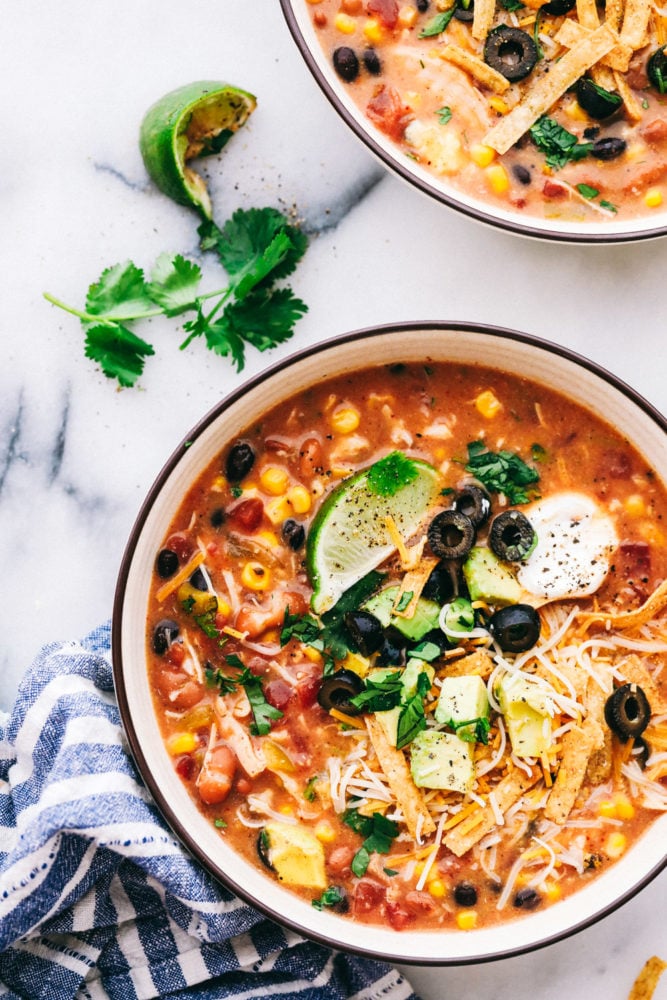 8 Can Chicken Taco Soup
I love how easy this recipe is and that I have these 8 cans on hand at any given time. Add it all together and create one amazingly easy dish that is thrown into a stove top pot or slow cooker. As the taco soup is cooking the flavors begin to combines creating an irresistible soup. It is thick, rich and chunky! This taco soup is fresh and comforting in every bite!
On a day your family needs you, this chicken taco soup recipe is there for you. All the flavors and warmth it brings in each bowl will bring everyone comfort and love gathered around the table. My family loves these fresh ingredients and sees how easy it is to make. This is a weekly soup that we all love and find it as a family favorite. Keeping these simple ingredients in the pantry makes it even easier to make when you need it most. Add toppings on top and have a complete meal with the whole family!
Chicken Taco Soup Ingredients:
Each ingredient is one that you can have already in the pantry. It is simple to make and a tried and true favorite chicken taco soup. Only 8 cans to open, drain and dump into the pot. It is that quick and easy to make! I love all the smells this soup brings into my kitchen and how fresh it tastes after a few minutes of boiling. This recipe is one to make over and over again!
Tomatoes: Diced in a can and add it in the soup.
Corn: Drain the corn and add to the pot.
Black Beans: First drain and rinse the beans well to make sure the salt is washed off.
Pinto Beans: Adds the extra thickness that are creamy.
Cream of Chicken Soup: Thick soup mixed with small chicken bites. All ready to be added to the soup once opened.
Chicken Breast: Tender chicken in a can that is ready in minutes. Drain and add it in!
Green Enchiladas Sauce: Bring on some spice with this enchilada sauce.
Chicken Broth: A savory liquid that fills this soup with chicken flavoring.
Homemade Taco Seasoning: My homemade taco seasoning is so good and easy to make. Make ahead of time and store for 3 months!
Optional Toppings: 
Olives: Sliced
Avocado: Diced
Sour Cream: a dollop on top
Tortilla Strips: A crunch that brings texture to the soup.
Lime Wedges: Light and refreshing squeeze of lime tastes delicious!
How to Make Chicken Taco Soup:
Try this chicken taco soup with 8 cans and taco seasoning to make one AMAZINGLY delicious soup.  All the flavor you know and love with the comfort of family around your dinner table. Smell all the cans blend together in less than 30 minutes!
Add all the ingredients: In a large pot add the diced tomatoes, corn, black beans, pinto beans, cream of chicken, chicken breast, green enchilada sauce, chicken broth, and homemade taco seasoning.

 

Cook taco soup: Bring to a boil and reduce to a simmer over medium heat.

 

Let simmer for 5 minutes and serve with desired toppings.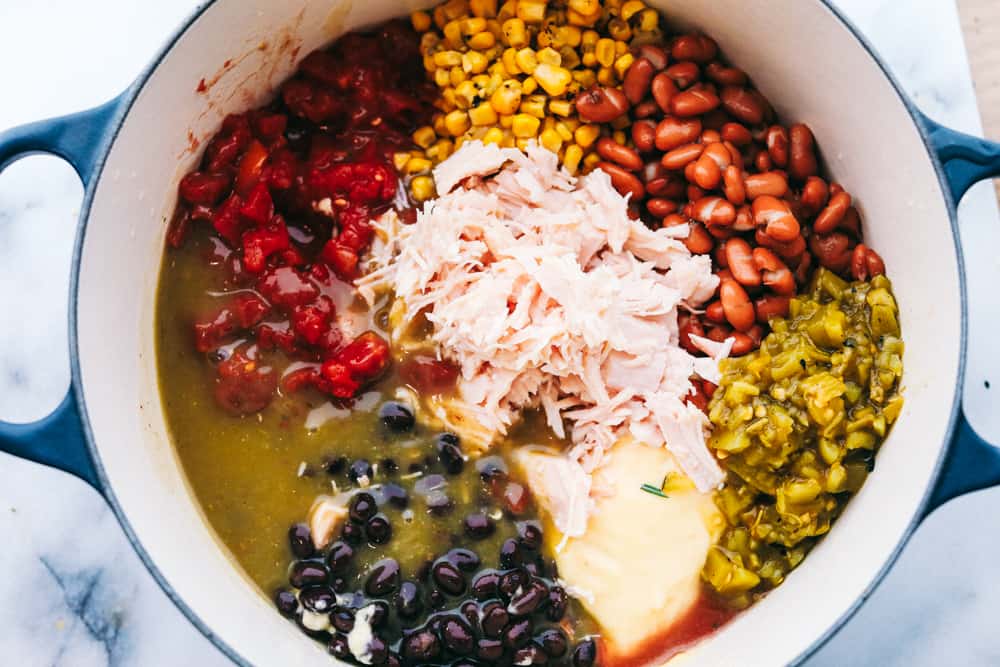 How to Make Taco Soup in a Slow Cooker:
Two ways to make this delicious taco soup recipe. On the stove top or in a slow cooker. Make it even easier having the slow cooker do all that work. Simply add all the ingredients into the slow cooker and stir together. Cook on low heat for 2 to 3 hours or until warmed through. Serve with all your favorite taco soup toppings!
Favorite Taco Soup Toppings:
Add all your favorite taco soup toppings and customize your meal just the way you like it. Mix it up or keep it plain! These variations are a fun way to enjoy your taco soup recipe.
Guacamole
Chopped cilantro
Salsa
Plain greek yogurt
Rice
Shredded Mexican blend cheese
Diced green or white onions
Jalapeños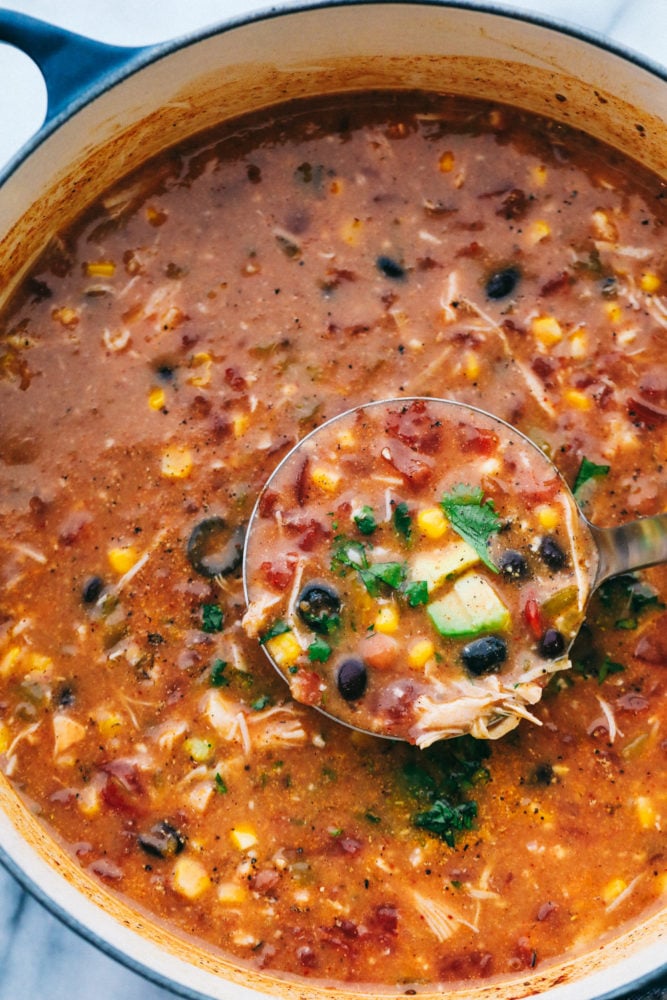 More of my Favorite Mexican Dishes: