West African Chicken Stew is a quick low-carb dinner with interesting flavors, and the peanut flavor in the sauce comes from peanut butter! 
PIN West African Chicken Stew to try it later!
Maybe this only happens at my Costco, but have you noticed how those rotisserie chickens jump into your basket when you're out shopping with no dinner plans? I never have rotisserie chicken on my list, but I often come home with one.
But no worries because this West African Chicken Stew is perfect to make with leftover rotisserie chicken, and it's wonderfully flavorful with ginger, jalapenos, and chunky peanut butter adding interest. It's also simple to make, and you can save the chicken carcass, bones, and skin (if you manage not to eat it) to make homemade chicken stock.
And this recipe has been a favorite of mine for many years, so today I'm reminding you about it for my Friday Favorites pick! Hope you'll give this a try next time you have some leftover chicken and want to turn it into a delicious dinner!
What ingredients do you need?
Why is this called African Chicken Stew?
Obviously a stew that uses leftover chicken and peanut butter isn't an authentic African dish. But this recipe is inspired by Chicken and Groundnut Stew, which is a well-known African dish from Ghana that combines chicken with peanuts.
Want more recipes using peanut butter?
Check out Keto Recipes with Peanut Butter to see more of my favorite recipes that include peanut butter!
Want more ideas for using leftover chicken?
I've seen a number of cookbooks with ideas for using rotisserie chicken, but this recipe was adapted from one I found in 150 Things to Make with Roast Chicken and 50 Ways to Roast It  (affiliate link) by Tony Rosenfield, a great little book I bought myself and would happily buy again. This recipe is barely stewed, so maybe I should just call it West African Chicken, but you can use Low-Carb and Keto Stew Recipes to find more ideas for stew.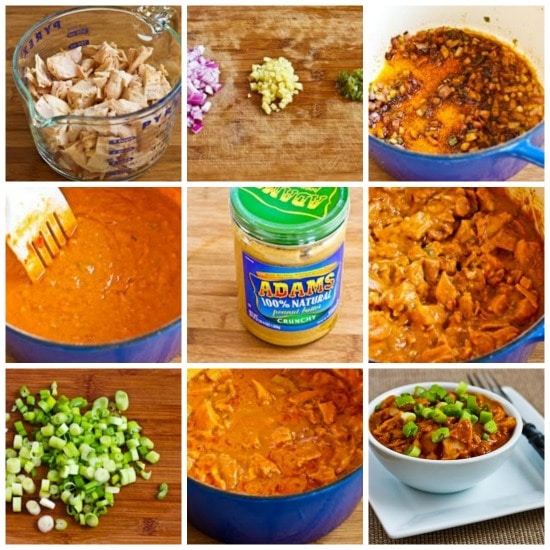 How to Make West African Chicken Stew: 
(Scroll down for complete printable recipe plus nutritional information.)
You need about 3 cups of leftover chicken, cut into pieces. This is one case where I would roughly chop the chicken without making the pieces all the same size.
I didn't get it all in the photo, but this recipe starts by very finely dicing red onion, fresh ginger root, and Jalapeno. (I only had pickled Jalapenos in a jar, which worked just fine.)
Saute the chopped red onion, ginger root, and Jalapeno in a little olive, adding a little salt.
After they cook for a couple of minutes, add some chili powder and cook about a minute more.
Then add chicken stock, chunky peanut butter, tomato paste, and apple cider vinegar and let the mixture come to a very low-boil. (Can't you already tell this is going to taste good!)
If you want this to be low in carbs, it's important to use natural peanut butter without added sugar. Adams 100% Natural Peanut Butter (affiliate link) is the brand I use, which has only 1 gram of sugar in 2 tablespoons of peanut butter.
Once the sauce has barely started to boil, add the roughly chopped chicken pieces, gently stir (so the chicken doesn't shred apart), turn heat to low, and gently simmer for 10-15 minutes.
Don't even think about skipping the green onions to sprinkle on top, because not only do they provide crunch, but the flavor combination with the creamy chicken stew and the bite of the onion is delightful.
It's natural for a little of the oil in the peanut butter to separate when the stew simmers, but gently stir to mix it back in when you serve it. Serve hot.
Make it a Low-Carb Meal:
This would be great with Roasted Broccoli with Garlic or served over Cauliflower Rice for a low-carb meal. 
More Tasty Low-Carb Dinners with Chicken:
Chicken Egg Foo Yung
Buffalo Chicken and Blue Cheese Cabbage Bowl
Greek Lemon Chicken
Weekend Food Prep:
This recipe has been added to a category called Weekend Food Prep  where you'll find recipes you can prep or cook on the weekend and eat during the week!
Ingredients
2 T olive oil
1/4 cup finely diced red onion (see notes)
1 T finely minced ginger root (see notes)
2 tsp. finely minced jalapeno (see notes)
salt to taste
1 tsp. chile powder (see notes)
1 cup chicken stock (chicken broth from a can is fine)
1/2 cup chunky natural peanut butter (see notes)
2 T tomato paste
1 T cider vinegar
3 cups diced, cooked chicken
fresh ground black pepper to taste
2 green onions, thinly sliced
Instructions
Finely chop the red onion, ginger, and jalapeno, and roughly chop the chicken.
Heat oil in a heavy pan, add finely diced onion, ginger, and jalapenos, season with salt, and saute about 2 minutes. Add the chile powder, stir into other ingredients, and saute about 1 minute more. Add chicken stock, peanut butter (affiliate link), tomato paste, and apple cider vinegar, stir, and bring to a slight boil.
As soon as it starts to boil, lower heat to a very gentle simmer, add roughly chopped chicken, gently stir to combine, and let simmer 10-15 minutes. (Resist the urge to stir it very much, or the chicken will shred apart, which you don't want here.)
While mixture simmers, wash, dry, and slice green onions. After 10-15 minutes, gently stir again if the oil from the peanut butter has separated. Serve hot, with a generous handful of green onion slices on each serving.
Notes
Regular white or yellow onion will also be fine in this. I originally made this with fresh minced ginger which is probably best, but minced ginger from a jar wouldn't be bad here. I used pickled Jalapenos which worked fine; increase the amount of Jalapeno if you want it spicy. I used dried Ancho chile powder, but you could also use Mexican style chili powder if that's all you have. I used Adams 100% Natural Peanut Butter (affiliate link); for low carbs, use natural peanut butter without added sugar.
This recipe was adapted from 150 Things to Make with Roast Chicken and 50 Ways to Roast It by Tony Rosenfield.
Nutrition Information:
Yield:
4

Serving Size:
1

Amount Per Serving:
Calories: 524Total Fat: 38gSaturated Fat: 7gUnsaturated Fat: 27gCholesterol: 97mgSodium: 429mgCarbohydrates: 9.4gFiber: 4gSugar: 5gProtein: 35g
Nutrition information is automatically calculated by the Recipe Plug-In I am using. I am not a nutritionist and cannot guarantee 100% accuracy, since many variables affect those calculations.
Low-Carb Diet / Low-Glycemic Diet / South Beach Diet Suggestions:
This West African Chicken Stew is great for low-carb eating plans and also for any phase of the original South Beach Diet. South Beach would recommend using white meat chicken for less fat; low-carb diets might prefer dark meat chicken.
Find More Recipes Like This One:
Use Stew Recipes to find more recipes like this one. Use the Diet Type Index to find recipes suitable for a specific eating plan. You might also like to Follow Kalyn's Kitchen on Pinterest to see all the good recipes I'm sharing there.
Historical Notes for this Recipe:
This recipe was first posted in 2010, and it's been a huge hit on the blog. It was last updated with more information and featured for Friday Favorites in 2022.
We are a participant in the Amazon Services LLC Associates Program, an affiliate advertising program designed to provide a means for us to earn fees by linking to Amazon.com and affiliated sites. As an Amazon Associate, I earn from qualifying purchases.