This Vegan Lentil Chili has brown and red lentils, roasted red peppers, and olives and it's loaded with flavor. And this delicious meatless lentil chili is also gluten-free. 
Pin Vegan Lentil Chili to try it later!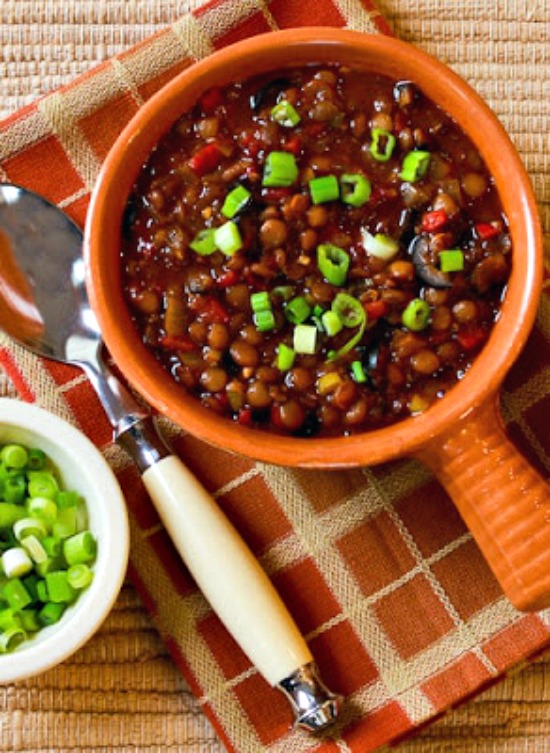 This Vegan Lentil Chili is so flavorful that I think it makes a perfect meatless dinner, even for people who aren't vegans. And the chili is loaded with healthy and flavorful ingredients to make it a wonderful combination of flavors.
I couldn't resist adding red lentils along with the regular brown lentils this recipe started out with. I also added roasted red peppers and sliced olives for a little more flavor, and used canned vegetable broth as the base of the chili.
This was delicious as-is, but if you like tart flavors I think a generous squeeze of lime juice would really be good. And I'm guessing everyone who's a fan of lentils will enjoy this tasty lentil chili recipe!
What ingredients do you need?
What are lentils?
Lentils are the dried seeds of the lentil plant, and they are legumes which are never eaten fresh but always dried right after ripening. There are many different kinds and colors of lentils, but the brown lentils and red lentils used in this recipe are the two I use most often.
Why do I love red lentils?
Red lentils add a nice color to any recipe you use them in. They also cook more quickly than brown, green, or black lentils and dissolve in to the dish to thicken it.
Want more tasty recipes for chili?
Check out Healthy Chili Recipes Your Family Will Love! for more delicious chili recipes.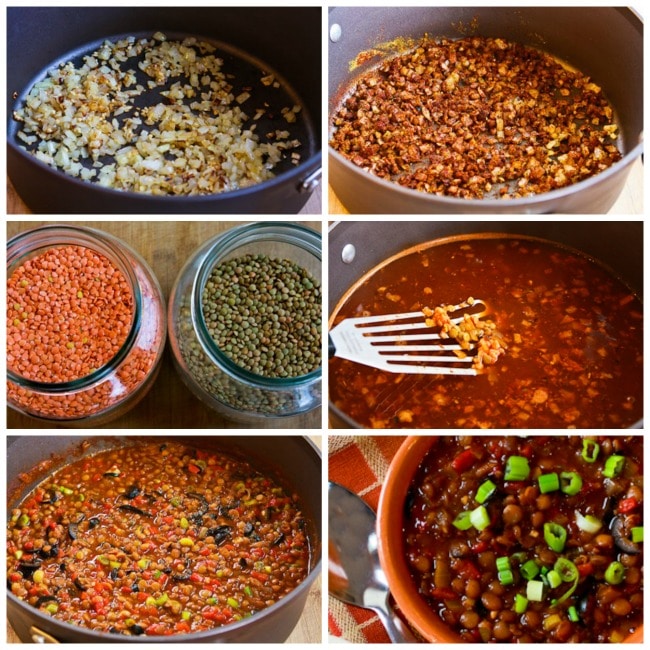 How to Make Vegan Lentil Chili:
(Scroll down for complete recipe with nutritional information.)
Heat the oil and then cook the onions until they're starting to brown. Add garlic and cook about one minute more.
Then add the chile powder, ground cumin, dried oregano, and ground chipotle powder (or cayenne) and cook about 90 seconds more.
You can use all regular brown-green lentils like you normally find in the grocery store, but if you have red lentils, they will dissolve a little faster and thicken the chili, and the red ones add a nice sweetness.
When the spices are fragrant, add the brown lentils, red lentils, vegetable broth, water, and tomato sauce and start to simmer.
When red lentils are mostly dissolved and brown ones are nicely tender, add the sliced green onion, sliced olives, and diced roasted red bell pepper and simmer about 15-20 minutes more.
Serve hot, with a squeeze of lime juice if desired.
More Vegan Recipes with Lentils
Picadillo Lentil Stew with Peppers and Green Olives
Mexican Red Lentil Stew
Lebanese Lentil Salad
Weekend Food Prep:
This recipe has been added to a category called Weekend Food Prep  to help you find recipes you can prep or cook on the weekend and eat during the week!
Ingredients
2 tsp. olive oil
1 medium onion, chopped in small pieces
2 tsp. finely minced garlic
2 T Chili Powder
1 T ground cumin
1 tsp. dried oregano (preferably Mexican oregano)
1/8 tsp. dried Chipotle chile pepper (or cayenne; use more or less depending on how spicy you like it)
1 cup brown lentils
1/4 cup red lentils (or use more brown lentils if you don't have red ones)
3 14 oz. cans vegetable broth + 1 can water
1 8 oz. can tomato sauce
1/2 cup sliced green onions
1 6 oz. can black olives, drained and sliced
1 12 oz. jar roasted red peppers, drained and chopped
lime slices for serving (optional)
Instructions
Use a large dutch oven type pan so you have a big surface area for cooking the vegetables.
Heat olive oil over medium heat, then saute the chopped onion until it's starting to brown. Add garlic and saute about 1 minute more.
Add the chili powder, ground cumin (affiliate link), dried oregano, and Chipotle or Cayenne powder and saute about 90 seconds more, or until the spices are fragrant.
Add the brown lentils, red lentils, vegetable broth, water, and tomato sauce and heat until the mixture comes to a low boil. Reduce heat to a low simmer and let the mixture cook until red lentils are mostly dissolved and brown lentils are well-softened. Cooking time will depend on how fresh the lentils are, but I simmered this for slightly more than an hour, adding more water a couple of times. (Tomatoes make the lentils cook a bit more slowly, so if you're in a hurry don't add the tomato sauce until lentils are starting to get tender.)
While the mixture cooks, slice the green onions, drain olives and cut into slices, and drain the roasted red pepper and chop into small pieces.
When lentils are cooked, add green onion, olives, and roasted red pepper and let the mixture simmer 15-20 minutes more.
Serve hot, with slices of lime to squeeze into each serving if desired.
Notes
This freezes well. For best results, thaw in refrigerator overnight and then heat in microwave or in a small pan on the stove.
Recipe created by Kalyn.
Nutrition Information:
Yield:
6

Serving Size:
1

Amount Per Serving:
Calories: 167Total Fat: 7gSaturated Fat: 1gUnsaturated Fat: 6gCholesterol: 0mgSodium: 1010mgCarbohydrates: 23gFiber: 7gSugar: 6gProtein: 6g
Nutrition information is automatically calculated by the Recipe Plug-In I am using. I am not a nutritionist and cannot guarantee 100% accuracy, since many variables affect those calculations.
Low-Carb Diet / Low-Glycemic Diet / South Beach Diet Suggestions:
This would be too high in carbs for traditional low-carb diet plans. Dried beans and lentils are approved for all phases of the original South Beach Diet, but they're limited to 1/3 to 1/2 cup serving for Phase One. In a recipe like this Vegan Lentil Chili where there are lots of other low-glycemic ingredients besides the lentils, you could have a larger serving.
Find More Recipes Like This One:
Use Chili Recipes to find more recipes like this one. Use the Diet Type Index to find more recipes suitable for a specific eating plan. You can also Follow Kalyn's Kitchen on Pinterest to see all the good recipes I'm sharing there.
Historical Notes for this Recipe:
This recipe was posted in 2012. It was last updated with more information in 2021.
We are a participant in the Amazon Services LLC Associates Program, an affiliate advertising program designed to provide a means for us to earn fees by linking to Amazon.com and affiliated sites. As an Amazon Associate, I earn from qualifying purchases.