This website may contain affiliate links and advertising so that we can provide recipes to you. Read my privacy policy.
This buffalo chicken dip is the absolute best! Fully loaded with chopped chicken, three types of cheeses, sour cream, and delicious seasonings, this dip has the spicy hot sauce flavor that you are looking for!
Dips are perfect for any party or get-together. Try out this 5 Minute dip, this loaded ranch dip, and especially this 7 Layer Dip. Make them all and have a table full of different dips and chips. Everyone will love it!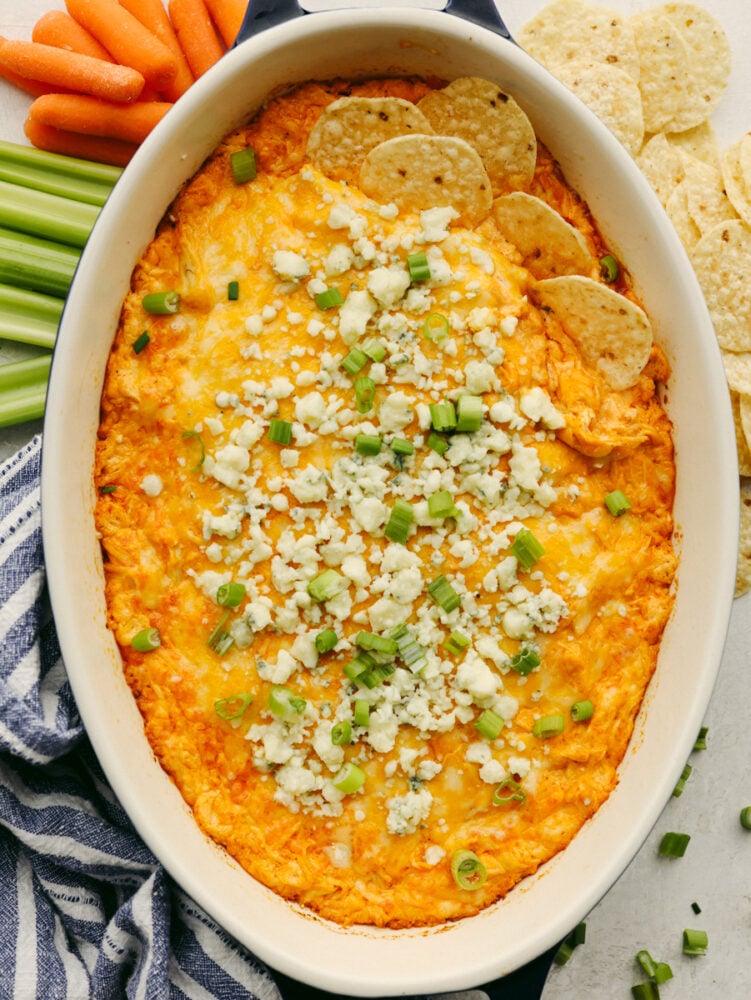 Buffalo Chicken Dip is the Perfect Game Day Appetizer
Football season is in full force! And if you are anything like me, you are all about the good food, appetizers, and dips that come along with it. Buffalo chicken is a classic game-day food, and this dip takes that taste to the next level! It has a signature spicy hot sauce flavor that can't be beat. It is so easy to make, and you will be dipping in your favorite crackers and veggies in no time.
This buffalo chicken dip recipe is by far the best and is loaded with chicken, three different types of cheeses, sour cream, and hot sauce to really pack in the heat and flavor. It has a bit of spice and is a go-to appetizer for any game day at our house! Plus, it is perfect to jazz the dip up by adding crumbled blue cheese and fresh chopped green onions. Give it a try, and you will be hooked!
Simple Ingredients List
This buffalo chicken dip is a no-brainer to add to your game day food because it's so simple and easy to make! It only takes a couple of ingredients and once you make this, you will want to always have this stuff on hand! See the recipe card at the bottom of the post for exact measurements.
Chicken breasts: These will need to be cooked and shredded before you start making this dip. You can shred up a rotissarie chicken that you buy at the store. Then, this step will be quick and easy.
Cream cheese: The creamy base is what makes this dip come together.
Buffalo sauce: My favorite sauce to use is Frank's Hot Sauce
Ranch dressing: If you like, you can switch this up and use blue cheese dressing instead.
Garlic powder: This packs in some extra flavor.
Colby-jack cheese: You will use some to mix into the dip and then save some to add on top.
Blue cheese crumbles and green onion: These are optional ingredients to add on top for a garnish.
Get Ready for the Game and Make Some Dip!
These instructions are super easy to follow, and you can make this buffalo chicken dip up in less than 40 minutes. And that includes the cooking time! Serve it up hot. Your guests are going to go crazy for it!
Cook and shred the chicken: Cook and shred the chicken breasts ahead of time. To make it easy then use store-bought rotisserie chicken. Another easy tip is to use your instant pot to cook your chicken so it is ready to go when you assemble the dip.
Preheat oven and prep dish: Preheat oven to 375°F. Spray a 9X9 baking dish with non-stick cooking spray and set aside.
Combine and melt: In a large saucepan over medium-high heat, add the cream cheese, buffalo sauce, ranch dressing, and garlic powder. Then, continue to stir and cook until the cream cheese melts and the ingredients are combined.
Remove from heat: Remove the sauce from heat. Then, add the shredded chicken and 1 cup shredded Colby-jack cheese. Mix well to combine. 
Transfer: Transfer to your prepared baking dish and top with remaining ½ cup Colby-Jack cheese.
Bake: Bake in preheated oven for 30 minutes, or until the dip is bubbly and the cheese is melted.
Garnish: Top with blue cheese and diced green onion if you desire! Serve with carrot sticks, celery sticks, tortilla chips, crackers, or a sliced baguette.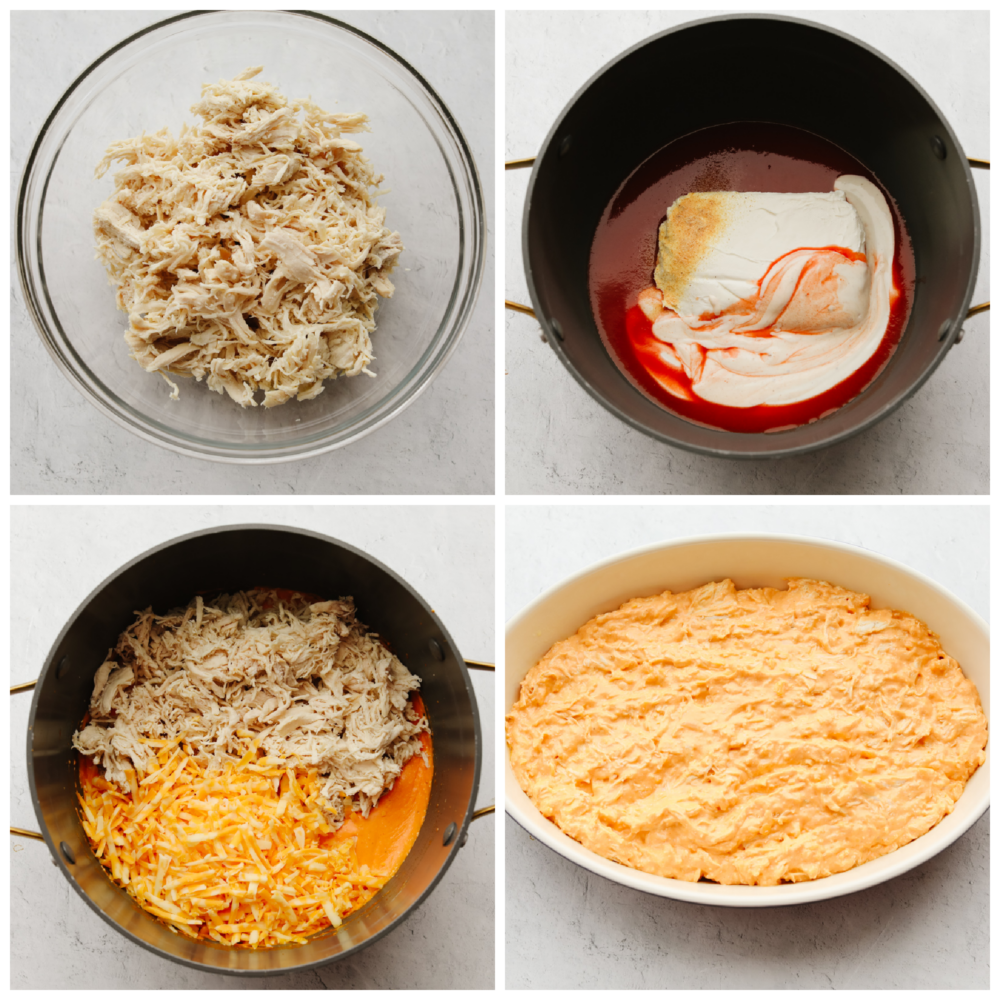 What to Dip in Buffalo Chicken Dip
If you have made this delicious dip and now are wondering what exactly to eat with it, then I have you covered! Here are a few ideas that taste amazing with this dip!
Breads: I love to dip hard crusted bread like a Crostini or French Baguette into it! You could also slice up some french bread or even make some sourdough and cut it up into cubes. This dip goes with everything!
Chips and crackers: You cannot go wrong with getting a bunch of crackers and putting them onto a tray next to this dip. I love to use tortilla chips, Ritz, Wheat Thins, triscuits or any savory cracker or chip that I have on hand.
Veggies: Another classic food to serve with buffalo chicken dip is vegetables. They cool down the dip and have an awesome crunch that you can't beat! Try some carrots, celery, olives or even cucumbers.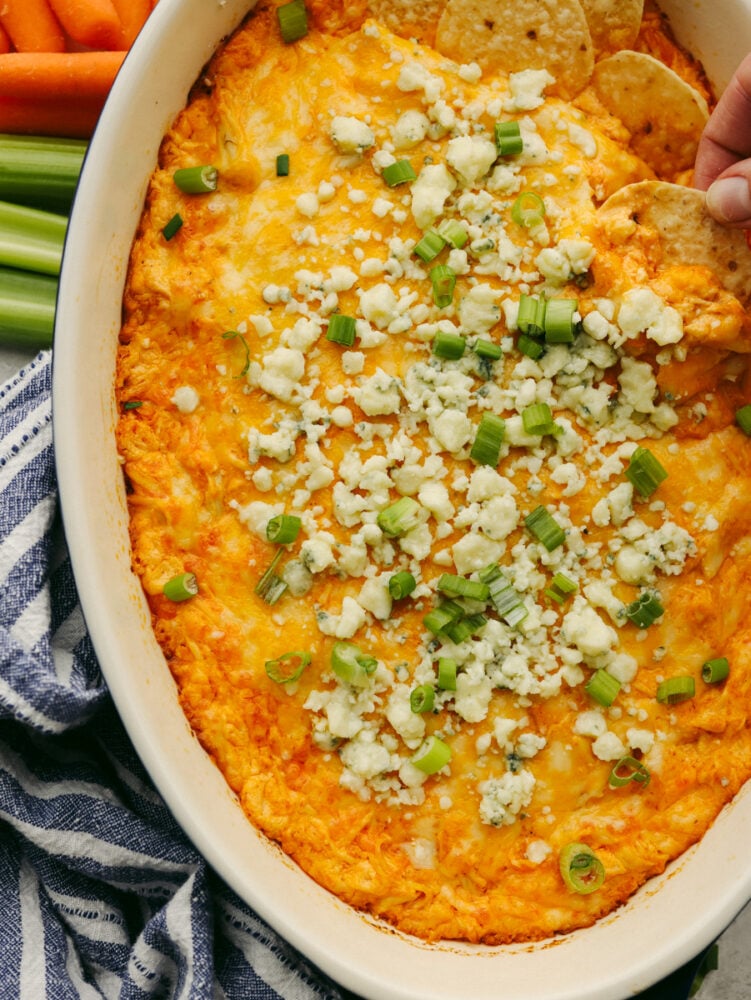 How to Store Leftover Dip
Storing this leftover buffalo chicken dip is easy, and it tastes just as good the next day! Follow these steps to store it and reheat it later.
In the Refrigerator: This dip needs to be stored in the fridge because it has chicken and cheese in it. Once your dip has cooled then place it in an airtight container and then put it in your fridge. It will last 3-4 days.
To Reheat: When youa re ready to enjoy this dip again then put it in your oven at 375 degrees for 20 minutes or until heated through. Enjoy!