This website may contain affiliate links and advertising so that we can provide recipes to you. Read my privacy policy.
Spinach Feta Turkey Burgers with fresh spinach, salty crumbled feta cheese and a super tender turkey patty topped with lemony Greek yogurt. What could be better than that?!  You won't miss the beef in this extremely tasty flavorful turkey burger. Putting the spinach in the burger adds flavor and vitamins, but your kids won't know it's even there because it's just that good.
I love pairing this with a nice salad for a great healthy hearty meal. Try the Spinach Feta Turkey Burgers with a  Strawberry Avocado Spinach Salad with Creamy Poppyseed Dressing or this Avocado, Tomato, Cucumber and Arugula Salad.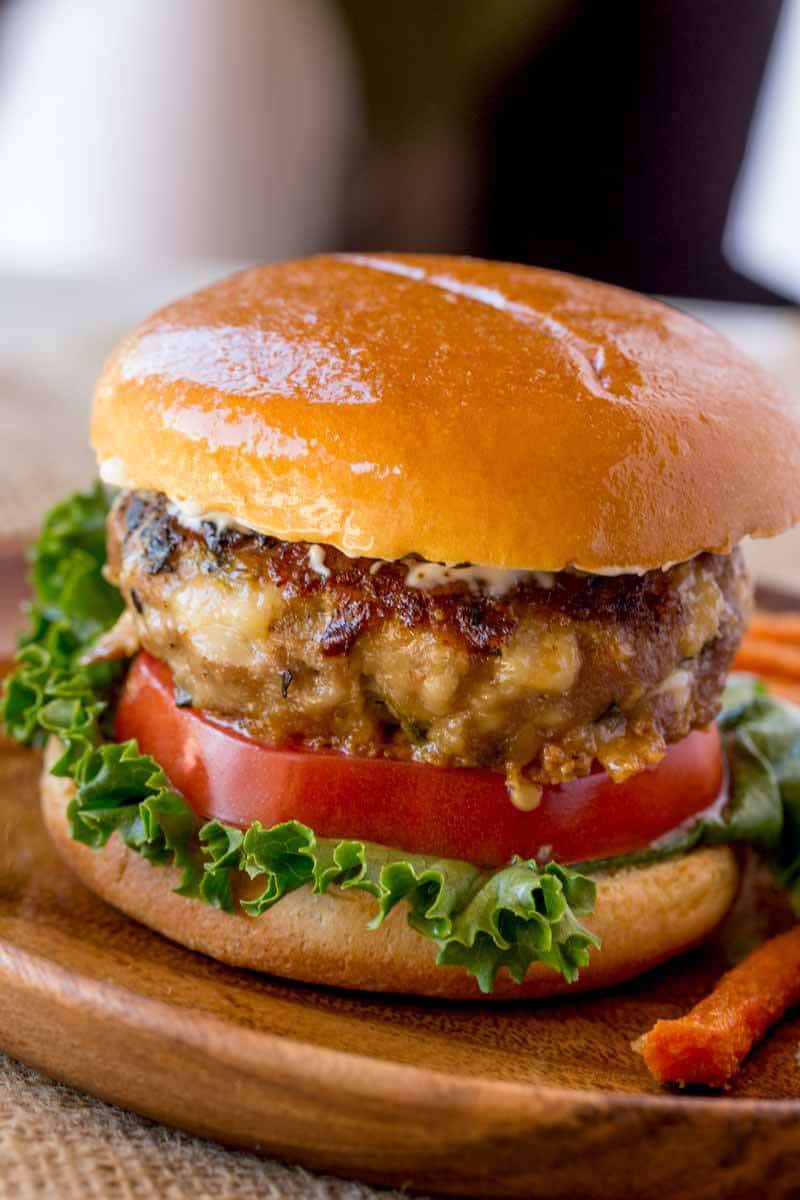 Spinach Feta Turkey Burgers:
Spinach Feta Turkey Burgers are a flavorful non beef option for burger night! With minced garlic and deliciously salty, briny crumbled feta cheese this dish is worthy of your BBQ as well as lunch and dinner all through the fall! Take advantage of all the ground turkey deals and make these burgers!These Spinach Feta Turkey Burgers are the complete opposite of what you've thought of turkey burgers. The spinach and onions add moisture. The garlic and oregano and feta add a ton of flavor. With a lemony greek yogurt spread this burger will win over die hard burger fans.
Turkey burgers are a difficult sandwich idea to sell usually because most people see a bun and want a beef burger. In addition to that ground turkey is incredibly lean (which usually means DRY and lacking in flavor) so people tend to shy away from it. But this recipe won't disappoint. The spinach and feta add moisture and zing to these Amazing Burgers.
Turkey Burger Ingredients:
Fresh Spinach:  Chop the spinach very finely to avoid big chunks of spinach.
Garlic: Fresh minced will add the best flavor.
Onion: Grated onion will add flavor without over powering or making it chunky.
Dried Oregano: A classic spice in Greek food.
Salt and Pepper: Add more or less to taste.
Feta Crumbles: Make sure your feta is crumbles finely so it mixes well with the Turkey.
Ground Turkey Look for ground turkey next to the ground beef in your market's meat section.
Sauce: 
Greek Yogurt: Plain Greek yogurt, whole or low fat will work.
Lemon Juice: To avoid that over powering taste, use juice of a fresh lemon.
Salt and Pepper:  Add more or less to taste.
How to make Spinach Feta Turkey Burgers:
Combine: Mix the spinach, garlic, onion, oregano, salt and pepper, feta and turkey together in a medium sized bowl.
Shape: Form the mixture into four patties. About the shape and size of a hockey puck, about 1 inch thick.
Cook: In a heavy skillet or cast iron skillet cook the patties on medium high for 4-5 minutes per side.
Toast: Lightly toast the buns.
Mix: In a small bowl combine the yogurt, lemon and salt and pepper in a bowl. Spread onto the buns.
Top: Place the burgers  on the buns and top with lettuce, tomato and onion.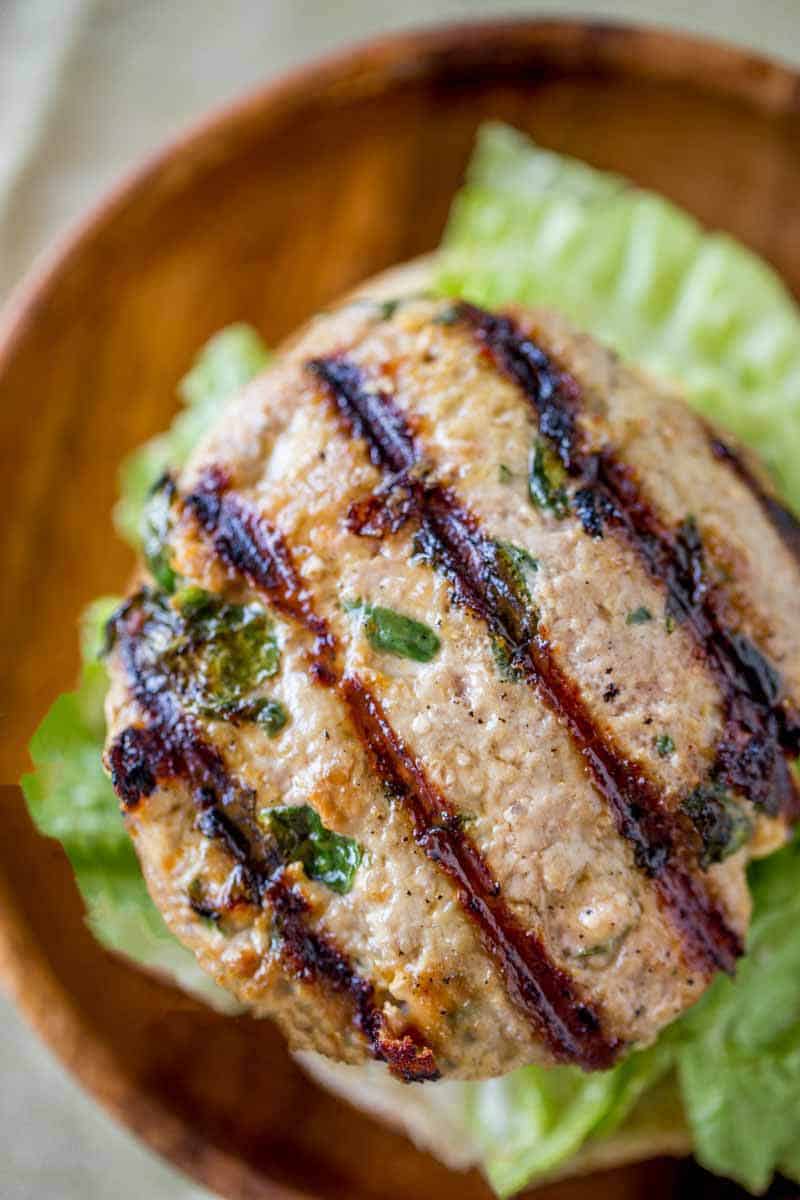 Tips for delicious Spinach Feta Turkey Burgers:
Frozen:  Yes, you can use frozen. I used fresh but you can use frozen. Defrost it well and squeeze out as much liquid as possible.
Onions: Make sure to grate the onions, don't skip this step. It adds a TON of moisture, and if you mince it the onions won't break down and you'll taste them in every bite.
Make ahead: Form the patties and freeze ahead of time if you'd like, but I'd caution to use frozen spinach if doing that.
Variation of Spinach Feta Turkey Burger
Meatballs: Instead of burgers shape these into meatballs, cook the same way and serve with the sauce as a dip.
Kebabs: Serve with pasta or rice pilaf with roasted veggies and a Greek Tzatziki sauce.
Salad: Serve in lettuce cups or over a salad for a bright, fresh meal.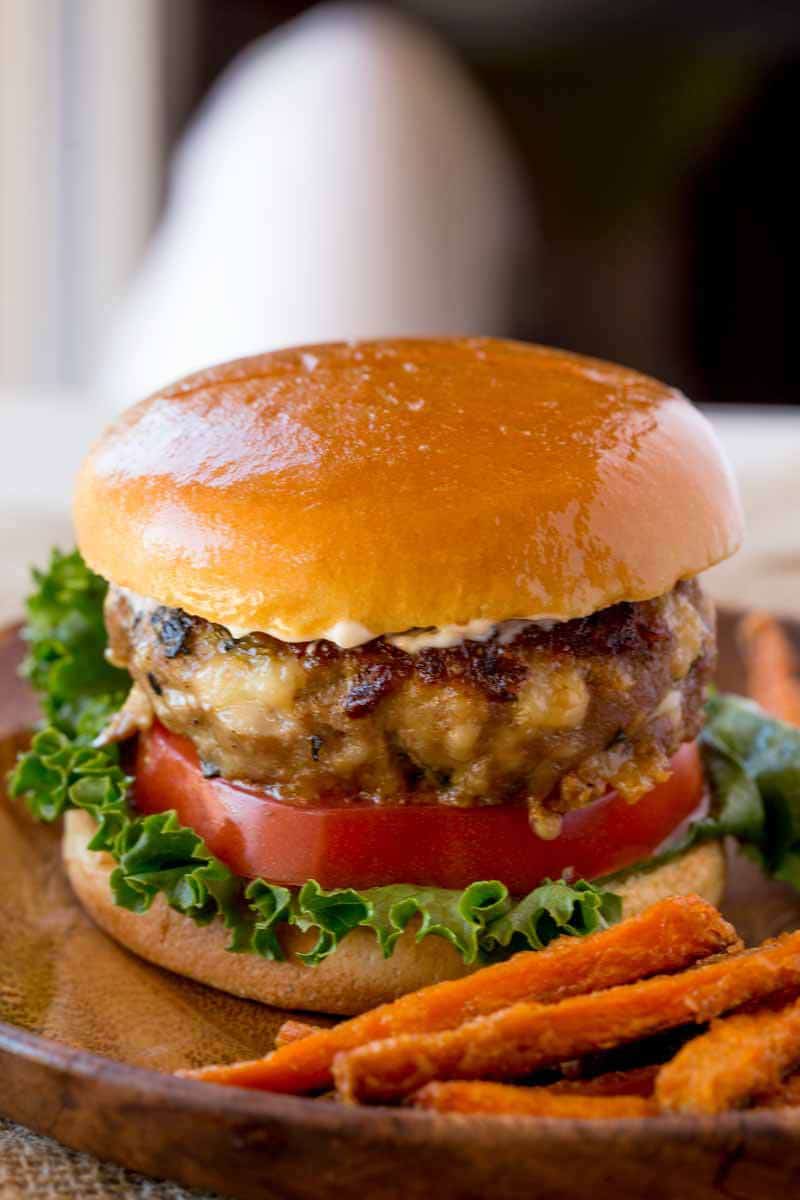 More Tempting Burger recipes
More Tasty Turkey recipes