This website may contain affiliate links and advertising so that we can provide recipes to you. Read my privacy policy.
Seasoned with a traditional Middle Eastern Za'atar spice blend and grilled, this Za'atar chicken is juicy and packed with unique flavors. In just 20 minutes you'll have a flavorful and filling dinner that no one will forget!
If you have never heard of Za'atar seasoning, you are not alone! I just heard of it recently, and now I'm hooked! It's a great savory blend of warm and earthy seasonings that will really wow your taste buds. You can also make the spice at home! If you like homemade spices, you'll have to try this Homemade Fajita Seasoning, this better than store bought Italian Seasoning, and this Taco Seasoning too!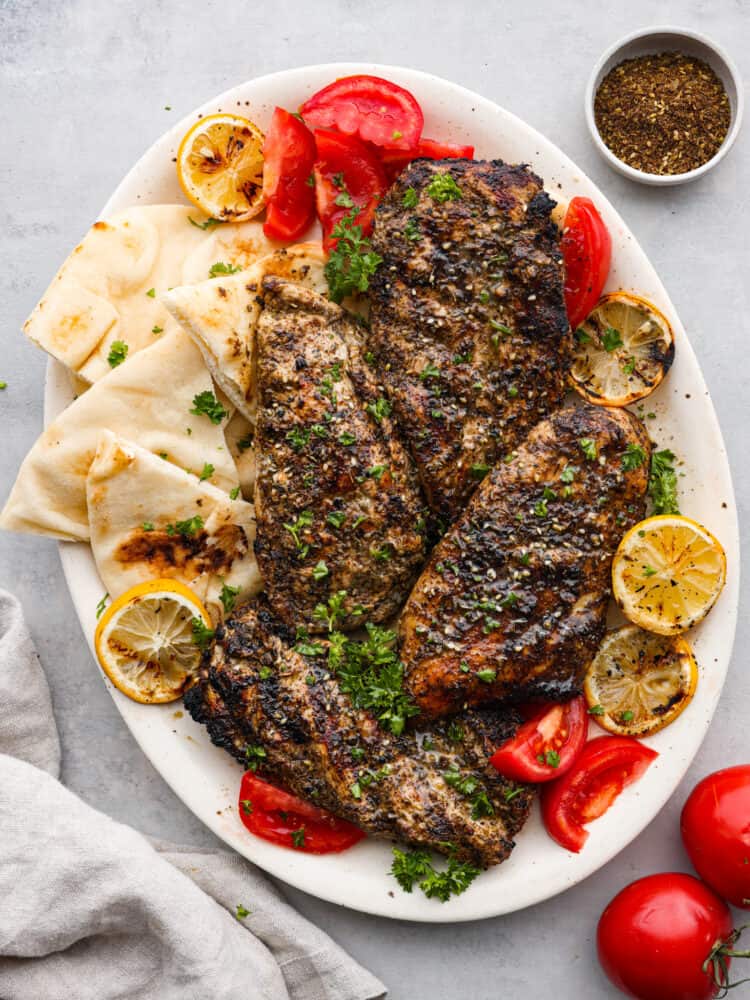 Grilled Za'atar Chicken
So at this point you may be wondering what is Za'atar seasoning? It is a blend of savory, nutty, and earthy spices that usually includes oregano, thyme, marjoram, and sumac. There are different blends of Za'atar seasoning based on where you are eating it. Kind of like curry the ingredients can change based on the area it's made in. I have a link to the Za'atar seasoning blend in the recipe box below too if you want to make it, or you can pick it up from the store.
Grilled Za'atar Chicken is quickly marinated in the Za'atar seasoning and olive oil and grilled to perfection. I really think you are going to love this dish! It's an easy 20 minute dinner that would go great with some pita bread and hummus. I also love with baba ganoush which goes great with this Za'atar seasoning. You can actually sprinkle some on top and the flavor is incredible. I think this will be a new family favorite!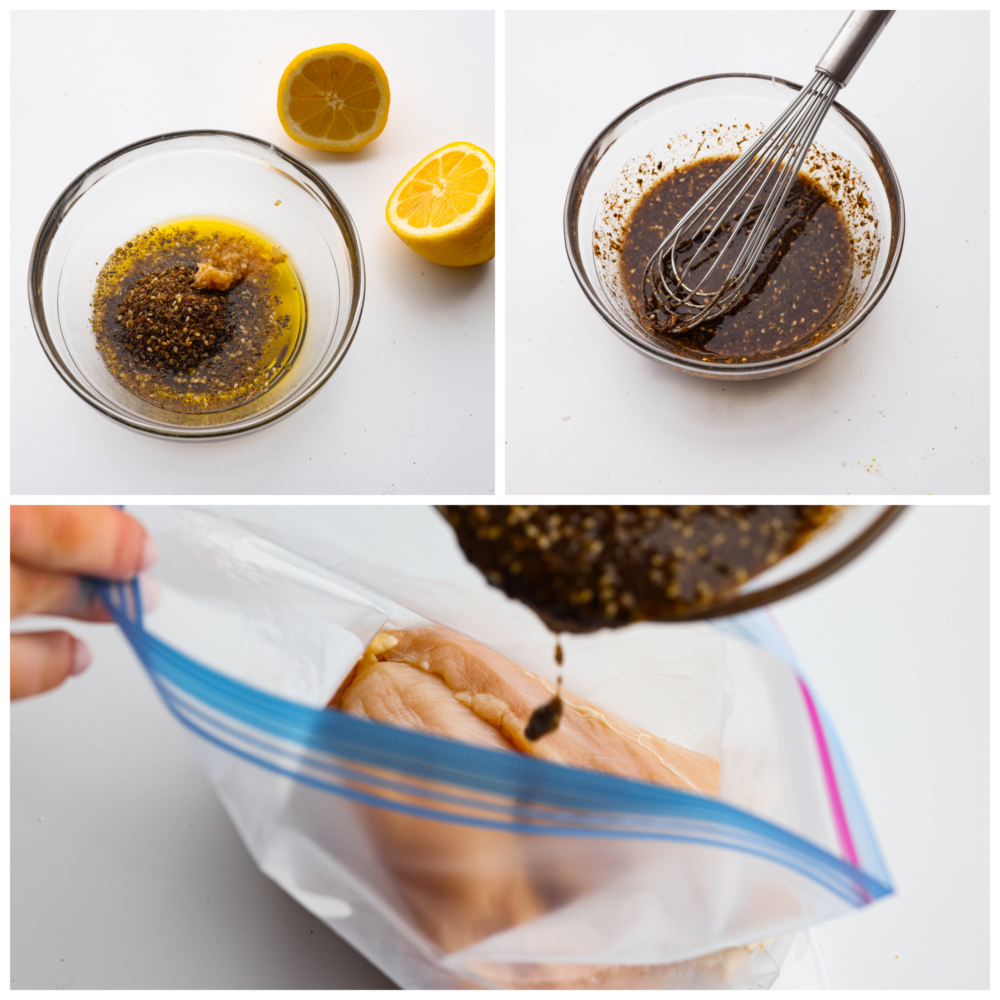 Ingredients
These simple ingredients combine to make the most delicious and moist chicken. This Za'atar chicken is so unique, and amazingly flavorful! If you are looking for a great easy dinner, then this is the recipe for you! See the recipe card below for exact measurements.
Boneless Skinless Chicken Breasts: If you get a breast that is really thick, then you'll want to flatten it out a bit so that it will all cook evenly on the grill.
Olive Oil: Olive oil is a must for this recipe. It's a great quality oil that helps the flavors in the seasonings really pop.
Lemon Juice: Lemon juice is just what this recipe needs to bring out all of these gorgeous flavors!
Za'atar Seasoning: I love making this blend at home! It is really herby and nutty, and perfect on meat. I add sesame seeds, coriander, and salt to my blend and I think it's fantastic!
Garlic: Minced garlic is one of my favorite things to eat on chicken. It's so full of flavor and makes every bite the perfect one!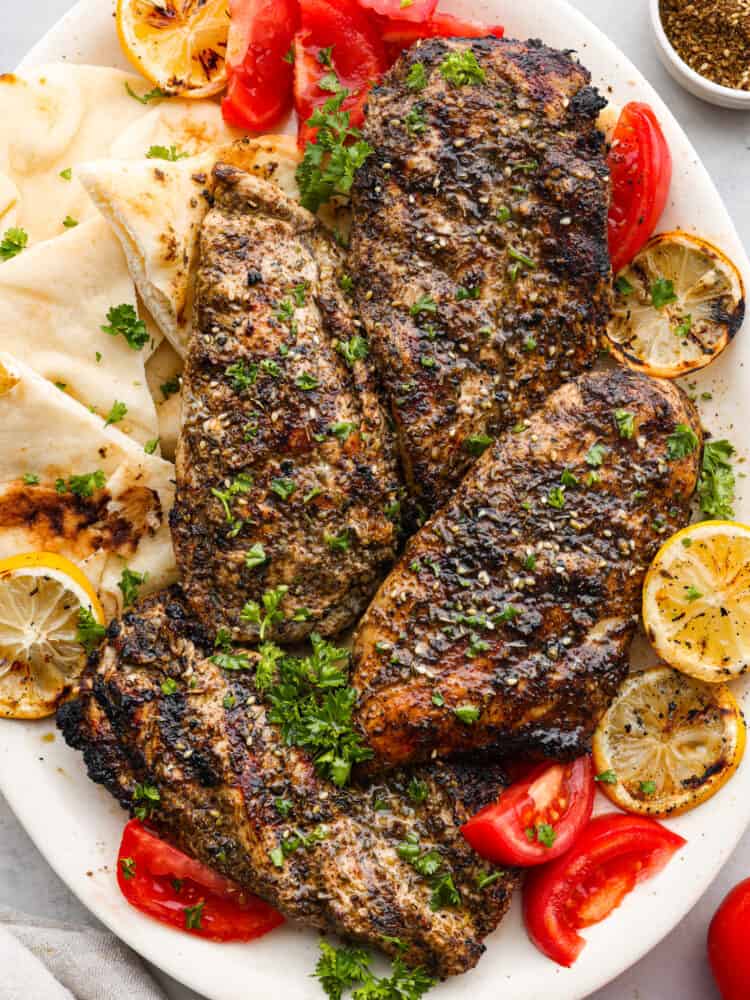 Za'atar Chicken Recipe
This recipe is so easy! I love how quickly it comes together and it really is so delicious. I ate it with some tomatoes and pita bread and it was perfection. Some of my kids added salt and pepper, but I thought it was perfect the way it was. You can make it however you like, and I know you are going to love it!
Whisk: In a small bowl, whisk together the olive oil, lemon juice, za'atar seasoning, and garlic.
Put in Bag: Place the chicken breasts in a resealable plastic bag then pour the mixture over the chicken.
Refrigerate: Seal the bag and refrigerate for 30 minutes or up to overnight.
Grill: Grill chicken breasts on medium-high heat for 7-8 minutes per side or until internal temperature reaches 165° Fahrenheit.
Enjoy: Let the chicken rest before slicing and enjoying!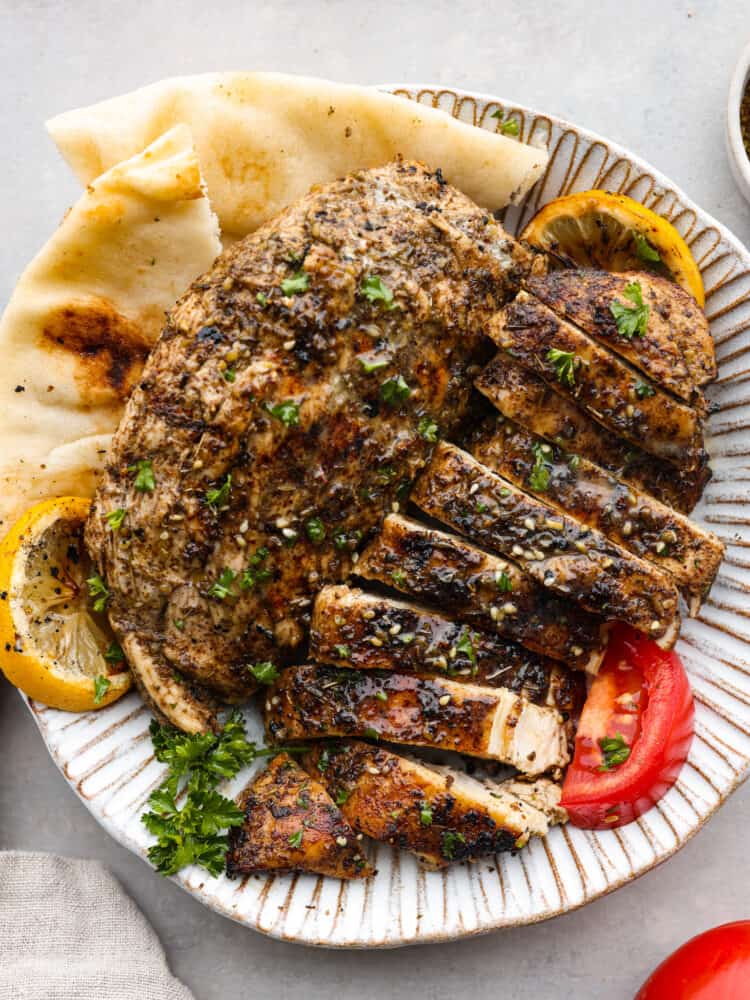 Tips for Grilling Chicken
Here are a few simple ways to make yourself the master of the grill! Once your friends and family get a bite of your grilled Za'atar chicken, they'll be hooked. It's hard not to be when they're so juicy and flavorful.
Use a Thermometer: This step is super important so that your chicken doesn't dry out on the grill. Use a meat thermometer to check the temperature of your chicken. You can take them off the grill when the temperature inside reaches 165 degrees Fahrenheit. If you cook them any more than that, they may dry out.
Let Rest: The key to juicy grilled Za'atar chicken is letting it rest for a minute or two after you pull it off the grill. This allows all of the tasty juices to reabsorb, giving you chicken breast that will melt in your mouth! If you cut into them too soon after grilling, those juices may be released instead of absorbing back into the meat.
Dripping: If you have seasoning and oil dripping off of your chicken, it will make the flames touch the meat and that's where the black burned part comes from. If you don't want crispy crunchy parts on your chicken, make sure that your seasoning is all over your chicken, but not dripping off.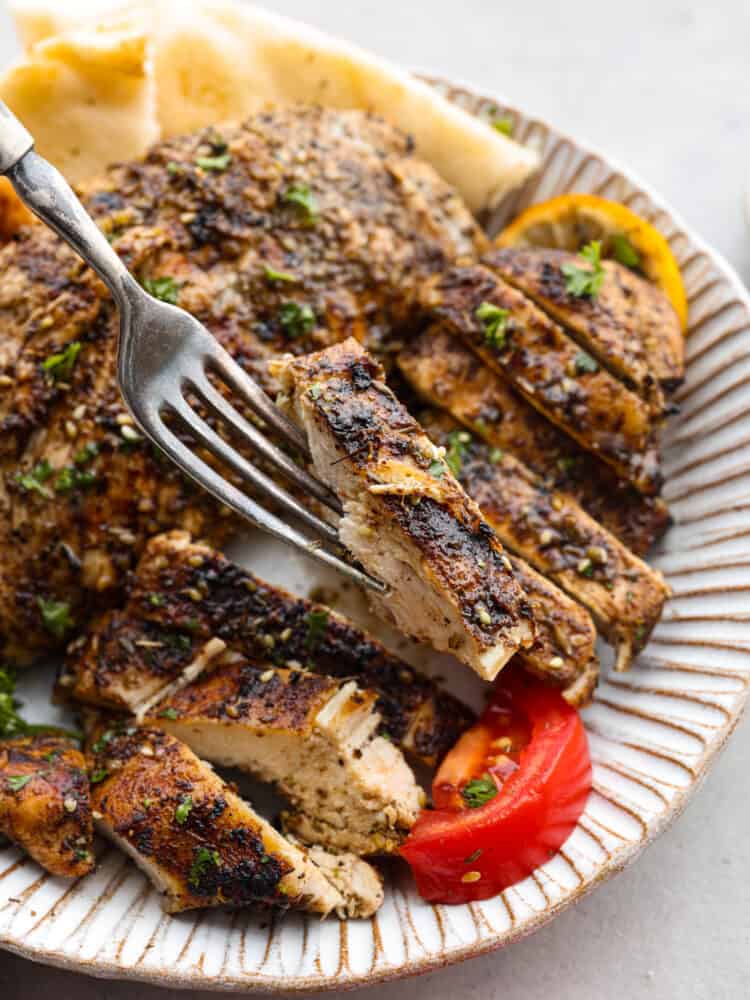 Storing Leftovers
Who doesn't wan't grilled Za'atar chicken for leftovers? This recipe makes enough to serve eight people, so if you need to save your leftovers here is how.
In the Refrigerator: Store your cooled chicken in an airtight container in the fridge for up to 4 days.