We loved this Slow Cooker Barbecue Chicken with a sauce that uses sugar-free ketchup to keep it low in carbs! We enjoyed the barbecued pulled chicken served in lettuce cups, but see other suggestions for how to eat it!
PIN Slow Cooker Barbecue Chicken to try it later!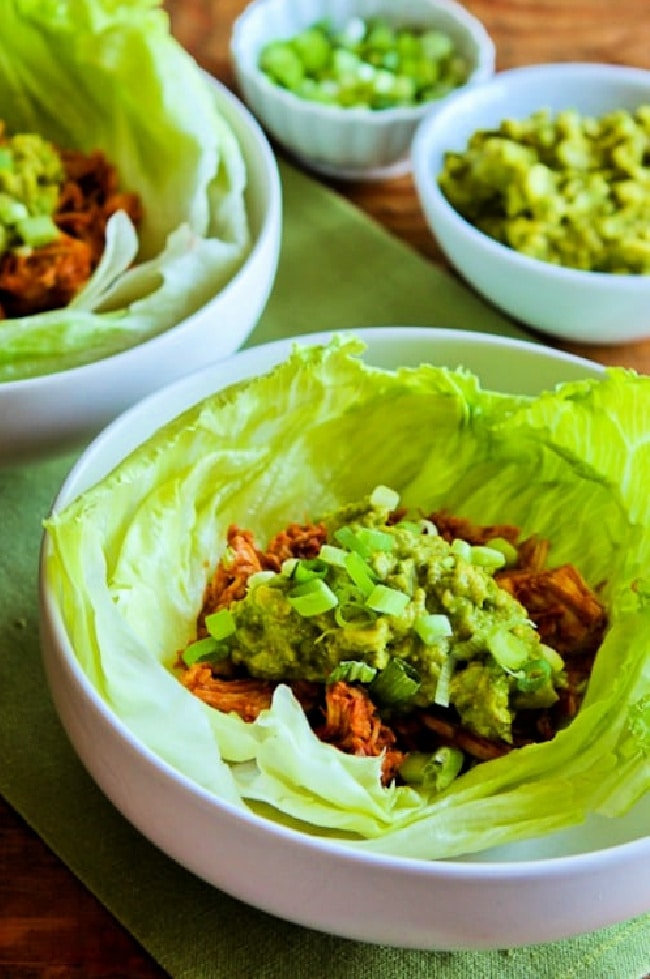 I came up with this recipe for Slow Cooker Barbecue Chicken when I had some of my favorite kids staying at my house and I wanted a barbecued chicken recipe that was kid-friendly. And I also wanted a recipe that wasn't going to heat up the house while it cooked!
When we were testing the recipe the adults like the Barbecued Chicken Lettuce Cups you see in these photos. But for kids, the favorite was quesadillas made with the tasty barbecue chicken and a generous amount of cheese!
This Slow Cooker Barbecue Chicken uses the same flavorful low-sugar sauce as my Low-Carb Slow Cooker Pulled Pork (and you can certainly make these lettuce wraps with pulled pork if you prefer.)
I did notice that the chicken cooks more quickly, and soaks up the sauce a bit more than the pork. But this was a hit with everyone who tried it; grab your slow cooker and make some easy barbecued chicken!
What ingredients do you need for this recipe?
What Sugar-Free Ketchup do I use?
I'm a huge fan of G. Hughes Sugar-Free Ketchup (affiliate link), which is also gluten-free.
How else can you eat the tasty barbecued chicken?
I'd love barbecued chicken just served on a plate with Spicy Mexican Slaw. It would be great made into Barbecued Chicken Tacos with Mission Carb Balance Low-Carb Tortillas (affiliate link). And when we tested the recipe, all the kids devoured it inside quesadillas with melted cheese.
Want more tasty ideas for lettuce Wraps?
If you're a lettuce wrap fan like I am, check out some of my other recipes for wraps in this collection of Low-Carb Lettuce Wraps! You can also find Slow Cooker Lettuce Wraps or The BEST Instant Pot Lettuce Wraps at my Slow Cooker or Pressure Cooker site.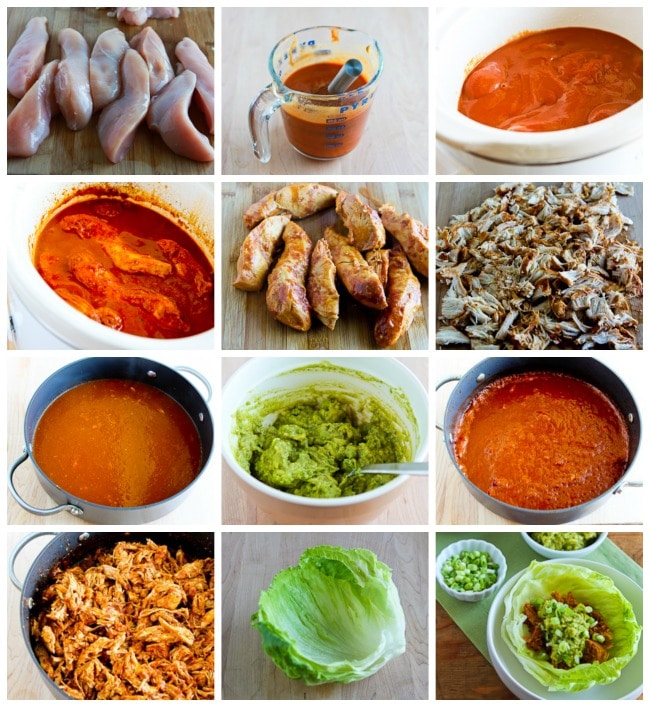 How to Make Slow Cooker Barbecue Chicken (and BBQ Chicken Lettuce Cups):
I used four boneless, skinless chicken breasts, about 2 1/2 pounds in weight after trimming.  Cut each one down the middle lengthwise so it's easier to pull apart.
Mix together sugar-free ketchup, tomato paste, Golden Monkfruit Sweetener or sweetener of your choice, , apple cider vinegar, mustard, Green Tabasco Sauce, Worcestershire Sauce or Gluten-Free Worcestershire Sauce, and Liquid Smoke.
Spray the slow cooker with olive oil or nonstick spray.  Put chicken in a single layer as much as you can and cover with the sauce. 
Cook on high for 1 hour and then on low for 2-3 hours more.
Put the chicken on a cutting board and let it cool while you start the sauce simmering in a pan to thicken it.
When it's cool enough to handle use two forks to shred the chicken apart.
Simmer sauce over medium heat until the sauce is reduced by half, about 6-8 minutes.
While the sauce simmers make Easy Guacamole and slice up some green onions for garnish.
When the sauce is reduced by half, turn off heat, add the shredded chicken, and mix the shredded chicken with the sauce (and heat for a minute or two if needed.)
You can use any lettuce you prefer, but I did like the crunch of the iceberg lettuce with this.
Cut the core out of a head of lettuce. I used two pieces of lettuce for each one so there would be a generous amount of lettuce to wrap around the saucy chicken.
I added a generous dollop of guacamole to each lettuce wrap and finished with a sprinkle of green onions.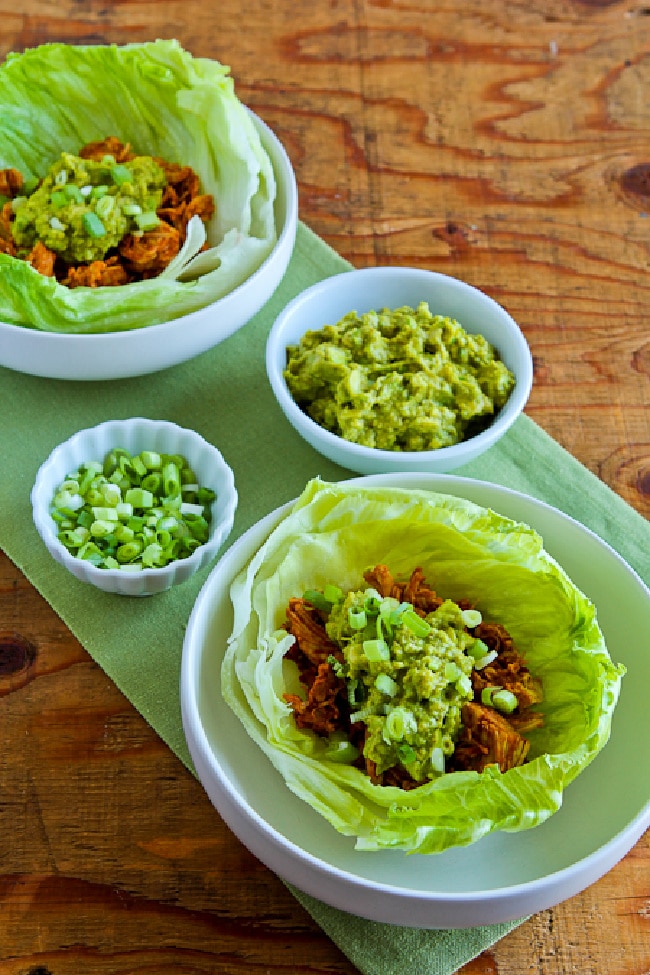 More Tasty Slow Cooker Dishes:
Slow Cooker (or Instant Pot) Chicken and Sausage Stew
Slow Cooker Mexican Lasagna Casserole
Slow Cooker Blueberry Crisp
Spicy Shredded Chicken Lettuce Wrap Tacos
Slow Cooker Southwestern Pot Roast
Weekend Food Prep:
This recipe has been added to a category called Weekend Food Prep where you'll find recipes you can prep or cook on the weekend and eat during the week!
Ingredients
Barbecue Chicken Ingredients:
4 large boneless, skinless chicken breasts (see notes)
1/2 cup sugar-free ketchup (see notes)
2 T tomato paste
6 T sweetener of your choice (see notes)
1/4 cup apple cider vinegar
1/4 cup yellow mustard
2 tsp. green Tabasco sauce (optional)
1 1/2 T Worcestershire sauce
1/2 tsp. Liquid Smoke (optional, but recommended)
Lettuce Wrap Ingredients:
2 large heads Iceberg lettuce (or other lettuce of your choice)
2 avocados
1 T fresh-squeezed lime juice
1/2 tsp. chile powder
1/2 tsp. Vege-Sal (or slightly less regular salt)
2 green onions, sliced
Instructions
Trim visible fat and any membranes from chicken breasts, then cut each chicken breast in half lengthwise.
Stir together the low-sugar ketchup, tomato paste, sweetener of your choice, brown sugar, apple cider vinegar, mustard, Green Tabasco Sauce (affiliate link), Worcestershire Sauce (affiliate link), and Liquid Smoke (affiliate link) to make the barbecue sauce.
Spray the slow cooker with olive oil or nonstick spray and layer the chicken in a single layer as much as possible.
Pour over the sauce, so all the chicken is covered.
Cook on high for one hour; then turn to low and cook 2 hours more. (Or just cook a little longer on low if you're not going to be home to switch the slow cooker setting.)
When the chicken is done, remove it to a cutting board to cool enough to handle.
Put the sauce in a large frying pan and simmer over medium heat until it's reduced by half, about 6-8 minutes.
Use two forks to shred the chicken apart.
When the sauce is reduced by half, put the chicken in the frying pan and stir to coat with sauce.
You can heat the chicken in the pan for a few minutes if needed.
To make lettuce wraps, combine the avocado, lime juice, chile powder and Vege-Sal (affiliate link) (or salt) to make the Easy Guacamole, and slice the green onions.
Cut out the core of the lettuce with a sharp knife; then peel off two lettuce leaves together to make a "cup" to hold the barbecued chicken.
Fill each lettuce "cup" with desired amount of the chicken mixture, top with guacamole and sliced green onions, and devour!
If this makes more than you'll eat at one time I would refrigerate the chicken and lettuce cups separately, but keep one avocado whole to mash up right before you eat the leftovers.
The barbecued chicken can also be used for barbecued chicken sandwiches or Quesadillas.
You can make the lettuce wraps with Slow Cooker Pulled Pork with Low-Sugar Barbecue Sauce if you prefer.
Notes
I used my Crock-Pot 3-1/2-Quart Slow Cooker (affiliate link) for this recipe. The chicken freezes well, so if you have a 6 quart slow cooker you might want to double the recipe and make some for the freezer. I used about 2 1/2 pounds total weight for the chicken breasts.
I used sugar-free ketchup (affiliate link) for this recipe. Check the label and get the lowest-sugar ketchup you can find if you don't want one with artificial sweetener.
I used Monkfruit Sweetener (affiliate link) for this recipe, but use any sweetener you prefer.
Nutritional information is for the Slow Cooker Barbecue Chicken made into 8 lettuce wraps.
This recipe created by Kalyn with inspiration from Low-Carb Slow Cooker Barbecued Chicken.
Nutrition Information:
Yield:
8

Serving Size:
1

Amount Per Serving:
Calories: 216Total Fat: 10gSaturated Fat: 2gTrans Fat: 0gUnsaturated Fat: 7gCholesterol: 51mgSodium: 349mgCarbohydrates: 12gFiber: 5gSugar: 5gProtein: 21g
Nutrition information is automatically calculated by the Recipe Plug-In I am using. I am not a nutritionist and cannot guarantee 100% accuracy, since many variables affect those calculations.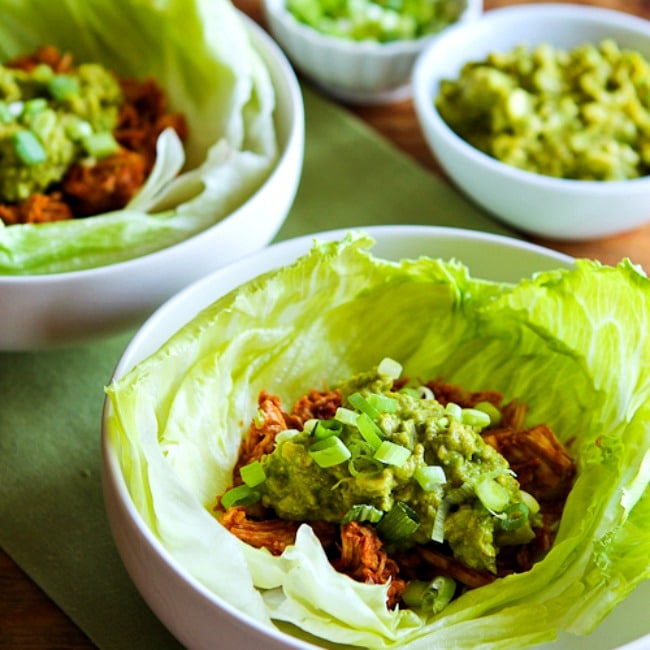 Low-Carb Diet / Low-Glycemic Diet / South Beach Diet Suggestions:
If you're making Slow Cooker Barbecue Chicken for a low-carb or Keto diet or for the South Beach Diet, it's important to use the sugar-free ketchup and an approved sweetener.
Find More Recipes Like This One:
Use Slow Cooker Recipes to see more recipes like this one! Use the Diet Type Index to find recipes suitable for a specific eating plan. You might also like to follow Kalyn's Kitchen on Pinterest, on Facebook, on Instagram, or on YouTube to see all the good recipes I'm sharing there.
Historical Notes for this Recipe:
This barbecue chicken recipe was first posted in 2013. It was last updated with more information in 2022.
We are a participant in the Amazon Services LLC Associates Program, an affiliate advertising program designed to provide a means for us to earn fees by linking to Amazon.com and affiliated sites. As an Amazon Associate, I earn from qualifying purchases.