This everyday side salad with mustard, lemon, and honey vinaigrette is on regular rotation in my kitchen. It's so easy and delicious that I make it a few times a week, usually as a side salad for dinner but with just a handful of additions, you can turn it into a main meal. A great side salad recipe that goes with almost everything!
---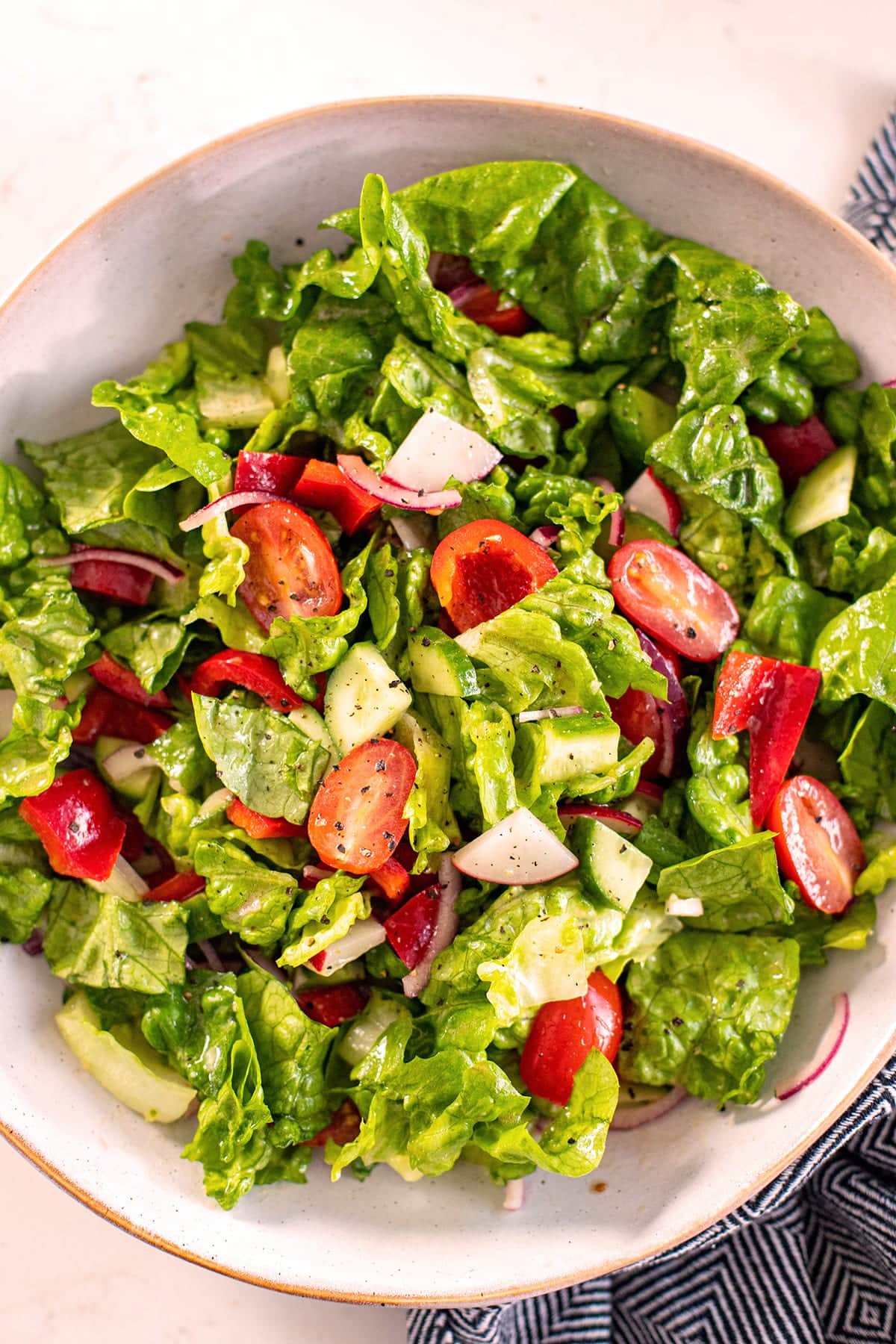 Firstly, I believe that everyone should eat a salad every day (I even have a cookbook dedicated to this concept). Whether it's a lunch salad or a side salad with the main for dinner, it's one of those dishes that will always add a dose of vitamins, antioxidants and fibre to your day.
Secondly, you might be surprised that I am sharing something as simple as a side salad BUT this recipe will help you master this essential dish and teach you efficient ways to cut up the vegetables fast and to make a delicious lemon honey vinaigrette. Use it as a template to create your own variations.
My Everyday Side Salad
When it comes to everyday salads, this little number is what I make most frequently (my other go-to side salad is this red cabbage coleslaw). This recipe is a Romain lettuce salad (also known as Cos but could be made with Gem lettuce too) with cucumbers, red bell peppers, radishes, cherry tomatoes and red onions. I almost always use the same salad vegetables as I keep them well stocked up in my fridge.
This go-to side salad is similar to the classic garden salad and I will usually dress it with a mustard, lemon, and honey vinaigrette. On occasion, I will swap lemon with Balsamic.
It goes with almost everything! If I make sausages and mash, crispy chicken tenders, lamb cutlets or steak, this is my go-to side salad. It's especially good as a refreshing and zesty contrast to rich mains like a creamy orzo or mushroom stroganoff.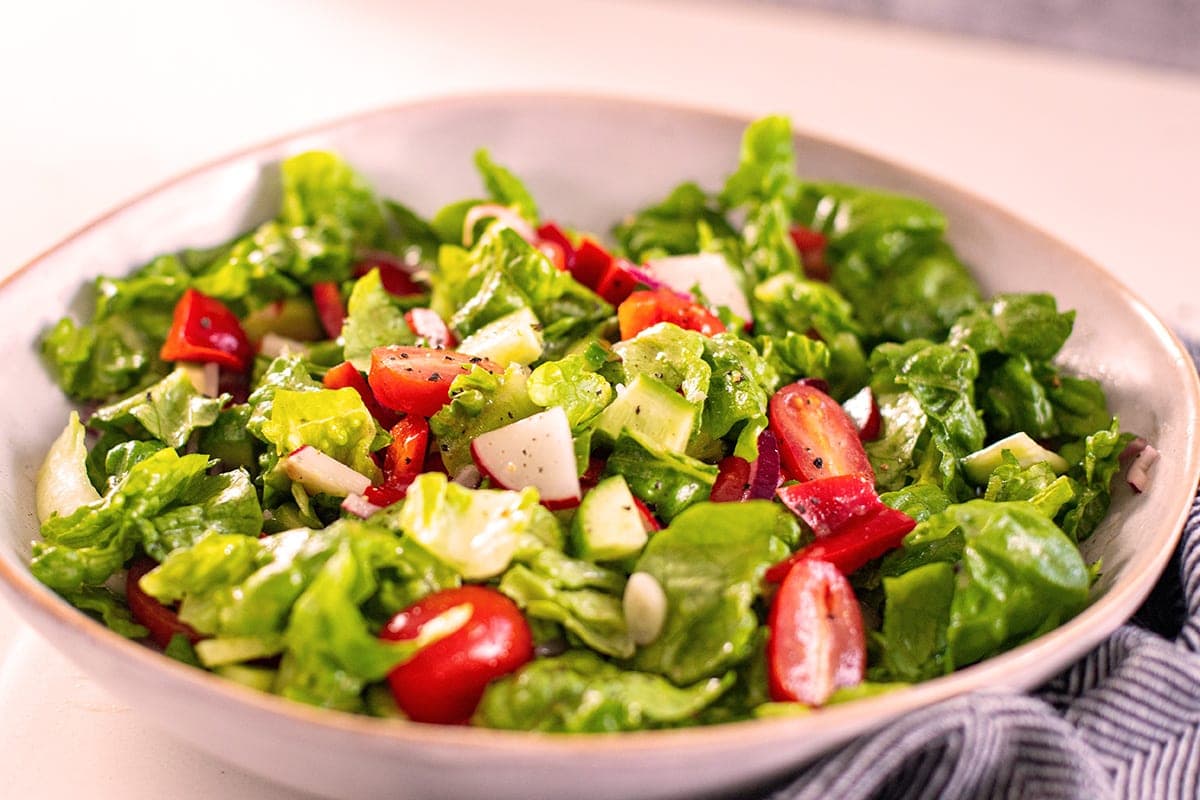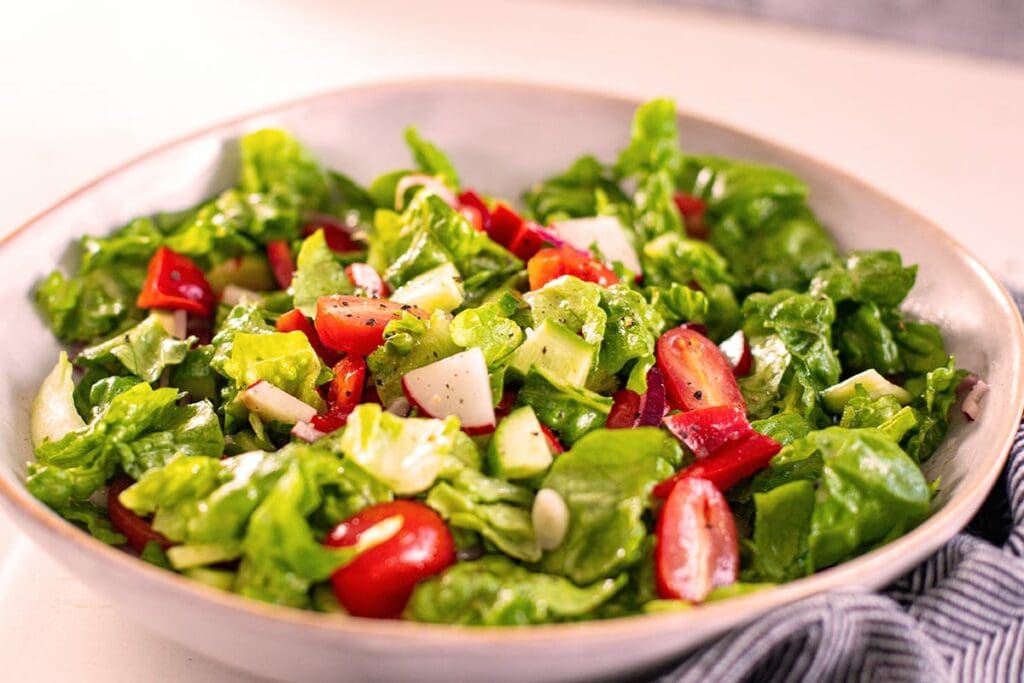 How To Make My Side Salad
Let's go over the ingredients in my healthy side salad:
Lettuce- I almost always buy Romaine/Cos or Gem lettuce as the greener, more fibrous leaves are more nutritious than say the ice berg lettuce. It's crinkly texture holds the dressing well so it doesn't all end up on the bottom of the bowl. This lettuce also stays crisper for longer and doesn't get as soggy in the salad if you make it a little ahead of time.
Red bell pepper – also known as capsicum in Australia or red sweet pepper is full of Vitamin C and antioxidants has a delicious sweet flavour and is juicy and fibrous. Everyone in my family loves red peppers, including my toddler, so it's ALWAYS in the salad.
Cucumber – I use crisp Lebanese cucumbers but you can opt for any kind; cucumber is juicy and hydrating with a mild flavour to suit any dressing. I don't peel the cucumber as it's where a lot of the vitamins are and extra fibre.
Radishes – I love these guys for their peppery flavour and crispy texture, and they add a lovely pink colour to the salad. A great addition, in my opinion.
Cherry tomatoes – you could use any diced tomatoes but cherries are almost always sweeter and tastier and they are easy to slice up for the salad. A great source of vitamins and antioxidants.
Red onion – I know that not everyone is a fan of raw onions, so, by all means, make it optional, but I love the sharpness it adds to the salad. The red onion is also so pretty so I almost always use it in my side salad. Sometimes, I will use green onions if I have those in the fridge. You can also make a batch of my marinated red onions and use those instead.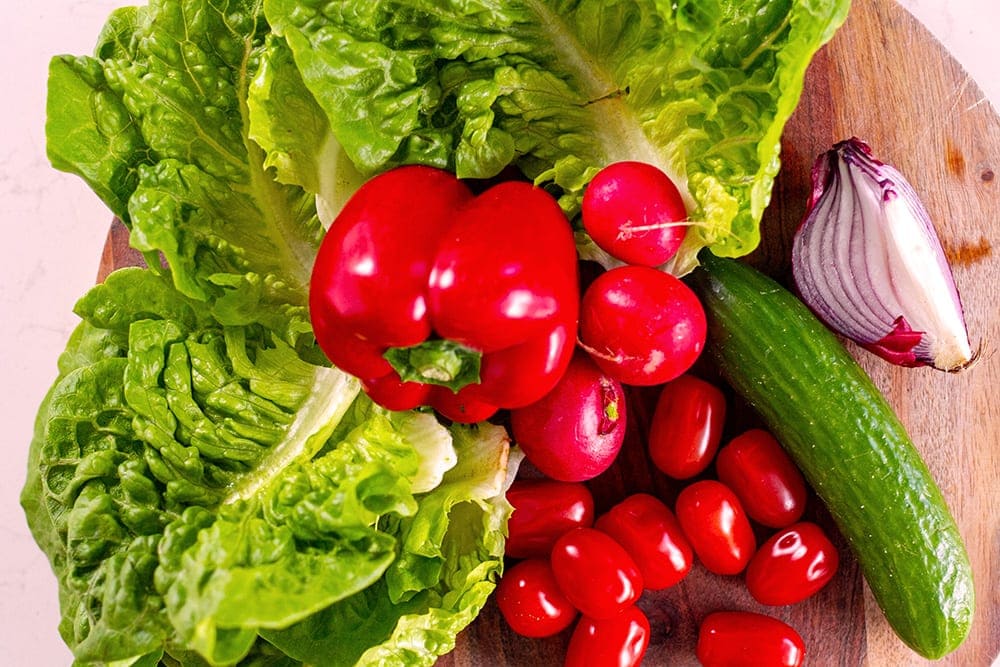 Lemon Honey Vinaigrette
My chosen dressing for this salad is a lemon honey vinaigrette with Dijon mustard. It's tangy, sharp, and a little sweet – perfectly balanced. Sometimes, I will use Balsamic in place of lemon juice or wholegrain mustard instead of Dijon.
It's a great vinaigrette to make ahead of time as you can store a larger batch in the fridge for up to a week. The ingredients are simple: lemon juice, olive oil, Dijon mustard, honey, salt and pepper.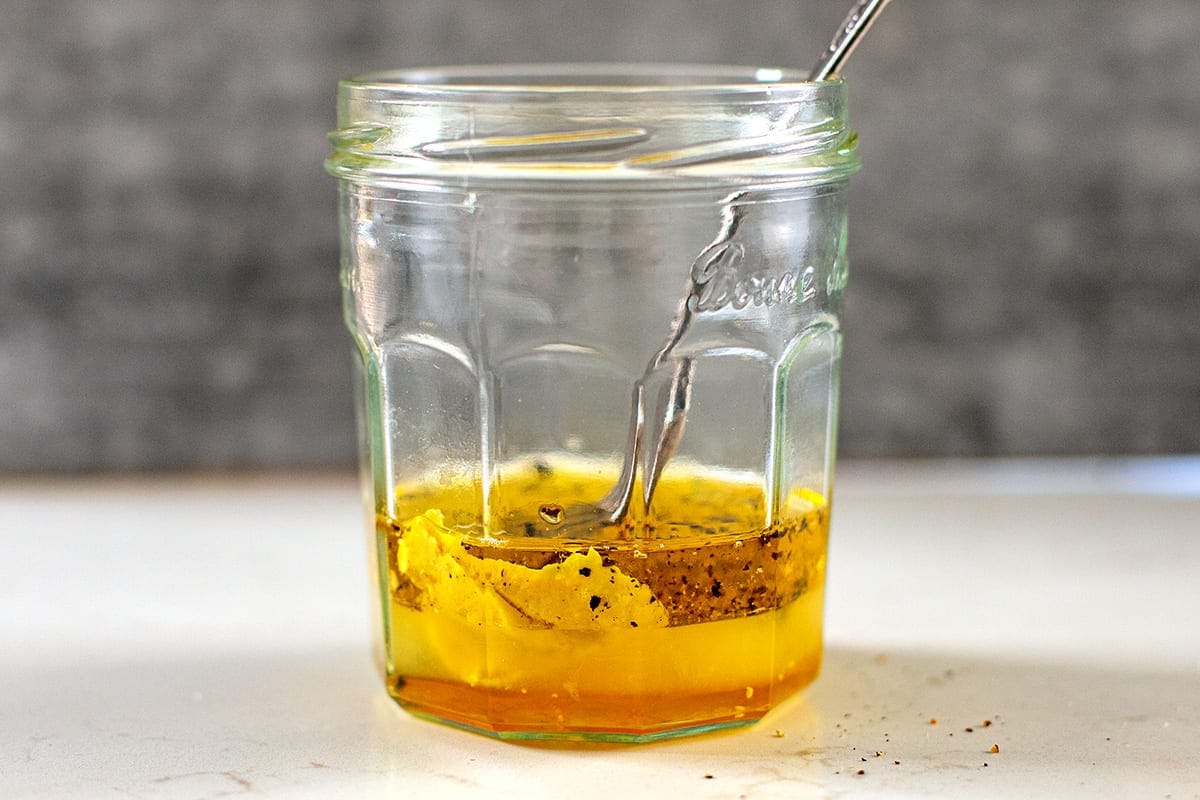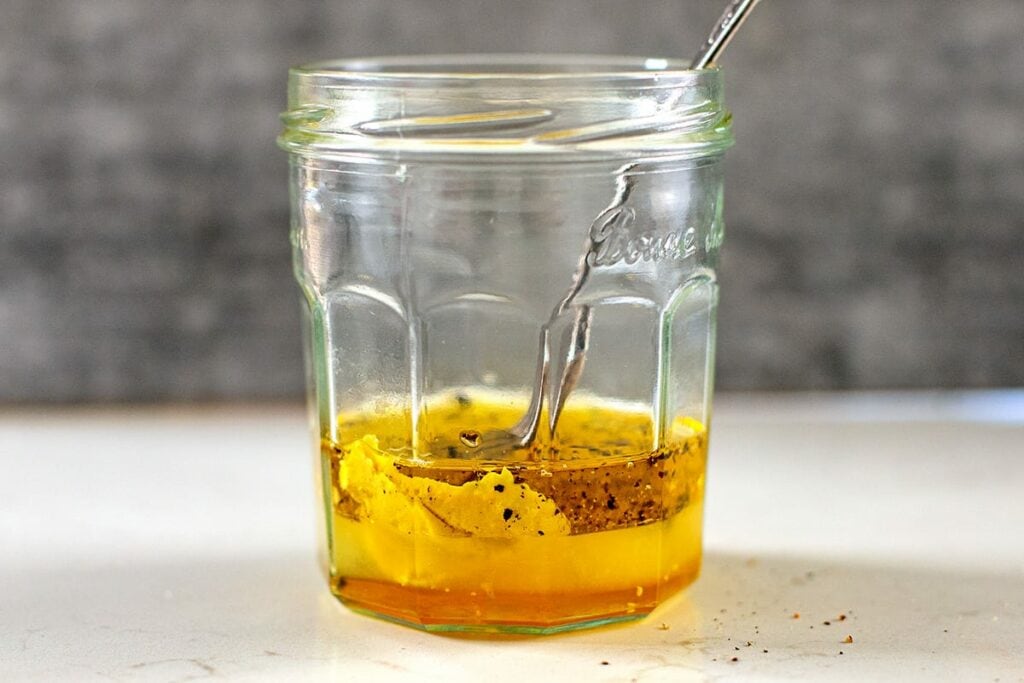 Making The Salad
Look, there isn't much to making a salad, however, I thought I'd share how I cut up all the vegetables to make it very efficient and quick. Here is a little video to give you the gist, and some pics below.
Step 1. Dice up all vegetables into similar size squares/cubes/triangles. Make sure to slice the onion very thinly and only use as much as you like.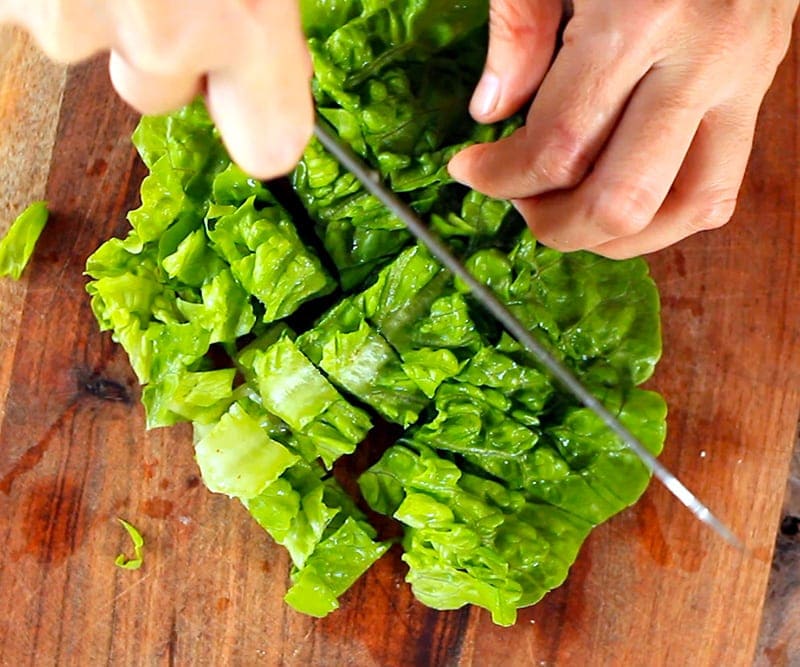 Step 2. Make the dressing by whisking or shaking all ingredients in a jar. Dress the salad just before serving for crispiest, freshest result.
Tip: If making this side salad ahead of time, store it undressed in the fridge (covered), then remove and leave it out of the fridge for 5-10 minutes before serving so it's not too cold. It will keep fresh for 24 hours, after that the leaves will start to fade.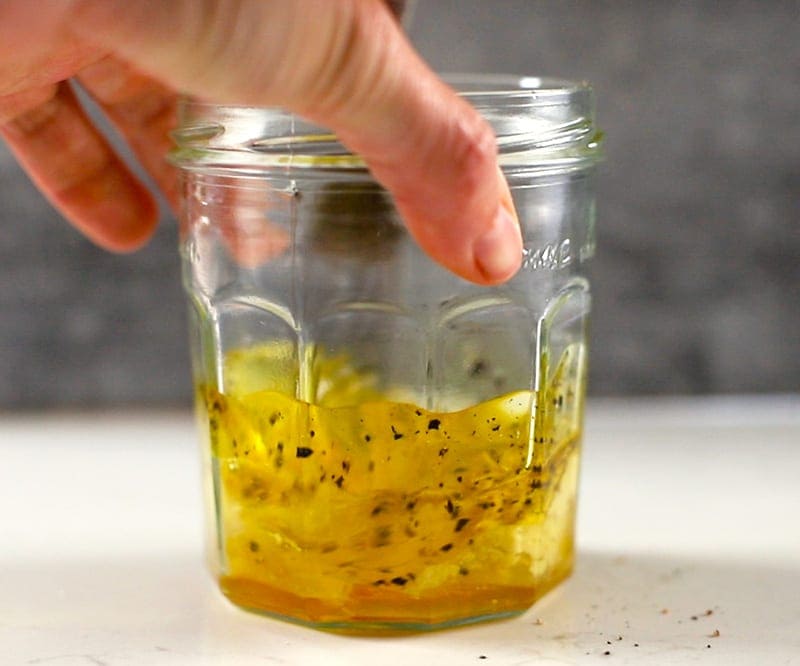 Salad Variations & Additions
Make it more satiating – you can add chickpeas, lentils, quinoa, croutons, nuts and seeds to bulk up the salad and make it more satiating.
Add protein – as above but make it animal-based protein like grilled shrimp or chicken, feta or halloumi cheese, Cheddar cubes, shaved Parmesan, pan-fried tempeh, canned tuna or sardines.
Other vegetables – grated carrots, sliced celery, shaved fennel, green onions, thinly sliced zucchini or mushrooms – are some other good options. I al
Change up the flavour – try adding fresh herbs like chopped cilantro (coriander), dill, parsley or basil; throw in some olives, capers or sun-dried tomatoes; use Asian, Caesar or Ranch dressing to add a different flavour twist. I have tried all of the above!
Full Recipe 
Find the full list of ingredients, instructions, and a nutritional breakdown below. If you have questions or cook this recipe, please let me know in the comments, and make sure to rate this recipe so it's easy for others to find.
Print
---
Description
Easy, delicious and healthy everyday side salad for dinner or lunch. This salad is made with Romaine lettuce, cucumber, red bell pepper, cherry tomatoes, radishes and red onion for sharpness and dressed with honey, lemon and mustard vinaigrette.
---
---
Nutrition
Serving Size:

1.5 cups

Calories:

139

Sugar:

7 g

Sodium:

186.7 mg

Fat:

10.9 g

Carbohydrates:

11.4 g

Fiber:

2.4 g

Protein:

1.6 g

Cholesterol:

0 mg
Keywords: Garden salad, side salad, sides, salad recipes, side salad recipe
More Easy Side Salad Recipes