Perfect for entertaining and feeding a crowd, these sensational roasted sweet potatoes are topped with zesty crumbs of walnuts, parsley, garlic and a touch for chilli.
---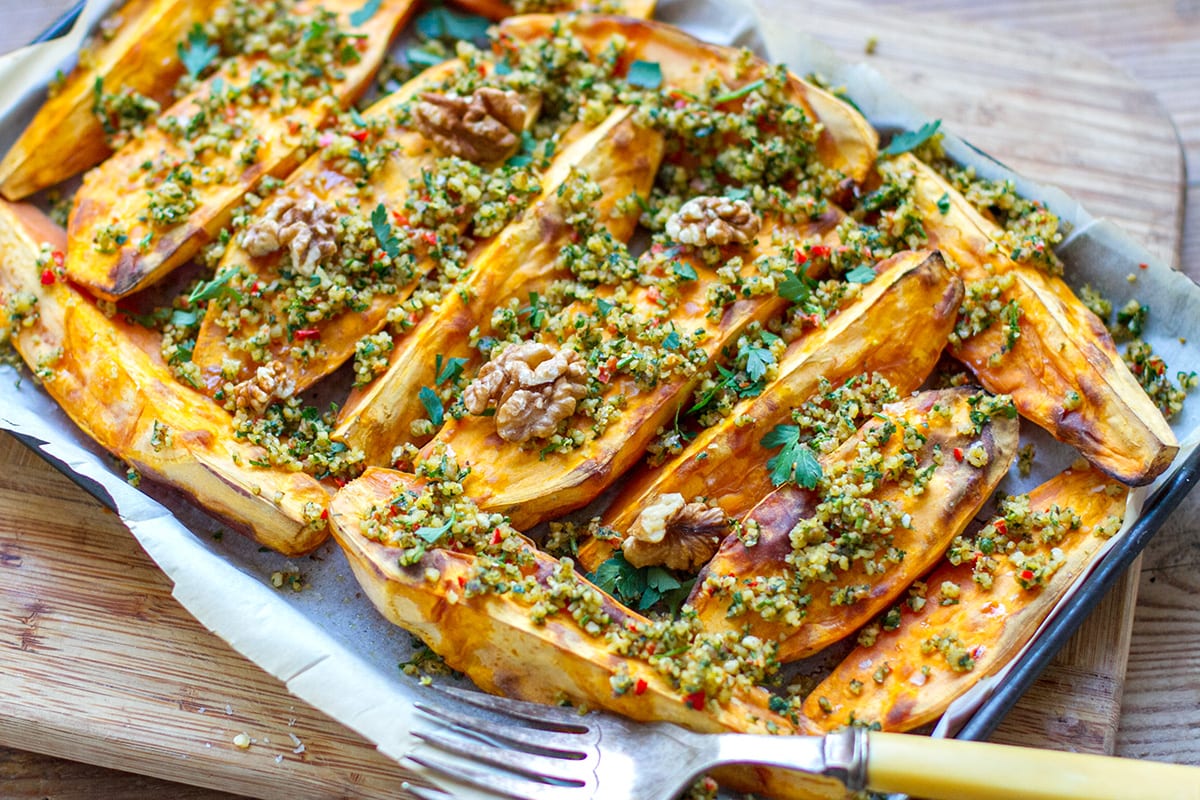 This is one of those dishes that pleases multiple senses: it's pretty to look at, it smells fantastic, and the flavours set off mini fireworks in your mouth. The sweetness of the potato is beautifully combined with fresh and zesty crumbs that have a little kick to them.
I love making this dish as part of either a Christmas or Thanksgiving menu or when I'm entertaining friends or family on the weekend. It can be served as a side dish with pretty much anything, yet it can also stand on its own as a vegetarian friendly main served with a lovely green salad. And, the leftovers are damn good with a fried egg on top!
You can cut the sweet potatoes in any way you like. For this recipe, I wanted large wedges so I cut them in halves and quarters, but you can dice them into cubes and roast for 20-25 minutes.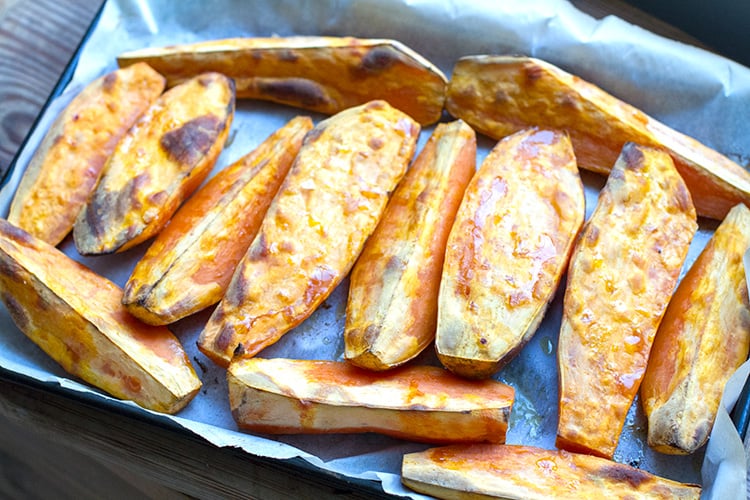 While the sweet potatoes are the main ingredient in this recipe, the thing that makes it special is the topping of ground up parsley, walnuts, garlic, chill and lemon zest. You might think that the flavours of raw garlic and chilli might be a little strong, but they do mellow out when you take a bite of the sweet potato alongside. You can use a food processor or your handy knife skills to chop up the ingredients into crumbly topping.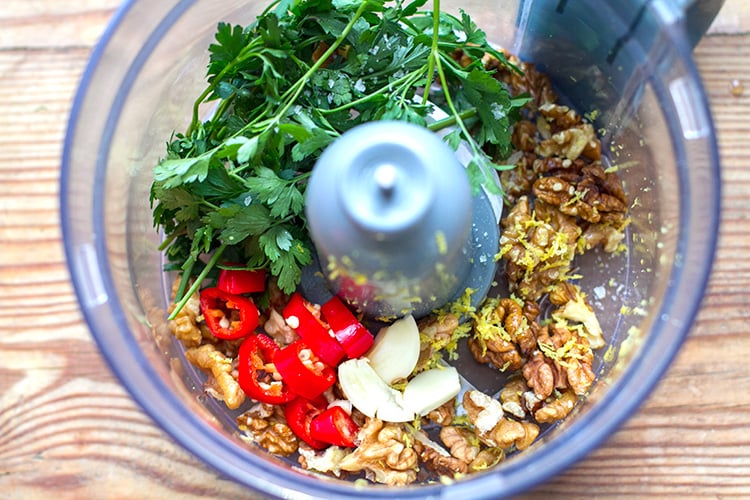 You can also turn the crumbs into more of a pesto consistency by adding in some olive oil and lemon juice, then drizzle it over he sweet potatoes.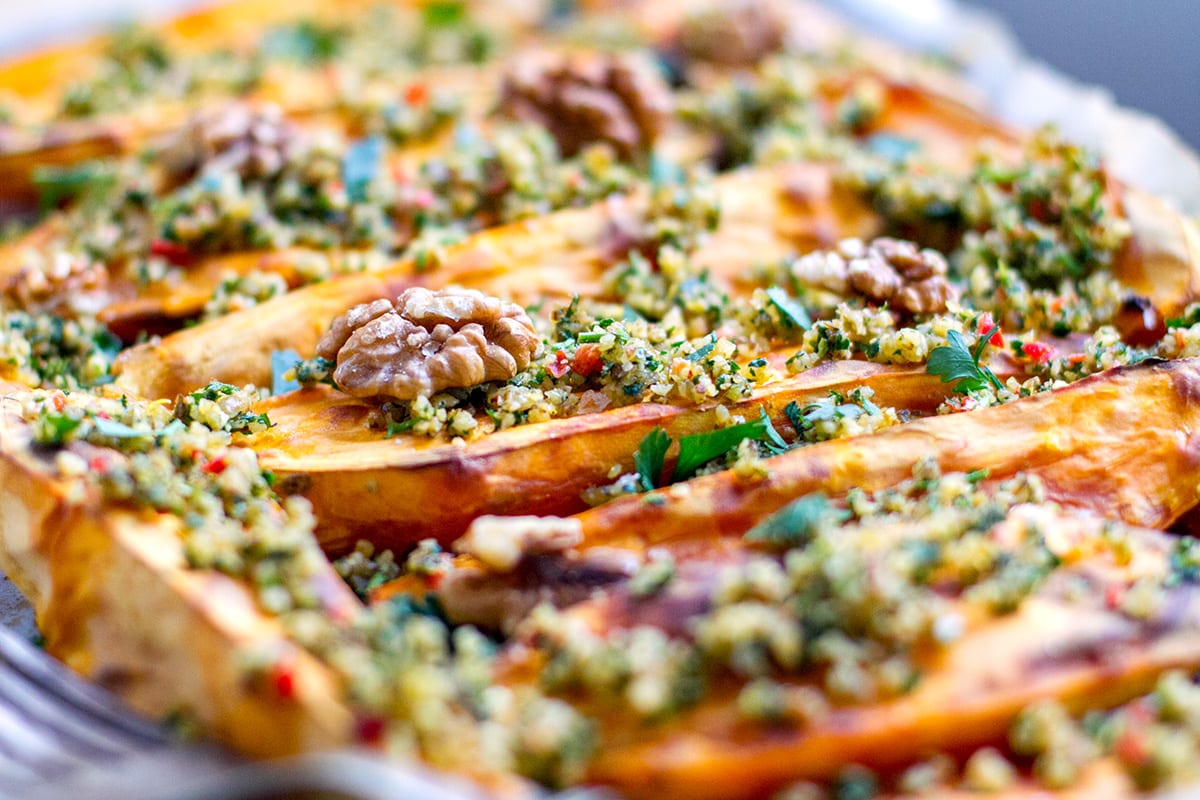 Print
---
---
Preheat the oven to 200 C / 395 F.
Line a flat baking tray with parchment paper. Place sweet potato wedges in the tray, inner side up, and drizzle them with olive oil. Sprinkle evenly with 1 teaspoon of salt. Place in the oven, middle shelf for 30 minutes. At a 15-minute mark, rotate the tray for even cooking.
In the meantime, place the topping ingredients in a food processor and grind into small crumbs. Set aside. If you don't have a food processor, you can chop the ingredients finely with a knife.
Once cooked, remove the sweet potatoes from the oven and season with a little more sea salt (about half a teaspoon or so). Sprinkle the walnut and parsley crumbs evenly over the top. You can garnish the final dish with a few whole parsley leaves and walnuts, if you like. Serve while hot.
Make ahead tip: Pre-roast the sweet potatoes for 25 minutes and store covered with cling wrap in the fridge. Reheat at 200 C for 5-10 minutes then sprinkle with the crumbs just before serving. You can make the topping ahead of time too and store in an airtight container.
---
---
Follow me on Instagram and show what Eat Drink Paleo recipes you're making in your kitchen.  Tag @eatdrinkpaleo or use hashtag #eatdrinkpaleo.
---
CLICK HERE TO SHARE ON PINTEREST
& G