Having enjoyed traditional Spanish Pisto on many occasions during my travels, I've always wanted to make it at home and share a recipe with you on the blog. It's a dish that brings a lot of warm memories and I hope you like it as much as I do.
---
As some of my readers know, I have spent a considerable amount of time in Spain. While staying in a small town of Margalef in Catalunia, I often ate out at a family-run restaurant called Vernet and I ordered the same thing: local sausage with salad and pisto. At first, I didn't even know what pisto was as I simply pointed at someone else's plate when ordering but I fell in love with this dish from the first bite.
What Is Pisto?
Pisto is the Spanish version of France's ratatouille, Italy's caponata or Turkey's imam bayildi. It's a hearty vegetable stew made with eggplant, zucchini, onion, tomatoes, red and green peppers, and lots of olive oil.
Like with the other Mediterranean vegetable stews, the key is good quality olive oil (and lots of it!) and fresh, seasonal vegetables. Pisto is originally from the Murcia region of Spain but can be found in the rest of the country.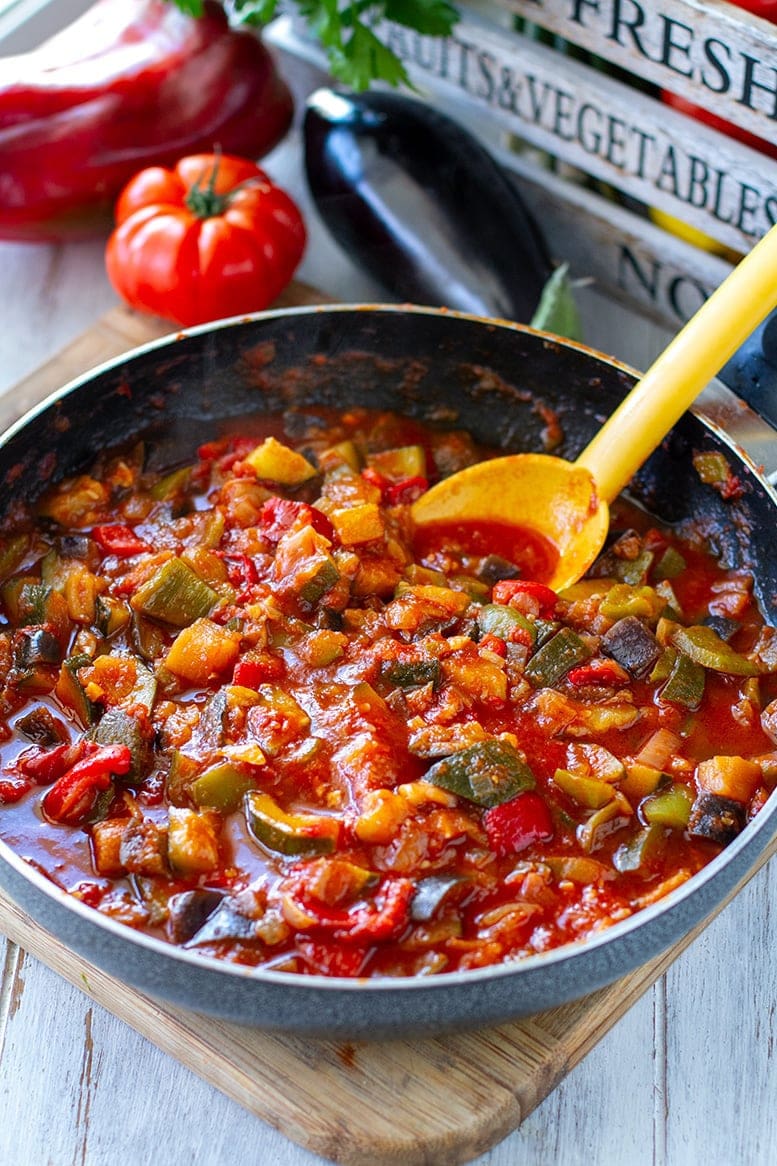 Pisto is usually served warm and can be accompanied by an egg (great for breakfast) or some Manchego cheese and bread, or it comes as a side dish with meat or fish.
It's a fantastic vegetable dish for those following a Paleo/Whole30/gluten-free or vegetarian diets.
I usually make a large batch of it to serve as a side dish for dinner, with eggs for breakfast, or with some grilled chicken or sausage for lunch as it tastes good cold too. It keeps well in the fridge (4-5 days) and can be frozen.
How To Make A Good Pisto
After talking to the restaurant owner and doing a little bit of research into this dish, I learnt a simple secret to achieving that really rich, deep flavour: no shortcuts!
While it would be easier to simply cook all the vegetables together at once, it makes a big difference if you fry off the eggplant and the zucchini separately (which caramelises them slightly) and pre-cook the onions with peppers and tomatoes before combining everything together.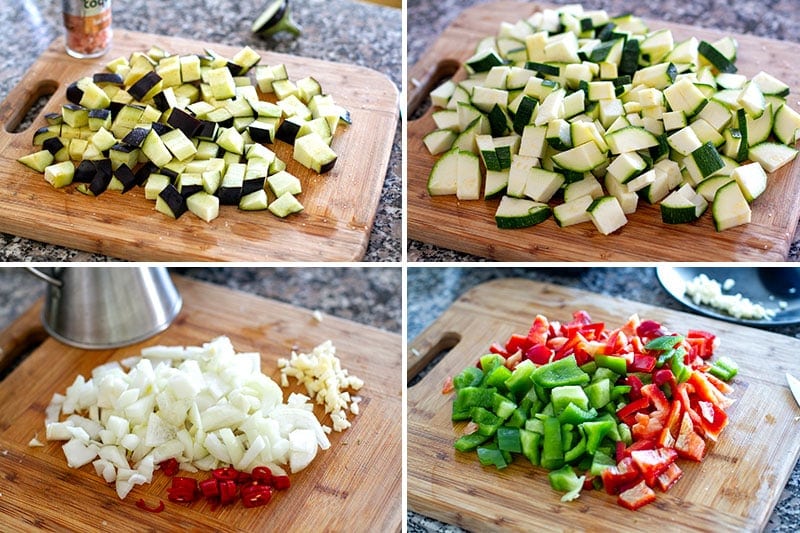 Make sure to get the freshest vegetables possible and don't worry about the amount of olive oil used in the dish.
It might seem like a lot but olive oil is incredibly healthy, especially if you get good quality, cold-pressed olive oil. If you pair this dish with low-carb protein, then you don't need to worry about the fat.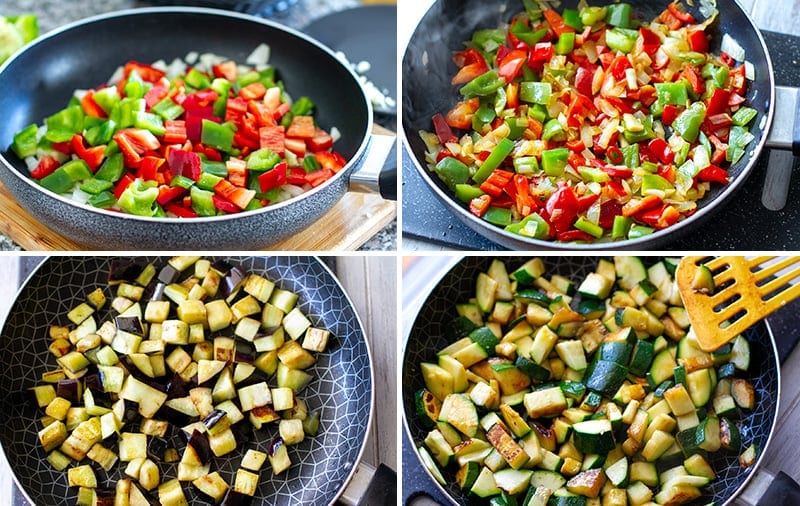 Many Spaniards will use freshly chopped tomatoes but I have seen many recipes with tinned chopped tomatoes or tomato passata. Once again, I use the best brand of tinned organic tomatoes as they tend to be sweeter in flavour. 
You will find the full recipe below. I'd love to know if you make it, so don't forget to share with me in the comments or on social media.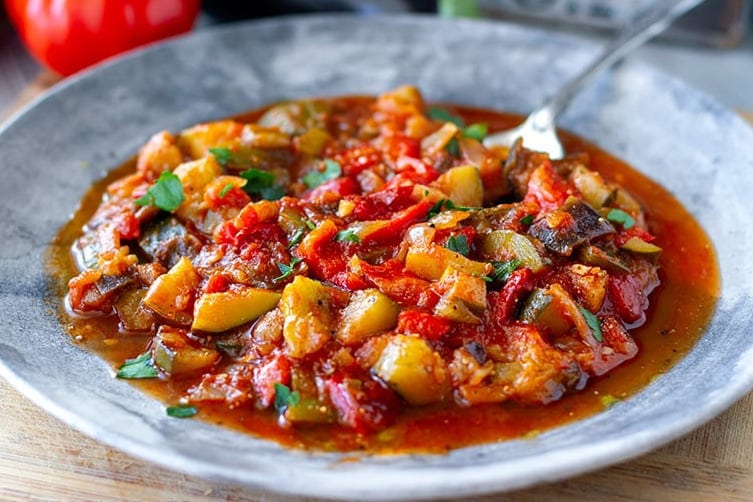 More Healthy Vegetable Recipes
Print
---
Description
Beautifully rich and colourful, pisto is a Spanish vegetable stew with eggplant, zucchini, tomatoes and peppers. Learn how to make this recipe at home for a perfect side dish or a main.
---
---
Dice the eggplant into cubes and sprinkle generously with salt. Leave for 15-20 minutes. This removes some of the bitterness from the eggplant and draws out the moisture so that the vegetable doesn't need as much oil to fry in.
Add 4 tablespoons of olive oil to a large, deep frying pan or a casserole dish and heat over medium heat. Add the onions, chilli and diced peppers. Cook over medium heat for 12-14 minutes, until well softened. Then, add the garlic, tomatoes, salt and sugar or honey and cook for 10 minutes covered with a lid, stirring a couple of times. In the meantime, dice the zucchini and set them aside.
Rinse the eggplant under water and pat dry slightly with the kitchen towel. In a separate frying pan, add 2-3 tablespoons of olive oil and heat over medium-high heat. Add the eggplant and cook for 4-5 minutes, stirring halfway, until slightly browned off.
Remove the eggplant and add a little more olive oil. Add the zucchini and cook for 4-5 minutes as well, stirring a couple of times.
Finally, add the pre-fried eggplant and zucchini to the pot with the tomato mixture and stir through. Cook together for 25 minutes over medium-low heat, covered with a lid. Stir a few times.
Let it sit for 5 minutes after cooking before serving. You may garnish pisto with fresh parsley, basil or coriander if you wish.
---
Notes
Store leftover pisto in an airtight container for 4-5 days or freeze for up to 2 months. It can be reheated or enjoyed cold the following days.
Nutrition
Serving Size:

1.5 cups

Calories:

127

Sugar:

6.6 g

Sodium:

338.6 mg

Fat:

9.8 g

Saturated Fat:

1.4 g

Carbohydrates:

10.5 g

Fiber:

4 g

Protein:

2 g

Cholesterol:

0 mg
Keywords: Pisto, Spanish, Eggplant, Zucchini, Stew, Vegetables, Vegan, Vegetarian, Whole30, Paleo