This website may contain affiliate links and advertising so that we can provide recipes to you. Read my privacy policy.
This copycat Alice Springs Chicken is a zesty, cheesy dinner that the whole family will enjoy! It's super easy to make and loaded with toppings like honey mustard, bacon, and colby jack cheese!
Looking for more saucy chicken recipes that will have your family licking their plates? Cheddar ranch chicken and lemon parmesan chicken are both great options! And if you're looking for something with more heat, jalapeno popper chicken is a must-try.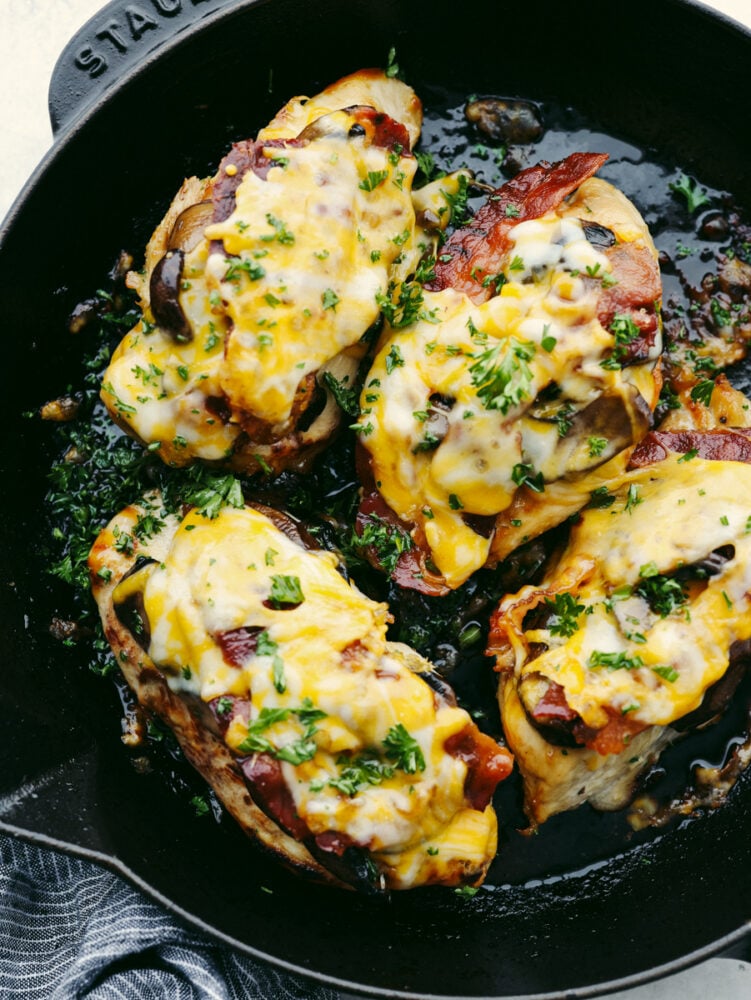 Easy Copycat Alice Springs Chicken Recipe
If you haven't been to Outback Steakhouse recently, I'm here to inform you that their Alice Springs Chicken is one of the best things on the menu. It's a juicy, seared piece of chicken topped with sauteed mushrooms, melty colby jack cheese, bacon, and honey mustard. Pretty drool-worthy, right? Now that I've got your attention, here's how to make it at home! Trust me, your family is going to love every saucy, zesty bite.
The good news is, this is a super easy, cost-effective recipe to make. It only takes 45 minutes from start to finish! Get that tasty steakhouse quality at half the cost. And did I mention it's keto-friendly?! My family goes nuts when this is on the lineup for dinner. My two youngest are obsessed with honey mustard, and the fact that this is marinated in it makes it a clear winner. I like to serve Alice Springs Chicken up with some mashed potatoes and steamed veggies to finish it off, and voila! An easy, cheesy, impressive meal. Let's get cooking!
Ingredients for Alice Springs Chicken
The ingredients for Alice Springs Chicken are super simple! As a matter of fact, you can probably find most of them in your kitchen right now! You're going to love how amazing this dish tastes when you make it from scratch. Find all measurements in the recipe card below.
Chicken Breasts: To begin with, I used boneless, skinless chicken breasts. Pick chicken breasts that are roughly the same size so they cook at the same rate!
Olive Oil: Used for searing the chicken in.
Bacon: You can use precooked bacon to make your life a little easier!
Sliced Mushrooms: These will be sauteed and used as a topping for your Alice Springs Chicken.
Butter: Used for cooking mushrooms in.
Colby Jack Cheese: Adding a little shredded colby jack on top really brings this dish together! Similarly, it has a mild, creamy flavor and bakes down to perfection.
Parsley: Parsley is peppery and aromatic, the perfect finishing touch to your chicken!
Honey Mustard Marinade/Sauce
Dijon Mustard: Next, we move on to the tasty sauce and marinade for our Alice Springs Chicken! Dijon mustard acts as the base of the marinade and is what gives the chicken its key zesty flavor.
Honey: Adds thickness, creates a smooth texture, and makes it nice and sweet!
Mayonnaise: Creates a creamier marinade and helps your chicken sear to perfection.
Garlic: Minced garlic is a must in any marinade! It adds a pop of savory flavor.
Onion Powder: Onion powder is sharp and flavorful, and acts as a main ingredient for seasoning your chicken.
How to Make Alice Springs Chicken
This cheesy baked chicken is so delicious and satisfying! After one saucy bite, you'll be hooked! With how easy it is to make, Alice Springs Chicken is a regular in our dinner rotation. I know you'll love it as much as we do at our house!
Making Your Honey Mustard Marinade
Whisk: To begin, in a medium-sized mixing bowl, whisk together the dijon mustard, honey, mustard, garlic, and onion powder.
Marinate in Ziploc Bag: Place the chicken in a gallon sized ziploc bag. Pour in 2/3 of the marinade. Seal the bag and marinate the chicken for 20 minutes. Save and refrigerate the remaining sauce for later.
Preparing Chicken and Toppings
Cook Bacon: Next, while the chicken is marinating, prepare the bacon and cook until crisp. You can use precooked bacon for convenience. Just warm it up according to package instructions.
Saute Mushrooms: To prepare the mushrooms, place 2 tablespoons butter into the cast iron skillet. Make sure it is oven safe. Melt the butter over medium high heat. Add the sliced mushrooms and cook for 7-10 minutes, or until they are golden brown and tender. Remove the mushrooms from the skillet and set aside.
Preheat: Next, preheat oven to 375°F.
Sear Chicken: Add the olive oil to the same skillet and heat over medium-high heat. Remove the chicken from the marinade leaving behind any excess marinade drippings in the bag. Discard the bag of marinade. Cook for 4-5 minutes on both sides. There is no need to cook through the chicken, you just need to sear it.
Add Toppings: Divide the sautéd mushrooms evenly over each chicken breast. Top with one slice of bacon that has been cut in half to fit on each breast. Sprinkle on ¼ cup shredded cheese.
Bake: Cover the skillet with foil, and place in preheated oven. Bake until the chicken reaches 165°F. This will take about 10-15 minutes. You can remove the foil the last 3 minutes to melt the cheese.
Herb Garnish: Garnish with fresh parsley, and serve with mashed potatoes and steamed broccoli.
Serve With Sauce: Top your Alice Springs Chicken with reserved honey mustard sauce and serve!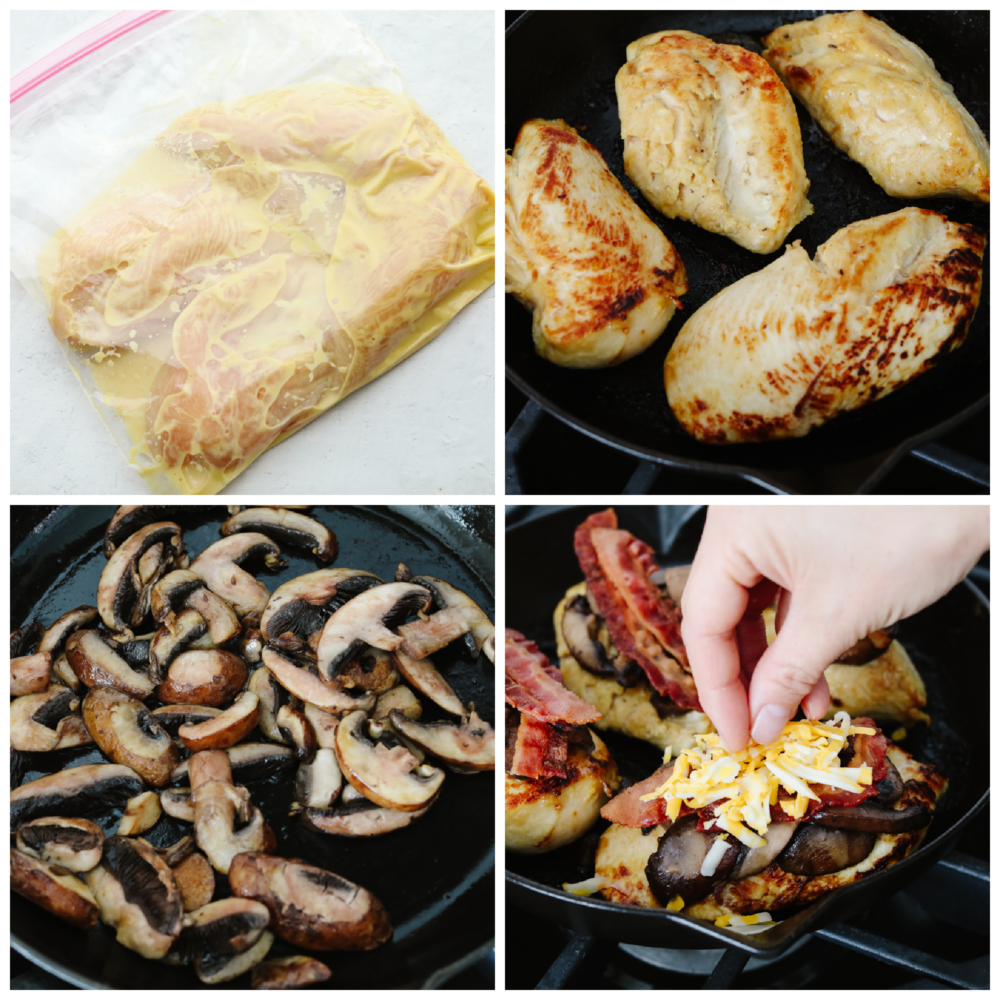 Tips for Making Your Alice Springs Chicken
Here are a few easy tips to keep in mind so that you achieve that steakhouse quality every time! This is one of my new favorite baked chicken recipes. Once you get a taste of that cheesy, zesty flavor, you'll be a believer too!
Check Internal Temperature: Your Alice Springs Chicken is done when it reaches 165 degrees Fahrenheit. Depending on the thickness and size of your chicken breasts, cooking times may vary. Always use a thermometer to check internal temps before consuming.
Avoid Cross Contamination: Keep reserved sauce and sauce used for marinating separate. Anything that comes in contact with raw chicken should not be used.
Sides to Serve With: Mashed potatoes are a steakhouse classic! Try your chicken out with either regular or garlic herb mashed potatoes. Green beans, asparagus, and other grilled or steamed vegetables are a great choice as well. Add fresh dinner rolls on the side and you've got a steakhouse-worthy dinner on your hands!
Storing Leftovers
Alice Springs Chicken is best served fresh for that cheesy, saucy effect, but can be stored in the fridge and enjoyed later if you have leftovers.
In the Refrigerator: Store your chicken in an airtight container for up to 3 days.
Reheating: Reheat your chicken in the oven at 400 degrees Fahrenheit until internal temperatures reach 165 degrees.