Whether you're doing healthy meal prep, cooking for friends or family or looking for more plant-based recipes in general, today's recipe for mushroom, cauliflower and walnut taco meat is a total winner! This paleo and vegan-friendly taco filling is hearty, filling and super tasty. It can be used in many ways from naked burrito bowls and salads to tacos and quesadillas. Whole30, gluten-free, low-carb friendly. I hope you like it, let me know in the comments if you make it and don't forget the recipe to help other readers discover it. 
---
You might have made regular taco meat before but have you ever thought of making it with plant-based ingredients? There are many vegan taco meat recipes out there but many of them use soy or other legumes, which some people find difficult to digest. I wanted to create a vegetarian and paleo-friendly taco 'meat' alternative without beans, tofu or lentils. 
This way, I can prepare this dish for us and for any vegetarian friends that might come around for dinner. 
HOW TO MAKE VEGAN TACO 'MEAT'
I remember seeing a recipe on Pinch of Yum for walnut taco 'meat' and I loved that idea. I wanted to add a few more ingredients to make it super moreish with lots of umami flavours, which you get from taco fillings made with meat. As well as using walnuts and cauliflower (which add a lovely texture to the filling), I am adding nutritious mushrooms (vitamin D anyone?) and sun-dried tomatoes, which add that yummy saturated sweet and salty flavour.
You will need a food processor or some dedicated knife work these key ingredients into a consistency similar to ground meat. The key is to have a rough texture, not too fine or smooth as we want a little bit of crunch in there. I recommend processing in batches using the pulse function, scraping things as you go along. You can also chop everything finely with a knife.
Some food processors are very powerful, so be careful. If you have one of these manual, hand-pulled food processors (I use to make cauli rice), I think that would work really well here.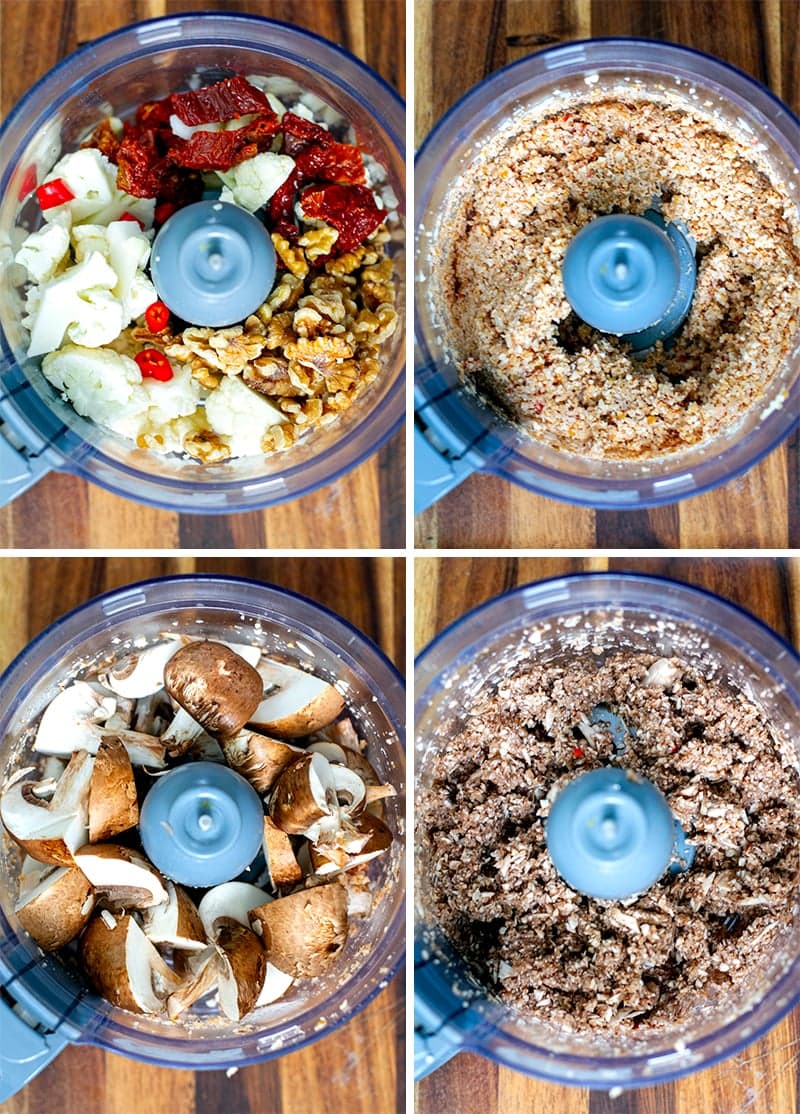 Once everything is processed, we want to season our vegetarian taco meat filling with lots of Mexican-inspired spices: cumin, coriander seed, paprika, oregano, garlic etc. I am also adding a little tomato paste. At this stage, you will have a pretty moist mixture so now we have to bake it in the oven on a flat baking sheet to A) dehydrate it and B) brown it to a similar look and feel to taco meat.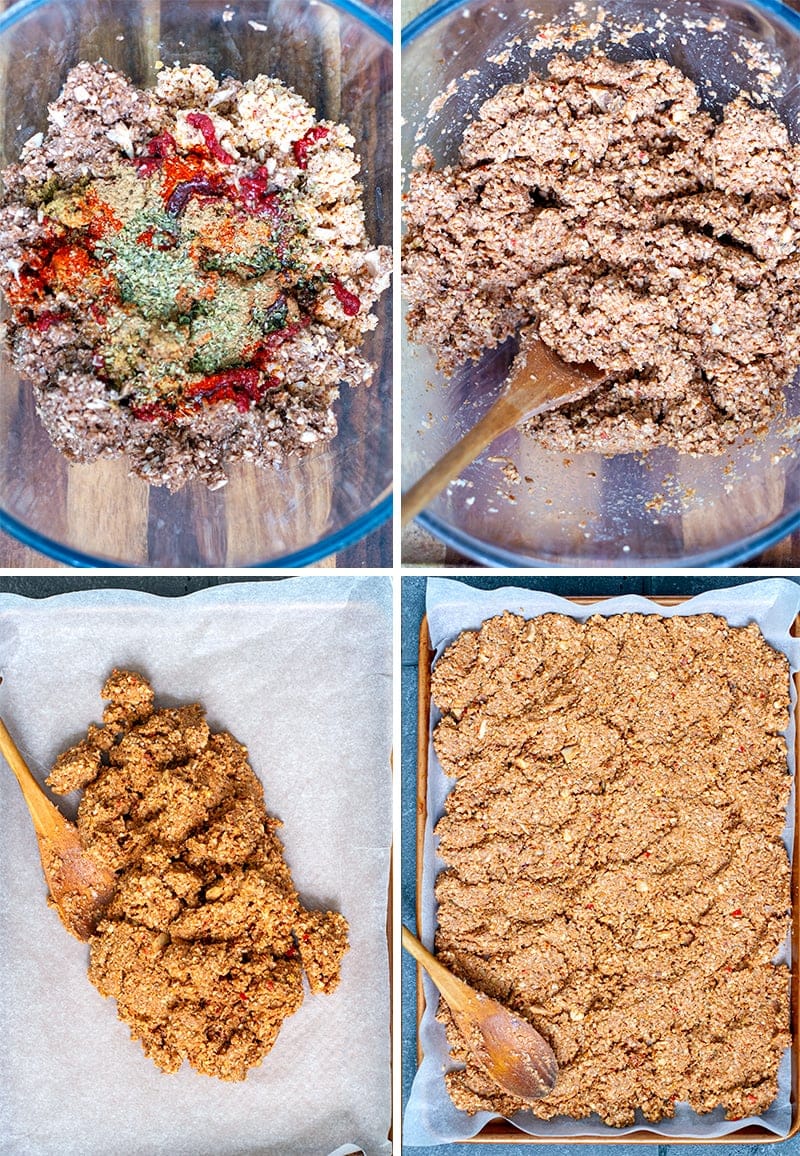 That's pretty much it, here is the full recipe with ingredients and nutritional breakdown. Make sure to check out some ideas for how to use up this taco filling below the recipe. 
Print
---
Description
Versatile and healthy, this vegan mushroom walnut taco meat can be used as a filling in quesadilla and burritos, as a topping in salads and taco bowls, enchiladas, casseroles and more. Below is the recipe for the oven-baked taco meat and the fresh tomato salsa you can serve with it.  This recipe is paleo, gluten-free, low-carb and plant-based.
---
---
Preheat the oven to 200 C/ 395 F.
Using a food processor, grind the mushrooms into ground meat like mince. Make sure to NOT over-grind them too fine as we want to keep a little texture and shape. I recommend doing this in smaller batches or using the Pulse function to process briefly, then scrape and stir, and pulse again. You can also chop the mushrooms finely with a knife. Transfer this mixture a large bowl.
Add cauliflower, walnuts, sun-dried tomatoes, garlic and chili to the food processor and grind into mince as well. Add this mixture to the bowl.
Add salt, spices, tomato paste, and a tablespoon of olive oil to the taco mixture and stir well.
Spread a sheet of baking parchment paper on a flat baking tray. Spread the taco mixture into a thin layer. Pop in the hot oven, middle shelf and cook for 25 minutes. Remove and stir the mixture and pop back for 10 more minutes. Then stir again and bake for 10 more minutes. The idea is to slowly rehydrate and brown the mixture. If it starts to brown quicker, stir it more frequently to allow the mixture to dry and cook through evenly.
While the taco meat is cooking, you can prepare other ingredients for your meal. I love making the fresh tomato salsa – simply mix all ingredients in a bowl.
You can also cook some quinoa or roast sweet potatoes in the oven at the same time. Mash a bowl of guacamole and you're ready to go.
Use this vegan taco meat as a filling in burritos or tacos or make a nutritious bowl with quinoa, guacamole and salsa. You can add cheese if you want.
---
Notes
This mushroom walnut taco meat can be stored in a container in the fridge for 2-3 days. Reheat in a frying pan before using. I haven't tried freezing it but I imagine that it will be quite moist when you defrost it and I would recommend to bake it the oven for 10-15 minutes again.
Below nutritional breakdown is for mushroom walnut taco meat only and is based on 0.5-0.75 cup of the cooked mixture per serving. Serving suggestions:
Paleo/Whole30 – sweet potatoes, tomato salsa and guacamole bowl or salad.
Gluten-free – quinoa or rice bowl with taco meat, salsa and guacamole (cheese can be added), or corn tacos.
Vegan – any of the above!
Nutrition
Serving Size:

1 cup

Calories:

168

Sugar:

3.9 g

Sodium:

19.6 mg

Fat:

13.9 g

Saturated Fat:

1.5 g

Carbohydrates:

9.5 g

Fiber:

3.4 g

Protein:

5.8 g

Cholesterol:

0 mg
HOW TO USE MUSHROOM WALNUT TACO FILLING
You can use this vegan taco meat alternative in the same way you would the regular stuff. Check out some ideas for using up leftover taco meat here and here are two ways that we enjoyed it at home. 
Naked taco quinoa bowl (Gluten-Free)
For this meal, I prepared some fresh tomato salsa with chopped onions, chili and coriander. It's super zesty and tangy from lime juice and compliments taco meat in almost all dishes. 
I also cooked up some quinoa and made simple avocado guacamole. For a paleo/Whole30 version, you can roast a tray of sweet potatoes in the oven at the same time as making the taco meat. 
Mushroom 'MEAT' Tacos 
Using regular wheat or corn tortillas, you can use this taco filling for all the wrapped things. Tacos, burritos, enchiladas, quesadillas…the list goes on. I love adding avocado and salsa, and maybe a little cheese if you tolerate it.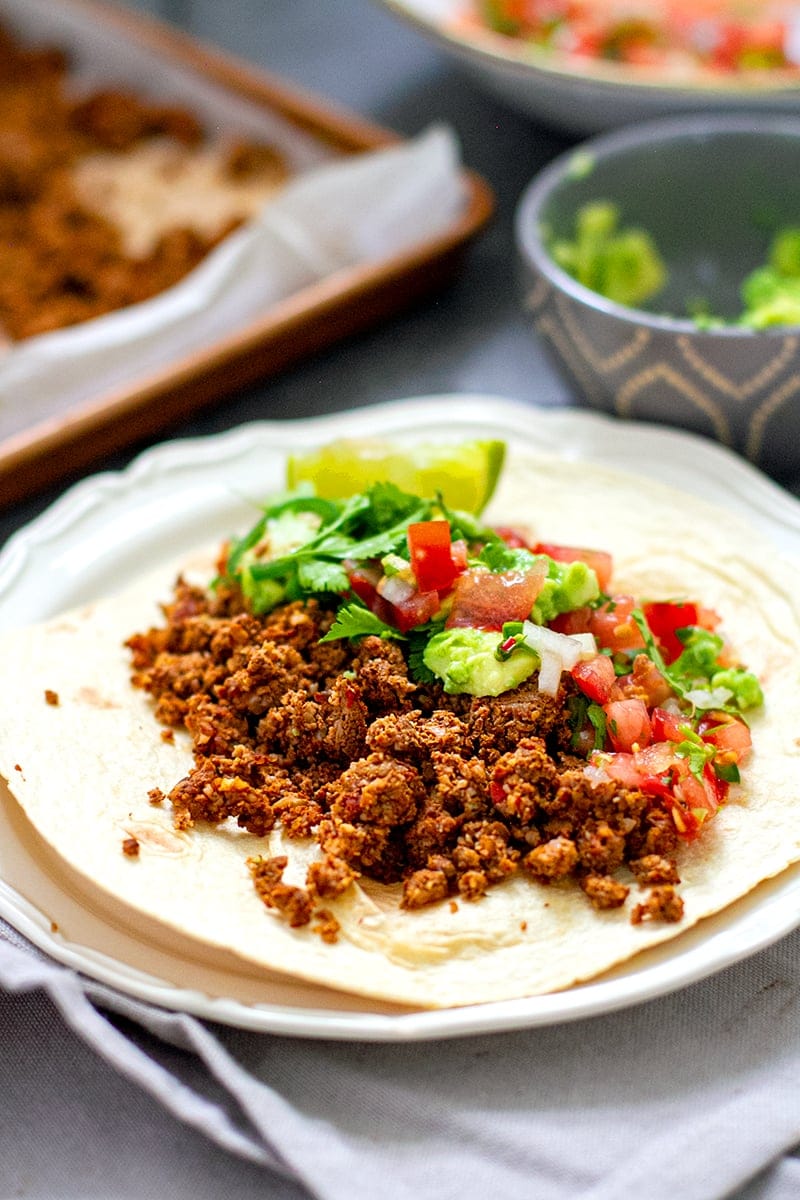 More Mexican-inspired recipes 
---
SAVE THIS VEGETARIAN TACO RECIPE TO PINTEREST