Following a low-carb diet but craving a juicy hamburger? You could dish up a grilled meat patty with melted cheese and bacon wrapped in a salad leaf…OR…you could make these keto burger buns! Made with mozzarella, almond meal, and egg, these are surprisingly fluffy and bread-like at around 8 grams of net carbs per bun.  This easy hamburger bun recipe is from The Frugal Keto Cookbook by Emily Pierce (read more about the book below).
You can use these keto buns for hamburgers, bacon and egg rolls, mayo chicken sandwich for lunch, dinner roll with your soup and so on. These guys have cheese, so not paleo! Enjoy the recipe and make sure to leave a comment and a rating below.
---
Let's preface this recipe by saying that the best advice to anyone starting a Ketogenic diet is to begin by simply skipping the bun. Ordering a burger without the bun is a great start. After a while though, you might begin to miss buns. This recipe will yield a delicious, toastable keto burger bun.
Maybe it's the feeling of biting into the bread, or simply the act of holding a burger again, but these buns will make you feel like you're missing nothing! Bonus: making your own keto bread substitutions is delicious and frugal, too! 
WAYS TO USE  KETO BURGER BUNS
Grill a few simple beef hamburger patties with crispy bacon and melted cheese on top (or go dairy-free).
Try my lamb, olive and feta burger patties for something a little different.
Enjoy as keto-friendly breakfast or brunch of cream cheese, smoked salmon and avocado bun roll.
Make a delicious low-carb chicken mayo sandwich for lunch.
Keto bacon & egg roll. Enough said!
Or try this low-carb chilli lime chicken burger (also in Emily's cookbook by the way).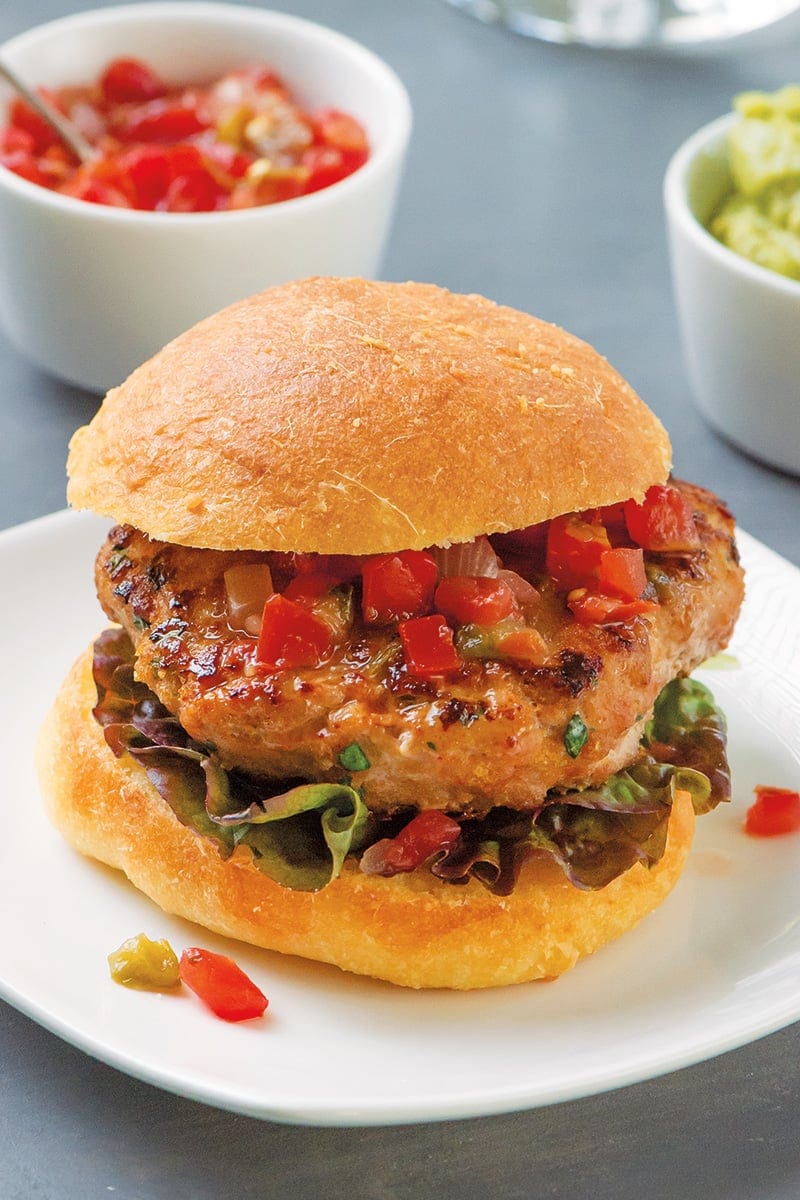 MORE KETO-FRIENDLY RECIPES YOU MIGHT LIKE
Print
---
Description
Learn how to make low-carb burger buns to enjoy as keto hamburgers, breakfast buns, lunch sandwiches or dinner rolls. These are gluten-free and grain-free too. From The Frugal Keto Cookbook by Emily Pierce.
---
---
Preheat the oven to 350°F (177°C, or gas mark 4) and place a rack in the middle. Line a baking sheet with parchment paper.
Add the mozzarella cheese to a microwave-safe bowl. Microwave for 30 seconds and then stir the cheese. Microwave for 30 seconds. Stir. Continue to repeat short bursts in the microwave until the cheese is completely melted. Crack the egg into the bowl and stir the egg and the cheese together with a wooden spoon.
In a separate bowl, combine the almond flour and baking powder. Mix well. Add the dry mixture to the cheese mixture. Stir to combine. Once you have mixed as well as you can with a wooden spoon, knead with your hands until the dough is completely uniform.
Divide the dough into 4 equal sections and roll each section into a ball. Place the buns on the baking sheet and bake for 15 to 20 minutes until golden brown. Allow the buns to cool fully before removing them from the baking sheet.
---
Nutrition
Serving Size:

1 bun

Calories:

494

Sugar:

2.3 g

Sodium:

545.1 mg

Fat:

26.9 g

Saturated Fat:

11.4 g

Carbohydrates:

10.1 g

Fiber:

1.4 g

Protein:

25.7 g

Cholesterol:

112.7 mg
Reprinted with permission from The Frugal Keto Cookbook by Emily Pierce, Page Street Publishing Co. 2020. Photo credit: Lisa Monahan
ABOUT THE FRUGAL KETO COOKBOOK
This low-carb collection features 75 ketogenic recipes that don't skimp on flavour while naturally saving you money. It will disprove the notion that eating low-carb in addition to eating REAL, nourishing foods is exorbitantly expensive.
Moreover, these recipes highlight a huge variety of flavours and cravings so you won't get bored. There is a massive range of your favourite bread-based recipes and baked goods done without the flour or sugar, so you can make fun pastries, bread loaves, and desserts, helping you to master baking without traditional flour.
With eight awesome sections to pull recipes from, the cleverly organised index includes categories such as Use-It-Or-Lose-It Leftover Land, Beat-the-Bake-Shop Breads & Rolls, Budget-Friendly Breakfast & Brunch, and Dough-Stretching Desserts.
WHAT'S SETS THIS COOKBOOK APART
The Frugal Keto Cookbook helps you to master a few genuine skills – being able to work magic from your pantry, transforming budget items with new cooking methods, and reducing food waste to ensure you don't waste money. Being resourceful is easily one of the most essential keys to success in sticking with keto for the long haul whether you're losing weight, addressing major health concerns, or simply feel good eating low-carb.
Here are some standout recipes you might want to try:
Butter and white chicken chilli 

Pancetta-wrapped chicken breasts

Superbowl stuffed mushroom caps

Cookout faux-tato salad

Hearty bacon mac & cheese

Steakhouse wedge salad

Pizza shop garlic knots

Easter brunch blintzes

Salted caramel cookies

Philly cheesesteak skillet
You can find The Frugal Keto Cookbook on Amazon here and in other stores. More info here.
ABOUT THE AUTHOR
Emily Pierce is the founder of Keto Copy, a popular cooking blog, and co-host of the podcast The Keto Happy Hour. She lives in Michigan and has lost more than 120 pounds since she began following the diet. Emily is an expert recipe curator on a tight budget and knows how to stock a pantry, reduce waste, and plan ahead in order to stretch your dollar further while following the low-carb way.
---
WATCH MY TOP 10 HEALTHY RECIPES VIDEOS NOW