I think Penzeys Turkey Soup Base is a MUST-HAVE for Thanksgiving turkey and gravy, so this post is to remind you it's time to order some! And you'll also find ideas here to use Penzey's turkey soup base to get rich turkey flavor.
Pin Kalyn Picks Penzey's Soup Base to find it later!
Thanksgiving has been on my mind lately, even though it's still a month away. I'm feeling sad about the way the global pandemic is probably going to prevent many people from having a big holiday celebration like normal. I know my own plans are certainly going to change this year. But I hope people are still going to celebrate Thanksgiving, even if it's only with your immediate family members, and for that reason I'm still going to share Thanksgiving recipes during the coming weeks.
And today I want to share this important Turkey Gravy Public Service Announcement for anyone in the U.S. who's cooking Thanksgiving dinner, or planning to make turkey stock or turkey soup after the holiday! I've been raving about Penzeys Turkey Soup Base for years, and this is your reminder to order Turkey Soup Base from Penzeys so you get it in time for Thanksgiving. And now Salt Lake and many other cities have a Penzey's store, so you can get it there as well!
(And for anyone who might be wondering, Penzeys has never paid me to promote their Turkey Soup Base, and I seriously doubt they even know my little blog exists!)
Why is Penzey's Turkey Soup Base So Good?
Don't confuse this  with those horrid packets of turkey gravy mix that come in the turkey! The first ingredient in this product is cooked turkey meat. For anyone who's even the slightest bit gravy-challenged, this will help you make the best turkey gravy you've ever made. And Penzeys Turkey Soup Base is low enough in carbs that you can add a tablespoon or two to a batch of turkey gravy without adding too many carbs. 
How to Make Low-Carb Turkey Gravy with Penzey's Turkey Soup Base:
–If you don't mind a thin gravy, you can make amazing-tasting gravy just by adding little bit of Penzeys Turkey Soup Base the pan juices from the roasted turkey and then simmering on low until it's reduced and slightly thickened. This is probably my preferred method.
–I've had good luck with lower-carb gravy made with Arrowroot Starch (also called Arrowroot Flour and Arrowroot Powder) which thickens like cornstarch but with a much smaller amount.  The arrowroot starch gives the food a shiny look, which some people might not like for gravy, and there are also some tricks to using it successfully, so follow instructions.
–Ketologic makes low-carb turkey gravy with heavy cream and Xanthan gum, but I haven't tried that method. I'd definitely add just a little Penzey's Turkey Soup Base for a stronger turkey flavor.
–My PCOS Kitchen makes Paleo Turkey Giblet Gravy with Tapioca Starch and this gravy is low in carbs. Again, I'd add a little Penzey's Turkey Soup Base.
–I saw a few gravy recipes using Thick-It-Up Low-Carb Thickener, which I haven't tried but am intrigued by. If anyone has used this, let us know your thoughts in the comments!
Recipes Using Penzey's Turkey Soup Base:
I've shared a lot of ideas for Leftover Turkey (or chicken), but these are my favorite ways to use Penzey's Turkey Soup Base.
I love to make CrockPot or Instant Pot Turkey Breast, and I'd never make this without a little Penzeys Turkey Soup Base.
All good turkey soup starts with turkey stock; here's How to Make Turkey Stock. Making stock from the turkey carcass is definitely one of my favorite Thanksgiving traditions!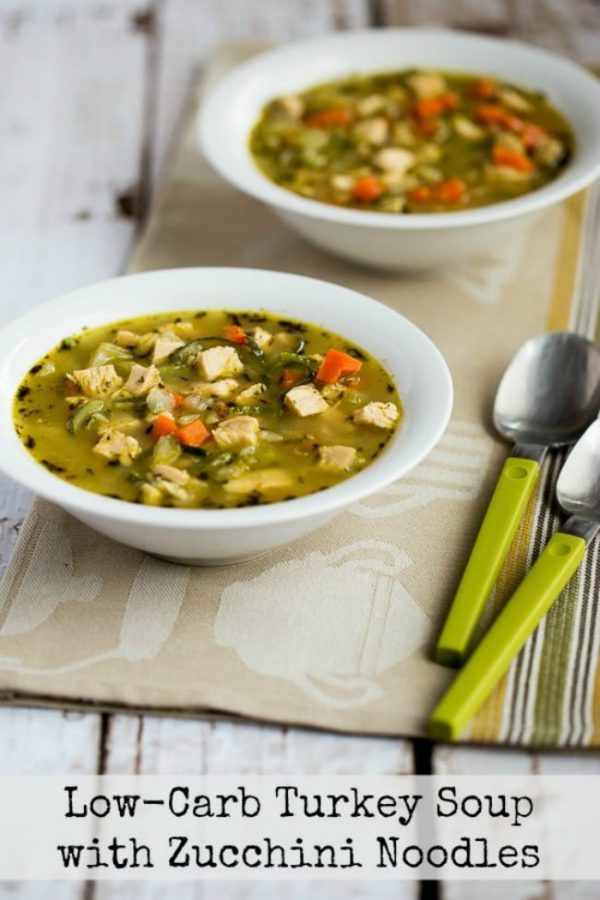 This Low-Carb Turkey Soup with Zucchini Noodles is definitely my favorite things to make with leftover turkey the last few years. If you really want a low-carb soup, leave out the carrots, but either way this soup is loaded with flavor.
Slow Cooker Turkey Soup with Spinach and Lemon is another delicious soup that gets added flavor from Penzey's Turkey Soup Base. If you want to make this a low-carb soup, switch out the orzo for Cauliflower Rice and add it towards the end of the cooking time.
Turkey, Sweet Potato and Black Bean Soup is a tasty option for those who don't mind a soup with more carbs, and if you have leftover sweet potatoes this is a good way to use them. Please don't leave out the lime juice added at the end!
More Turkey Recipes Where You Might Use This Product:
Recipes for Slow Cooker Turkey Breast ~ Slow Cooker or Pressure Cooker
My Best Low-Carb Recipes for Leftover Turkey or Chicken ~ Kalyn's Kitchen
Slow Cooker and Instant Pot Turkey Soups ~ Slow Cooker or Pressure Cooker
25+ Healthy Recipes Using Leftover Turkey or Chicken ~ Kalyn's Kitchen
Recipes for Instant Pot Turkey Breast ~ Slow Cooker or Pressure Cooker
More About Kalyn's Kitchen Picks:
I purchased the Penzeys Turkey Soup Base myself and this company has no idea that I'm writing about their product. All items featured as Kalyn's Kitchen Picks are things I happily buy over and over, and because I want readers to know that my opinions are completely unbiased, I don't accept review products from the many companies who offer to send them to me. You can see the complete list of products I've chosen at Kalyn's Kitchen Picks.
We are a participant in the Amazon Services LLC Associates Program, an affiliate advertising program designed to provide a means for us to earn fees by linking to Amazon.com and affiliated sites. As an Amazon Associate, I earn from qualifying purchases.