This website may contain affiliate links and advertising so that we can provide recipes to you. Read my privacy policy.
Sticky Asian glazed chicken is tender and juicy chicken coated in a sticky-sweet Asian sauce. This meal is ready in just thirty minutes, and the flavor is incredible!
A sticky glaze sauce on chicken is SO good. While I love the Asian flavor, we also like to mix up the glaze flavors. Try some of my other glazed chicken recipes like this honey orange, or this yummy lemon honey garlic chicken!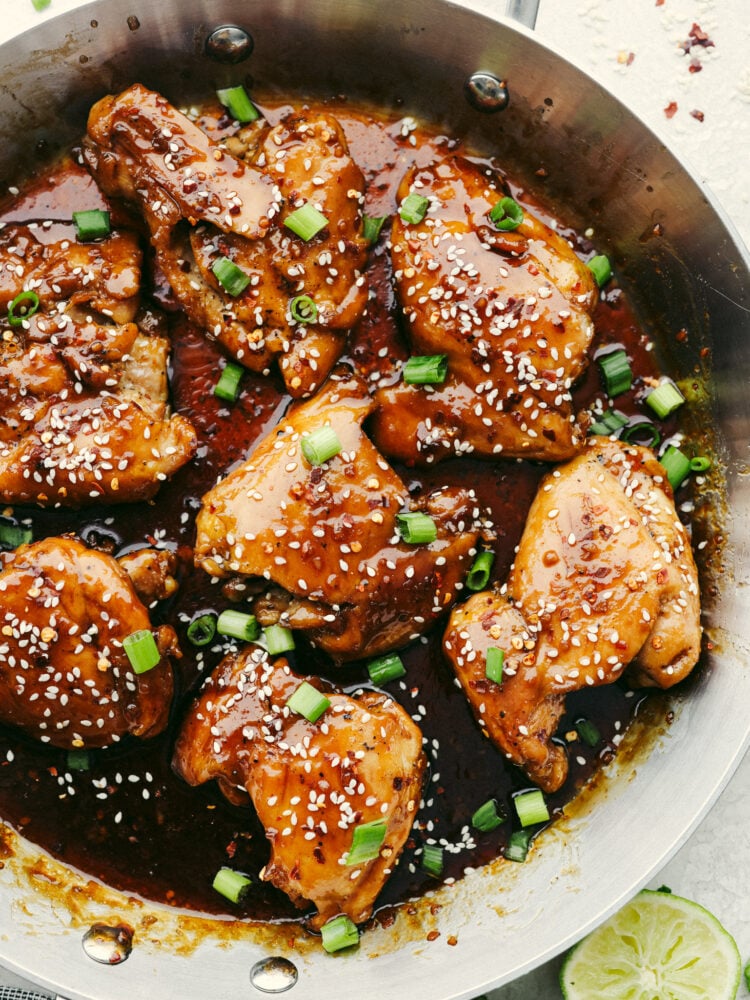 Sticky Asian Glazed Chicken
Isn't life just so dang busy? And now that it is starting to warm up outside, we soak up the sun any chance we can get. But, if there is one thing that I always try to do, it's to have a meal ready for my family each night. We really do enjoy coming together at the dinner table and talking and joking around. So, I love when I can create an easy and delicious meal!
You have probably noticed by now that I love Asian flavored meals on the blog. Some of my most popular recipes are Asian-inspired dishes, and they are to die for. I love creating restaurant-quality dishes in my own kitchen, and this recipe is no exception! This meal instantly became one of my top five Asian recipes with the first bite!
Asian Chicken Ingredients
The sticky and sweet sauce on this Asian glazed chicken is absolutely incredible. It is made with a delicious soy sauce, hoisin sauce, sweet chili sauce, brown sugar, and a squeeze of fresh lime! See the recipe card at the bottom of the post for exact measurements.
Chicken Breasts or boneless chicken thighs: Choose thighs for a juicer softer chicken and a chicken breast for a lower fat option.
Olive Oil: This oil is used to cook the chicken and keep it from sticking to the pan.
Brown Sugar: The molasses in this sugar adds to the rich sweetness of the glaze.
Soy Sauce: This salty sauce adds to the deep savory flavor of this chicken dish.
Hoisin sauce: Look for hoisin sauce in the international food isle.  It is a much thicker, saltier version of Teriyaki sauce.
Sweet Chili Sauce: Stores in the pantry for 1 month.  Refrigerate to keep this ingredient fresh for 6-9 months.
Ginger: Ginger is easy to peel and grate using the back of a spoon and fork.
Dried red pepper flakes: Add to taste
Minced garlic: Chop the garlic yourself or use a garlic press to release intense, immediate flavor.
Juice of one lime: This equates to about 2 tablespoons of lime juice.
How to Make Asian Glazed Chicken:
Not only is this delicious but the very best part is that it's is ready in just 30 minutes. All you need to do is garnish with some sesame seeds and chopped green onions, and then you have an easy restaurant-quality meal right at home!
Heat a large skillet: Place skillet over medium high heat and add 1 Tbs of olive oil. Add the chicken and salt and pepper.
Cook chicken: Let chicken cook about 3 minutes on each side or until thermometer reads 165 degrees and brown on each side.
Remove Chicken: Set chicken aside on plate.
Wisk together sauce: In the same skillet whisk together brown sugar, soy sauce, hoisin sauce, sweet chili sauce, ginger, red pepper flakes, garlic and lime juice.
Bring to a boil: Let sauce cook over medium heat for 1-2 minutes until sauce thickens.
Add chicken: Place chicken back into the sauce and coat each side with the sauce. Garnish with sesame seeds and chopped green onions.
Quick Tips
This sticky Asian glazed chicken is the best of the best! Here are a few tips that I came up with to help yours turn out perfectly!
Soy Allergy: Use tamari or coconut aminos to replace the soy sauce if you have a soy allergy.
Chicken: My favorite way to cook this insanely delicious meal is to use chicken thighs instead of chicken breasts. Chicken thighs give you the crispy skin on the outside and juicy flavorful chicken on the inside.
Drumsticks: A great variation I loved with this recipe is drumsticks. The bone in chicken takes about twice as long to cook depending on the thickness but was an instant favorite!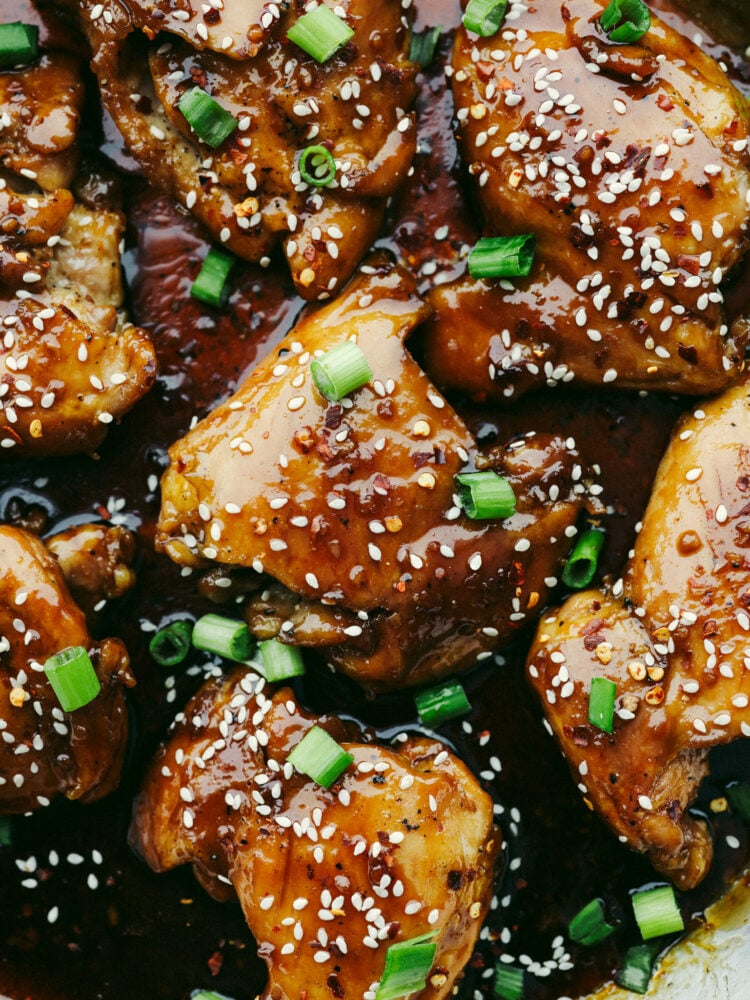 How to Store Leftovers
When you are finished with this sticky Asian glazed chicken, then you will be lucky if you have any leftovers. If so, here are some things to remember when you are storing your chicken!
In the Refrigerator: Let chicken cool completely before storing. Then, wrap chicken tightly with aluminum foil or put in a shallow airtight container and refrigerate on the top shelf. It should las for about 3 days.
To Freeze: To extend the length of time you can store your chicken in the freezer instead for up to 6 months. Let it thaw in the fridge before reheating it on the stove.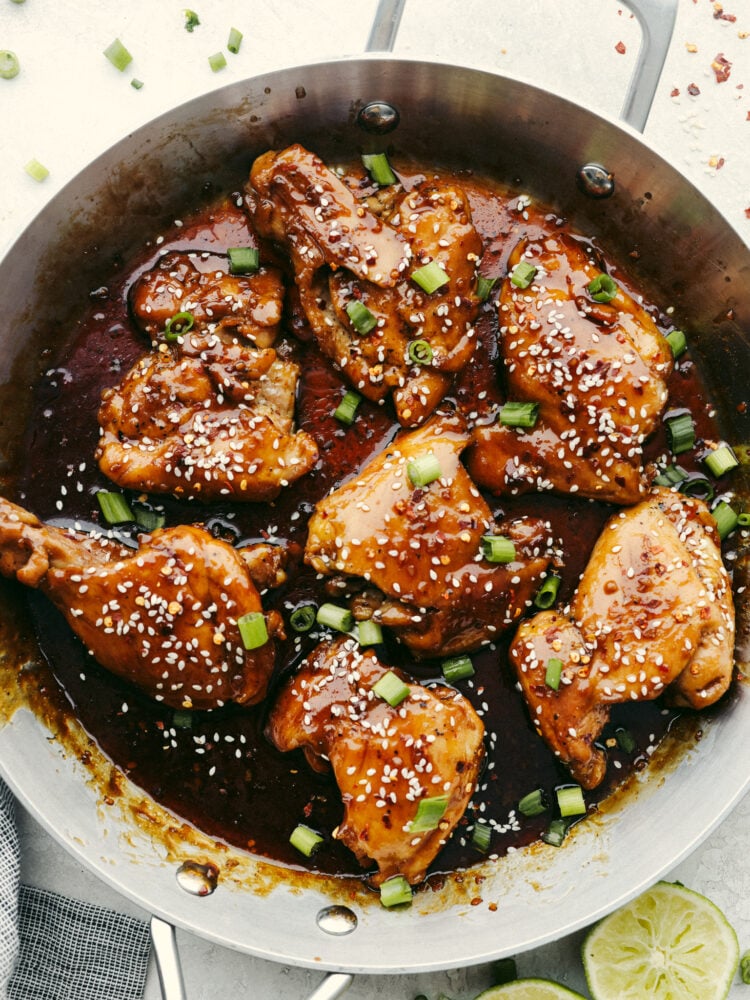 A Reader's Review
Super good, just made it with noodles and there is nothing left!!! Awesome recipe!!!
-Lisa