This website may contain affiliate links and advertising so that we can provide recipes to you. Read my privacy policy.
Grilled Steak Fajita Skewers with Avocado Chimichurri are perfectly seasoned tender and juicy steak skewers with bell peppers. The Avocado Chimichurri is the perfect dipping sauce to these skewers making the best summer meal!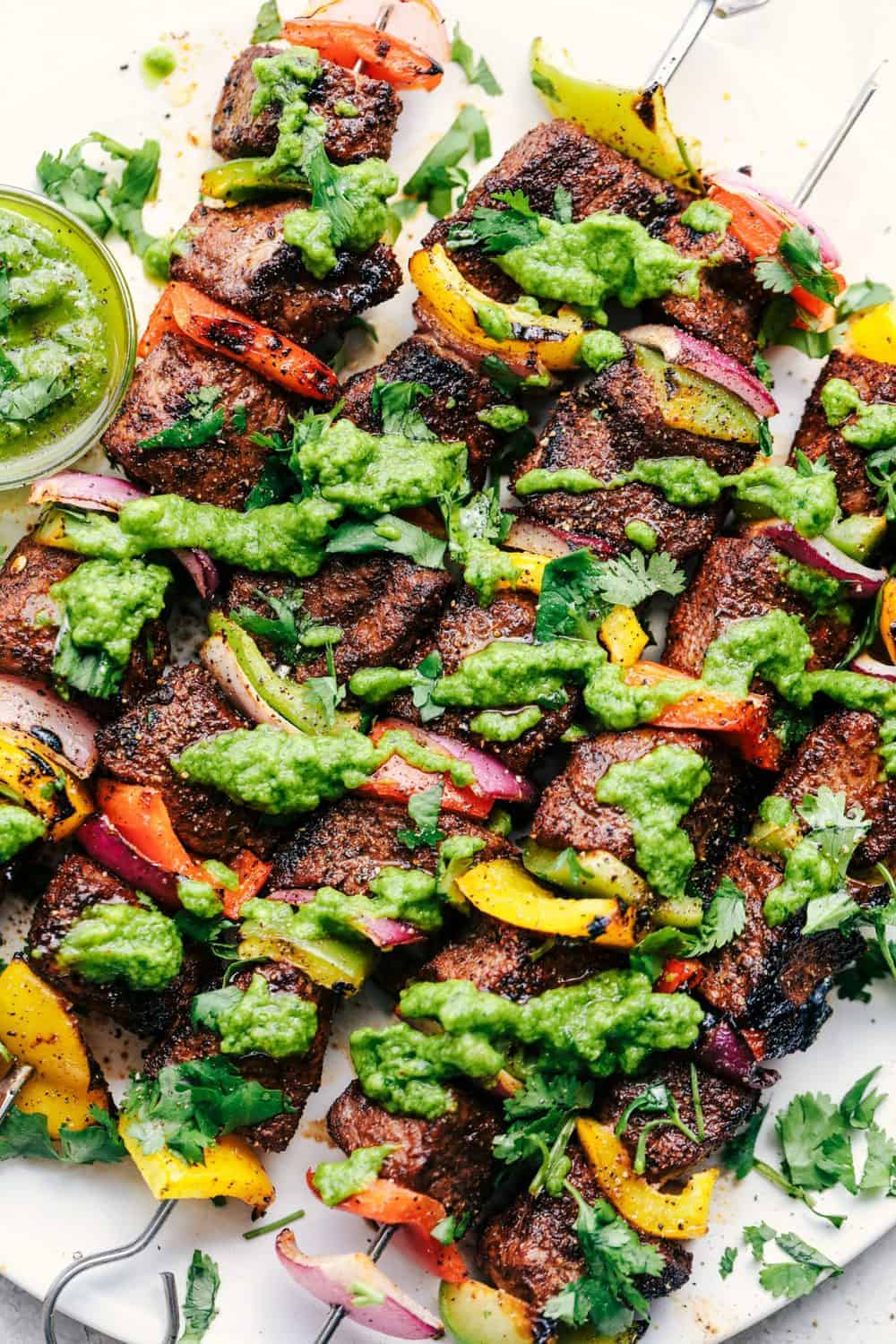 Only a few more days left of July. Can you believe it. The summer is flying by way to fast! My kids were starting to drive me a bit crazy here at home, so we packed up and went on a staycation to The Homestead in Utah last week. My baby girl has reached the seven week mark and I feel like its a good age and I am starting to adjust to having a baby again. She is such an amazing baby which made our little getaway even more enjoyable. We went and rode the Weber Creeper train which was such a fun time. The scenery and mountains are absolutely beautiful right now in Utah. Then there is a crater where we went and swam inside. It is like a warm bath and the the baby slept almost the whole entire time! We stayed in a blue cottage for a few days at The Homestead and is one of the funnest staycations that you can do in Utah.
Even though summer is feeling like it is coming to an end, we still are having backyard BBQ's on a regular basis. I have mentioned before that my son is a steak loving kid. So our BBQ's usually involve steak in one way or another and he absolutely loves steak on a skewer.
The steak is seasoned with fajita seasonings. Chili spices come together to create big flavor for the steak. They grill to perfect tender and juicy perfection. The think I love about steak is that is grills quickly. These skewers were ready in just minutes.
Do you want to know MY favorite part of these skewers? The avocado chimichurri dip! Avocado, olive oil, garlic, parsley, cilantro, come together to create a smooth and creamy dip for these skewers.
These are absolutely fantastic. From the tender and juicy spiced steak to the peppers, to my favorite avocado chimichurri dip. They were such a huge hit at our BBQ.
You can serve the skewers as is and dip them in the chimichurri, but I loved mine in a flour tortilla with the chimichurri drizzled inside. Wow these are packed with amazing flavor!!
No matter how you eat them, I know you are going to love them just as much as we did!