This website may contain affiliate links and advertising so that we can provide recipes to you. Read my privacy policy.
Grilled Huli Huli Chicken is a five star recipe! The marinade is quick and easy and full of such amazing flavor! You will make this again and again!
Grilling season is coming and I could not be more excited! Grilling can bring out the best in foods, try these favorites, Chicken, Asparagus, and Shrimp!
Huli Huli Chicken Recipe
This Huli Huli Chicken has been on my list of things to make for years now. I am kicking myself for not making it until now. We loved it so much we grilled it three nights in a row. Huli Huli originated in Hawaii and has quickly become a restaurant staple. Now you can make this at home. When my hubby took his first bite of this chicken he said it tastes exactly like our favorite restaurant. It is honestly one of the best things that we have grilled to date.
The marinade is quick and easy with a few ingredients and the flavor will blow your mind. I marinaded the chicken overnight so that it could soak up all that delicious flavor. You reserve some of the sauce to baste the chicken with while it grills. The sauce is thick and delicious and coats the chicken perfectly as it grills. We love to grill at our house and this recipe needs to be at the top of your list! It was incredibly grilled with our favorite grilled pineapple recipe. This recipe is easily a five-star recipe that you will make again and again. We already can't wait to make it again!
What You Need for Grilled Huli Huli Chicken
Everything can be found at your local grocery store, look for fresh ginger in the produce section.
Boneless Skinless Chicken Thighs: You can use chicken breasts but they can dry out and not be as flavorful.
Unsweetened Pineapple Juice: You can find this in the canned fruit section sometimes as well as the juice section of your grocery store.
Soy sauce: Low Sodium soy sauce will work here too.
Brown Sugar: The sugar will caramelize the chicken and gives it a beautiful flavor.
Ketchup: This will add flavor and richness.
Chicken Broth: Adds flavor to the marinate, look for low sodium if you desire.
Fresh Ginger Root Grated: I can often find the ginger in the produce section of my grocery store.
Minced Garlic: Fresh minced garlic is best but you can used jarred to save a bit of time.
Green Onions: Sliced for garnish.
Let's Make Some Grilled Chicken!
Super simple and easy, but big on flavor, this is going to become a staple in your grilling rotations.
Marinate: In a medium-sized bowl, whisk together pineapple juice, soy sauce, brown sugar, ketchup, chicken broth, ginger, and garlic. Reserve 1 cup sauce for basting. Add the chicken thighs and sauce to a ziplock bag and marinate for at least 3 hours or overnight.
Grill It: Grill chicken, covered, over medium heat for 6-8 minutes on each side or until no longer pink. Baste occasionally with reserved marinade during the last 5 minutes. Garnish with green onions if desired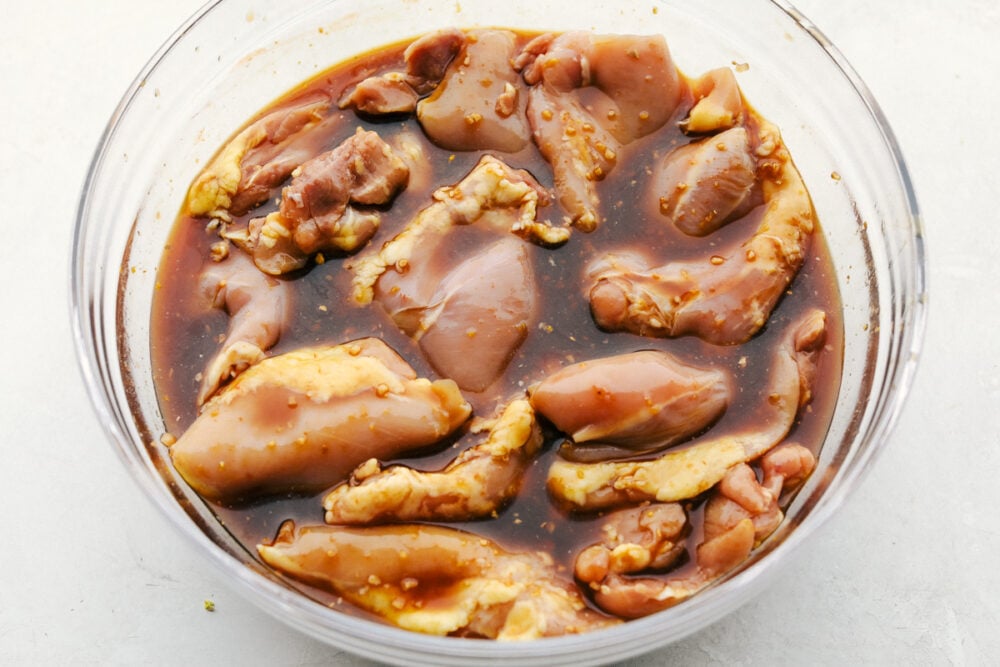 The Best Huli Huli Chicken Tips
With all grilled foods there are some do's and don'ts to make sure it is the best tasting chicken you have ever had.
Chicken: What kind of chicken you use matters. When you are grilling the possibility of losing moisture is more likely. You want to cook your chicken to 165 degrees without drying it out. It is best to use chicken thighs because they have dark meat which is naturally moister and has a bit more fat. You can use breasts but you want to pound them out the same thickness so they cook evenly and pull them off the grill when they are about 162, they will continue to cook while resting.
Rest Your Chicken: To help the chicken retain its moisture and flavor you want to let your chicken rest after it is done cooking. This gives the chicken time to redistribute the juices, leaving more inside than on your plate. This is true for any meat you grill. Let it rest covered with foil for about 10 minutes.
Marinade: Make sure you reserve marinade to baste the chicken once on the grill. Do not use the marinade the raw chicken sat in. It will spread bacteria and possible food poisoning.
Do Not Have A Grill? No worries, you can still enjoy this incredible dish by cooking the chicken in the oven at 400 for 20 min or in a pan on the stovetop.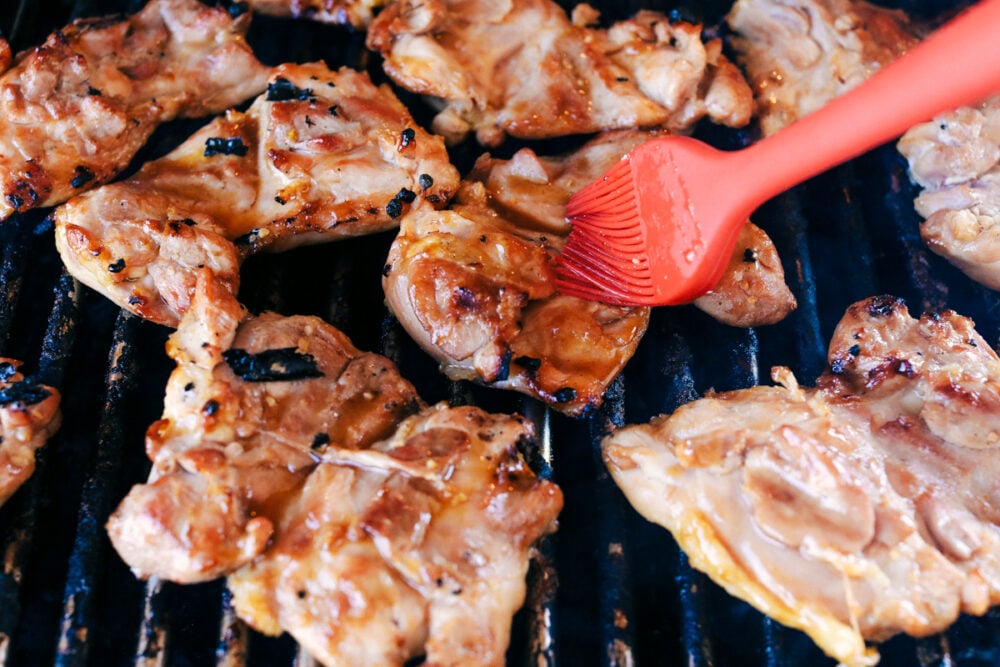 Popular Sides For Huli Huli Chicken
Grilled main dishes are a great spring and summer staple. Add sides that compliment your dish and highlight the season. Here are some tried and true recipes to try when serving your Huli Huli Chicken.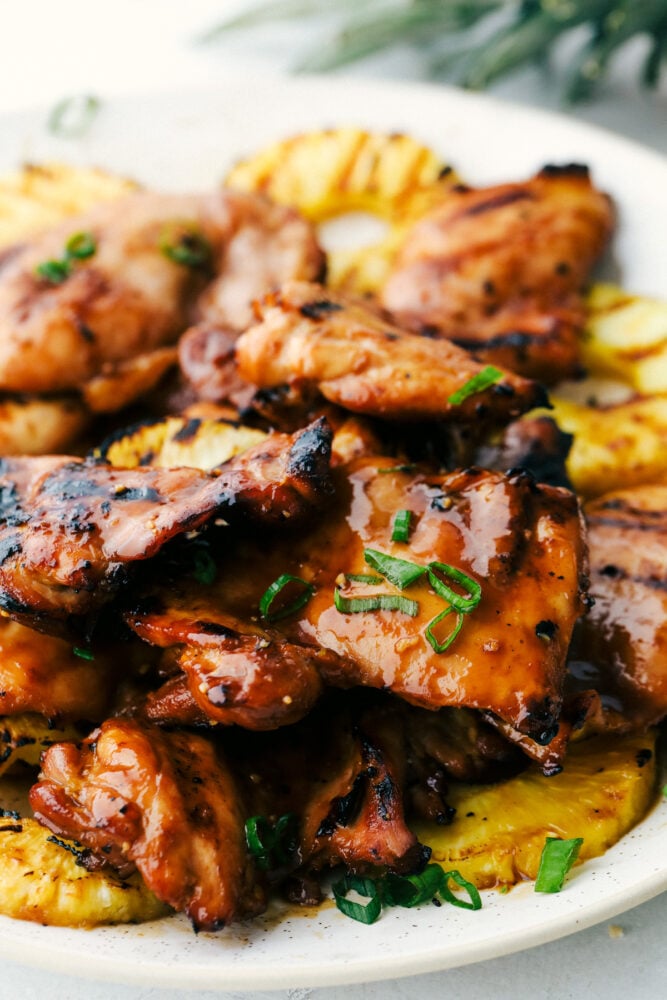 Storing and Using Your Huli Huli Leftovers
I love this recipe, because you make a lot and they make the best leftovers! It is like it tastes better the next day.
Store leftovers tightly covered in the fridge for up to 4 days. You can freeze the chicken in a freezer-safe bag for up to 3 months. Thaw overnight in the fridge.
Use leftovers to top some of your favorite salads, like Broccoli Ramen Salad, or add to a Buddha Bowl.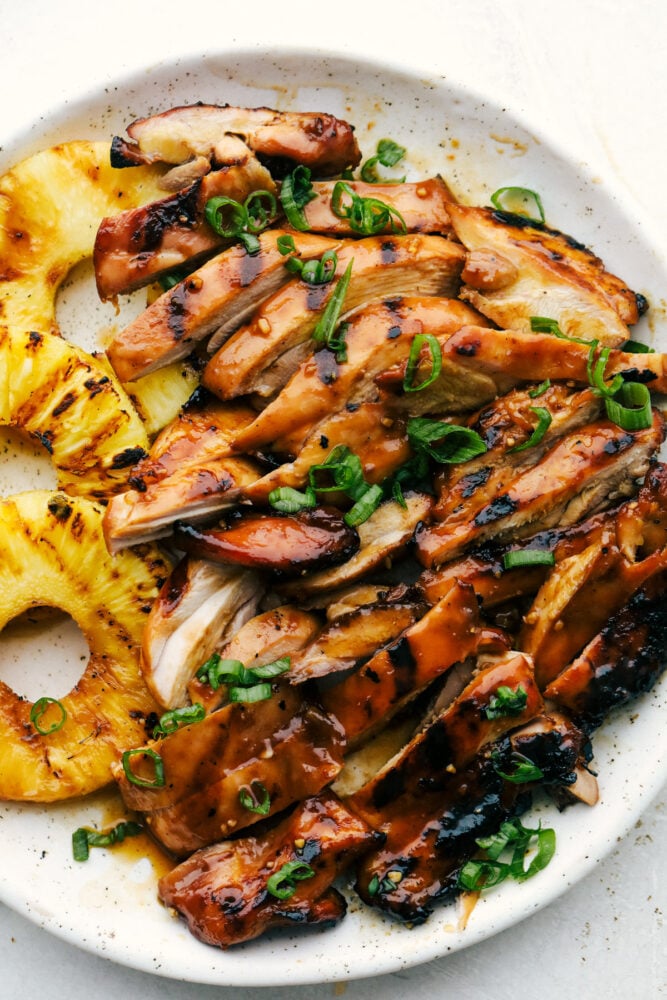 A Reader's Review
"Absolutely delicious! Easy and many ways to eat it. Last evening we skewered the chicken!" -Tricia