These garlic and chilli mushroom fry-up is just magnificent! Full of flavour and nutrients to nourish your body and foodie soul, this dish is great for breakfast, brunch or dinner. Paleo, Whole30, keto and vegan-friendly recipe.
---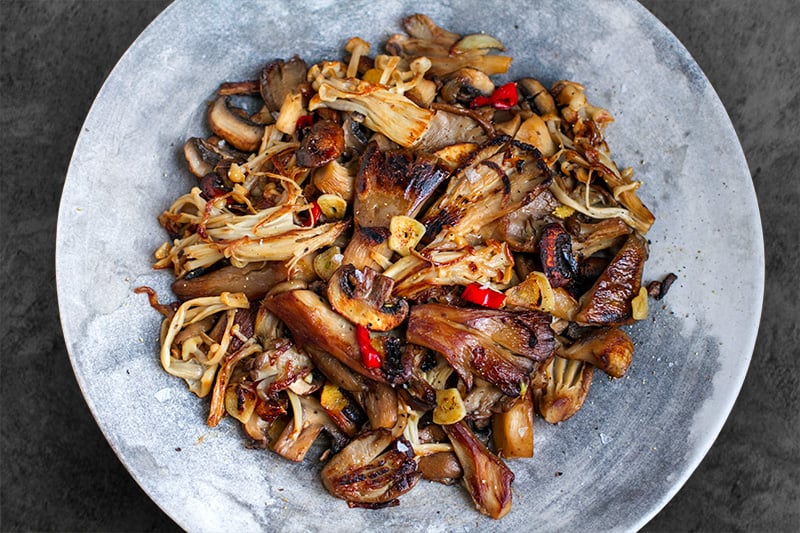 I love all foods but there are some ingredients that I could cook every single day. Mushrooms – all edible kinds – are my definitely a favourite in kitchen and today I want to share a recipe that will really tickle your taste buds.
This chili mushroom dish takes about 20 minutes, so it's probably best saved for those lazy weekend mornings, although it's also excellent for a meatless dinner (served over baked sweet potatoes, cauliflower rice or regular rice). I served them with fried eggs for breakfast.
Why I Love Cooking With Mushrooms
Mushrooms are one of the few non-animal sources of vitamin D and contain protein, fibre and B vitamins, as well as powerful antioxidant selenium, which helps to support the immune system and prevent damage to cells and tissues. With different varieties of mushrooms having different medicinal and nutritional properties, it's always a great idea to use up all kinds of edible mushrooms.
How to Make Chili Mushroom Fry-Up
In this recipe, I am using Swiss Brown (or cremini) mushrooms, oyster mushrooms and enoki mushrooms. They're all full of flavour and work really well with garlic and chilli. You can use whatever mushrooms you have access to in your area, but do mix them up if you can.
It's important to use a large frying pan to fit all the mushrooms and to cook them on high to medium-high heat to make they get lovely golden and brown. Cramping them in a too-small pan and low heat will stew and braise the mushrooms, rather than grill them. Do note, that the mushrooms will shrink in size (almost by half) once they start cooking.
For the chili, I am using long red serrano chili, which is quite mild so you can use the whole one. If it's a really spicy one, remove the seeds to take off some heat. 
Final note, I personally tolerate some dairy and love to use butter with mushrooms, but you can replace it with ghee or extra olive oil or coconut oil instead. All good! The full recipe is below.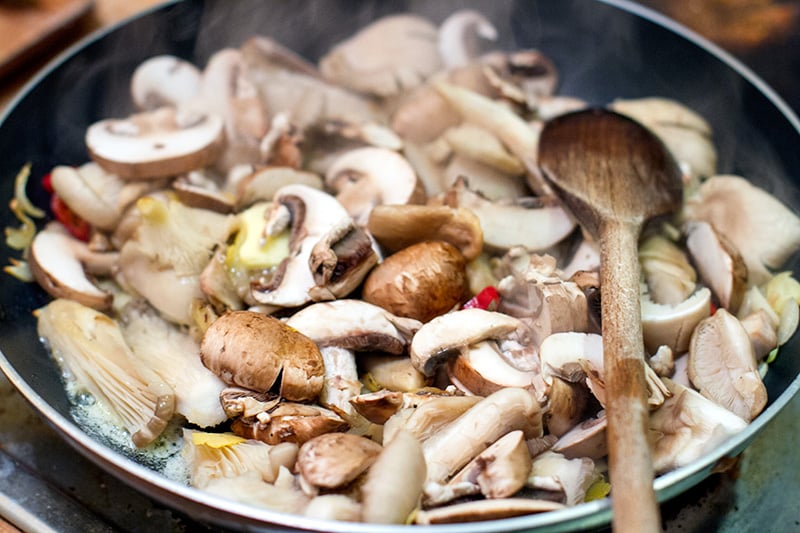 Oh, and this beautiful plate in the picture is from an amazing ceramic artist, Anna-Marie Wallace from Made Of Australia. I was lucky enough to visit her studio recently and buy a few pieces for food styling, and now I can't stop using them.
---
More Mushroom Recipes
---
Print
---
Description
Nutritious and super tasty, this garlic chili mushroom fry-up is great for  breakfast or brunch (serve over sourdough toast or with some eggs) or light, meatless dinner (serve with cauliflower or regular rice or over baked potatoes). This dish is gluten-free, paleo, Whole30 and low-carb.
---
---
Preheat a large frying pan over high heat first. It's important that the pan is hot before you add the mushrooms so that they start grilling rather than stewing!
Add the olive oil together with shallots, chilli, Swiss brown and oyster mushrooms. Leave the enoki mushrooms till later as they don't need much cooking.
Cook the mushrooms over medium-high heat for 10 minutes, stirring a few times along the way. Add half of he butter half way through.
After 10 minutes, add the lemon zest, the rest of the butter, enoki mushrooms and garlic. I recommend to move the mushrooms already in the pan to the sides and free up the middle for the enoki mushrooms so they can brown slightly. Season with salt and lemon juice and cook everything for a further 3-4 minutes, stirring a couple of times. Keep the heat medium-high and if it looks like the mushrooms haven't browned well, then increase the heat to high for a minute or two at the end.
---
Nutrition
Serving Size:

1 cup

Calories:

218

Sugar:

5.9 g

Sodium:

796.3 mg

Fat:

15.3 g

Saturated Fat:

4.8 g

Carbohydrates:

19.3 g

Fiber:

4.5 g

Protein:

5.7 g

Cholesterol:

14.3 mg
---
Save This Mushroom Recipe To Pinterest