This website may contain affiliate links and advertising so that we can provide recipes to you. Read my privacy policy.
This garlic chicken stir fry is a quick and easy dinner that's perfect for those busy weeknights. Cubes of chicken are cooked with colorful veggies and tossed in a flavorful garlic sauce for a meal that's way better than take out!
Stir fry is almost a complete meal by itself. Just add some Egg Rolls, a Fruit Salad and some Cream Cheese Wontons for a complete meal!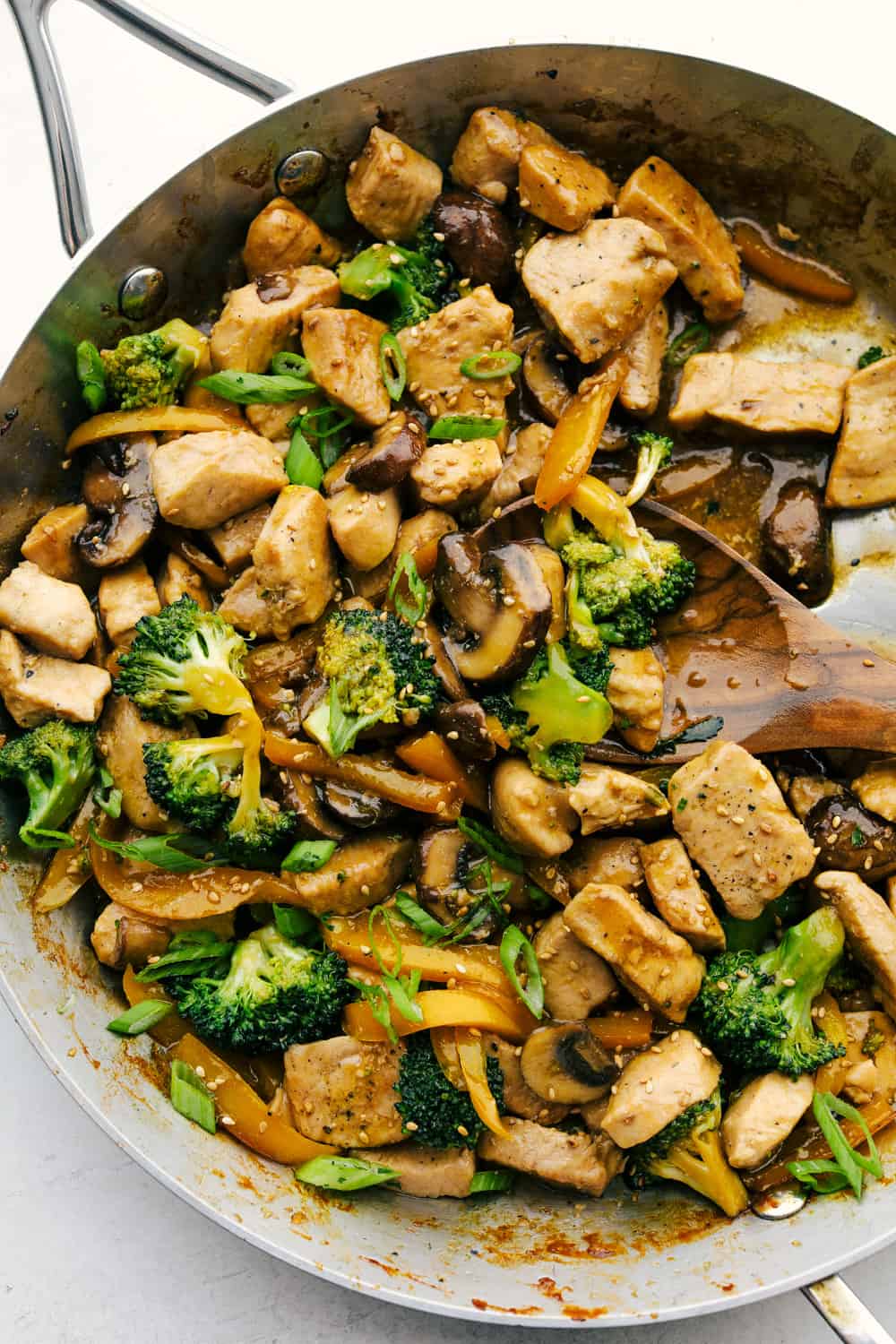 Garlic Chicken Stir Fry
When I am looking for a speedy dinner, I often turn to stir fry. It's so easy to make and super versatile. It is fast and easy and curbs that temptation to hit the drive-thru. Stir fry is also a guarantee that I can get my kids to eat their vegetables. They love the combination of chicken and sauce. It is always a meal I can count on to feed the masses and they will leave the table with full bellies and smiles.
This incredible garlic chicken stir fry features diced chicken and mixed vegetables in a garlic sauce. This dish is definitely for garlic lovers – there are four cloves of it in the recipe! If you prefer a milder garlic flavor, you can easily cut down to 2-3 cloves and it will still be flavorful. I feel the 4 cloves are just the right amount without overdoing it however, give it a try, you will love it. The whole family will love this stir fry, and you'll love how quick it is to make!
Ingredients for Chicken Stir Fry
The sauce for this dish is a simple combination of ingredients that you probably already have in the pantry, like chicken broth, sesame oil and soy sauce. Adjust the quantities for your families needs, double it if you like it saucey or have a bigger family. Half the stir fry recipe for a smaller crowd.
Vegetable Oil: Canola or vegetable oil will work, need an oil with a high smoke point.
Broccoli Florets: Wash and chop the broccoli into bite sized pieces if needed.
Mushrooms: Wash and quarter your mushrooms or slice them.
Yellow Bell Pepper: Slice the pepper and then cut the slices in half for easy eating.
Chicken: Boneless skinless chicken cut into bite sized pieces.
Salt and Pepper: Add to taste.
Garlic: Minced or finely chopped garlic to spread the flavor.
Chicken Broth: This is the base for the garlic sauce.
Brown Sugar: Adds a little bit of sweet, use dark or light brown sugar.
Soy Sauce: Low sodium soy sauce is ok here, or regular too.
Sesame oil: Sesame oil adds a depth and richness to the flavor of the sauce.
Cornstarch:This will thicken the sauce so it will stick to the chicken and vegetables.
Making Chicken Stir Fry with Garlic Sauce
Heat: Place 1 teaspoon of oil in a large pan and heat over medium high heat.
Vegetables: Add the broccoli, mushrooms and bell pepper to the pan. Cook for 5-6 minutes or until vegetables are tender.
Transfer: Remove the vegetables from the pan; transfer to a plate and cover with foil to keep warm.
Heat: Wipe the pan clean with a paper towel, then heat the remaining tablespoon of oil over high heat.
Chicken: Add the chicken to the pan in a single layer and season with salt and pepper to taste.
Saute: Cook for 3-4 minutes per side, or until chicken is browned and cooked through.
Garlic: Lower heat to medium, add the garlic and cook for 30 seconds.
Combine: Add the vegetables back to the pan.
Sauce: In a small bowl, whisk together the chicken broth, sugar, soy sauce, sesame oil and cornstarch.
Pour:  Pour the sauce over the chicken mixture and bring to a simmer.
Simmer: Let it simmer for 1-2 minutes or until sauce has just thickened.
Serve: This is best served immediately with steamed rice if desired.
Tips for Garlic Chicken Stir Fry
The veggies are cooked first, then removed from the pan and the chicken gets seared to golden brown perfection. Cooking them seperate will ensure the chicken gets done and the vegetables don't over cook.
Faster: For even quicker prep, used bagged broccoli florets which are usually washed and already to go. Mushrooms can also be found presliced. It makes preparing the dish a breeze.
Pepper: I used a yellow pepper, but you can use whatever color you wish. Try red, or orange peppers, or a mixture. Green peppers will have a different flavor and so I do not recommend them.
Chicken: You can use boneless skinless chicken thighs too. Whichever one you use cut your pieces into the same sized pieces. They will cook more evenly.
Variations for Your Chinese Stir Fry
I used chicken breast, broccoli, mushrooms and yellow bell peppers in this dish. You can easily substitute in your family's favorite vegetables.
Vegetables: Other great choices are snow peas, asparagus, zucchini, carrots, beans, water chestnuts, or even celery.
Protein: Exchange the chicken for pork, beef, shrimp or tofu.
Vegetarian: Make it vegetarian by using no chicken and vegetable broth instead of chicken.
Sweetness: Exchange the brown sugar for the same amount of honey. It will had a nice flavor.
Zing: Add a teaspoon of ginger to give a bit more spice. It is so good!!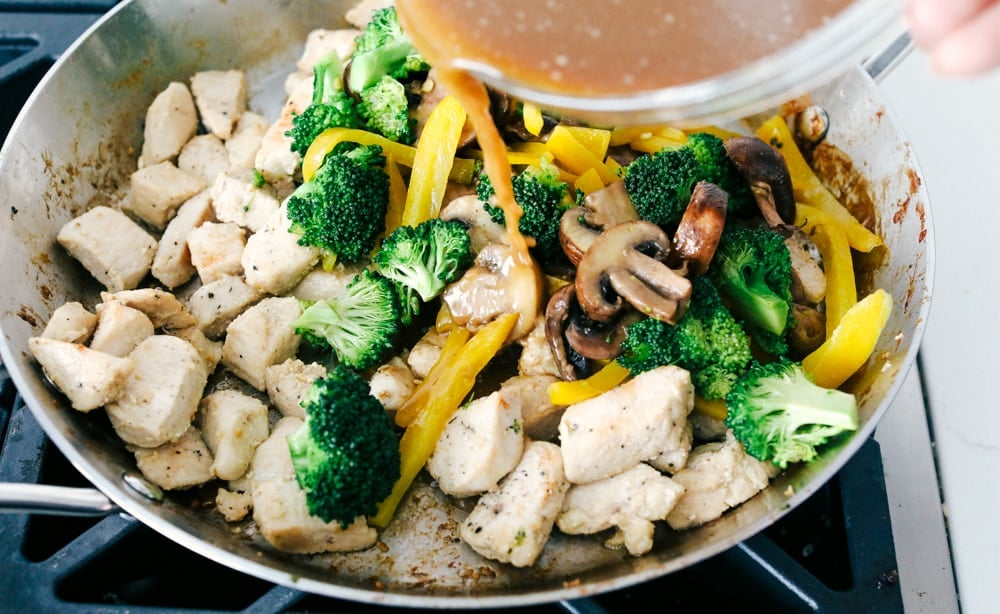 What to Serve Your Stir Fry With
Stir fry is awesome just by itself, especially if you are trying to keep it low carb, but serving it on top of a luscious carbohydrate can make it divine.
Rice: Serve with rice, brown rice or even fried rice.
Quinoa:  High in protein and deliciously nutty.
Noodles: Use asian noodles, Lo Mein, Sesame Noodles, or even spaghetti noodles.
Cauliflower Rice: Use cauliflower for a low carb option.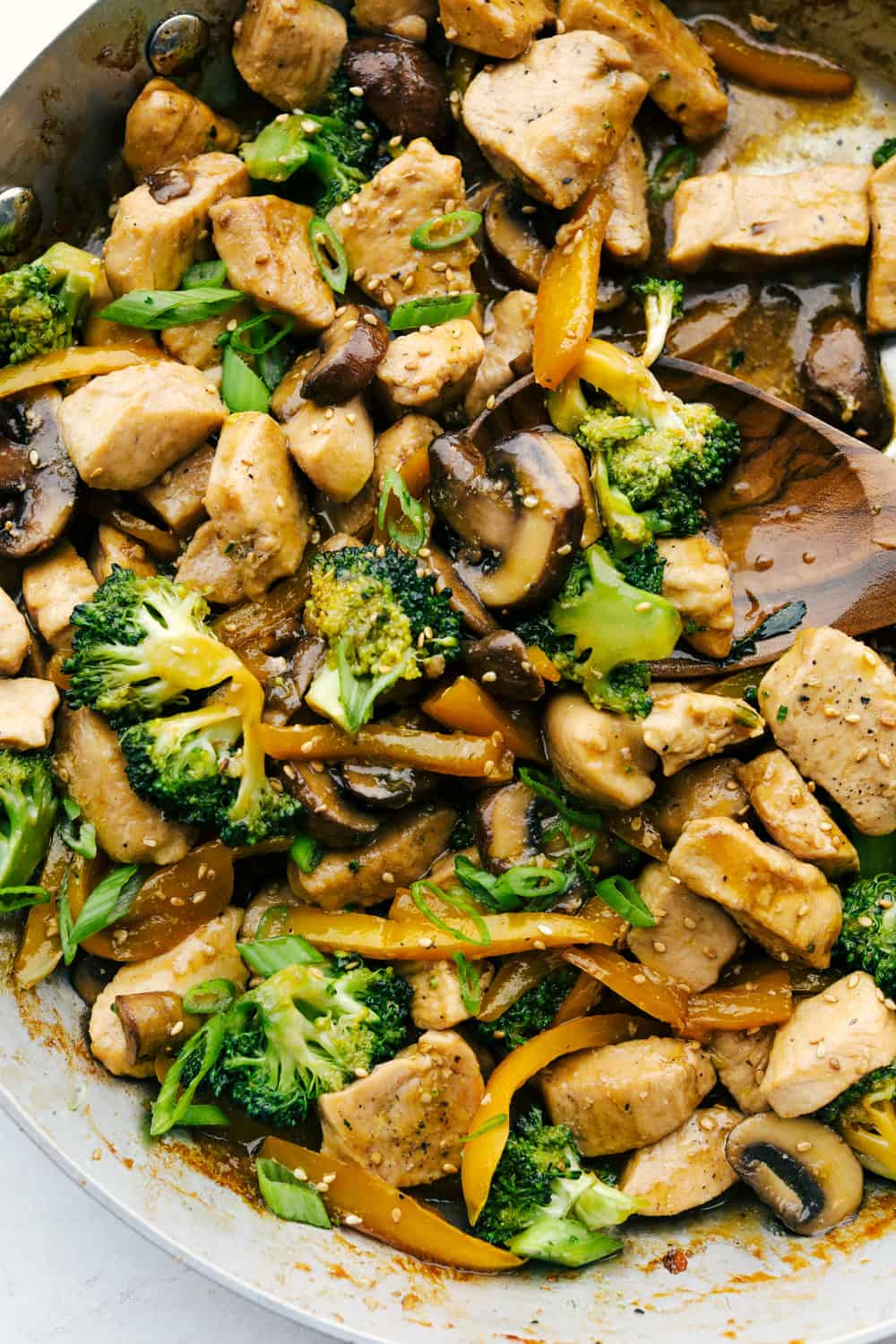 Storing Leftover Chicken and Vegetables
Stir fry is best eaten immediately before the vegetables get too soggy, and it can be hard to keep them from going soggy when you store them. Leftovers will keep in the fridge for up to 4-5 days. Reheat leftovers in a saute pan or microwave.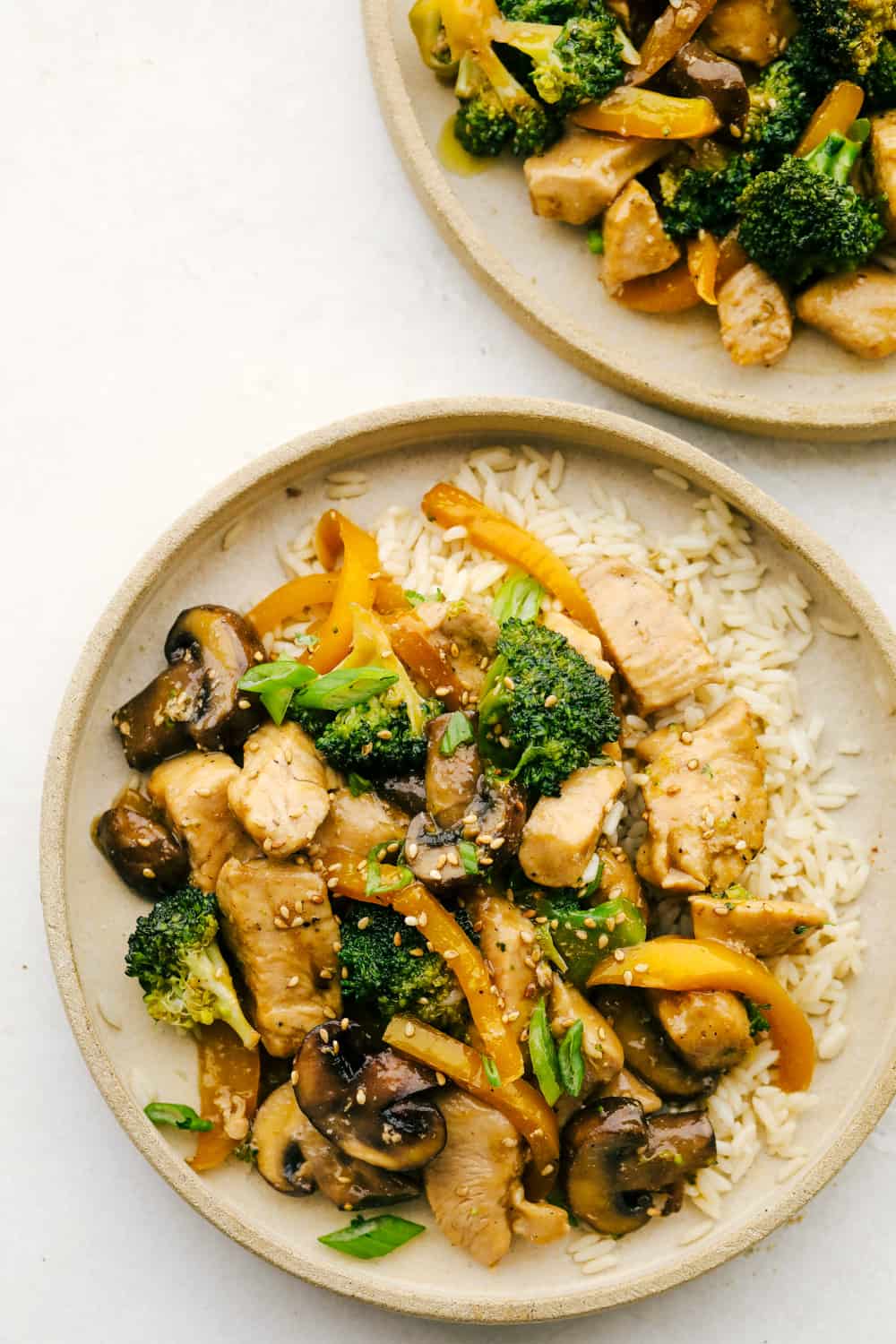 More Take Out Type Recipes To Make At Home
I love being able to recreate restaurant favorites at home. They always taste better and I know exactly what I'm feeding my family. My family is also more likely to eat these meals too. They have more flavor, and I can adapt them to our specific tastes. Add more or less spice, more or less vegetables, etc. And may I add it always cheaper to make it yourself. So the next time you get the craving for take out, reach for one of these tried and true recipes instead.