This website may contain affiliate links and advertising so that we can provide recipes to you. Read my privacy policy.
This chicken Francese is moist and tender chicken dredged in flour and eggs to get a nice and crisp outside edge. It's added to a lemony flavored sauce that makes this recipe insanely delicious!
Chicken goes with just about everything, and this recipe is no exception! Pair this chicken Francese with a salad, some asparagus, and some rolls for the most delicious family dinner!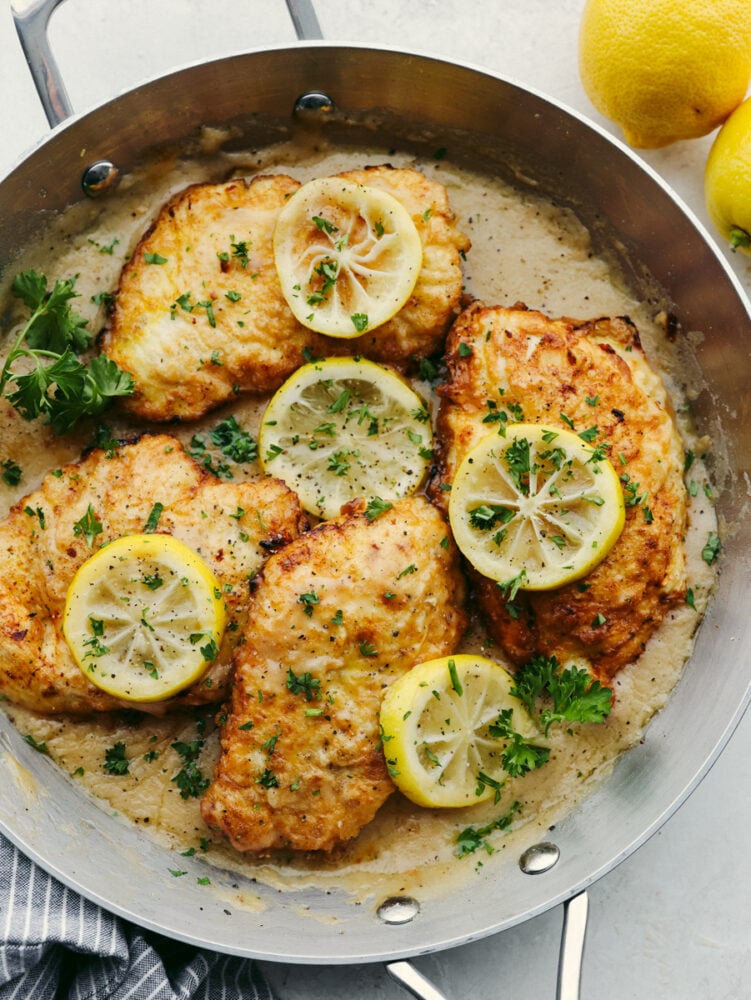 What is Chicken Francese?
Chicken Francese is a delicious chicken dish where the chicken is fried and then cooked in a delicious lemon sauce. It can often be confused with chicken piccata. The difference between Francese and Piccata is the order in which you dip your chicken! Piccata dips the chicken in eggs first and then the flour. A chicken Francese recipe dips the chicken in the four and then the egg. They are each cooked in a simmering oil, but you typically will add capers when you are done cooking the piccata.
Once this chicken is done cooking, it has the most amazing texture! The inside is moist and tender, while the outside has more of a crisp bite to it. The combination is incredible and makes my mouth water just thinking about it! The lemony sauce brings a fresh, bright taste to the dish, making this recipe one that you cannot miss. Chicken is a dish that the entire family loves, and this chicken Francese is no exception! Plus, it's ready in less than 30 minutes, and you can't beat that!
Ingredients in Chicken Francese
This recipe is actually very simple to make and doesn't require any out-of-the-box ingredients. That's why it has become such a staple family meal at our house! See the recipe card at the bottom of the post for exact measurements.
Vegetable Oil: This is used to fry the chicken in.
Chicken Breast: You will want to slice the chicken breasts in half so that they are thinner. This will help them cook evenly and all the way through.
Salt and Pepper: This is for seasoning the chicken.
Flour: I used all purpose flour in this recipe and it works great!
Eggs: I like to bring my eggs to room temperature before cooking with them so that they mix better.
Garlic Powder: This small amount of garlic powder packs a punch with its subtle, yet delicious, flavor!
Butter: Use unsalted butter for this recipe.
White Wine: This is added to the sauce.
Chicken Broth: This is the base of the sauce that this chicken will cook in. It brings in a great flavor that soaks into the chicken breasts.
Lemon: This fresh and bright taste elevates this recipe.
Parsley: Parsley is used as a garnish on top!
How to Make Chicken Francese at Home!
This recipe is one of my easier ones, yet the flavor is so good that you shouldn't let that deter you! Easy and delicious is what I always try to achieve in a recipe, and this one delivers.
Heat oil and prepare chicken: Heat the oil in a large skillet. Salt and pepper the chicken. In one bowl add the flour and garlic powder. In another bowl add the eggs.
Dredge the chicken and cook: Dredge the chicken first in the flour and then the eggs. Add it to the hot oil and fry on each side for 2-3 minutes until golden and cooked throughout. Remove and set aside on a plate. Wipe down the skillet with a paper towel.
Make sauce: Add the butter to the pan and melt. Add in the flour and whisk until it starts to thicken. Then, add in the white wine and bring to a boil for a minute.
Add chicken to sauce: Add the chicken broth and lemon juice. Whisk until the sauce has reduced. Return the chicken to the pan and garnish with parsley and sliced lemons.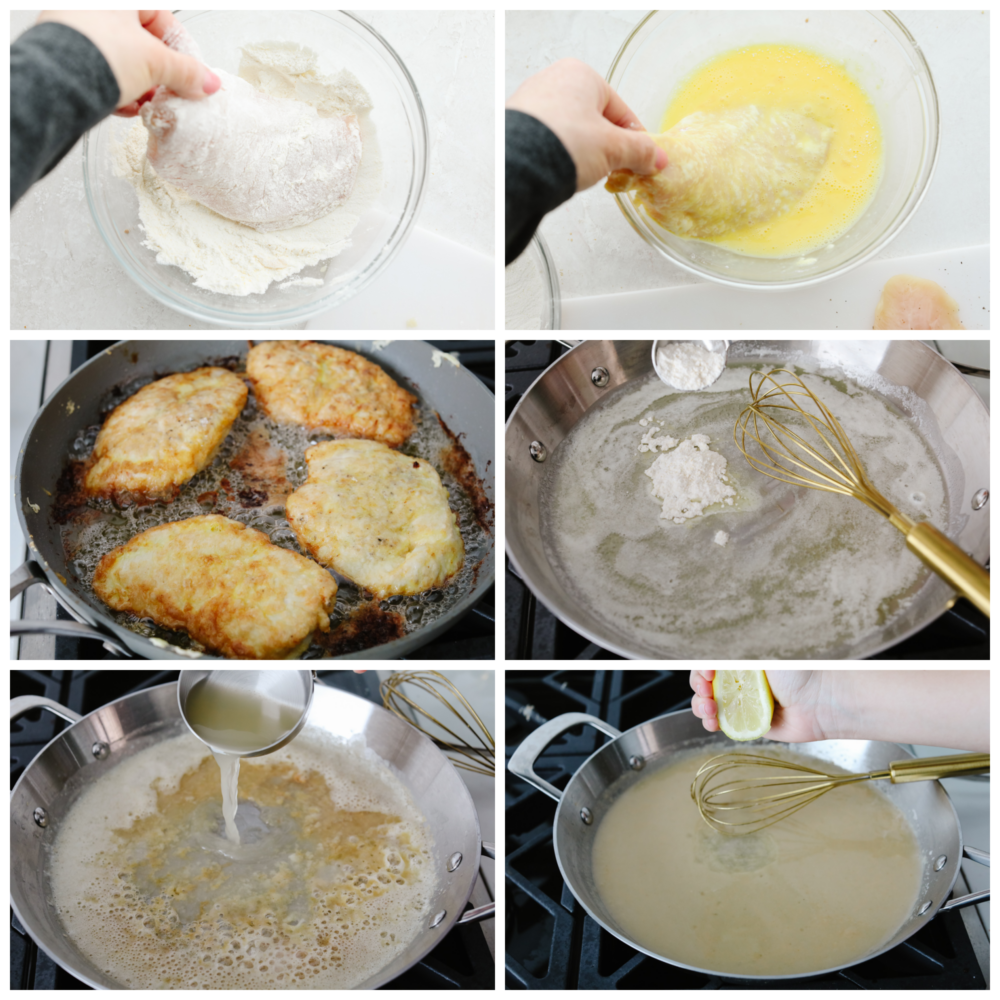 How Do I Know When My Chicken is Safe to Eat?
It's always a good idea to have a meat thermometer around when cooking up any kind of meat. You don't want to eat undercooked chicken and get sick. Chicken is safe to eat when the internal temperature reaches 165 degrees Fahrenheit.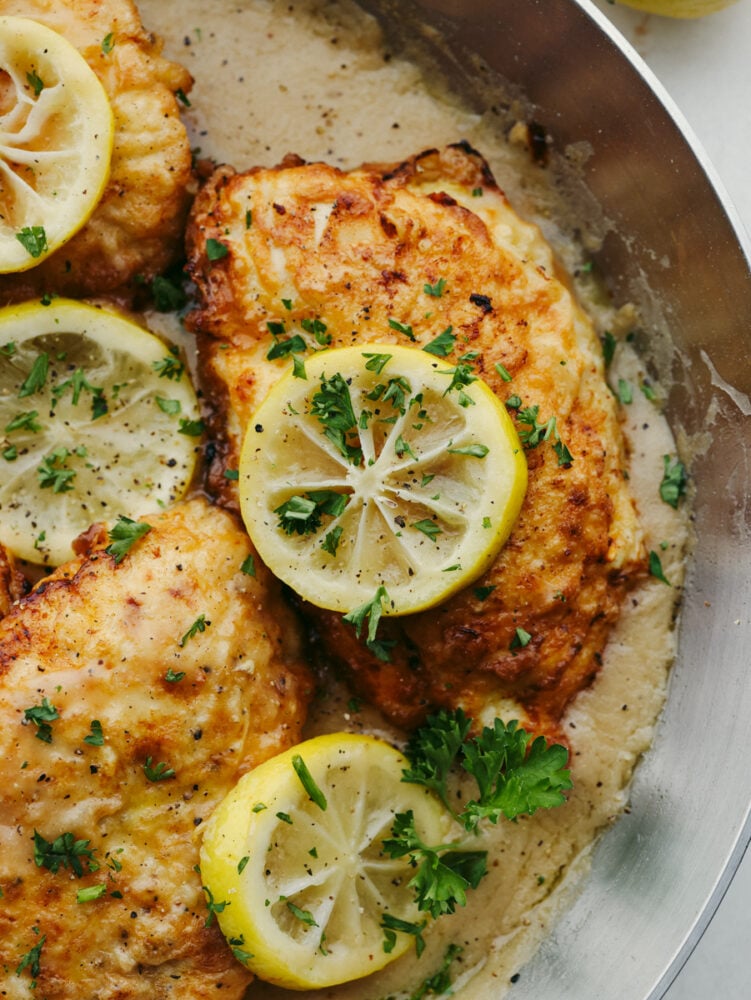 What to Serve with Chicken Francese
Like I said before, this chicken goes with everything! I have come up with a few more ideas on what you can cook this with to make it a delicious meal!
Pasta: Is adding pasta to a meal ever a bad idea? Pasta goes so well with this dish and once you add it to this chicken and sauce, well… Saying that you will love it is an understatement! Try serving it with some penne, farfaille, fettucine or angel hair pasta!
Bread: Some soft of bread is a must at all of our meals! These breadsticks, bread twists or delicious rolls are always among our favorites at the dinner table!
Vegetables: I love adding any sort of veggies to a chicken dish. Try adding some carrots, broccoli, green beans or a fresh salad as a side dish!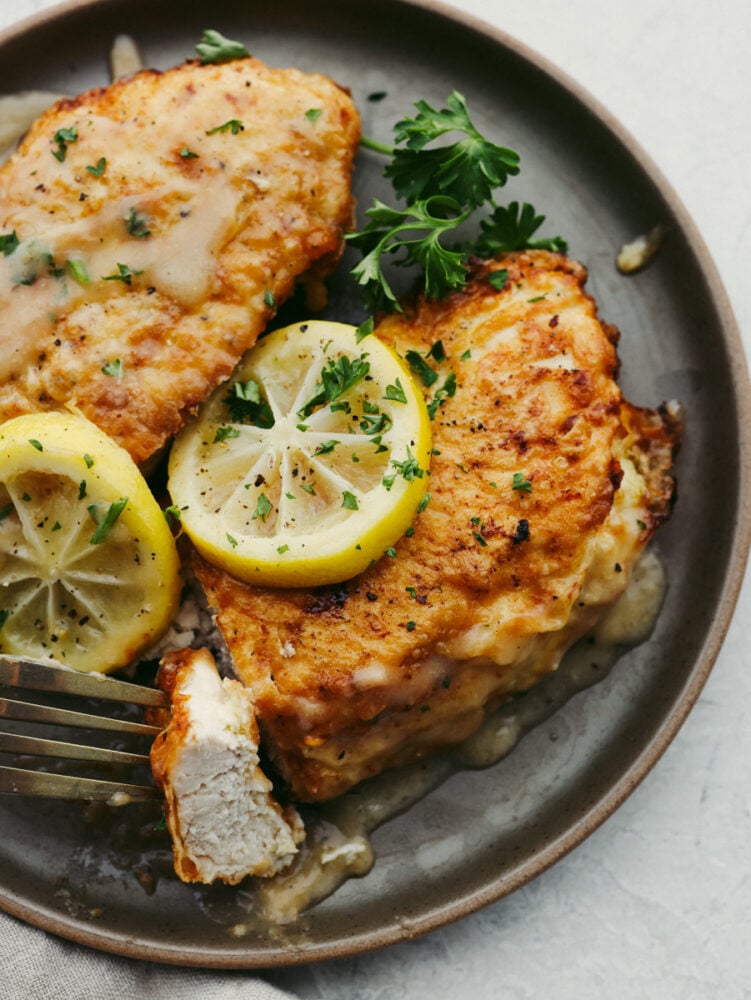 How to Store Leftovers
This makes fantastic leftovers the next day! Eat it as is or slice it up and add this chicken to a salad. It's always a good thing when cooking 1 meal ends up making two!
In the Refrigerator: Store the cooked chicken Francese in the fridge in an air tight container. It will stay last for up to 4 days.
To Reheat: Preheat your oven to 300 degrees. Place the chicken on a pan and cover it with foil.Cook it for 10 minutes or until warmed throughout!