This website may contain affiliate links and advertising so that we can provide recipes to you. Read my privacy policy.
Easy Teriyaki Chicken Casserole is a simple casserole made with the best homemade teriyaki sauce filled with vegetable stir fry, rice and baked to perfection. A savory dish everyone loves! 
Teriyaki sauce is one of our favorite sauces on chicken. If you love teriyaki chicken try this Sheet Pan Teriyaki Chicken with Vegetables, Sweet Island Teriyaki Chicken or Slow Cooker Teriyaki Chicken.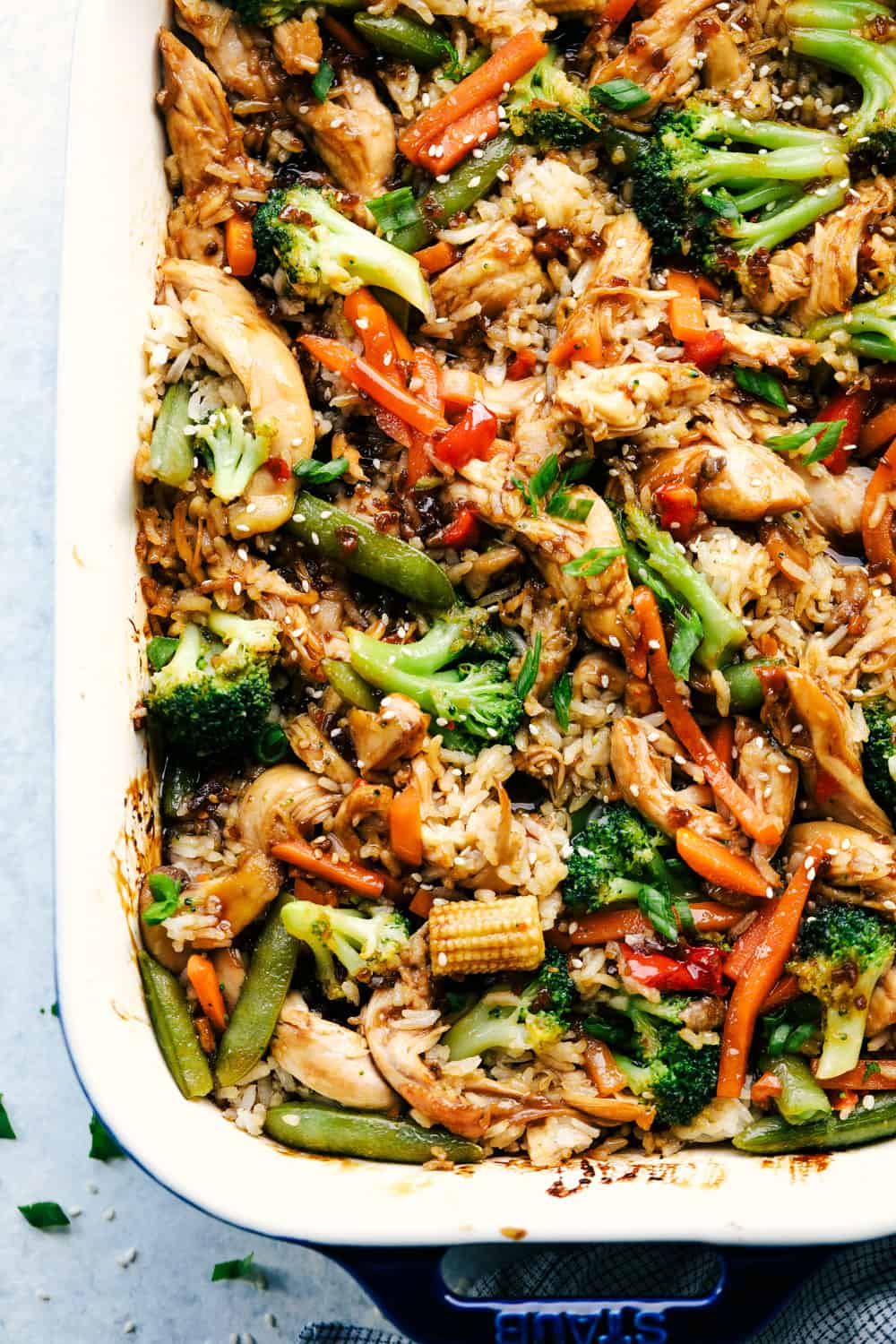 Easy Teriyaki Chicken Casserole
This is a simple and savory teriyaki chicken casserole that is loved by all.
Your family will enjoy all the authentic flavors in the homemade teriyaki sauce.
The teriyaki sauce bakes into the chicken then is mixed together with all the vegetables and rice.
Leaving this casserole a tried and true favorite!
Easy teriyaki chicken casserole is filled with all the flavors and good vegetables leaving this a MUST make for your family.
What you need to make teriyaki chicken casserole
Soy sauce: a little sweet and salty sauce that brings in an authentic flavoring.
Sugar: add a little more sweetness into your teriyaki sauce.
Apple cider vinegar: brings in a sour taste but tastes so good when cooked all together.
Garlic cloves: we love garlic in our home!
Ginger: a bit of a unique spice that brings out the asian flavors.
Pepper: just a pinch!
Cornstarch: helps to thicken the sauce.
Water: aids in the cornstarch by thickening and working together.
Chicken breasts: easy to cook and shred.
Rice: already cooked rice is best.
Vegetable stir fry mix: I like to buy the pre-packaged frozen blend at my local grocery store.
How to make Teriyaki Chicken Casserole
Make the teriyaki sauce: Preheat oven to 350 degrees. In a medium sized saucepan add the soy sauce, sugar, cider vinegar, garlic, ginger, and pepper. In a small bowl whisk together cornstarch and water. Slowly whisk into soy sauce mixture and bring to a boil over medium high heat. Reduce to a simmer and let thicken for about 3-5 minutes.
Baked then shred your chicken: In a 9×13 casserole dish add the chicken breasts. Pour half of the teriyaki sauce on top and bake for 25 minutes or until chicken is cooked throughout and no longer pink. Remove from oven and shred the chicken.
Combine rice, vegetables and chicken together: Stir in cooked rice and add vegetable mixture. Pour in remaining sauce. Mix together and baked until heated through for about 10-15 minutes.
Add in more vegetables
Mix things up with different vegetables making a variety of ways to enjoy this casserole.
We like to use the simple stir fry ingredients in the frozen isle.
There are so many frozen variety packs that you can use or make up your own.
Kidney beans
Asparagus
Scallions or green onions
Shelled edamame
Water chestnuts
Red or Green bell peppers
Peas
Beans
Tips for making Teriyaki Chicken Casserole
If you prefer a brown rice over the white rice that will be great too for a healthier dish.
You can also use fried rice and have extra vegetables and chunks of egg mixture in the casserole.
Switch out any frozen stir fry that you prefer or make your own mix ins.
Use a chicken thigh instead of chicken breast. It is juicier and has more added chicken flavoring.
Storing Easy Teriyaki Chicken Casserole
This is a great meal to make for others.
It heats up nicely and freezes well for those unexpected, crazy-busy days at home.
Your family will still be able to enjoy the warmth of a family meal together.
Making ahead: This can be made up to 24 hours in advanced. Just cover and store in the refrigerator until ready to bake. You may need to add an additional few minutes or let rest for a few minutes outside of the refrigerator before baking it.
Freezer: It is best to freeze before baking. Cover the pan tightly with foil and write down the directions on top of the container. Remove the casserole from the freezer and let it thaw in the refrigerator during the day before baking. This will freeze for 1 month.
Warming up: Because of the homemade teriyaki sauce in this casserole, it reheats really well and won't dry out. To reheat leftovers, heat your oven to 350 degrees Fahrenheit and bakes for 20-25 minutes or until it is warm through. You do not want to over bake.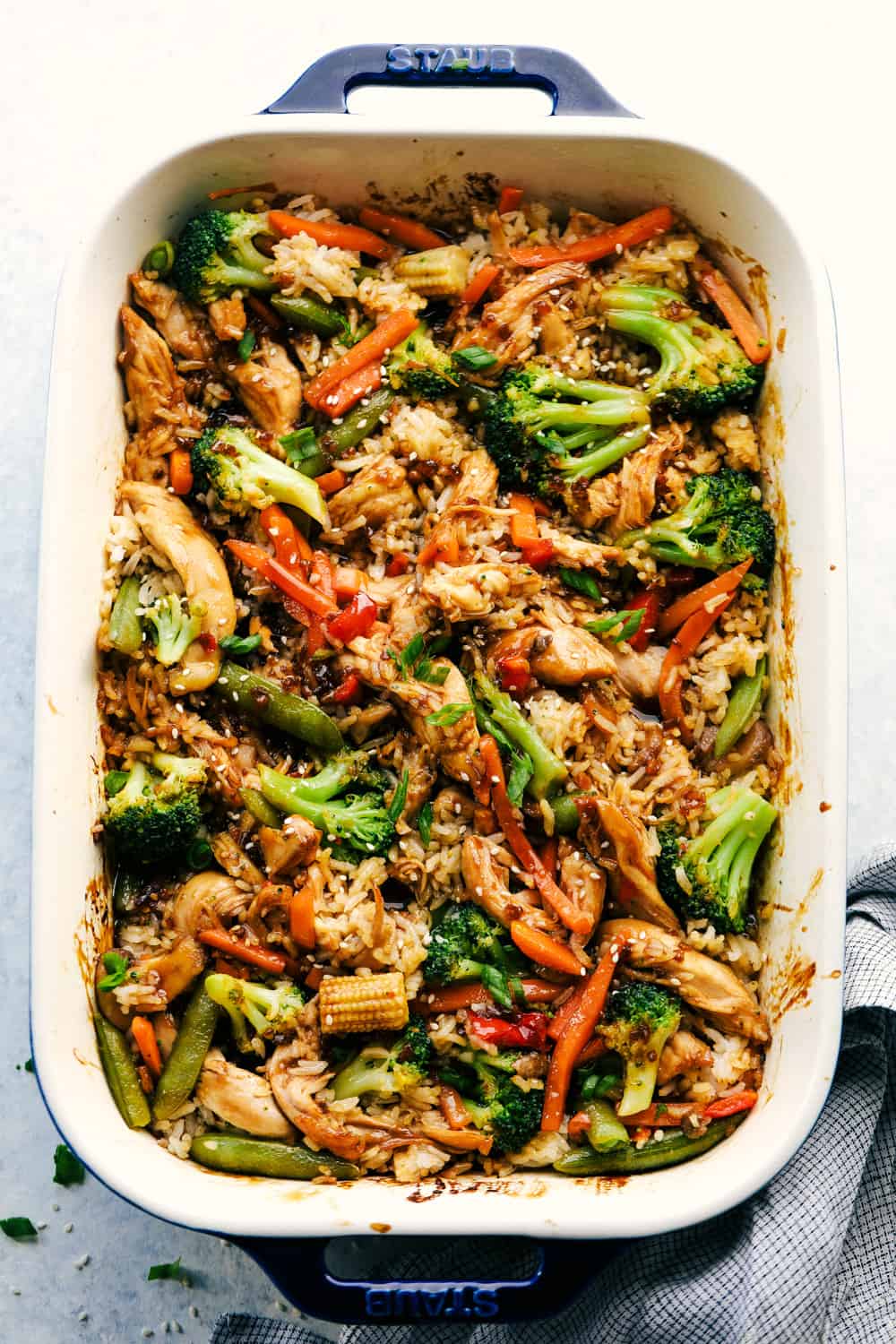 More casserole recipes